Inject N Clean Reviews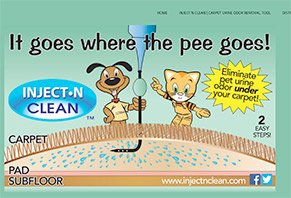 In combination with its enzymatic cleaner, Inject N Clean promises to remove unwanted pet urine odors by spraying solution between carpet and padding.
About Inject N Clean
In just two easy steps, Inject N Clean promises to help eliminate pet urine odors from carpeting by delivering the solution right where it's needed. All you have to do is hook the tip underneath your carpet and inject the odor neutralizer, which the company calls the "best on the market today."
This way, the manufacturer claims Inject N Clean only uses enough solution to neutralize the odor, so nothing goes to waste. We're also told that the system won't void your manufacturer's warranty, is reusable on any carpet, and won't damage carpeting as long as you follow the directions.
You have to admit that the design behind Inject N Clean seems ingeniously simple. But when it comes down to it, can you expect it to work as advertised? Will it really help you eliminate odors? Here, we'll help you figure out if Inject N Clean is the right solution for you.
How Does Inject N Clean Work?
Although the company tells us that Inject N Clean works over two broad steps, let's break it down even further so you can understand exactly what you'll need to do:
At a 30-degree angle, tap the pointed edge of Inject N Clean's "foot" into your carpet, all the way up to the bend in the nozzle. At this point, the nozzle will be located underneath your carpet's backing, but above the pad and subfloor.

Pull straight up on the rubber lug, creating a dome in the carpet.

Take the 6oz applicator bottle (filled with the odor neutralizer provided by Inject N Clean, or the brand of your choice), attach it to the nozzle, and squeeze. We're told that the ideal dose per application is 4oz, although you can use more if necessary (if you have a bigger dog, for example).

As the solution reaches the end of the nozzle, it will exit the holes in the "foot," which sprays out and works like a sprinkler.

Finally, the chemical underneath your carpet will dry naturally. Note: Inject N Clean claims they're "safe for people, pets, and planet," although this might not be the case if you use a third-party odor neutralizer.
For a demonstration of how this works, be sure to watch Inject N Clean's quick video below:
How Much Does Inject N Clean Cost?
The Inject N Clean Delivery Tool System and a 32oz bottle of Urine Odor Eliminator Solution is priced at $24.99, plus tax and shipping. How much does this come out to be? When we attempted to check out, we were charged $1.87 tax and $5.99 S&H, bringing our total to $32.85.
There wasn't a refund policy listed on the Inject N Clean website, so we reached out to customer service at info@injectnclean.com, and learned that they provide a 100% refund for any manufacturing defects. Alternately, customer service can be reached by phone at 800-645-4415.
A Look at the Inject N Clean Reviews?
Previously, Inject N Clean was brought to you by popular ASOTV company Hampton Direct. However, the new owners reached out to let us know they are no longer affiliated with Hampton Direct, so be sure to keep this in mind when reading older customer reviews for the product.
With this said, we only found two reviews for the recent version on Amazon, where the Inject N Clean bundle (with the tool and 32oz odor neutralizer) had an average rating of 5 stars. There, both compliments referenced ease of use and effective odor removal. Neither were Verified Purchases.
Is Inject N Clean "a Solution That Works"?
Taken together, should you place your order for Inject N Clean? To help you figure this out for yourself, let's take a quick look at a few important (in our opinion) considerations:
Inject N Clean Is Only a Tool
According to a representative from the company, Inject N Clean is a unique delivery system—or tool, if you will—that helps deliver cleaning solution right where you need it.
In fact, we're told that the device can increase the effectiveness of your cleaning solution by up to 80%, since it allows you to apply cleaner/odor eliminator "like a sanitizing sprinkler" directly underneath your carpet, between the backing and the pad. Otherwise, you might have to pay a lot of money to have a professional cleaner pull back your carpet and spray solution onto the backing and the pad. Then, you'd then need to pay a carpet installer to put everything back in place.
What's this mean for you? Ultimately, how much of the stain and odor is removed from your carpet largely depends on the cleaner/odor remover you choose.
To this extent, the company rep let us know that their professional grade odor eliminator contains one trillion active, natural bacteria (Bacillus) that completely eliminates pet and other hard-to-clean stains, as well as odor such as urine, fecal residue, drool, and more.
If you choose a third-party cleaner, though, you may not experience the same level of results.
Will Inject N Clean Work on Other Types of Stains?
Although there's nothing specifically mentioned on their website, an Inject N Clean representative let us know that you can use their natural odor remover to eliminate other tough stains (outside of those created by pets), including wine, beer, spoiled milk, or any other liquid with a strong smell.
If you don't need to use the Inject N Clean device to access the underside of your carpet, we're told their cleaner can also work as a spot cleaner. You can even use it on other types of flooring, not to mention furniture, bedding, and more.
Pro tip: Inject N Clean's solution uses enzymes (biological molecules that speed up chemical reactions inside a cell) to eliminate odors, which are known to be safe for humans and pets, as well as for the environment. They're especially useful for this purpose, as well as for cleaning up biological fluids like blood and other tough stains.
On the flip side, however, enzymatic cleaners may not work as well as solvent-based cleaners, which also tend to be harsher and less eco-friendly. Given this, you might not expect the same results from an enzyme cleaner as you would from a professional carpet cleaning.
Are There Other Products Like Inject N Clean?
Finally, while there doesn't seem to be anything exactly like Inject N Clean currently available, this doesn't mean you won't find similar products that might work better based on your needs.
For example, products like MisterMax Carpet Injector and Anti Icky Poo can also deliver a sanitizing solution underneath your carpet, but are formulated specifically to address poop. In fact, you can even purchase empty third-party carpet syringes for as little a $7 and add your own solution.
Again, none of these will work in the exact same way as Inject N Clean, but the point is that you have options.
Bottom Line
Based on the limited online customer reviews, as well as the fact that the company reached out to us directly, we have no reason to believe that Inject N Clean isn't a legitimate company, or that they don't stand behind their product.
Whether or not Inject N Clean will deliver results, however, largely depends on your needs. Just remember that if you decide to give it a try and are dissatisfied, you'll lose a few dollars in non-refundable S&H charges, in addition to whatever it'll cost to ship the products back to the manufacturer.
And don't forget to check with your manufacturer about voiding the warranty before using Inject N Clean. After all, it's better to be safe than sorry.