Instacart Reviews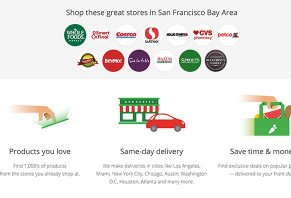 For a fee, Instacart's website and mobile app allow customers to order online groceries from many popular retailers and have them delivered to your door.
About Instacart
After quickly finding products from 150+ local supermarkets and stores across hundreds of cities, the Instacart website and mobile app connect you with Personal Shoppers who deliver them in as little as one hour.
As the largest grocery delivery service in the country, the San Francisco-based company also promises to offer customers exclusive coupons and deals, the ability to save shopping lists, tag favorite items, and reorder items from previous purchases.
You can also create Group Carts with friends and family, view nutrition info for each food item they sell, filter available products by gluten-free, organic, or vegan diets, and even chat directly with your Personal Shopper if needed.
Although Instacart has been around for a while, are customers reporting that they really do make shopping a breeze, as advertised? And just because they've been around for a few years, does this necessarily mean they're your best option?
Stick with us for a few minutes, and we'll quickly help you find your own answers to important questions like these.
How Does Instacart Work?
Based on our experience, the Instacart website is super easy to use: Just enter your zip code on the home screen to see which stores are available in your area, and then set up an account by adding your first and last names and email address, and choosing a password.
Which Stores are Available on Instacart?
From there, the site will display all available options, which can be filtered by the biggest savings, whether or not alcohol is available, as well as categories like groceries, pet supplies, and meals. After choosing the 98004 zip code, a few stores we found included Metropolitan Market, New Seasons Market, Safeway, PCC Community Markets, Costco, Fred Meyer, Petco, Whole Foods, BevMo!, and Sur La Table.
You can change your home location or store at any time, and can even purchase from multiple stores in a single Instacart order.
What Kinds of Products Can You Buy with Instacart?
Clicking on a store's name will take you to its main page, where you can search for products by keyword, view delivery availability, apply coupons, gain insight into trending and popular products for your location, and view sales and other featured products.
You can also manually browse thousands of combined products by department (e.g., produce, dairy and eggs, snacks, deli, beverages, bakery, frozen, etc.).
Products matching your criteria will display a preview image, price, brief description, and weight. Clicking on the + icon in the upper right-hand corner of each image will add it to your cart. You can add items from multiple stores to your cart, and create several different shareable carts at once as well. If a coupon is available, this is where you can also click the appropriate button to apply.
Clicking on an image will reveal a pop-up window that contains a full-size image, related products and those often purchased in conjunction with it, a nutrition facts label, additional details, ingredients (when available), directions, warnings (again, when applicable), and Instacart community reviews.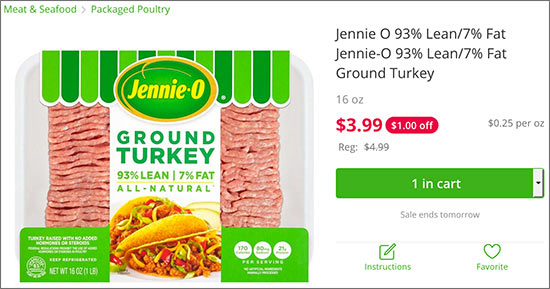 Clicking on a product on Instacart's website will display all relevant details, allow you to add it to your cart, and give you the opportunity to favorite it for future orders. Credit: Maplebear Inc.
Can also 'love' items by clicking on the heart icon, which will save them to the 'Your Items' section of the site for quick and easy reference later.
When you're ready, you'll proceed to checkout, enter your delivery address, choose your delivery time (anywhere between one hour and up to six days in advance), mobile number, and payment details, review items from each store, and then place your order.
Keep in mind that deliveries are subject to store hours, although Instacart's delivery window can run between 9 am and 12 am.
According to the website, Personal Shoppers know to "handpick only the best produce at the store." If you prefer, you can also leave a note about ripeness. If they find an item is out of stock or doesn't otherwise meet your criteria, they'll "make an appropriate replacement and contact you to verify it."
After placing your order, you can tap the See Shopped Items to track your Shopper's progress and view any item changes. You'll also receive alerts for these changes if you have notifications enable in the app (more soon).
Want to pick up items yourself, instead? For select locations, you'll just choose the Pickup option on the Instacart site or app and arrange a time.
Are There Any Product Limitations?
When ordering alcohol, Instacart requires you to enter your date of birth before proceeding to checkout. When your Personal Shopper arrives, you'll also have to present them your ID, or they legally cannot give you the alcohol. In addition, they can't fulfill special requests related to alcoholic products.
Furthermore, their FAQ emphasizes they can't deliver pre-ordered or made-to-order items (personalized birthday cakes, deli sandwiches, hamburgers), gift cards, electronics and electronic peripherals, tobacco or over the counter items containing nicotine, prescription drugs, or items containing pseudoephedrine, ephedrine, and phenylpropanolamine.
Is There Anything Different About the Instacart App?
We found that Instacart's iOS and Android app was largely a mobile-friendly version of their website, with instant notifications the only additional meaningful functionality. However, we appreciated the fact that any changes to our cart or other aspects of our account on the website instantly reflected in the app, and vice versa.
How Much Does Instacart Cost?
For orders $35 and over, Instacart's delivery fees range between $5.99 (2+ hours) and $7.99 (within 1 hour). If under $35, fees range between $9.99 and $11.99. These could go even higher during peak times.
Tip-wise, 5% is the default suggestion at checkout or a minimum of $2 per individual store delivery.
After a free two-week trial, Instacart's Express service is priced at $149 per year, which provides members with free delivery on all orders over $35. Members can also order from multiple stores with no extra fee, and won't pay busy pricing, even at peak times.
Pro tip: Putting this membership cost into perspective, you'd need to place at least 19 one-hour delivery orders over the course of the year to break even. This number goes up to 25 two-hour (or longer) deliveries.
Customers can cancel their Instacart orders for a full refund up until they start shopping for your order, with no additional fees. If shopping has already begun, you may be charged a cancellation fee.
From a refund perspective, Shoppers cannot accept items for return, except when they're unable to confirm a valid ID for alcohol purchases. Express members are eligible for a full refund within 15 days of signing up.
For additional support, you can reach an Instacart representative by calling 888-246-7822 or sending an email to help@instacart.com.
What Are Online Customers Saying About Instacart in Their Reviews?
Between Google Play and iTunes, we encountered more than 20,000 combined user reviews for the Instacart app at the time of our research, who had given it an average rating of about 4.5 stars.
Compliments typically referenced ease of use, convenience, and competitive pricing, although the relatively few complaints frequently revolved around long delays, incorrect items/poorly chosen replacements, less-than-stellar Personal Shopper experiences, high prices, and functionality issues.
On the other hand, 70+ reviewers on Trustpilot gave Instacart an average rating of one star. There, compliments typically mirrored those found on Google Play and iTunes.
Pro tip: Another common factor mentioned by customers that might be easily overlooked is that you can't apply any Instacart purchases to retailer loyalty programs, which could certainly add up if you use their service frequently.
Instacart vs. Other On-Demand Grocery Delivery Services & Apps
In addition to restaurant-only delivery services like Doordash and Uber Eats, there are several other popular online grocery delivery services that offer web and app access like Instacart. These include:
| | | |
| --- | --- | --- |
| Company | Cost | Notes |
| Instacart | Delivery fees range between $5.99 and $11.99, Express membership is $149/yr | 150+ retailers in hundreds of US cities |
| Amazon Fresh | $14.99/mo, $9.99 delivery fee for all orders under $50 | The company now owns Whole Foods, can also deliver restaurant orders |
| Shipt | $99/yr or $14/mo; $7 delivery fee for orders under $35, or free for orders $35+; no surge pricing | Owned by Target, currently available in 161 cities, Shoppers will unpack your groceries, meal-planning features in the works |
| Google Express | Free w/orders that meet minimum requirements ($25 - $35, depending on retailer) | Also provides access to product categories like home and garden, electronics, sports and outdoors, home improvement, and office supplies; can shop using Google home devices, ability to create shopping lists |
| Peadpod | Minimum $60 order w/$9.95 delivery fee. $75 - $100 orders come w/a $7.95 fee, while orders over $100 are free | Available in 16 Midwest and East Coast markets, also offers in-house brands, double manufacturer coupons up to $0.99 |
| Postmates | Unlimited $9.99/mo for free deliveries. $3.99 delivery fee for Partner Merchants, $5.99 - $9.99 fees for all others. Additional "variable percentage based service fee." | More than 250,000 merchants represented (restaurants, grocery, drinks, etc.) in 200+ cities |
| Walmart Grocery | $30 minimum purchase; free pickup | Can earn 3% back on your Walmart Credit Card, available from hundreds of locations |
| Safeway | $30 minimum purchase; $12.95 delivery fee for orders under $150, $9.95 fee for orders $150+; fuel surcharge may apply once a gallon of gas reaches $2.75 | Chilled and frozen items delivered in refrigerated trucks, you can return items with driver if dissatisfied, ability to receive Club Card prices and online-only deals |
With so many marketing claims being made and all of the small differences between them, it can be easy to overanalyze the situation. But the reality is that choosing the best online grocery delivery service isn't exactly rocket science, and mostly comes down to 1) market (and product) availability and 2) price—the balance between which will vary slightly for every shopper.
For example, unless you live in certain parts of the Midwest or East Coast, you probably won't have access to Peapod's services, although if you do, they'll double any manufacturer's coupons. Similarly, shopping directly through a company like Safeway or Walmart could help you earn additional rewards points, while this isn't available with Instacart,
At $149 per year, we can see that Instacart's Express is also the most expensive membership option in the table above, but they don't have a minimum order requirement. Just keep in mind that you'll also pay a high $11.99 fee for some of these smaller orders.
On the other hand, Google Express, Amazon Fresh, and Shipt don't charge any delivery fees as long as you meet their reasonable minimum order requirements ($30 to $50). With the latter, their Shoppers will even unpack your groceries if requested.
Is Instacart the Right Online Grocery Delivery Service for You?
As a company, Instacart has been in business since 2012, comes with mostly positive online customer feedback on sites like Google Play and iTunes, and held a B- rating with the Better Business Bureau at the time of our research. As such, this could be a positive indication that you'll experience much of the same if you decide to place an order.
Just keep in mind that their fees and annual membership costs are among the highest compared to competing online grocery delivery services, and except for alcohol and unverified ID, their Shoppers can't accept returns if you're dissatisfied with any items they chose.
» Read next: The Pros & Cons of Grocery Delivery Services (Plus Comparison of Popular Companies)
Terrible service!

By Shannon F.

,

Gig Harbor, WA

,

Nov 21, 2019
Verified Reviewer

We placed an order for groceries to be delivered from Fred Meyer by Instacart. First of all, we never received a text letting us know they were shopping. Then they CANCELED our order because they said we did not answer their calls or texts. THEN Fred Meyer said we had to call Instacart directly to deal with our not receiving our groceries. Instacart said that they canceled the order and that they did not know how long it is going to take to get my money back. We spent over $100 on groceries.

Bottom Line: No, I would not recommend this to a friend

---

Advertisement

---