Instantly Ageless Facelift in a Box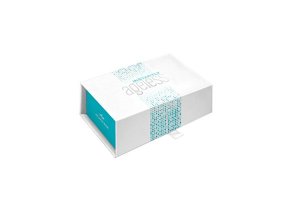 Instantly Ageless Facelift in a Box is an argireline-infused microcream meant to help you combat the signs of aging that lead to wrinkles.
Instantly Ageless Facelift in a Box Review: Is It Worth It?
Instantly Ageless Facelift in a Box is an anti-wrinkle microcream designed to diminish your wrinkles and other signs of aging in just two minutes.
The active ingredient in the cream is argireline, a peptide renowned for working like a less-invasive form of Botox.
Instantly Ageless Facelift in a Box is meant to be applied before or after regular makeup, and it promises to be a safe and effective alternative to fillers and injections.
According to the company website, Instantly Ageless Facelift in a Box was developed by a qualified team of cosmetic chemists at Jeunesse. Their goal was to create an injection-free way to temporarily remove their wrinkles.
The microcream claims to accomplish this by reviving skin and minimizing fine lines for a more youthful look.
It targets areas that have lost elasticity, such as the eyes, forehead, eyebrows, and facial pores. Once applied, the cream dissolves directly into your skin, and the results should last for six to nine hours.
But does it deliver? Let's look closer at how to Use Instantly Ageless Facelift in a Box to start answering that question.
How to Use Instantly Ageless Facelift in a Box
According to the Instantly Ageless website, this "Facelift in a Box" beauty product comes as small vials filled with enough cream for single use.
To use, you'll twist the cap off a vial and squeeze the product onto your fingers. Then, lightly tap it onto the target area of your skin in a thin layer, refraining from rubbing it in thoroughly.
Stay still for three minutes so that the product can dry and then leave it in place.
It's best not to use too much, as you might end up with a chalky residue. If you do, dampen a soft cloth and gently dad the area to remove any excess. You can reseal the vials if any cream remains after you apply it.
How Does Argireline Prevent Signs of Aging?
According to WebMD, multiple factors cause the skin to wrinkle, including sun exposure, pollution, harsh chemicals, and naturally diminishing fat levels. Keeping skin looking its best requires you to improve its elasticity and smoothness by increasing its collagen and elastin levels.
Many anti-aging products claim to inject these molecules directly into the skin to improve its appearance, but this study showed us that the injection of these molecules provides only temporary results, since they don't help the body synthesize new ones.
Argireline, the active ingredient in Instantly Ageless, is a synthetic chain of proteins called a peptide that is commonly found in anti-aging products.
We learned through the Dermatology Review that this chemical purportedly enters the skin better than collagen and elastin, making it better for helping skin synthesize collagen and elastin in beauty creams like Instantly Ageless.
But does argireline really reduce wrinkles? The evidence shows that it does, but only temporarily.
According to Truth In Aging, even a 10 percent concentration of argireline in cosmetic products can't penetrate beyond the first few layers of skin, even after several hours.
This means that the ingredient can't make a difference for the foundational layers of skin, and instead only creates a temporary, occasionally frozen-looking improvement in skin plumpness.
Does this support the company's claim that Instantly Ageless Facelift in a Box will give you an 'instant facelift' that will 'last for up to nine hours'? Perhaps.
However, while clinical evidence shows that argireline is a non-toxic, anti-wrinkle peptide, we didn't find specific evidence that it can reduce under-eye plumpness, lift the brow line, or address facial pores, like the Instantly Ageless Facelift in a Box website claims.
Do the other ingredients in Instantly Ageless Facelift in a Box have any benefits? We'll discuss them next.
What Do Other Ingredients Do?
Beyond acetyl hexapeptide-3 (argireline), the Instantly Ageless Facelift in a Box website lists the following ingredients in their microcream formula: Sodium Silicate, Magnesium Silicate, Iron Oxide, Phenoxyethanol, Ethylhexylglycerin, Yellow 5 (Cl 19140), Red 40 (Cl16035).
According to the EWG Cosmetic Database, these ingredients are a mix of buffering agents, anticaking agents, preservatives, fragrances, and dyes.
Regarding negative side effects, some of these ingredients are potentially troubling. The database revealed that sodium silicate can be a skin irritant and that both it and magnesium aluminum silicate can cause non-reproductive organ system toxicity.
Phenoxyethanol, a common cosmetic preservation agent, is also considered by the EWG to be a troubling skin irritant. It has been linked to eczema and even life-threatening allergic reactions (no specific conditions or dosages listed).
Likewise, the EWG also reports that the two dyes (Yellow 5 and Red 40) in Instantly Ageless Facelift in a Box could potentially be dangerous if they build up in your system, in which case they can trigger long-term organ problems.
However, the database revealed that it takes a significantly higher dose of the ingredients to cause damage than is available in cosmetic products.
For the best use, the product website recommends that you take care when applying the microcream to ensure you don't put too much on at once and ensure it only goes on hydrated skin.
Otherwise, a chalky residue might appear, and you may get painful pulling on your skin as it tightens.
How Much Does Instantly Ageless Facelift in a Box Cost?
You can buy Instantly Ageless Facelift in a Box in a pack of 25 vials with 0.3ml of cream each. We found it listed for $75.95 on the Jeunesse main page but $69.95 on InstantlyAgeless.com.
Regardless of where you purchase, there is a 30-day guarantee that allows you to exchange any unopened products, though shipping charges won't be refunded.
If you buy directly from Jeunesse you can take advantage of a Preferred Price of $60.95, which lets you automatically receive new shipments through a monthly subscription.
To initiate a return, you can contact the company through its Shipping and Returns page.
Analysis of Instantly Ageless Facelift in a Box Customer Reviews
The product website showcases numerous positive testimonials from previous buyers that highlight the improvement they noticed in their wrinkles within the first few minutes of using the product.
On Amazon, Instantly Ageless Facelift in a Box averaged three stars after over 200 reviews at the time of writing.
Some users expressed concern with how the product seemed to dry out their face to hold its shape.
Others noted that they were disappointed that they didn't notice any changes in their face after using it, but found it looked dry and chalky, even through their regular makeup.
The blog Skinny and Sassy also had mixed opinions on Instantly Ageless Facelift in a Box.
While blogger Natashia was enthusiastic about the promises of getting "Botox in a bottle," she was unimpressed by the product's reliance on argireline because the ingredient hasn't been tested for long-term safety yet.
She also thought it was too expensive for the amount of time that the results lasted for.
How Does Instantly Ageless Facelift in a Box Compare to Similar Products
For those that want the look of instant Botox without visiting a specialist, there are plenty of argireline-based cosmetic products that promise to deliver a brief age-defying appearance similar to Instantly Ageless Facelift in a Box.
We found two such products on Amazon, SkinPRO Elite Serum Rx and Facelift by NutraFeel, that are similar to Instantly Ageless Facelift in a Box because they provide skin-plumping effects that last for several hours at a time.
The Elite Serum Rx is a cream designed to boost collagen production through a proprietary blend of ingredients (including argireline and other synthetic peptides) meant to retain moisture and rejuvenate skin by stimulating cellular repair. This is said to leave skin smoother, fuller, and younger-looking.
Unlike Instantly Ageless Facelift in a Box, this serum is loaded with collagen, hyaluronic acid, and other ingredients that could have potential skin-tightening effects.
However, the WebMD article we referenced earlier stated that skin can't natural absorb these components from cosmetics, making them ineffective. Even so, the product is rated 3.5 out of five stars on Amazon after over 300 reviews.
The second product, Facelift by NutraFeel, is also an instant facelift cosmetic kit with hyaluronic acid and argireline, which promises to create a younger appearance by reducing eye bags and wrinkles.
The product claims to be more than a temporary fix for improving skin's appearance, though, because it contains acai fruit extract for better moisture retention.
If you're looking for a wrinkle remover, WebMD and the Mayo Clinic recommend a broad range of treatments, from an everyday moisturizer to chemical peels, Botox, dermabrasion, and even laser treatment. It's best to visit your dermatologist to learn which could work for you.
For advice on how to reduce the chance of wrinkles forming in the first place, you can check out our article on the 19 Proven Ways to Reduce Wrinkles.
The Bottom Line: Who Can Benefit from Instantly Ageless Facelift in a Box?
In our view, the company website and our research on the sites we've mentioned make it seem that the argireline contained in Instantly Ageless Facelift in a Box may provide at least some of the promised results.
The data we found reveals that it will temporarily tighten your face to remove your wrinkles, meaning that it might be a reasonable alternative to costly facial injections like Botox.
While the results won't last, we found that customer testimonies show that the cream might leave your skin looking younger and less wrinkled, though some complained that it makes their skin stiff and chalky.
Our research on the previously mentioned medical sites shows that getting to the root of wrinkles means addressing its causes, which might take the expertise of a dermatologist to treat.
Instantly Ageless Facelift in a Box might give you some skin-boosting benefits but keep in mind that it's going to be a temporary fix.
My Instantly Ageless experience

By Elfriede K.

,

Vancouver, British Columbia, Canada

,

Mar 6, 2019
Verified Reviewer

Hello.

I am a senior with a fair amount of wrinkles. A family member tried Instantly Ageless on half of my face. I really did not expect much, but the results were incredible. I looked many years younger and felt incredible. I just wish that I could keep that look.

Instantly Ageless must be applied properly. If it is applied correctly, there will not be any of the problems mentioned in your review. In just a few minutes, even my deepest wrinkles disappeared. I loved it.

I have pictures and would submit them, but there is not an option here.

Thanks.

Bottom Line: Yes, I would recommend this to a friend

---

Instantly Ageless is absolutely wonderful

By Juliann G.

,

Myrtle Beach, SC

,

Sep 8, 2018
Verified Reviewer

I have been using Instantly Ageless and it absolutely works miracles on the bags under my eyes! I tried Plexaderm because they "bombarded" my television daily that I thought that it must be a miracle drug! It is terrible! It was very expensive and does NOTHING. I will never leave Instantly Ageless, and it is your best-kept secret! I tell social media all the time how wonderful it is. Thank you.

Bottom Line: Yes, I would recommend this to a friend

---