Insurify Reviews
Claimed This company has claimed this profile, is getting alerted on any new customer reviews entering this page, and may engage in dialogue with its customers to address their matters.

Companies cannot pay money or provide goods in order to remove or alter customer reviews.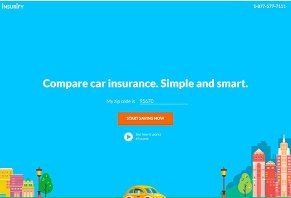 In 3 minutes, Insurify's online quoting engine claims to help you choose the best option—at the best price—among their more than 90 auto insurance carriers.
About Insurify
By providing customers with real, accurate quotes comparable by price, as well as quality factors such as discounts, reviews, payment options, and the overall quality score of top insurance companies, Insurify is an online agency that promises to deliver a clear, simple, and intuitive car insurance shopping experience.
How's it work? Their virtual insurance agent is powered by artificial intelligence and natural language processing to instantly verify your customer data, "analyze millions of records, identify patterns, and build models to match to your profile" based on your needs and preferences.
In just three minutes, you'll receive personalized coverage and carrier recommendations that the company claims can help you save time and money on your insurance every year. Then, when you're ready to buy, you can do so online, over the phone with an agent, or via live chat.
In this way, Insurify's website notes that they're the first online car insurance shopping platform, although you can still purchase your policy through and retain access to your personal agent, who can also help ensure you're receiving all available discounts. You can even choose to be notified via email when your rates drop.
When shopping for auto insurance online, it's often the case that choosing the right coverage options, getting a quote from multiple carriers based on your needs, and then opening a policy involves several different parties. So, by bringing the process under one roof, Insurify's basic concept certainly seems compelling.
But are they the right choice for you? Here, we'll take a down-to-earth approach to help you make a more informed, empowered decision. Before diving in, though, we'll need to address a fundamental concept.
What's the Difference Between Lead Generation, Quote Aggregator, & Insurance Agency Websites?
Although there are perhaps hundreds of sites competing for many of the same customers as Insurify, there are only three business models in this industry:
Lead generation – After a customer enters all their relevant auto insurance details (vehicles, drivers, activity, coverage levels), these sites will send the information out to independent agents who have purchased your 'lead.' Then, they'll contact you to see if they have an insurance carrier that meets your needs.
Quote aggregator – The owners of these third-party sites solicit insurance carriers, who then advertise their services to customers searching for auto quotes. In exchange for providing a customer's information, these sites might earn a commission.
Independent agencies & brokers – These individuals and companies act as a go-between with you and the insurance carrier. These licensed individuals can help you better understand your needs and find the most appropriate company. In return for selling a policy, they're provided a commission by the chosen carrier.
Of these, Insurify is an online agency that represents a wide variety of auto insurance carriers. Compared to the other two business models, agencies and brokers are the only ones that work on behalf of the consumer to help counsel them on the appropriate coverage levels, and to find the best fit as far as a company.
How Does Insurify Work?
Regardless of the type of site you visited, if you've ever obtained an online auto insurance quote before, you'll find that Insurify's system asks most of the same questions.
You'll start by entering your zip code, followed by your vehicle's year, make, and model, along with how it's used (commuting, pleasure, rideshare, etc.).
Then, you'll indicate if you lease or are still making payments, details for all drivers in your household (name, DOB, gender, licensing status, age first licensed, credit rating, etc.), and any applicable discounts (if you own a home, have a job, are a student, military/veteran, and so forth).
Final entries include your current insurance carrier (how long you've been with them, policy expiration date, any lapses, etc.), activity (accidents and violations), and the type of coverage you're looking for (liability or full coverage).
After choosing a coverage package, you'll then save your profile by entering your email, phone number, and vehicle garaging address. From there, Insurify will display rates from up to 10 companies and provide apples-to-apples comparisons of features and payment options for each one.
You'll also have the option of speaking with one of the company's agents at any point.
After entering all your details, Insurify will display the rates from up to 10 different auto insurance carriers. From there, you can view the deal and then buy online if you choose. Image credit: Insurify
Compared to many of the other auto insurance comparison sites we've investigated over the years, all the details we entered into Insurify's site successfully transferred over to the appropriate carrier after pressing the 'Buy' button. On other websites, we've found that customers are sometimes forced to start the quoting process all over again, so it's certainly beneficial if you're ready to buy.
And while the company didn't have an iOS or Android app available at the time of our research, their website is built for mobile and their quoting system was available through Facebook Messenger. There, you could text a photo of your license plate and talk with your personal virtual insurance agent.
Next, let's take a look at what you might expect to pay for this convenience.
How Much Does Insurify Cost?
Like most personal lines insurance agencies, Insurify does not charge policyholders for their services. Instead, they'll earn a commission from the carrier for each auto policy they write, so it's in their best interest to find the right match, which is why we noted earlier that they work for the customer.
With this in mind, as you can see from the screenshot in the previous section, Insurify returned rates between $58 and $347 per month, based on primary factors like a single male driver, one vehicle, pleasure use, and the highest coverage package available.
Cancellation and refund policies will depend on the specific carrier you choose, although if you need assistance at any point, Insurify's customer support department can be reached at 877-577-7111.
What Are Insurify Customers Saying In Their Reviews?
Since writing our original article, 10 HighYa readers have provided feedback regarding their experiences with Insurify, giving the company an average rating of 3.9 stars.
Common compliments referenced ease of use, competitive quotes, and excellent customer support. On the other hand, the relatively few complaints often related to the number of carriers displayed/accuracy during the quoting process. A company representative responded in each instance.
We also encountered more than 900 customer reviews on Shopper Approved, who had cumulatively given Insurify a meaningfully higher average rating of 4.8 stars. Common compliments and complaints were similar to those on HighYa.
As a company, Cambridge, MA-based Insurify was founded in 2013 and is piloted by founder and CEO Snejina Zacharia. They won second place in MIT's 100K competition, as well as first place in the Startup Disruptors category of the AIIC Northeast challenge.
Head of Engineering Steven Moseley previously worked as Lead Developer for TripAdvisor Rentals, while Kayak chief technology officer Giorgos Zacharia is one of the company's cofounders and principal advisors. Together, this is why Insurify's promotional video states that they "wanted to bring that same hotel shopping experience you love to car insurance."
But is there anything else like it?
Insurify vs. The Zebra
Earlier, we outlined that—as an agency—Insurify differentiates itself from many other auto insurance quoting websites, who act as lead generators or company-sponsored quote aggregators. And as most of us understand, it's easy to get a quote direct from just about any carrier by visiting their website.
But are there other online agencies competing in the same space as Insurify?
Claiming to represent more than 200 insurance carriers, The Zebra is arguably Insurify's biggest—and perhaps only—competition. And although Zebra opened their doors in 2012, they only recently began delivering real-time quotes as Insurify has since their inception in 2013.
From a user experience perspective, when the HighYa team researched The Zebra, we found their quoting system much like other comparison sites, including Insurify. Their results pages were even similar, displaying matches in order of price, which could be changed if any of the factors (drivers, vehicles, etc.) were incorrect.
However, according to the Insurify representative we spoke with, "we present more real-time quotes to users than anyone else in the industry. The Zebra presents manufactured quotes in-line with their real-time quotes, but has fewer actual bindable carrier quotes than we do." What's the difference? The company representative explains:
"Manufactured quotes are estimates based on analysis of insurance filings. They are often quite inaccurate. In contrast, Insurify's real-time quotes are actual bindable rates given to us from direct partnerships with insurance companies."
In layman's terms, we're told that the quotes you receive are what you'll pay once your policy is activated.
Rolling everything we've learned together, what does this mean for Insurify?
Our Final Thoughts About Insurify
According to the National Association of Insurance Commissioners (NAIC), when choosing an insurance agent, you'll want to start by focusing on things like referrals from family, friends, neighbors, online reviews, trade associations, and other business owners.
Then, once you have a core list, consider factors like the agent's personality, credentials, and licensing. When speaking with them, don't be afraid to ask for references or ask questions.
In this regard, Insurify comes with mostly positive online customer feedback and an A+ rating with the Better Business Bureau, and the carrier reviews listed on their website allow shoppers to quickly compare options before they buy.
The company has also been in business for more than fours years and is funded by some big-time backers. On top of this, if you value having access to a virtual agent 24 hours a day—something not offered by The Zebra, then Insurify might be right up your alley.
The bottom line is that most insurance professionals recommend shopping auto and home rates about once per year. If it's about that time for you, at the very least, it might be worthwhile to take a few minutes, obtain a list of quotes with Insurify, and see if the coverage options and prices offered by any of their carriers might help save you money.
Hold on to your wallet...

By Sherry K.

,

Las Vegas, NV

,

Jan 24, 2020
Verified Reviewer

In ten minutes' time, the quote I wanted online went up 4 times! First told quote wrong, second told a ZERO claim on my record caused rate increase, third paying with a debit card increased my rate, refusing to give my banking info again raised my rate! RUN AWAY!

Bottom Line: No, I would not recommend this to a friend

Jan 30, 2020

Hi Sherry,

I'm so sorry to hear this! This is not the experience we'd like you to have on Insurify. Our goal is to serve real-time quotes and provide an easier check-out experience for our users. We're investigating your case and will follow up with you soon. Can you email us at hello@insurify.com with more details?

Thank you for bringing this to our attention!

- The Customer Service Team at Insurify

---

Scam on seniors

By Paul W.

,

Georgia

,

Dec 18, 2019
Verified Reviewer

All rates start enticingly low only to have an Insurify AGENT GET INVOLVED. They do not do this for free!

Senior veteran, super clean record, rates were way higher than my present insurer.

I even selected my present insurer and my rate was $120 more than what they charge me now.

All smoke and mirrors for people.

Bottom Line: No, I would not recommend this to a friend

---

Advertisement

---

Great quotes!

By Jayson S.

,

Marshville, NC

,

May 29, 2018
Verified Reviewer

I had an excellent and smooth process on receiving the most appropriate and affordable full coverage auto insurance. Mari Vargas assisted me to the finest extent an agent could possibly do! Beautiful customer service! I highly recommend to any and everyone!

Bottom Line: Yes, I would recommend this to a friend

May 30, 2018

Jayson,

Thank you for your positive review of Insurify! We're very happy that we helped you find an affordable insurance policy that fit your needs, and that your experience with our agent was so positive. Please let your friends know about Insurify!

- The Insurify Customer Service Team

---

Glad I checked

By Michelle M.

,

Gilbert, SC

,

May 28, 2018
Verified Reviewer

Such an easy process. You get to pick and choose which insurance company you want to look at. I found a price that fit my budget and a well-known insurance company that offered me a better quote than the previous insurance company I had for years! Great experience all around.

Bottom Line: Yes, I would recommend this to a friend

May 29, 2018

Michelle,

Thank you for your positive review of Insurify! Our goal is to make insurance shopping simple and quick, and we're very happy that we helped you find a policy from a top insurance carrier that saved you so much money. Please feel free to recommend us to you friends!

- The Insurify Customer Service Team

---

Advertisement

---

Worst company ever

By Joan E.

,

Texas

,

May 24, 2018
Verified Reviewer

I was given multiple quotes by two agents, one of which said he was "management." None of the quotes turned out to be correct, so I ended up paying a lot more than I believed I would. Also, I emphatically told them both that my insurance would need to be due on the 15th of the month. When I bought the insurance police the "management" told me that I would just need to call Aggressive, the insurance company, and let them know to put my payments for the 15th. When I called Aggressive, I was told they can't change the dates, and they wish that this company would not tell people that they can. Apparently, it's common practice for Insurify to tell customers this to sell the policy. Now I'm stuck with an insurance policy that is due on the 3rd (I bought it on the 14th of the month) and my pay period is the 15th.

Bottom Line: No, I would not recommend this to a friend

May 24, 2018

Joan,

We're very sorry that you had a negative experience with Insurify. We pride ourselves on providing an excellent customer experience. This agent did not follow our company policy. We are addressing the situation with the agent in question, and we will follow up with you directly. Thank you for calling our attention to this matter.

- The Insurify Customer Service Team

---

Excellent and professional

By Saul R.

,

Doral, FL

,

May 22, 2018
Verified Reviewer

It was easy, and the person was very professional and he knew the product. He also helped me to take my decision to buy the insurance. He is a good salesman with excellent public relations.

Bottom Line: Yes, I would recommend this to a friend

May 25, 2018

Saul,

Thank you for your positive feedback! We're happy that you had such a good experience with Insurify. Please feel free recommend us to your friends!

- The Insurify Customer Service Team

---

Quick and easy

By Wm Thorne

,

Forest Heights, MD

,

May 19, 2018
Verified Reviewer

This was the first time I ever bought insurance for any reason, and I was extremely skeptical I could obtain a tailored made insurance policy over the internet, especially from a well-established company like Met Life.

But to my surprise, not only did I get a tailored policy for my specific needs, I also obtained it at a much lower rate than any other insure established or not, and I was really astonished it took me only 10 minutes to buy it.

Great job, keep up the excellent work.

Bottom Line: Yes, I would recommend this to a friend

May 25, 2018

Wm,

Thank you for your positive review of Insurify! Our goal is to make purchasing insurance online as easy as possible, and we're very glad we were able to help you find the right policy at a great price.

- The Insurify Customer Service Team

---

This site found me a great quote!

This site found me a great quote! I tried other sites and never found good quotes. This one actually found me an unknown newer online insurance company. I am so thankful I used this site!

Bottom Line: Yes, I would recommend this to a friend

May 18, 2018

Thank you for the kind words Sarah! We work with a wide variety of carriers, and we're very happy to hear that we were able to match you with a great quote. Please come back when it's time to renew your policy!

---

Very satisfied, thank you.

Simple and easy, thank you again. I recommend anyone who needs insurance to contact Insurify, simply the best deal. I couldn't be more happier with the service. Everyone is very helpful and respectful. Thank you again.

Bottom Line: Yes, I would recommend this to a friend

May 25, 2018

David,

Thank you for your great review of Insurify! We're glad that you had such a positive experience with our service. Please feel free to recommend us to your friends and family.

- The Insurify Customer Service Team

---

Returned exactly ZERO rate quotes

By Alex Gordon

,

Michigan

,

Apr 8, 2018
Verified Reviewer

I input all of my vehicle, driver, and coverage data and this site returned exactly ZERO rate quotes for me to compare. Instead, just like another reviewer said, it returned several ads for individual insurance companies with a "Check Rate" button that redirects you to their own sites. But once you're there, you have to re-enter all the information again! So I essentially just gave all my personal information to these guys for nothing. I would rate them less than one star if possible. STAY AWAY!

Bottom Line: No, I would not recommend this to a friend

May 24, 2018

Alex,

We're very sorry that you were unable to receive quotes from Insurify. Unfortunately, Michigan is currently a difficult market for insurance, with a limited number of carriers willing to quote online. However, we are working to expand the number of quotes we can display in your area.

We hope that you'll come back and try Insurify again in the future–we're sure that you'll have a better experience.

-The Insurify Customer Service Team

---

Short on results

By Jerry Hardt

,

Kentucky

,

Dec 15, 2017
Verified Reviewer

Although this is advertised as comparing quotes from 90 or 100 insurance companies, it actually only returned two for me. It had a few other companies listed with no prices but a "Check Rates" button, but when I clicked it took me to individual company sites that required me to fill out all my information again, negating the whole purpose of using a site like Insurify.

Also, it is December 2017 and Insurify would not allow me to select 2018 for one of my cars. And the employment choices were inadequate to cover many jobs ("Other" and "None of the Above" were not options).

The site worked fine and was fairly quick, but the results were not useful and will require me to start over on another site.

Bottom Line: No, I would not recommend this to a friend

---