Intelius Reviews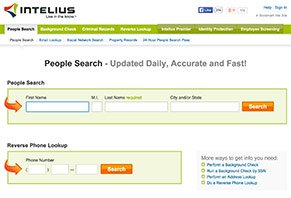 Intelius is an online people search company that claims to compile more than 20 billion public records annually into convenient, easy-to-read reports.
About Intelius
Intelius claims to be an accurate and fast people search that is updated daily, and to have fulfilled over 20 million orders to date.
Instead of being required to visit various government agency websites and submit dozens of document requests, Intelius claims to gather 20 billion public records annually, assign them to about 225 million unique people, and display this information in convenient reports.
But how easy is Intelius to use? Let's take a look.
How Does Intelius Claim to Work?
First, you'll need to start by entering the first name and last names of the person you're looking for, as well as the city and/or state in which the person lives, and then pressing the Search button. Alternately, you can perform a reverse phone lookup in the field directly underneath.
Next, the results of your search will be displayed. In a best-case scenario, you'll see the person's age, cities they've lived in, companies they've worked at, colleges/universities they've attended, as well as a list of related individuals. Finally, a green checkmark will appear if the person's DOB, phone, or address are included in the report.
If you click on the orange "Get the Report On" arrow, you'll be presented with three different report options:
People Search Report – Includes full name, address, age & DOB, aliases, phone number, relatives, and address history.
People Search Plus Report – Includes everything in the basic package, in addition to social network and email search.
Background Report – Features everything found in the Plus report, in addition to a property report, criminal check, bankruptcies and liens, aliases, lawsuits, neighbors, and marriage and divorce records.
Seems fairly straightforward, right? But does Intelius's ease of use necessarily provide you with a good value for your hard-earned money? Consider the following:
Where Does Intelius Obtain Their Information From?
Intelius obtains all of their information from public records, which are simply defined as "documents or pieces of information that are not considered confidential." However, while this information is technically available to anyone who requests it, in most instances, you would be required to visit each individual government agency, depending on the type of information you were looking for (e.g. address, marriage information, criminal records, etc.).
Instead, people search companies like Intelius claim to save you time and hassle by compiling all the information for you into a quick, easy-to-read report.
Is There Anything That Intelius Can't Be Used For?
According to Intelius's Terms & Conditions, the company is not a consumer reporting agency as defined in the Fair Credit Reporting Act ("FCRA"). As such, you can't use the information contained in an Intelius Report to determine an individual's eligibility for credit, employment, or for any other business transaction (including leasing an apartment).
However, when compared to many other people search companies, Intelius does offer an employee screening service by partnering with TalentWise.
Are There Other People Search Options?
When it comes to searching for someone online, there are a wide variety of choices from which to choose, although each one claims to provide their customers with some kind of advantage. In this case of Intelius, it's this:
"To get these records for the person you're searching for, you'd have to contact a variety of government agencies and request copies. To get this info, you'd have to obtain millions of records and then sort through them to find the ones that belong to the person you're searching for. To build a database like ours, you'd have to hire a team of data scientists and have them spend ten years inventing better ways to sort billions of records, fill in the blanks, and connect the dots."
And while there's no way to verify the above claims, it's important that you check out (pun intended) other people search website, including Instant Checkmate, SpyFly, and BeenVerified. Granted, most of these companies have similar reputations among customers, which is what we'll talk about next.
Are Customers Happy with Their Intelius Reports?
Overall, based solely on online customer reviews, it appears that Intelius has a very poor reputation.
On ConsumerAffairs, 65 customers provided their feedback for Intelius, and gave the company an average rating of 1 star. Common complaints cited incorrect/incomplete information contained in reports, difficulty cancelling trials and monthly subscriptions, and rude customer service.
35 TrustPilot readers provided feedback on their experiences with Intelius, and gave it an average rating of 2.5 stars, with common complaints mirroring those noted above. Similarly, 28 Yelp reviewers gave Intelius an average 1-star rating, with most of the same complaints.
From a company perspective, Intelius is based out of Bellevue, WA and holds an A+ rating with the Better Business Bureau, despite 444 closed complaints (as of 3/16/15). As you might have guessed, nearly all of the same Intelius complaints noted elsewhere online were also prevalent on the BBB's website.
Intelius Pricing and Refund Policy
Intelius's report options are priced as follows:
People Search Report: $3.95 ($0.95 for Premier Plus*)
People Search Plus Report: $9.95 ($6.95 for Premier Plus)
Background Report: $49.95 ($39.95 for Premier Plus)
*Intelius's Premier Plus program will cost you $29.95 per month in membership fees, for which you'll receive 1 monthly Background report. However, any additional reports ordered will be priced as shown above.
You can also try out Intelius through their 7-day trial for $7.95. Upon expiration of your trial, you'll be automatically enrolled in Intelius's Premier Plus program, which means you'll continue being billed $29.95 per month until you call to cancel.
According to the Intelius Terms & Conditions, all purchases are final, and no refunds are available.
However, in order to cancel your trial or your Premier Plus membership, you'll need to contact customer service at (888) 445-2727.
Is Intelius a Good Way to Find People?
Whether you're thinking about choosing Intelius or any other people search company, because the information contained in their reports is publicly available, you might want to try searching for it through your favorite searching engine before paying for a report. This is especially relevant if you're looking for basic information such as an address or phone number.
If you do choose to order a report through Intelius though, you'll definitely want to keep an eye on recurring charges, especially if you decided to sign up through one of their free trials. And you might be taking a shot in the dark when ordering an Intelius report, because regardless of the limited information one of their reports may contain, no refunds are available.
» Related: The Problem with People Search Websites and How You Can Find the Same Information for Free
---
Complete scam! Data is decades old.

By Craig P.

,

Chandler, AZ

,

Aug 15, 2019
Verified Reviewer

Overall Experience:

I took the bait and ordered a one-person search for 95 cents. The data returned was at least 6 years old, maybe older, and completely useless. Not only that, but without warning, I was signed up to pay a monthly subscription going forward. I canceled it, but the cancellation included a message that I would still be ripped off an additional $7.95 for having a 7-day trial. No trial was, of course, mentioned when the 95 cents was paid. It is impossible to remove payment information but I am going to contact the payor to see if I can prevent the payment. Intelius is unethical and dishonest. Never again.

Bottom Line: No, I would not recommend this to a friend

---

Fishing website!

By Michelle L.

,

Philadelphia, PA

,

Aug 12, 2019
Verified Reviewer

Overall Experience:

Stay away from this website. Be careful of the $0.95 you paid! There are more charges coming that can't be avoided! They are using this low charge to trick you in! It somehow comes with a subscription. If you cancel it, there will be a charge. If you don't cancel it, there will be an even higher charge.

Bottom Line: No, I would not recommend this to a friend

---

Advertisement

---

Complete waste of time and money

By Micah R.

,

Washington

,

Aug 8, 2019
Verified Reviewer

Overall Experience:

Ran a check on myself, it was old information and they wanted more money to pull up criminal records. That's what I paid 30 bucks for in the first place. Super angry and they will automatically start a monthly charge on you.

Bottom Line: No, I would not recommend this to a friend

---

Overall Experience:

Site advertises a $.95 charge if you cancel before 7 days. I canceled the same day after I did one business search. Was charged an additional $7.95 seven days later. Why don't they just say $8.90 for seven days minimum one person/business search because that is the bottom line?

Bottom Line: No, I would not recommend this to a friend

---

Advertisement

---

Beware using Intelius, legally took money after account cancellation

By Chris A.

,

Chesapeake, VA

,

Jul 30, 2019
Verified Reviewer

Overall Experience:

Frankly, Intelius intentionally finds new ways to take your money after you cancel your account. READ all the fine print BEFORE starting an account with them.

To make it short, I paid $.095 to start a 7-day trial account. I could cancel the account within 7 days and there would be NO FURTHER MEMBERSHIP CHARGES (as stated on the cancellation notice I printed and still have in my hand) or after the 7 days, the account would turn into a standard 30-day account and be billed at $29.99/month.

I made 3 inquires with Intelius that disclosed outdated and unfortunately useless information. I canceled the account about 1 hour later and printed a copy of the cancellation info (just in case).

Nine days later my PayPal account paid $7.95 to Intelius.

I went to the Intelius website looking for a phone number and found in the Q&A section, "Why was I billed $7.95 after my membership was canceled?", interesting I thought - they were ready for me!

Apparently, Intelius CLAIMS there was a disclaimer at the time of purchase (in fine print) that said if I canceled within the 7 days I would still pay them an extra $7.95.

I stilled called them at (888) 445-2727 and they stayed firm and said they would not refund the money.

So that is that - lesson learned...

Bottom Line: No, I would not recommend this to a friend

---

Intelius is a scam

By Ben D.

,

New York

,

Jul 19, 2019
Verified Reviewer

Overall Experience:

Both Intelius and Omnisearch are owned by the same company and their websites work in the identically same way. They offer no pricing upfront. You have to put your name into a search field at which time the search engine pretends to be going over every record that exists on you. It takes about 5 minutes for it to process giving the impression of how thorough it is. Then it offers you a subscription for $29.95 a month but hidden in the wording is that you are actually paying $39.95 (non-refundable) for a one-time background search on yourself plus the $29.95 a month subscription. Once your account is active and you put a name into the search engine, it takes only 10 seconds to come back with results showing that the first search for 5 minutes is just a marketing ploy. I canceled the membership immediately but the company refused to refund my $39.95. Stay away! There are some legitimate sites but unless they offer their pricing plans upfront you should read the fine print.

Bottom Line: No, I would not recommend this to a friend

---

Stole money from me

By George S.

,

New York

,

Jul 10, 2019
Verified Reviewer

Overall Experience:

I paid for a single document, I did not buy any membership whatsoever. They secretly started charging me $30 a month to my PayPal which I didn't realize for 3 months. Not to mention the report was of inaccurate/old information. I don't even have an account with them, how could I have a membership? They never sent one email to me about payments.

Bottom Line: No, I would not recommend this to a friend

---

Horrible company

By Cris K.

,

Massachusetts

,

Jun 27, 2019
Verified Reviewer

Overall Experience:

Hidden fees for their $0.95 one time "try" me out charge. I wanted to confirm an old friend's birthday and used this service once. Paid my $0.95 and canceled immediately, a week later they charged me a $7.95 free week trial fee. BS. They won't refund the money even though it's clear I only used it for 1 search.

Never use this company.

Bottom Line: No, I would not recommend this to a friend

---

Poor results and sneaky back billing practices

By Ed L.

,

Hershey, PA

,

Jun 26, 2019
Verified Reviewer

Overall Experience:

We did side by side comparison with our own search and found more than Intelius. We only found the $7.95 second charge mentioned in an email AFTER we paid $39.95 for the bogus report.

I saved the cancelation screenshot because I know they will bill me again anyway.

Bottom Line: No, I would not recommend this to a friend

---

Total scam!

By Leor T.

,

Florida

,

Jun 10, 2019
Verified Reviewer

Overall Experience:

I just paid almost $100 and got nothing from it.

I paid for the more expensive pack and after I do a search for my own name and nothing really showed up on my report. I did another search of a different name and still nothing really showed up, especially not what it says you're paying for.

Bottom Line: No, I would not recommend this to a friend

---

Bait and switch

By Slim T.

,

North Carolina

,

Jun 6, 2019
Verified Reviewer

Overall Experience:

The Information they provide is GARBAGE! Nothing "informative". You can find as much in the White Pages.

The so-called 95-cent offer is BS! They will charge you $7.95 REGARDLESS within 7 (business?) days. I CANCELLED IMMEDIATELY after receiving REPORT because the REPORT was GARBAGE. And they still charged me the $7.95 and I paid the 95 cents. THAT'S $8.90 WASTED on garbage information.

The information they provide on your subject is kiddish at best. Save your money. TruthFinder site will give you info that's in line with the answers you seek.

Bottom Line: No, I would not recommend this to a friend

---