intelliBED Reviews
Claimed This company has claimed this profile, is getting alerted on any new customer reviews entering this page, and may engage in dialogue with its customers to address their matters.

Companies cannot pay money or provide goods in order to remove or alter customer reviews.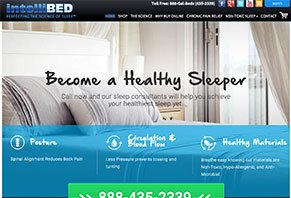 IntelliBED's sleep products feature proprietary Intelli-gel, which is claimed to provide comfort and support and to give you a healthy night's sleep.
About intelliBED
IntelliBED mattresses are claimed to be scientifically proven to provide firm horizontal support, while keeping your hips and shoulders level, which can help prevent back pain, improve circulation and blood flow, and relieve pressure up to 80% better than other mattresses. In other words, unlike their competition, IntelliBED claims to simultaneously provide you with support and pressure relief.
In order to accomplish this, IntelliBED has exclusive rights to a proprietary material named Intelli-gel, which provides soft cushioning under the hips and shoulders, but firm support everywhere else (we'll talk more about this in a moment). According to the company, Intelli-gel lasts 4-10 times longer than foam, and the remainder of their mattresses consist of non-toxic, hypoallergenic, and anti-microbial materials that don't off-gas and are natural fire blockers.
Because of these benefits, IntelliBED claims to help you achieve healthy, restful, deep-healing sleep using the "world's most scientifically advanced and comfortable mattress."
You spend about a third of your life sleeping on mattresses, and you want to make sure this time is used to optimize your health, so that you can excel in other parts of your life. But is IntelliBED the best (and most cost-effective) method of achieving this?
We'll get to these important questions in a moment. But first, let's take a look at what IntelliBED has to offer:
IntelliBED Mattress Models
All IntelliBED mattresses are manufactured in the USA, and include the following models:
Gel+
IntelliBED's starter mattress for those on a tight budget, the Gel+ model features patented Intelli-Gel and a foam core for support.
Firmness: 9/10
Back Support: 3/10
Warranty: 10-year limited
Gel Elite
If you have a budget to stick to but still want "the lap of luxury," IntelliBED claims their Gel Elite model combines patented Intelli-Gel with "the durability and support of innerspring."
Firmness: 8/10
Back Support: 6/10
Warranty: 20-year limited
Lo-Motion Available (more about this below)
Posture Perfect
If you suffer from back issues, IntelliBED promises to deliver "aggressive alignment support" for your neck and back, along with the comfort of Intelli-Gel. Even if you don't, we're told Posture Perfect remains ideal for most sleepers.
Firmness: 6/10
Back Support: 10/10
Warranty: 30-year limited
Lo-Motion Available
Relief Perfect
If you enjoy a softer feel but still want solid back support, the Relief Perfect model combines Intelli-Gel with Talalay latex for "superior pressure relief."
Firmness: 3/10
Back Support: 7/10
Warranty: 30-year limited
Lo-Motion Available
Alright, we've mentioned a few times already, but what's the deal with IntelliBED's Lo-Motion?
What Is Lo-Motion?
IntelliBED's Gel Elite, Posture Perfect, and Relief Perfect models all feature the company's patented Intelli-Gel, but the Lo-Motion option adds pocket coils, delivering a softer feel with "limited motion transfer between partners.
In addition to their different mattresses, IntelliBED also sells other products like:
Mattress Topper – Thin-line mattresses that are useful for traveling, and for use camping, in RVs/boats, and even for your spare bedroom.
Pillows – Features a soft, supportive foam core and an adjustable air chamber that allows you to customize the contour by about 2". Comes in high and low-profile side sleeper, as well as back sleeper models.
Accessories – Box springs, mattress protectors, sheets, and even electronics.
Regardless of which IntelliBED product you're thinking about purchasing though, at the core (no pun intended) of many of their claims is the Intelli-gel material, so let's take a closer look at what this is.
What Is Intelli-gel?
Intelli-gel (also known as Isoflex, which is manufactured by Stryker and is most often used in hospitals) is a patented system of buckling columns, known as Dimensional Gel Technology, made of food-grade mineral oil that redistributes body weight and is virtually indestructible
According to IntelliBED, over a large surface (such as the torso), all the columns work together to provide support. However, when the surface area is smaller (such as hips and shoulders), Intelli-gel's columns buckle and provide enough suspension so that it helps maintain blood circulation and spinal alignment. And because blood circulation and spinal alignment are improved, so is the quality of your sleep.
Here's how the IntelliBED website explains it:
"Because our intelli-GEL cushioning layer has the unique ability to 'sense' a pressure point and relax under it ( allowing the protruding body part to sink in and redistribute the pressure) it also anchors the body into the gel using your body weight and gravity to hold you gently in place. This allows our high-quality adjustable base to comfortably moves you through a series of positions that, when completed, results in a decompressed spine, hip, neck or shoulder thereby reducing painful pressure and preparing your body for a restful night of deep-healing sleep."
Because of the comfort and support provided by Intelli-gel, IntelliBED claims their mattresses are ideal for individuals with herniated disc, acid reflux, scoliosis, osteoarthritis, fibromyalgia, and many other medical conditions.
But if you suffer from certain medical conditions, does this mean you should purchase an IntelliBED product?
What's Causing Your Sleeplessness?
Most importantly, keep in mind that if you're not getting the sleep you need, there could be hundreds of different causes, including snoring, pain, anxiety, depression, exercise and eating habits, and much more. Because of this, if you're constantly getting poor sleep, the first person you should speak with is your physician, who can put you on the path to finding a solution based on your specific diagnosis.
And if your doctor advises that you need help with snoring, be sure to read our Finding an Anti-Snoring Product That Works guide. And if it's back pain that's causing you to lose sleep, we've got you covered as well with our guide to Winning the Battle Against Chronic Back Pain.
Are IntelliBED Mattresses Scientifically Proven?
According to the IntelliBED website, their mattresses are scientifically proven to provide healthier sleep. And although they feature some graphs and bullet points on their site outlining this, they don't provide any references to back them up.
In addition, other than the Isoflex brochure noted above, there isn't any clinical proof provided on the Stryker website, either.
How Long Will Your IntelliBED Last?
Next, keep in mind that although IntelliBED claims their mattresses will last 4-10X longer than foam/box spring-only mattresses, they do use springs and foam in their mattress designs. Granted, these elements may make up a minority of their mattresses (depending on model), but it's important to note nonetheless.
Other Online Mattress Purchasing Options
While they might come with very different designs and price points (more in a moment), remember that you have a multitude of options when it comes to online mattress purchasing, including Casper Mattress, Sleep Number, Tuft and Needle, Purple Mattress and more.
Are IntelliBED Customers Getting the Best Sleep of Their Lives?
Overall, outside of those posted on independent blogging sites, there weren't a whole lot of online IntelliBED reviews at the time of our research.
We did find three customer reviews on Beds.org, who gave the mattresses an average rating of 4 stars. Nearly all customers appear to have been very satisfied with the comfort and support provided, although some noted that it's heavy compared to traditional mattresses. Also, one customer complained that their IntelliBED mattress wasn't comfortable, especially near the edges (poor edge support).
An in-depth user IntelliBED review was also featured on TheMattressUnderground, who claimed that while the strength, safety, and other benefits seem to be spot on, the company's claims about their materials being safer than other mattresses might not necessarily be true.
From a company perspective, IntelliBED mattresses are manufactured by Advanced Comfort Technologies, Inc., based out of Murray, UT, who holds an A+ BBB rating with no complaints filed within the past 3 years (as of 4/6/15).
IntelliBED Pricing & Refund Policy
IntelliBED products are priced as follows (all adult mattresses available in twin through California king sizes):
Gel+: $899 to $1,599
Gel Elite: $1,399 to $2,999
Posture Perfect: $2,299 to $4,399
Relief Perfect: $2,299 to $4,399
Miscellaneous:
Box Spring: $200 to $400
Frame: $49.95 to $109.95
Mattress Protector (required for the 60-day trial): $90
Existing Mattress Removal: $99
If need be, IntelliBED claims to offer interest-free financing for 60 months qualified applicants.
All IntelliBED mattresses come with a 60-day risk-free in-home trial, including return shipping if you're dissatisfied. Important note: However, you will have to purchase a mattress protector (an additional $90) in order to qualify, which is non-returnable.
In addition, while IntelliBED provides up to a 30-year warranty on their mattresses, keep in mind that the mattress's full replacement price is only valid for the first 10 years, and then only on a prorated basis for the remaining 20 years.
There isn't any refund information provided on the IntelliBED website, although you can receive a free sleep surface consultation by calling customer service at 888-435-2339.
Should You Buy an IntelliBED Mattress?
Chopping to the Point: When it comes down to it, finding a mattress that works for you is a very personal decision, and depends heavily on preference, as well as medical issues you may be experiencing (not to mention your physician's diagnosis). In other words, what your neighbor finds to be the epitome of comfort might seem like sleeping on a bed of nails to you, so what they find valuable you may not.
The good news is that most online mattress companies, IntelliBED included, now offer in-home trials that allow you to test your mattress before committing to an expensive purchase. You might be out S&H charges (or in the case of IntelliBED, the cost of a mattress protector), but this is really the only way to figure out what works for you and what doesn't.
With this said, IntelliBED mattresses appear to be of high quality, and most customers seemed to be very pleased with their purchases.
» For Further Reading: Best Bed-In-A-Box Mattress Buying Guide
28 out 29 people found this review helpful

Mattress failure

We purchased two of these intelliBED mattresses. Together they cost about $6000.00. The Queen mattress is fine. The California King began to fail well within warranty period. I could not get through to the company as it appeared to be out of business at that time. Later when I saw it online, I tried again. Still under warranty, I jumped through the myriad hoops: photos, descriptions, forms. The mattress cover was pristine. The company agreed it was failing. Then they told me I had to wrap and send it back to them for "repair" or I could buy a new one from them at a discount. All options were very costly and difficult for an elderly woman to do.

Finally, I did contact them again, prepared to avail myself of one of the options and was told that the man I had dealt with was no longer with the company. They could not locate the files. They wanted me to start all over again. What this warranty was is a pure scam. The service was really appalling when one has purchased such an upscale mattress.

Bottom Line: No, I would not recommend this to a friend

---

32 out 32 people found this review helpful

The Warranty claim department does not communicate

By MN

,

Texas

,

Jun 12, 2015

I bought an intelliBED in May of 2006. I had researched beds to help my lower back issues. I will state, for the record, the intelliBED was VERY helpful and quite comfortable. I did not have the problems with aches and pains I had experienced before.

With that said, I began having trouble with aches, pains, and piriformis syndrome about 12-18 months ago. I noticed that there was a sizable "hump" in the middle of the King-sized intelliBED I share with my spouse. In fact, I had to literally PULL myself up in order to breach the hump. I had done everything required to maintain the bed (6-month rotations, etc.) and contacted intelliBED regarding the warranty. The individual with whom I chatted on April 6th had even indicated the beds manufactured during the time I purchased mine had inherent issues with support and were not up to the standards intelliBED requires. Without great detail (which I do have), the last communication I received from them after submitting my warranty claim form and other documents was April 13, 2015, advising my paperwork had been received and I should hear from them within 24-72 hours. I have sent two follow-up emails, May 9th and June 1st, requesting some communication from intelliBED about my warranty claim. Nothing. I can only presume perhaps they don't want to cover 100% of the warranty work since I am entering year #10. The warranty covers 100% (although YOU pay for shipping to Utah both ways!) the first 10 years, then begins to pay less each year for the remaining 10 years of the warranty.

I hope you do NOT have to deal with the company. I have friends who swear by other beds they own and I am now in the process of investigating those options. I assure you I would NEVER purchase from this company again. They do NOT respond to customers in a reasonable manner. I cannot get anyone to tell me WHY I am being ignored. Having a good product helps with sales… but follow-up is far more important to me. I will never recommend intelliBED again and I have contacted friends I had recommended them to in the past to advise of my problem.

UPDATE #1:

I was astounded to receive a call from the Operations department at IntelliBED today (6-18-2015). While there was no explanation for the lack of communication previously, it appears they are wanting to resolve my warranty claim. The information I received was very positive. I will reserve judgment until all has been handled. I will return to update my post regardless of how it goes.

UPDATE #2:

On June 7, 2015, I posted a review of my personal experience with the intelliBED Warranty/Customer Service department(s). I was extremely displeased with the lack of response from the company after my initial contact on 4/6/2015. You may read the first review dated 6/7/2015 for details.

This follow-up is to provide information on what happened after I posted my review on several blog sites as well as the Utah BBB site.

On 6/18/15, I received a call advising my warranty claim had "just hit (my) desk" from the Operations Department. The caller could not or would not discuss why I had not heard from anyone after my attempts for communication but rather suggested we simply "move forward" from this point. He reiterated the same information I had garnered from my initial chat with Customer Service on 4/6/15. He advised he was going to simply replace my mattress with a comparable one with the "new and improved" internal components. He then told me it would be $700 for them to ship the new mattress. I advised I had a copy of my transcript chat where the Customer Service Representative had checked with the Warehouse Manager and quoted me $500 total for the two-way shipping of my old mattress for repair. He said he was the Warehouse Manager and he would honor that. (See summary for my question on why a one-way shipping charge would be the same as a two-way shipping charge.)

On 6/19/15, I received a call from Customer Service to get credit card information to charge the "discounted" shipping charge to me (again… shipping charge is a sore point with me). She indicated the new mattress would likely ship out on 6/22/15.

On 7/8/15, after some confusion with the shipping/delivery company, the new mattress arrived. My old mattress was removed & destroyed while on the truck. I took photos of the destroyed mattress per the Warehouse Manager's request.

On 7/13/15, the Customer Service Representative called me to check up on the delivery and to request I forward the photos of the destroyed mattress to them which I did. On 7/17/15, the delivery company called asking if I had photos of the destroyed mattress they picked up. Yes. She asked if I would email copies which I did.

I have been sleeping on the new mattress for 3 weeks now. It is the way I remember my old mattress was in the beginning. I have not experienced any of the problems that had begun cropping up in the past year with my lower back issues or my Piriformis Syndrome. My sleep is back to what was advertised to me in 2006 (which I experienced and loved the first 8 years).

SUMMARY: I am very satisfied with my new warranty replacement mattress. I was always happy with the product until it began to fail. I remain less-than-happy with the entire Warranty experience. I cannot resolve in my head why a one-way shipment charge would be the same as a previously quoted two-way shipment charge. I do not understand why no one could explain the excessive length of time before anyone contacted me even after I followed-up twice. I have suggested to intelliBED the need for some improvement and consistency in its Warranty/Customer Service communications. I am fairly certain they are simply glad to be done with me. Quite honestly, I am glad this ordeal is over, too. My sincere recommendation to anyone who may need to work with intelliBED on any Customer Service issue is to GET IT IN WRITING! Use the Chat mode or Email mode. Copy/paste the entire chat transcript to a document to which you can refer later on. Keep a running document on any/all communications with dates, times, and names that you can refer back to if something changes. As a final, rather humorous note… I received an email yesterday from an individual identified as a "Customer Service Champion" thanking me for my purchase of the intelliBED mattress. I didn't purchase it. It was a warranty replacement. The intelliBED company really needs to do some extensive organizing and coordination among its departments.

Bottom Line: No, I would not recommend this to a friend

---

Advertisement

---

19 out 24 people found this review helpful

Worst mattress ever

By Ronna

,

Los Angeles

,

Aug 2, 2015
Verified Reviewer

I bought an Intellibed. What a $2200 mistake. Every morning I wake up with pain I didn't have before this mattress. My arms and hands are constantly numb throughout the night. New pain and discomfort in my hips and legs. Never mind how much my back hurts. Such misery.

If only I had returned it that first day or when they were bringing that flimsy thing they call a mattress in!

Now I have to buy a new mattress and throw this one out as I wouldn't want to be responsible for inflicting it on someone else. Yes it is that bad. Squishy with absolutely no support.

You see I went over their 60 day "trial" period and they will not take it back. What kind of company won't stand by their product? Now I will be buying a new mattress from Costco, who will take it back for any reason whatsoever. Now that is a company you can trust.

Bottom Line: No, I would not recommend this to a friend

---

19 out 21 people found this review helpful

Do not buy an IntelliBED

By Brad

,

Salt Lake City, Utah

,

Aug 14, 2015

First of all, the beds ARE NOT comfortable. They feel like you are sleeping on a life raft. Secondly, they will not honor the 60 Day Free Trial when you buy the bed from an IntelliBed store.

Bottom Line: No, I would not recommend this to a friend

---

Advertisement

---

22 out 31 people found this review helpful

Stay Away from Intellibed

By Nacho

,

Salt Lake city

,

Aug 28, 2015

Awful experience. The mattress is super warm and they will not honor a refund. Very bad costumer service. Avoid it at all risks.

Bottom Line: No, I would not recommend this to a friend

---

16 out 20 people found this review helpful

Terrible return policy

My wife had hardly slept on our old bed for a few months when we walked into the store. They promised it would alleviate her back problems and be so much better than any bed we had ever used. 60 days later she is still having back problems, I cannot return the bed and I now have a big credit card debit. I wanted to return the bed after the first night but that was not possible given the contract I signed. I should have known better, given I saw the contract up front but I was desperate to help my wife whom I love very much. They capitalize on the pain of a loved one and promise anything, not in writing however, to get you to sign. They should be run out of business.

Bottom Line: No, I would not recommend this to a friend

Feb 17, 2016

We have been in contact with this customer since their purchase, following up on the wife's back pain. The story we have heard directly from her is different than what is written in this review as she has claimed an improvement in her back pain stating "I don't wake up with back pain now where I did before." This difference may be because she is adjusting to the technology now as it can take the body time to adjust to a new mattress. She has also explained she still has to move down to her recliner at times during the night, but this is not uncommon and happens less with her new mattress. Our mattresses are not a miracle cure and we do not claim them to be, but then again, no mattress is. That said, our patented Intelli-Gel technology is unique in its ability to maintain proper spinal alignment by collapsing under the heavier parts of the body while maintaining a comfortable firmness everywhere else, which can help those suffering with back pain. This was what was explained to this customer in-store.

In regards to the return policy, intelliBED Dealers may have a different policy than what is found online. The in-store associates do a very thorough job of explaining the exact policy up front to ensure customers know their rights before they commit to purchasing.

---

24 out 26 people found this review helpful

Very Disappointed

By Gary

,

Saint George, UT

,

Feb 10, 2016

I bought a queen size intelliBED in 2010. It was a great bed for about three years, but then it started to sag and not rebound. We turned the bed, head to foot, about once a month. Both sides of the bed have noticeable dips in them, mine more so since I'm heavier and weigh 207 lbs. If one person sleeps in the middle on their own it is still comfortable, but that hardly ever happens. I didn't even think of using the warranty because I never want another one of these beds. It costs $2,300, and only lasts about four years!

Bottom Line: No, I would not recommend this to a friend

---

36 out 41 people found this review helpful

Bogus company with nonexistent 30-year warranty.

By George K.

,

Utah

,

Jul 22, 2018
Verified Reviewer

I purchased the intelliBED mattress three years ago with assurance from the sales representative that we would have no problems with the mattress, and if it did break down quickly, they have a 30-year warranty that is valid and presents no problems for customers.

Now three years after our purchase both my husband and myself wake up in pain due to the fact the middle part of the bed does not have enough support. After contacting the company and filling out all the correct paperwork, and taking pictures, they told me that they could not honor their 30-year warranty due to the fact that normal wear and tear on a mattress is ½ an inch.

They also sent out two employees to measure and take pictures of the bed as well. When they measured the bed, it was ½ inch and ¾ of inch wear and tear on the bed; with ¾ of an inch in the middle portion of the bed, where we complained there is no support. They never called me or returned my two placed calls to customer service. On the third call, the customer service representative put me on hold, and then came back and said that they would not honor the warranty due to the fact the mattress needs to sag or have a wear and tear measuring over ¾ of an inch.

Consequently, the change in their measurement requirements according to what they measure, there is definitely no warranty. They also do not stand behind their product or their selling promos that we were promised at the purchase of the bed. I would never suggest purchasing an expensive intelliBED unless you feel that a $4000.00+ bed is worth about two and a half years of comfort.

Bottom Line: No, I would not recommend this to a friend

---

22 out 24 people found this review helpful

No warranty, quick breakdown, terrible support

I purchased the form support mattress with a 10-year warranty for around $6k. We have had this mattress for about 5 years. Two sides of the mattress have huge enclaves that cause on the roll into them while sleeping. The top middle portion of the mattress has no support left. With the sides enclaved and the lack of support in the center of the mattress, there is nowhere for one to lay that doesn't cause pain and discomfort.

Upon contacting the company for the warranty, they stated the warranty is void due to the fact that there is a small stain on the mattress. When the salesman explained the warranty, he said the warranty would be valid so long as their mattress protector was used on the mattress (which we purchased and only removed 1x per week to wash, but always placed back on the mattress prior to sleeping again). At this point, we spent $6000 for a mattress that didn't last even 5 years (that equates to $100/ month) and now we need to find another mattress.

The experience we have had both with the product and the company has been awful. We would warn anyone who would listen to NEVER purchase this product!

Bottom Line: No, I would not recommend this to a friend

---

31 out 33 people found this review helpful

More back pain than ever

By L

,

St. Louis, MO

,

Jun 12, 2017
Verified Reviewer

I bought an intelliBED a little over a year ago. I was looking for something without all the chemicals and something to support my back after having a microdiscectomy. Originally, I bought the Posture Perfect, but after so many uncomfortable nights sleeping and feeling like the bed was way too hard, I decided I needed to trade that bed in for a Relief Perfect.

Their customer service was pleasant to deal with, and I didn't have any problems with the switching. Yes, there was an adjustment period of almost a month for me. My husband never really had an adjustment problem, but he has commented from the beginning that he doesn't think either bed is that comfortable. After the adjustment period, I did think I was getting a deeper sleep. However, I think because I maybe don't move around more at night, I am stiffer in general in the morning. I've also noticed that the middle of the bed is higher than the two sides where we sleep.

I kept the bed, but now I wish I hadn't. Every time I go to a hotel my first impression is that the beds are so comfortable and I sleep sound with no pain or stiffness. I have never had the "this bed is so comfortable, I love it" feeling for the intelliBED. Now, every time I go out of town and then come back to my bed, I go through what the customer service may try and call an "adjustment period." This is my 6th night in a row of no sleep because my back aches from the top to the bottom and my muscles are screaming at me. Just last week I was in a hotel sleeping like a baby in a very comfortable bed.

If I hadn't paid so much for this bed, I'd get rid of it in a heartbeat and get a chemical laden comfortable one. At this point, I just wouldn't care. Having sleep and a pain-free back is worth breathing the chemicals. I hurt THAT bad.

Bottom Line: No, I would not recommend this to a friend

---

23 out 27 people found this review helpful

Disappointing delivery and service

Aug 13, 2016
Verified Reviewer

Our IntelliBED mattress was delivered to our home on Jun 14, 2016. The young men who arrived were very nice but not well trained. They dragged the boxed mattresses across our wood floors, struggled to get them out of the boxes once in our bedroom and set them up leaving the plastic on. The bed frame we had ordered wasn't on the truck even though their packing list clearly stated three items to be delivered. When the frame was finally delivered two days later, they handed the pieces to Dan, leaving us to put it together and set up the mattresses.

Now, as for the mattress, we have liked it since day one. It is very comfortable and seems to be holding up well. Thank goodness because we have been disillusioned by the service department.

That is the reason we are writing this review - the service or lack of communication from someone in the department. Since June 2, 2016, when we received an email letting us know the mattress had shipped, we have not received a telephone call or an email asking us how the delivery went or how we like the mattress. I feel like I am hounding them when I call to get an update on an item that is back ordered when all service would have to do is send us an update every so often.

I spoke to the young woman who sold us the mattress on July 27th and, as of today, August 6th, we have heard nothing from the company.

So, although the sales pitch and the product rates very good, the service leaves me no choice but to say I could never recommend this company.

Bottom Line: No, I would not recommend this to a friend

Sep 2, 2016

Hi Dan and Mary Anne, I'm glad to hear you like the mattress and are sleeping comfortably. I wanted to reach out and apologize. It appears our customer service follow up did not follow our standard operating procedure and I apologize for that and will use this as a training opportunity with our team.

---