Interactive Brokers Reviews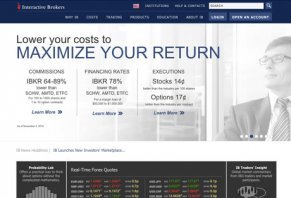 About Interactive Brokers
In business for 37 years, Interactive Brokers claims to have become one of the premier securities firms, with over $5 billion in equity capital, by focusing on trading technology that can deliver real advantages to traders, as well as lower costs that maximize your return. In fact, the company claims to offer the lowest prices in the industry; as much as 88% lower than the competition.
Today, with offices in the US, Switzerland, Canada, UK, Australia, Hungary, Russia, Japan, India, China and Estonia, Interactive Brokers claims to have been awarded a 4.5-star rating by Barron's magazine in the Best for International Traders category, and is rated A-/A-2 with Standard and Poor's (stable outlook) based on their conservative approach to trading.
How Does Interactive Brokers Claim to Work?
With nearly four decades in the industry, Interactive Brokers claims to have always had an eye on technology, and was even responsible for producing the first handheld computers used for trading way back in 1983. Since that time, Interactive Brokers has continued to create technologically advanced trading tools that provide completely automated processes, and can trade on over 100 market centers in 24 countries, through stocks, options, futures, forex, bonds, ETFs, and CFDs, all from your IB Universal account.
Because Interactive Brokers' trade process is completely automated, the company claims that this provides them with the ability to offer some of the lowest fees in the industry. In addition, IB's proprietary technology is claimed to deliver real advantages to traders, including their SmartRoutingSM system that searches for the best stock, option, and combination prices available at the time your order is placed, and then seeks to immediately execute your order electronically, potentially saving you time and money.
On top of this, Interactive Brokers features a free Investors' Marketplace where customers and service providers can connect with one another, along with their Traders' University, which is claimed to provided customers with access to live or prerecorded webinars, self-paced product courses, apps, tools, widgets, and more.
But perhaps some of Interactive Brokers' most standout technology is related to their trading platforms.
Interactive Brokers' Trading Platforms
Interactive Brokers offers several different trading platforms and a huge assortment customization options. Here's a quick overview of each:
Desktop Trading – As the top-tier trading platform in IB's lineup, their Trader Workstation (TWS) is claimed to provide you with all the features you'll need to control your trading, including order analytics and management, account monitoring, real-time account balance and activity monitoring, task-specific trading tools, built-in risk management, and more.
WebTrader – Claimed to be a simple yet powerful trading tool for those who don't need all the features found in the Desktop version. Because it's web-based, you'll be able to log in from any PC connected to the internet, and features a highly customizable modular design based on your preferences, including tickers, option chains, charts, and more.
Mobile Trading – Allows you to trade on the go from just about any Android, iOS, or Blackberry mobile device, including real-time streaming quotes and charts, quick access to reports and account information, and more. Features the same IB SmartRoutingSM found in the desktop and web versions.
Interactive Brokers API – Interactive Brokers also offers an API that allows "traders, investors and institutions [to] create their own automated rule-based trading system that takes advantage of our high-speed order routing and broad market coverage," which can be accomplished using Excel (using DDE or ActiveX), C++, Posix C++, Java, and Visual Basic for ActiveX.
You can demo the Trader Workstation and WebTrader platforms, as well as Interactive Brokers' Probability Lab and Forex platforms for free through their Demos page.
Interactive Brokers Pricing
Although Interactive Brokers is claimed to be priced lower than much of the competition, their fee structure is complex and can vary depending on account size, the types of trades you're making, trading volume, fixed vs. tiered structure, and more. Because of this, you'll need to visit the Costs portion of the Interactive Brokers website in order to get a better idea of what you'll pay based on your trading strategy.
In general though, Stockbrokers.com claims that margin rates vary from 0.59% to 1.59%, stock trades from $.0035 to $.005 per share, and options are $.70 per contract.
What Are Other Traders Saying About Interactive Brokers?
Interactive Brokers appears to have a mostly positive online reputation among customers and industry professionals. Of those sites offering star ratings, it seemed that the company averaged over 4 stars.
Overall, Interactive Brokers' low price was by far the most common compliment, which are among the lowest in the industry. However, the company does require $10K minimum funding, and numerous customers claimed that you get nickel-and-dimed on fees.
Another common compliment involved Interactive Brokers' stable trading platform, which offers an extraordinary number of features and an unprecedented level of customization, although this means that it will likely involve a steep learning curve. However, we did read several complaints claiming that their Web Trader is unreliable, and was reported to randomly change orders and stop working altogether.
Most claimed that Interactive Brokers' customer service was generally good, although Stockbrokers.com noted that phone and email support can be inconsistent. In fact, among the professional reviews we read during our research, poor customer service experiences were a recurring theme.
Finally, keep in mind that, according to Reviews.com, "Interactive Brokers has been in the news several times for violating reporting rules and failing to supervise their accounts. Interactive Brokers failed to compute customer funds in accounts at the end of each day from 2008-2011. Interactive brokers also used different currencies to maximize earnings, which was not requested by their customers. The Commodity Futures Trading Commission (CFTC) said that Interactive Brokers did not retain enough dollars to meet their obligations to commodity customers. They were ordered to pay a $225,000 fine in April of 2013 and a $700,000 fine in July of 2012."
Bottom Line: Is Interactive Brokers the Right Trading Company for You?
Between Interactive Brokers' focus on creating technology that helps traders become more profitable, their ultra-low fees, and their positive online reputation, it's likely that you'll be pleased with their trading services.
However, due to their high account minimums and step-learning curves, Interactive Brokers doesn't have a reputation being ideal for beginner or casual investors, although Barron's claimed that, "Less-frequent traders, who've never been the firm's target audience, may find themselves more interested than they were before, because Interactive Brokers recently waived its $10-per-month minimum for those with $100,000 or more in their household accounts."
Regardless of your trading experience though, Interactive Brokers doesn't have a spotless customer service reputation, so if you require frequent help from a live representative, this might be a potentially big stumbling block.
Great broker

By Liviu Filip T.

,

Perth, Western Australia

,

Dec 17, 2018
Verified Reviewer

I have been a client of Interactive Brokers since 07/14/2010. I find their TWS platform great for trading options or anything else for the matter, like futures, stocks, and forex. I have not been able to trade forex in Australia for a while now, but initially, when I could, I found them very good, efficient and inexpensive (bid ask spread was the lowest anywhere and they got the best quote from many major large banks).

Their charts are fantastic, detailed with most indicators available. You can also trade from the chart if you wish. Their customizable options chains are really good. You can also get options skew charts, risk analysis and complex risk analysis charts. No matter what your style of trading, they have templates for you.

Their order entry is also fantastic, so many options available with target and stops, adjusting orders, etc.

Education and platform learning webinars are always available live or replay.

Online chat support is also very good, although it can be frustrating sometimes if you are not patient.

Costs are low and very efficient, some of the lowest in the industry. They are complex, but they charge the minimum possible, much lower than most other brokers, with very low minimums.

Best routing is called SMART, and it is an algorithm for finding the best execution for your trades. It works really well.

You can customize your trading and templates endlessly and the options for doing so are really varied and good.

You do have to pay for data, but again it is inexpensive, and they have bundles of data you can get for the US markets for $10-20 per month. Data is minute data, they don't have tick data, it is a series of "snapshots" but it works really well, and it is inexpensive. It works for time charts, but not for tick charts or range charts where ticks are missing. For time charts it is adequate. I could not find another broker that would save me so much on commissions while providing me with a "one-stop-shop" for data, charts, brokerage, analysis templates.

You can trade markets all around the world, stocks, options, futures, indexes, CFDs, mutual funds, forex, etc.

You can select your base currency to show all your transactions in.

I highly recommend it for accounts over $10,000 or much more. I currently have just under $200,000 with them. I started with $35,000 initially. My learning curve was steep.

I now trade stock options exclusively with the occasional stock assignment. I use short options positions to exit my assigned stock positions. I trade cash covered puts exclusively.

I also use their RTD API with Excel to stream quote into my spreadsheets that help me select the best trades for me to take. It works really well to stream stock and options prices into my spreadsheets. You are limited to how many quotes you can get at one time in TWS or in API to about 50 and 20 respectively, but you could purchase more bundles of data if needed. You can have multiple tabs open each with 50 symbols in TWS, only the one in view being active, and that does not cost any extra.

Bottom Line: Yes, I would recommend this to a friend

---

Service and communication stinks.

I have spent hours on the Internet trying to get my 1099 and closing statement, but can't get them on the Internet. I have only been able to talk to service reps in Hong Kong who aren't any help.

Bottom Line: No, I would not recommend this to a friend

---

Advertisement

---