Invictus X7 Reviews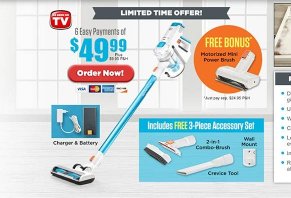 The Invictus X7 is a portable stick vacuum cleaner that claims to provide a comprehensive whole-home cleaning solution in a lightweight and adaptable package.
About Invictus X7
Claiming to let you experience cleaning in a new dimension, the Invictus X7 is a cordless, bagless stick vacuum cleaner. It includes a variety of accessories that the makers say allow for whole-home cleaning, including the crevice tool and two-in-one combo brush.
The Invictus X7 weighs in at under five pounds and features a 30-minute runtime in normal mode with its rechargeable lithium-ion battery (compared to eight minutes using its "boost" mode).
The makers of the product state that it is ideal for use just about anywhere in and around the home, including floors, carpet, furniture, curtains, lamps, and any other interior or exterior areas that need attention.
The product utilizes a high-performance BLDC motor (more on this in a moment) to provide its suction power, with the main LED-lit cleaning head capable of reaching up to 80,000 RPM to ensure that even the smallest dust particles are removed from the environment.
In fact, the HEPA-certified air filter is stated to be able to remove up to 99.9 percent of dust particles, allergens, and pollutants.
In the product's commercial, we're shown that the Invictus X7 is positioned as a lightweight alternative to dragging heavier, bulkier corded and cordless vacuums around the house. The manufacturer envisions the stick vacuum as an all-in-one, whole-home solution, but is this what you can expect in practice?
How the Invictus X7 Works
Based on what we're shown on the website, the Invictus X7 does appear to be quite versatile, including a variety of attachments that are ideal for specific purposes, such as the crevice tool for getting in between hard to reach surfaces, and the combo brush for cleaning delicate tabletops, curtains, and other upholstered areas.
That being said, we'll need to take a more in-depth look at several of the key aspects that make up the vacuum cleaner in order to better understand how they might benefit you in a practical sense.
Firstly, the makers of the Invictus claim that its brushless direct current (BLDC) motor can deliver up to 2.5 times the power of certain other vacuum cleaners at a rate of up to 80,000 RPM, but no specific devices were mentioned by the company for comparison, nor was any evidence provided to support this claim
All we're shown is the product is capable of crushing a five-gallon water bottle using its suction, as seen in the commercial.
Though impressive-sounding, this doesn't tell us much about the actual power you can expect to get from the vacuum in practice.
A perhaps better measure of true suction power would be the product's kPA (kilopascals) or PSA (pounds per square inch), which both are used to describe how much difference its pump makes in terms of air pressure.
Unfortunately, neither of these are listed, so we sent an email to customer support asking for clarification.
Next, we have the "three-fold" filter system. This appears to be a type of HEPA (high-efficiency particulate air) filtration system that uses a folded sheet of fabric or paper to trap dust and dirt particles, instead of simply releasing them back into the air.
As we mentioned above, this may be a notable feature to look out for if you suffer from allergies, or live with something like asthma.
The website also lists that the Invictus features "industrial-strength" LED lights on the front of its main cleaning head, but what does this mean in terms of actual brightness?
This is something typically measured in lumens, but unfortunately, this information was not provided by the manufacturer online as of this writing.
It's also stated that the product is ideal for both indoor and outdoor use, from the floor to the ceiling, and while this may be true, we can envision that its smaller debris container may fill up quickly when dealing with larger dirt and plant matter.
It also stands to reason that some areas of the home may be out of reach, even with the optional extension tube.
Judging based purely on what we've been shown, however, the versatility of having multiple attachments and a 30-minute runtime could logically allow for you to clean your entire home using the Invictus X7. We'll explore this further in the sections below.
Invictus X7 Pricing & Return Policy
As of this writing, the Invictus X7 was only available online through the manufacturer. It is sold in two main packages, each with two different pricing structures:
Standard Package: Six payments of $49.99 + one-time fee of $9.95 P&H or a one-time fee of $299.95
Deluxe upgrade: Six payments of $66.65 + one-time fee of $9.95 P&H or a one-time fee of $409.85
The packages include the following items:
Standard:
One Invictus X7
One wall mount
One two-in-one brush head
One crevice tool
One charger and battery
Deluxe:
One Invictus X7
One wall mount
One two-in-one brush head
One crevice tool
Two chargers and two batteries
One flexible crevice nozzle
One flexible multi-angle adaptor
One flexible extension hose
One ultra-soft brush roll
One extra soft brush
One storage box
Both packages are also eligible to receive the motorized mini power brush by paying an additional $24.95 fee. The website terms state that each order comes with a 30-day money-back guarantee, less P&H fees.
To initiate a return, you'll need to reach out to customer service at ask@genius-us.com. You'll be responsible for paying any return shipping fees to get the device back to the manufacturer.
Invictus X7 vs. Other All-In-One Vacuum Cleaners
Though they are a popular option, "stick" style vacuum cleaners like the Invictus are just one of many types, including models that may arguably deserve the "all-in-one" designation.
For instance, upright vacuum cleaners are generally larger and more robust than these smaller, more streamlined products, but they are often regarded as the most powerful vacuums based on suction. These may be ideal for you if you have a large home, or if you prefer to deep clean on specific days of the week.
If you like to clean lightly on a more regular basis instead, or you have multiple stairs or other physical obstacles, a lighter, more portable product may be what's needed.
If you've determined that a stick vacuum is right for you, the Invictus X7 seems to offer a unique solution for your whole-home cleaning needs, but are there other, similar products out there that are worth looking into as well?
Searching online, we were able to find a variety of stick vacuum cleaners from brands like Dyson, Dirt Devil, and Hoover that make similar claims to the Invictus X7.
Nearly all of these devices were cordless like the product at hand, while some were corded, such as the SharkNinja Shark Rocket.
Interestingly, we found a number of options on Amazon that included many of the same features found in the Invictus X7, such as the Deik two-in-one vacuum, which features front LED's, whole-home cleaning, a convertible design with multiple attachments, and a 25-minute runtime, all at under five pounds.
Crucially, it was just $112.99 on Amazon as of this writing, putting it at a fraction of the cost of the standard Invictus for many of the same features.
In fact, we were able to find multiple products offering similar functionality for lower prices online. Based on our findings, we've organized five of the most popular alternatives to the Invictus X7 below for comparison:
| Product Name | Stated Runtime | Available Attachments | Weight | Notable Features | Pricing |
| --- | --- | --- | --- | --- | --- |
| Invictus X7 | 30 min (8 on boost) | Flexible crevice nozzle, dusting brush, multi-angle adaptor, extension hose, motorized power brush | <5 lbs | Large amount of attachments, boost button, trigger control, LED lights, wall mount, HEPA filter | $299-$399 depending on package |
| Dyson V7 Motorhead | Up to 30 min | Direct-drive cleaner head, crevice tool | 5.3 lbs | Trigger control, hygienic cleaning, wall mount | $296.50 |
| Dirt Devil Simpli-Stik | NA: 16-foot cord included | Cleaning head, crevice tool | <4 lbs | Ultra-light design, detachable handheld mode | $18.99 |
| Hoover BH52210PC | 30 minutes | Cleaning head, crevice tool, upholstery tool, dusting brush | 4.7 lbs | Trigger control, wall mount | $97.49 |
All told, the Invictus X7 seems to offer the most in terms of raw accessory count, so if the additional attachments appeal to you, this might sway your purchasing decision.
Having said that, it looks as though there are a wide variety of similar devices which include much of the same functionality at a lower price point, such as the Deik cordless vacuum and the Dyson V7 Motorhead.
In addition, if all you're looking for is lightweight floor cleaning, an even simpler (and less expensive) product like the Dirt Devil Simpli-Stik may work well for you.
Ultimately, you'll want to choose the option that includes the features you feel you will actually use when cleaning your home; anything else probably won't be as important to you in practice.
The Bottom Line: Is the Invictus X7 Right for You?
Invictus X7 includes a wide variety of attachments to handle various areas, such as the crevice tool to get those hard to reach spots and the dusting brush for delicate surfaces. We also found that it has a 30-minute standard runtime and weighs less than five pounds.
Based on this information alone, we'd say that the Invictus X7 represents a quality option for cleaning your home, but as discussed above, we also encountered several alternatives that are worthy of consideration as well, depending on your individual needs.
As consumers ourselves, our practical advice would be to use the table above to nail down which vacuum includes the features you feel you will use based on your home and family's unique needs.
For instance, if allergens are a concern, sticking to a product with HEPA filtration would be a solid choice.
If you have large pets, or just more square footage in your home in general, however, you may be better off going with a larger upright-style vacuum than any of the options above.
All the same, if you prefer to have something that can reach areas up high, such as ceiling fans, curtains, and shelves, a stick vacuum may just fit the bill.
If you'd like to give the Invictus a shot based on the information above, we'd recommend keeping the 30-day money-back guarantee in mind going into your purchase.
If you find that it doesn't deliver what you were looking for, you'll be able to return it and try something different out. Just be sure that you're okay with losing out a bit in P&H fees in the process.
---
TERRIBLE

By Lisa L.

,

New Zealand

,

Dec 26, 2019
Verified Reviewer

Overall Experience:

Definitely would not recommend this vacuum, have had mine less than 6 months and it's no longer picking up anything! It seems almost as if it's actually doing the opposite and blowing stuff out instead of picking it up! Batteries keep dying even though fully charged. ABSOLUTE RIP OFF! TV Shop, you guys suck (unlike your vacuum)!

Bottom Line: No, I would not recommend this to a friend

---

Absolute rip-off

By Bill J.

,

Western Australia, Australia

,

Dec 9, 2019
Verified Reviewer

Overall Experience:

Anyone who is gullible enough to believe the advertising BS and waffle on TV coupled with limited stock, etc. etc. is a fool. No back-up, no spare parts, etc., a total con job.

Not available in shops - wonder why that would be?

Did not and will not buy one. Unfortunately, a friend did and asked me to check it out as it did not perform as advertised.

Good luck getting a refund.

Bottom Line: No, I would not recommend this to a friend

---

Not happy

By Wendy W.

,

South Australia, Australia

,

Jun 18, 2019
Verified Reviewer

Overall Experience:

I received my Invictus X7 a couple of days ago and it has not impressed me at all. Firstly, the suction power is horrendous. I can only assume that when they show you the suction power on TV they are lying. Secondly, it blocks up so easily were the waste goes into the canister. Thirdly, what is the point of having a second battery when you can't charge it out of the cleaner itself? Last, and by no means least, what I am being charged for this vacuum cleaner is outright robbery. I have just discovered that I can by this very machine at Harris Scarfes for $299.00.

Bottom Line: No, I would not recommend this to a friend

---

Invictus X7

By Christine L.

,

Queensland, Australia

,

Feb 22, 2019
Verified Reviewer

Overall Experience:

I purchased this vacuum cleaner just over a year ago. Two weeks ago something got caught in the brush. We tried to take the plastic screw out so as to remove what had got caught in the brush, tried and tried to remove the plastic screw but wouldn't open. The screw was mangled trying to get it open so I sent an email to the TV shop asking for a replacement screw, the reply I received was that they don't have replacement parts which astounded me. They offered to sell me another unit at a good price. There is no way I would purchase this plastic vacuum cleaner again that cost over $600.00. I do not recommend the Invictus X7. It's just a rip-off.

Bottom Line: No, I would not recommend this to a friend

---

Advertisement

---

Cheap imitation with no back up battery charger

By Phillip H.

,

New South Wales, Australia

,

Aug 17, 2018
Verified Reviewer

Overall Experience:

I bought this machine from the TV Shop after seeing the promotion on TV. The feeling of the machine is very plastic and it is noisy. The suction is very poor and after cleaning a small area of carpet, we put the Dyson back over the same area and was amazed at the amount of dirt the Invictus X7 left behind. When we went to charge the second battery that was supplied with this item, we discovered that there is no separate charger for the backup battery. So you really have to use the machine to charge the batteries. You cannot charge one battery while using the other one. What a poor design. So to summarize, you have the plastic feel, poor suction, and battery charging issues. Last big negative it took four weeks to get a $600.00 refund. Stay away.

Bottom Line: No, I would not recommend this to a friend

---