InVinceable Reviews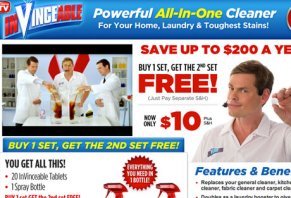 InVinceable is a concentrated, all-in-one household cleaner that's claimed to work equally well on tiles and walls as it will on your delicate laundry items.
About InVinceable
The ShamWow Guy is back. Vince Offer, the flamboyant pitchman famous for that million-selling super towel, returned in September 2013 with a new product called InVinceable.
Vince touts this product as an incredible all-in-one cleaner that will save you time, as well as hundreds of dollars in cleaning products per year.
You can use it as a stain remover, detergent booster, tile cleaner, wall cleaner, in the kitchen, bathroom, carpet... (you get the idea.) Your purchase includes a special spray bottle that works at any angle.
InVinceable is sold by InVinceable Inc, which has no BBB listing. Mr. Offer became briefly notorious after ShamWow peaked in 2009 with an incident all parties would like to forget (let's just say this might be an attempt to clean up his act by helping you clean your home).
How InVinceable Works
InVinceable comes in a concentrated tablet about the size of a quarter, which is dropped into the included spray bottle and filled with ordinary tap water.
Immediately, the tablet turns into a cleaning solution that will quickly remove heavy marks, scuffs, stains, and other disasters from almost anywhere a mess is made (for "supercharged" stain fighting, 2 tablets are recommended).
While the product's website doesn't disclose the magic ingredient, InVinceable says the product contains no chemical bleaches.
With its "V-tube technology," you are able to use the included spray bottle in any direction, even upside-down. You can also drop one InVinceable tablet (along with ordinary detergent) into your wash and use it as a cleaning "booster."
Each InVinceable order comes with:
20 InVinceable tablets
1 Spray Bottle with V-tube Technology
Special offer for 20 more tablets and an extra spray bottle for additional S&H
InVinceable Pricing and Refund Policy
Editor's note: At the time of our last update of this page on 6/29/19, it appears that the ASOTV offer is no longer active but the product is still being sold on Amazon.
The InVinceable 20-pack and spray bottle will set you back $10 plus $6.95 S&H. If at the time of order, you want an additional 20-pack and spray bottle, it will cost an additional $6.95 S&H. That's a total of $23.90 for 40 tablets and 2 bottles.
On the product's website, InVinceable is claimed to come with a 30-Day Money Back Guarantee, but they don't list a return address. However, a quick call to Customer Service connected us to a real live person, who confirmed this is the case. Return the unused product within 30 days of receipt for a full refund, minus S&H (of course.)
We should also note here that InVinceAble has a very intrusive Privacy Policy. Not only might they contact you through the mail, email, and even telephone about their products, but they can share your information with companies "you may find interesting." Fortunately, you can opt-out of this, but it requires jumping through several hoops, including filling out unsubscribe forms, emailing web support, as well as visiting a web URL to stop third-party tracking.
Bottom Line: Does InVinceable Work?
Think what you will of Mr. Offer, but he does seem to have a product that works. Overall chatter is positive on its cleaning benefits. The spray bottle is also quite handy.
InVinceable's Privacy Policy, however, is a major drawback. Be forewarned that if you purchase from their website, you may be flooded with solicitations unless you take action.
If you do feel the product does not live up to its hype, you can get your money back within 30 days, regardless of how much you have used.
Pros
No chemical bleaches
Claims to replace many household cleaners
Fights stains, including pets
Use spray bottle at any angle
Cons
Intrusive Privacy Policy
Expensive S&H
Doesn't work as detergent
78 out 80 people found this review helpful

Worse Product Ever

By Traci Singh

,

Fresno, CA

,

Jul 20, 2014

I was so stupid & bought extra, so I got like 40 tablets of this crap. I have tried this product on a wide variety of things to clean. Not one thing came clean. Yes I followed all instructions very carefully. The only 1 good thing is the bottle itself. The product, I will never buy nor use ever again & I will never recommend this product to anyone. It's a HUGE waste of money.

Bottom Line: No, I would not recommend this to a friend

---

67 out 73 people found this review helpful

Worthless Crap

By DG

,

London Ontario

,

Nov 10, 2014

Crap, Garbage, Junk, Refuse, Rubbish, Useless, Worthless. Anything this pitch-man sells go the other way at Warp 9.9

Bottom Line: No, I would not recommend this to a friend

---

Advertisement

---

63 out 63 people found this review helpful

RIPPED OFF

By Mary Eldow

,

Indio, California

,

Jan 8, 2015

I feel so ripped off. I have ordered other products through the mail and have never felt so ripped off. First of all, to charge $13.90 for shipping 2 empty bottles and 4 small packages of powder is ridiculous. Also, you have to use it within 8 hours after mixing it with water or there is a possibility that the bottle will "explode". I'm calling the Better Business Bureau. DO NOT BUY THIS PRODUCT.

Bottom Line: No, I would not recommend this to a friend

---

60 out 62 people found this review helpful

Invincible blows

By William Brown

,

Cranston, RI

,

Jul 6, 2015

Save your money. Got my shipment yesterday. Tried product on various stains. They're all still there. Do not buy, I repeat do not buy.

Bottom Line: No, I would not recommend this to a friend

---

Advertisement

---

57 out 58 people found this review helpful

A total rip off

By John D

,

Missouri

,

Aug 8, 2015

I bought this product online. I entered all my information. You must go to check out to get the total. When I saw shipping was $13.99, more than the crap itself I terminated and did not check out. Too bad. Info was in and they finished the check out for me and shipped the product. Worse thing, they call every damn day selling me more crap. They also give your number to telemarketers. I have receive about five calls per day from others now.

On top of that, the product is total crap. Anything you see this scumbag advertise, remember he had Sham Wow, run from. I do not know how crooks like this can legally sell their products.

Bottom Line: No, I would not recommend this to a friend

---

54 out 54 people found this review helpful

Outrageous Shipping

Just after you fill out your address, credit card number, etc. and it says "Continue", all of a sudden the order is placed and they are charging me $90.00 for 4 pouches, 2 bottles, and 2 sets of 3 brushes which I do not remember ordering. Then the amount of $55.60 for outrageous shipping is added on and I could not find anywhere to cancel the order. This is not the $9.95 price plus $6.95 postage I originally saw even though I wanted to double the order.

Again, I was attempting to place the order without these stupid brushes, it still would come out to this $145.90, which is fraud! When I got the shipping message from FedEx, I emailed them that I wanted to stop delivery and they said it was in a speed shipping where they could not stop it after shipped and it showed due to be delivered on January 27th, 2015. I put out a note to FedEx that I was refusing it. But as of the moment I am writing this review, January 26th, the P.O. instead delivered it with just ringing our doorbell so my husband ran out to the postal carrier with the package and told them we are refusing it. It was scanned as being refused.

Unfortunately, I did not see where people had made comments regarding the price and whether it worked or not. Tomorrow I am calling my credit card company since they already billed us $145.60. This is an absolute scam. Now they have changed the first page on their website actually telling you the price of $9.99 plus $6.95 postage. This was not what I got stuck with. I found the same ad in Carol Wright Gifts for $9.99 with an additional 5.88 shipping and handling bringing your total to $25.88. Now that is the price I wanted to pay as noted in the TV advertisement. Beware.

I also saw someone else's comments stating that the call to place order was all automated where you could not ask questions but I hope they did not get scammed with these charges. I am anxious for my other order as I really want to try this product and I hope that the InVinceable product itself is as advertised.

Bottom Line: No, I would not recommend this to a friend

---

53 out 53 people found this review helpful

Rip off

By Ray Levy, Ph.D.

,

Dallas

,

Jul 10, 2015

I made one order for InVinceable, but was billed for two orders. When I called, I was told that I could send the second one back but I wouldn't be refunded the $13.90 for S&H. (BTW, the S&H fee is outrageous and it only costs a fraction of that to ship). So for their mistake, I am unfairly charged an extra $13.90.

Be aware, this is a scam and they will screw you anyway they can.

Bottom Line: No, I would not recommend this to a friend

---

53 out 53 people found this review helpful

Scam and the art of selling crap

By Manuel Sanchez

,

New York

,

Jan 25, 2015

First of all, you get two bottles, not four. The powder can only be used mostly warm and within 8 hours of mixing, "WHAT?" yes. Not on wool or wool blends "my rug is made of wool" oops! Silk or Silk blends - nope! Leather, Wicker, Jute, Teak, woven or finished woods. Got it? Well take it before you buy it! Do not soak metals... hum, what? if you return it, you get $10 minus the postage of your shipping it back to them, so probably end up with $4-$5 in your pocket and a loss of around $18. Now that is what I call art of selling crap and making millions with idiots like (Oh, man, this is hard) me! Do not buy, it is a scam with a 30 day $5 return guaranty! Be ware, to late for me but not for you.

Bottom Line: No, I would not recommend this to a friend

---

52 out 52 people found this review helpful

Outrageous Shipping

By Mark

,

San Clemente, CA

,

Jan 6, 2015

Wish I would have read the reviews before purchasing. The scam part is you make the purchase without knowing the high cost of shipping, then the offer to double the deal sounded good, so I bit. The wait was almost a month and it shipped from roughly 60 miles away, but while the box was a normal Amazon.com sized box, the shipping for my order was $27.80! I would expect expedited shipping for that cost. I haven't even used the product yet and I'm not happy with this company. If the other reviews are correct, I just got soaked!

Bottom Line: No, I would not recommend this to a friend

---

49 out 49 people found this review helpful

So slimy, I need a shower

By Julie

,

Washington D.C.

,

Jan 24, 2015

I haven't even tried this product yet, but their business practices are very suspicious and now I feel like I will need to monitor my credit card for unauthorized charges for the rest of my life. Their phone ordering system is interminable with offer after offer. Even after their attempts to gather more information after I had placed the order, they called my house a week later to verify the credit card number. Very slimy. I would not recommend ordering anything from this company if only to avoid identity theft.

Bottom Line: No, I would not recommend this to a friend

---

46 out 49 people found this review helpful

Really Deceived

By Diane Zubrod

,

Scottsdale, AZ

,

Jul 13, 2015

I had the same experience I have seen others comment about. I proceeded to the checkout and saw the high shipping charge and canceled my order. Much to my surprise, my credit card was charged and the product was shipped. When they called with an up sell, I told them of my surprise. They couldn't do anything about it because it was on its way. So far, it has not worked on anything I used it on. Yes, I can send it back, minus my shipping and handling, which was more than the product.

Bottom Line: No, I would not recommend this to a friend

---