iOffer Reviews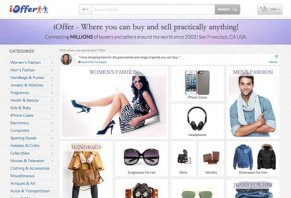 About iOffer
Founded in 2002 and based out of San Francisco, CA, iOffer is an online offer-based marketplace where users can buy and sell almost anything. Similar to Storenvy, iOffer is "a place to buy, sell, and trade" more than 100 million items in categories such as Men's and Women's Fashion, Electronics, Books, Toys, Sunglasses, Antiques and Art, Health and Beauty, Jewelry and Accessories, and much more. BBB accredited with an A+ rating, iOffer allows users to purchase products at their listed price, or by bargaining through counter-offers.
iOffer Features
Whether you're buying or selling, registering an account with iOffer is completely free, and takes just a few minutes to setup.
As a buyer, once you locate an item that you'd like to purchase, you have two choices:
Buy the item at the listed price, or
Make an offer and try to bargain with the seller, who can then choose to accept or reject your offer.
In addition, iOffer buyers can also create a "Want" ad, which lets other users know that they're looking for a specific item, and have been unable to locate it. At that point, multiple sellers who are offering this item might contact you with their purchase prices. When acting as a buyer, keep in mind that seller quality varies greatly, and includes everyone from big online stores to private indie sellers, so use their reputation and previous reviews to make an informed decision about who you will and won't do business with.
When you want to switch from buying to selling, you'll first need to begin posting an item for sale, at which point you'll have to upgrade to a seller account. This only requires that you provide valid credit card information, which won't be charged until you sell an item (more on this in a moment). If you already have an eBay account with ratings and items listed for sale, iOffer gives you the opportunity to transfer your reputation and active items over. However, you can't associate more than one eBay account at a time, and the transfer is only one-way; in other words, your eBay attributes will not be affected by what occurs on iOffer. Therefore, if you sell an item on iOffer that was retrieved from your eBay account, you'll need to manually remove it from your eBay account, and vice versa.
iOffer Seller's Fees
When you first visit the iOffer website, their pricing structure may be difficult to locate and comprehend—so much so that you might even think it's free. Because of this, we've condensed and compiled the information here to make it easier to understand.
As an iOffer seller, it's completely free to register, set up your store, list items, and include slide shows and pictures. Only once you sell an item are you required to pay, the fees for which are as follows:
Up to $4.99 = $0.50 fee*
$5.00 to $9.99 = $0.75 fee*
$10.00 to $24.99 = $1.25 fee*
$25.00-$99.99 = 5% fee, calculated using the final sales price*
$100.00-$1499.99 = $5.00 fee + 2.5% of the final sales price*
$1500.00 = $40.00 fee + 1.5% of the final sales price*
*It's important to note that these final transaction amounts also include shipping fees, on top of the product's purchase price. iOffer also provide sellers with Premium Listing Services, including:
Home page visibility, where your product will rotate with other featured items.
The ability to feature both your item and your store at the top of the category listings pages, where it can also be highlighted in yellow and/or in boldfaced type.
The opportunity to enhance your listing with additional pictures.
Unlike eBay, iOffer charges on a per-keyword basis for your product descriptions, which are $2.50 for the first, and $5 for each additional. Also, if you list an item with a certain number of major keywords, but later decide to reduce the number of keywords, you will not be refunded the difference. Because of this, it's recommended that you carefully craft your title and assess your fees prior to posting.
iOffer sends out invoices on the same date each month, which will be based on the date you opened your account. For instance: If you opened your account on May 15th, your invoices will be sent on the 15th of every month thereafter. Upon receiving your invoice, you'll have seven days to review the charges, after which the funds will be automatically deducted from your credit card.
Pros:
Browse through thousands of items for sale, in a wide variety of categories.
Potential opportunity to score good deals on certain items.
Opportunity to sell items and make money online.
A+ rating with the Better Business Bureau.
Cons:
Listings can become pricey if you want high product visibility.
Like any online marketplace, there exists a lot of room for scams, from both buyers and sellers. Numerous complaints exist from buyers who were scammed, and/or received fake products/products that arrived differently than advertised.
Items sold through eBay after being transferred to iOffer will have to be manually removed from your account.
1 out 1 people found this review helpful

Really bad!

Do not do business with this company! If it doesn't fit, you can't send back. Unless you want to pay shipping and customs fee all the way to CHINA. Yes, this company sells crap made in China! Watch out, REALLY BAD merchandise!

Bottom Line: No, I would not recommend this to a friend

---

1 out 2 people found this review helpful

Can't be worse than this

By Kimia

,

Canada

,

Feb 3, 2014

I bought a jacket from this website and my payment went through right away. From my side and according to my banking account everything is fine and they have received the money just after I sent it.

It's almost one month (after my payment) that I'm contacting them (both the seller and the website) to get some information about my item but they play a kind of game with me. They just ask me to wait more and more (sentences like: I will contact you soon, I will send you the tracking number soon) and I guess this way they can buy some time for themselves.

This might be not true for all sellers but I will wait a couple of days and then I will post another review with my seller name and details bout my purchase.

Bottom Line: No, I would not recommend this to a friend

---

Advertisement

---