IQbuds Reviews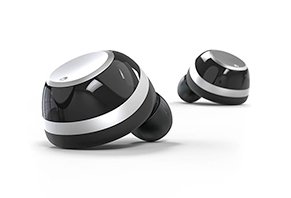 Nuheara's IQbuds promise to deliver a completely different wireless listening experiencing using their proprietary speech amplification and SINC technologies.
What are the IQbuds?
Brought to you by Nuheara, IQbuds promise to combine a Bluetooth earpiece, a noise canceling headset, and an assisted living device into one wireless, easy-to-use device that allows you to personalize your hearing experience.
Specifically, IQbuds' advanced speech amplification can help you hear better in a crowded restaurant or other public place, while the Super Intelligent Noise Cancellation (SINC™) technology allows you to selectively tune in—or out—the world around you.
IQbuds also give you the ability to listen to high-fidelity audio streamed to your device, all of which is handled via customizable iOS and Android apps. Finally, with IQbuds' tap-touch control, built-in microphone, and long battery life, you'll be able to take calls without skipping a beat.
Together, Nuheara tells us IQbuds can offer "the best audio blend of your digital music and the sounds around you for situational awareness."
Completely wireless earbuds are certainly the trend lately. How does IQbuds stack up, though? Is it meaningfully different than the competition, or is it all marketing?
Here, we'll discuss some important aspects of IQbuds wireless earbuds and compare them to some of the top competitors, all aimed at helping you make an empowered decision about where to spend your hard-earned money.
How Does IQbuds Work? Any Unique Technology?
Nuheara describes IQbuds as intelligent earbuds that act as a Personal Sound Amplification Product (PSAP), along with Bluetooth 4.0 capability that allows you to connect to other electronic devices.
Each IQbuds earbud is 26mm x 20mm x 15mm and weighs 11-12 grams. It features high-fidelity MEMs digital microphones, a balanced armature speaker, and a 100mAh rechargeable lithium-ion battery that will provide 4 hours of streaming music, or about 6 hours as a listening device.
As Cult of Mac puts it, "Each IQbud contains three boards, three microprocessors, two microphones, one speaker, a tap-touch control, and two antennas."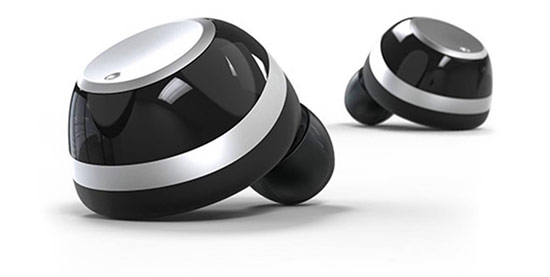 The feature-packed IQbuds earbuds allow you to listen to music, as well as improve your hearing in crowded or otherwise noisy situations. Image credit: Nuheara
IQbuds' included charging case provides the ability to recharge your earbuds three times, which will take about an hour. The case itself can be recharged via an included USB cable.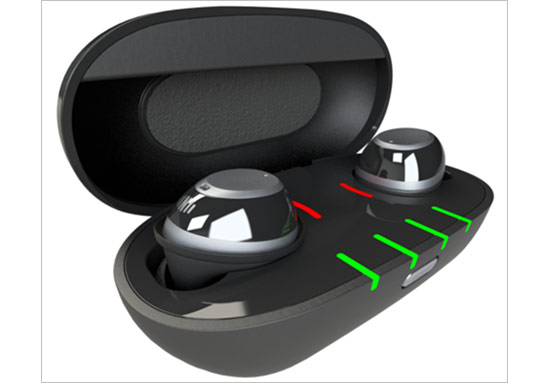 IQbuds can be completely recharged up to three times using the included carrying case. Image credit: Nuheara
From a fit perspective, Nuheara designed IQbuds with three different sized silicone tips that can allow a broad range of ear sizes to use them as comfortably and securely as possible. They're also sweat-proof and water resistant.
Perhaps the biggest differentiator between IQbuds and the competition is its proprietary software algorithms called SINCTM (Super Intelligent Noise Cancellation), which is what delivers its ability to fine-tune the level of ambient noise that reaches your ears.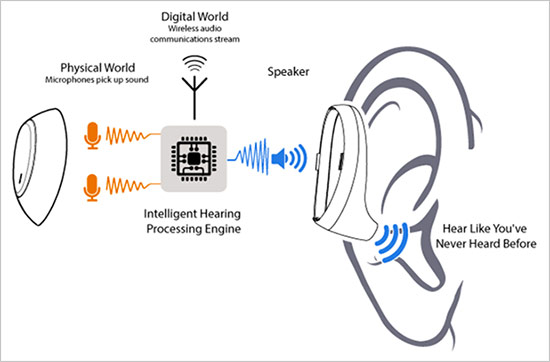 The Super Intelligent Noise Cancellation technology featured in IQbuds' earbuds allows you to customize how much ambient noise is heard. Image credit: Nuheara
All of this is handled via IQbuds' iOS and Android apps (no plans for Windows Phone support yet), which allow you to personalize your sound by adjusting the balance of background noise and voice and fine-tuning frequencies.
You'll even be able to adjust settings for each ear and save them as presets, such as restaurant, construction site, and so forth.
While you can check out some screenshots of IQbuds' app on iTunes (no listings on Google Play as of writing), Digital Trends does a solid job of quickly showing you how the interface works to add or reduce the amount of ambient sound picked up:
Are There Any Limits to IQbuds?
Despite IQbuds' clear ability to help those suffering from hearing loss in public places, as well as those at the gym (or outdoors running or cycling), there are some important limitations.
First, Nuheara specifically notes that IQbuds are not a certified hearing protection device, so they shouldn't be used in potentially damaging noise environments like shooting ranges.
They're also not classified as a hearing aid or a medical device, and shouldn't be used as such by someone with persistent hearing impairment or with medical conditions like conductive or asymmetric hearing loss, ear pain, or tinnitus.
Limitations aside, what price will you pay for IQbuds' unique features?
How Much Do IQbuds Cost? When Is the Release Date?
IQbuds are currently available for preorder at $299, which will ship sometime during the first quarter of 2017. Note: Some customers mentioned on Nuheara's Facebook page that they'd already received confirmation of shipping within the next couple weeks.
All IQbuds come with a 30-day money back guarantee, less S&H charges. Keep in mind that you'll have to return Your IQbuds in their original packaging, so you might want to keep it around after opening.
IQbuds also come with a 1-year warranty, which covers manufacturing defects under normal use conditions.
To request a refund or process a warranty claim, you'll need to reach out to the company at care@nuheara.com for an RMA.
Are There Any Reviews Yet for IQbuds?
Tech Hive had a chance to test IQbuds firsthand at the 2017 Consumer Electronics Show in Las Vegas, where Nuheara received three major awards. They noted:
"The speech enhancement was impressive. While there were slight Doppler/phase artifacts, the overall enhancement of dialog and reduction of background noise was quite good. I was grinning during the experience. Only driving really fast on a track normally does that."
The aforementioned Cult of Mac article called their experience with IQbuds "pretty amazing," with vibrant, punchy audio. They noted speech didn't come through 100 percent natural, but the quality was equivalent to much higher-priced hearing aids they'd tested.
Now, if you've watched this recent wave of wireless earbuds reach the marketplace, you probably recognize that some of the competition has received equally positive reviews. Feedback aside, how do their important details compare?
IQbuds vs. Other Wireless Earbuds
Here, we'll compare wireless earbuds that are in direct competition with IQbuds. As such, you won't find options like AfterShokz bone conduction earphones, Kokoon noise-cancelling headphones.
| Earbuds | Price | Recharge Time (hrs) | Where Is Data Stored? | Standout Features |
| --- | --- | --- | --- | --- |
| IQBuds | $299 | 1 hr | Smartphone | SINC noise canceling technology, customization via app, can also be used to enhance hearing in noisy situations |
| Doppler Labs Here One | $299 | N/A | Smartphone | Similar noise filtering technology, speech amplification, adjustable settings |
| Kanoa | $179 | 1.5 hrs | Smartphone | Waterproof, fitness tracking, customizable audio |
| Rowkin Mini | $60 - $70 | 1.5 hrs | Smartphone | Billed as "world's smallest," steel coating, connects to 2 devices simultaneously |
| Samsung Gear IconX | $199 | 1.5 hrs | Earbuds (up to 1,000 songs) | Only for Android, fitness tracking, tap functionality |
| Apple AirPods | $159 | N/A | Smartphone | Instant connection, pause when removed, microphone w/SIRI support, W1 chip, noise cancellation |
Where does this leave you? Largely, the best option will be based on your specific wants and needs.
For example, if you're focused on the lowest-priced option, the Rowkin Mini could be difficult to outdo (just keep in mind you'll only receive one earbud!). Android-specific? The Samsung IconX seems to get solid customer feedback.
The ability to use them without a smartphone attached to your hip? Only IconX and Bragi's Dash offer onboard media storage.
Looking for something that works to enhance listening and enjoy your favorite tunes? It seems IQbuds and Here One are standout options.
What Do We Know About the Company Behind IQbuds?
IQbuds got their start through a 2016 Indiegogo crowdfunding campaign, where Nuheara raised nearly $880K. Their estimated delivery was February 2017 and it appears they're right on track to meet that goal.
In fact, according to their most recent market update, they're only waiting on final approval from retailers and distributors to commence shipping in the US and Australia.
Compared to many of the other crowdfunded projects we've reviewed, which often come from largely unknown companies, Nuheara is listed on the Australian stock exchange. As such, it seems you'll have to worry less about common problems that plague crowdfunded startups.
In fact, Nuheara even makes their quarterly and annual reports publically available.
To bring their technology to the public, co-founders Justin Miller and David Cannington partnered with Curtin University for research, development, and testing; Flextronics for manufacturing, and Wearable IoT World for market strategy and execution.
Should You Invest In a Pair of IQbuds from Nuheara?
While IQbuds certainly seem to provide a different listening experience that many other wireless earbuds, they're also among the most expensive.
Ultimately, only you can decide which option is best suited to your needs. The good news is that we've given you plenty of information to consider during the process, as well as the fact that Nuheara seems to stand behind IQbuds with a 30-day refund policy.
Before you go, tell us about your experience with IQbuds by writing a review below!
Horrible customer service

By Lesli D.

,

Oklahoma

,

Oct 15, 2018
Verified Reviewer

I got my first pair in August. They didn't work. I sent them back. I got a second pair from Nuheara and they didn't work either! So I asked for my money back. I was told that they wouldn't refund my money because I didn't buy them directly from Nuheara. I DID buy them from a Nuheara authorized reseller. Now Nuheara has quit responding to my emails asking for a refund. BUYER BEWARE! Nuheara does NOT stand behind their product.

Bottom Line: No, I would not recommend this to a friend

---

IQbuds glitchy

By Rob Carver

,

Adelaide, South Australia

,

Oct 22, 2017
Verified Reviewer

I've had my IQbuds for a couple of months now. When I initially received them, they worked perfectly. A few weeks in and they rolled out a firmware update. Since then they have developed a glitch where the music turns off by itself and will fix the problem, but then it updated the firmware again. They seemed ok at first, but out came another firmware update and the problem returned with a vengeance.

I don't know what to expect from Nuheara now as I've lodged another complaint about them.

When they work, they sound great but their performance at this time is annoying to the point where I consider them unusable.

I'll keep you posted with my ongoing interaction with this company, but at this time I would not recommend them. I really wish I could say something more positive.

Bottom Line: No, I would not recommend this to a friend

---

Advertisement

---

Exceptional customer service

By Robin Banks

,

Sydney, Australia

,

May 22, 2017
Verified Reviewer

I had issues ordering my IQbuds online, so placed a call to the office in Perth.

To say they were helpful is an understatement, and I was extremely impressed with their willingness to help and get my IQbuds to me. Seems the issue I had was the first report they had (an issue with the Zip Code) and it was referred to the tech guys to sort out.

The lady I spoke to helped me through the process and took my order over the phone, and I received confirmation they were on their way shortly after our conversation.

I am now looking forward to the arrival of my package and to trying out this product I have heard so much good news about. Look out for my review once they have arrived, and I have had the chance to use them.

So far, exceptional.

Bottom Line: Yes, I would recommend this to a friend

---

Overall this is a sensational product and a massive game changer

By Simon A

,

California

,

Mar 23, 2017
Verified Reviewer

OK, I finally received my IQbuds. At first, I was a little confused. Here's why.

When you get them and pair them, they pair easily with the IQbuds app. That was a snack. Then it tells me I had to pair with the iPhone in Settings, but when I went there, I saw that they were already paired. Now I excitedly go back to the app to not only enjoy the noise reduction capabilities but also the music and phone, but it doesn't work. I went a whole day without these two vital capabilities and then decided that I should watch the video again. I notice the very important step of pairing the actual IQbuds with the iPhone. What confused me was that the app was already paired (why do I care that an app pairs with an iPhone?), BUT the actual IQbuds were not paired. It confused me into thinking the IQbuds were paired when they weren't. So I paired them and voila, they worked as advertised.

So, now I've been using them for a few days. On night one I was invited to a Chainsmokers concert, and there is nothing louder on the planet and usually a time for me to be quiet and introspective because I can't hear a word anyone says before, during or after a loud show. To my amazement, I was actively talking to people in a noisy bar, and no one even asked about the IQbuds (because they look cool). Check that box!

The next day I started wearing them in the office and in the car on the way to and from work. I prefer them for phone calls over the car audio because the quality is better, and I can use them in the office to listen to music down low while also having a conversation with co-workers. Check that box in a big way.

Today I realized that these babies have actually changed (for the better) the way I manage my environment. The cordless freedom is worth the price, but to be able to integrate noise reduction and speech boosting to phone calls and music is a game changer. I haven't worked out with them yet but my days of dealing with earbuds with long cords that get caught up in my handlebars or my arm when running or hiking are over.

This is a "gen one" product and a really good one at that. These will only get smaller and more useful as Nuheara grows and I can't wait to see them progress.

Overall, this is a sensational product and for a couple hundred bucks is a massive game changer. Great job Nuheara!

Bottom Line: Yes, I would recommend this to a friend

---

Advertisement

---

10-day ownership of IQbuds

By Suzi Lemits

,

Lennox Head, New South Wales, Australia

,

Feb 8, 2017
Verified Reviewer

Well, I've had my IQbuds for ten days now, and I'm absolutely delighted! I have worked out the right sized tip for my ear canal. I've tried them at an outdoor music venue, and I use them while walking my dog.

I knew that with anything new like this, it would take time to work out how to use them, as well as to get used to these foreign things in my ears. I find them very comfortable now. I started by just wearing them for one hour per day while walking, but now find that I can leave them in indefinitely.

I leave them in the charge case when not in use, of course, and find I only need to charge them up every second day, but that depends on how long one uses them.

Because I walk with my husband, I don't set the buds to 'Music' mode; I select 'Home.' I know that seems strange, but I can listen to my music and still have his voice amplified, so I don't miss any conversation. If we are not talking, I switch to 'Music, ' and the sound is excellent. I did mention earlier that I increased the "Bass" on my iPhone in Settings, but everyone will have varying tastes for this.

At the outdoor music venue, which was the Brunswick Hotel, NSW, I was able to suppress the loud music and listen to the conversation around our table of seven. I found I could also eavesdrop on conversations at nearby tables (lol). I fiddled with the SINC until I was comfortable.

The only problem was that I could hear everyone else, and they were all talking very loudly to each other, but I was talking in my normal voice so they couldn't hear me over the music. I have to remember that I have to still speak up until everyone is wearing IQbuds. I would love to meet up with someone else who has the buds and engage in a conversation at a pub with music playing.

Bottom Line: Yes, I would recommend this to a friend

---

IQbuds blow by blow by amateur user

By Suzi Lemits

,

Lennox Head, New South Wales, Australia

,

Feb 1, 2017
Verified Reviewer

The pairing was easy and I am happily listening to my music with very good sound quality. I have an iPhone 7 Plus and I also paired it to my iPad Air 2.

The tapping of the left bud starts and stops the music nicely. I guess "Restaurant" mode is the equivalent to a Pub, which is what I really wanted them for. I found that if I set it on "Home" mode, I can listen to my iPhone music and still hear someone talking to me. Their voice does sound a little trebly, but it is clear.

I phoned a friend and the buds came up on the iPhone screen with the tick against it. I could hear very clearly. It is easy to tap the left bud to answer the phone and a longer tap on the left bud to hang up.

I turned my stereo on really loud (to emulate a pub) and tapped the right bud to select "Restaurant," but found it wasn't that great at hearing my husband talking to me over the loud music. I then tapped until I was in "Driving" mode and I could hear him nicely. I don't know why this is so.

If you go outside, you can hear the wind through them if you're not playing any music, but once the music is on, my hearing is not acute enough to notice any background wind noise at all.

I've just been on my 5 km walk with the IQbuds, and as I don't have any pockets, I gave the phone to my husband who carried it in the front left pocket of his shorts. I listened to my music with no drops outs until he crossed the road and went to the public toilets, and I'm glad they dropped out at this point (lol). As soon as he was back in range (approximately 15 meters), my iPhone picked up the music again.

I still haven't worked out the best ear tip for me, and this has been the hardest thing so far. I'm not a jogger, just a walker, but I did find that I could hear my feet pounding on the pavement. I don't normally listen to music while I walk so I don't know if this is the case with wired headphones. If not, this could take some getting used to, or maybe I can adjust the background volume. I'll play with it some more.

I set it on "Street" mode and found that I could listen to my music and hear the traffic noises around me. I didn't fiddle with the volume for the background noise because I wasn't sure how to do it yet.

I also accidentally dropped the right pod on the concrete path and thought I had broken it as when I tapped it, it would not do anything, but when I got home, I paired it again and all was OK. So, I guess this proves that they are quite sturdy. My mum had hearing aids, and she dropped one when it was brand new, and that was that, stuffed!

I've sorted out that horrible pounding of the feet noise. I had the Round Medium tips in, and now I have the Round Extra Small. It's brilliant. I am feeling very good about them, but have yet to try the pub scene.

I just took my IQbuds to my 32-year-old son, who is a professional musician. He took to them like a horse to water. He liked them a lot but said there was too much treble. He tried adjusting this using the EQ attached to the IQbuds, but when fully tweaked, they were still too trebly for his liking. When I got home, I discovered that I could adjust this on the iPhone itself by going to Settings and then Music, and under Playback, there is an EQ setting, and I chose Bass Booster. There are other options such as Treble Reducer but I liked the Bass Booster, and it sounds great. I guess everyone will be different.

I am a 62-year-old female, and I'm managing very well considering I have only had them for 24 hours. My main problem is that I'm not used to having anything in my ears, but it's like anything new, my ears need to adjust to the fact that something is in them and stretching the skin.

I highly recommend the Nuheara IQbuds.

Bottom Line: Yes, I would recommend this to a friend

---

Advertisement

---