iWalk 2.0 Reviews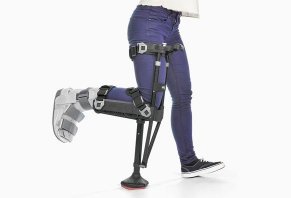 The iWalk 2.0 hands-free crutches are advertised as a cost-effective method of regaining much of your mobility—and greatly increasing your comfort—compared to traditional options.
About iWalk 2.0
By attaching to your thigh and bent knee, iWalk 2.0 is a hands-free medical device that adjusts to your size, height, and leg style, and promises to deliver unsurpassed mobility while you're healing from a non-weight bearing lower leg injury.
According to the company, these hands-free crutches are also inexpensive, easy to assemble at home without the use of tools, won't cause pain and discomfort like traditional models, and can be quickly used by just about anyone who can walk.
Combined with its ability to immediately get back to your routine, the award-winning iWalk 2.0 is advertised as the best mobility device available. Here, we'll quickly help you figure out if it will necessarily be the best device for you.
How Does iWalk 2.0 Hands-Free Knee Crutch Work?
Instead of using your armpits, wrists, and hands like with traditional crutches, iWalk 2.0 uses adjustable, quick-release straps to keep your shin, knee, and upper leg firmly in place, giving you similar mobility as before your injury.
Your shin and knee attach to an anatomically designed knee platform, which promises to distribute your weight along the length of your shin, thereby delivering maximum control. Your knee will rest on a three-layer dual density pad to deliver control as well, in addition to comfort.
The upper part of your leg attaches to a thigh support intended to stabilize and align the crutch. It's adjustable for thigh circumferences between 15.5" and 28.0", and is independently adjustable for Valgus ('knock-knee') or Varus ('bowed') leg types.
You can also quickly change between left and right legs by loosening the clamp bolt, pushing in on the double-headed spring, and rotating the foot 180-degrees.
Each of the three adjustable straps keeping the iWalk 2.0 in place features quick release buckles, which the company claims allows most patients to put it on and take it off in 10-15 seconds, once proficiency is achieved.
The knee platform and thigh support rest atop a lower crutch assembly that adjusts using dual-headed spring.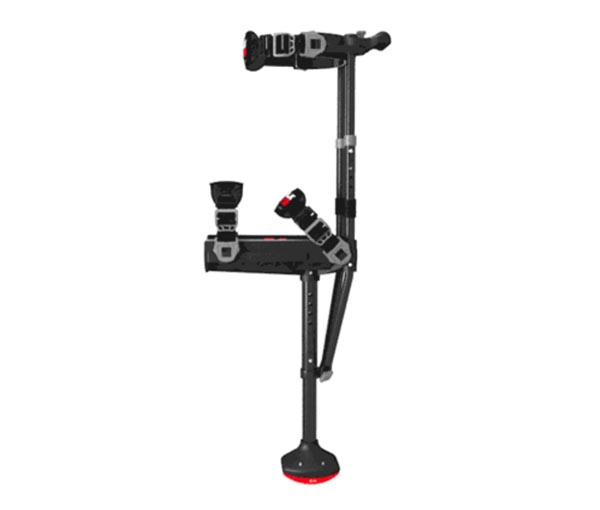 With a design that's meaningfully different than traditional models, iWalk's 2.0 hands-free crutches promise to help restore your comfort and mobility. Credit: iWALKFree, Inc.
Together, the company advertises that the iWalk 2.0 is engineered to help transfer the stress and strain caused by traditional crutches from your hands and wrists to your legs, leaving your arms and hands-free to help you with the tasks of everyday life.
We're also told that while these hands-free crutches might look complicated, you can have them assembled in just a couple of minutes, including all necessary parts, without any need for tools.
Note: Based on what we learned from their assembly video, the process seems fairly straightforward, with only a handful of steps. However, there are some small parts, so it will require good eyesight and hand dexterity.
iWalk 2.0 Fit and Functionality Criteria
As an FDA registered class 1 medical device, the iWalk 2.0 is designed for use by anyone who could walk and traverse stairs unassisted before their injury. To double check, they recommend balancing on one foot for a full 30 seconds. If you pass, you should be good to go.
However, there are a handful of other requirements to keep in mind, including:
You must be between 4'10" (147cm) and 6'6" (198cm). Note: The company emphasizes that that proper fit is more about leg length than strictly height.
You weigh 275 lbs or less.
You have a maximum thigh circumference of 28" (71cm).
Your injury is below the knee. Common examples include Achilles rupture, ankle fractures and sprains, below the knee amputations, and plantar fasciitis.
You have full functionality in your uninjured leg.
Even if you fall within these guidelines, the company points out that you must be willing to spend anywhere between 10 and 60 minutes to fully adapt, since everyone will learn at their own pace.
How Much Does iWalk 2.0 Cost and Where Can You Buy?
If purchased from the manufacturer's website, iWalk 2.0 is priced at $149. Replacement parts (pads, straps, hardware, etc.) are priced between $1.25 and $25 each, with shipping calculated based on your location.
We also found the hands-free crutches sold on Walgreens.com, Walmart.com, and Amazon for the same price, although Prime members were eligible for free two-day shipping. Hundreds of independent third-party retailers also listed the hands-free crutches at the same price.
The iWalk website emphasizes that there's no easy answer as to whether or not your insurance company will provide coverage, and the best way to find out is to submit a claim. They provide a handful of tips you can follow to potentially make the process easier.
All direct iWalk 2.0 purchases come with a five-day trial period that allows you to return it for a full refund. Keep in mind, however, that return shipping costs are your responsibility.
These hands-free crutches also come with a one-year warranty against defects in material and workmanship, both of which you can request by contacting the company via phone at 562-653-4222, or via email at sales@iwalk-free.com.
What Can We Learn from iWalk 2.0 Customer Reviews?
Among 4,240 customer reviews on Amazon, the iWalk 2.0 had an average rating of about 3.9 stars, with compliments commonly citing ease of assembly and use, good functionality, and improved mobility.
On the other hand, complaints frequently referenced knee and leg discomfort, especially after standing for a while. As a potential remedy, more than one customer reported using aftermarket foam (such as from a crafts store) to improve comfort.
Furthermore, most indicated that the 2.0 could work well if you have a cast or a boot, as long as you can bend your leg 90 degrees, without the cast coming into contact with the back of your knee.
Other common complaints referenced:
Fit issues, often for larger individuals
Bulkiness, making it sometimes awkward to use in tight areas (e.g., bathrooms, movie theaters, etc.) or when storing in a car or the overhead compartment on planes.
High price
That it can take some practice before you're proficient enough to use it in public
Back in April 2017, Wired's Christopher Null gave the iWalk 2.0 hands-free crutches a 9/10 rating after fracturing his foot and giving them a try.
From a high-level perspective, he reported that they took about 40 minutes to assemble, and once he became proficient, they took about 15 seconds to get in and out each time.
Despite this high rating, he indicated that stairs still represented a challenge and that the knee scooter was easier to use on the main floor of his house.
"Ultimately," he concludes, "I relied on all three types of assistance to get around: knee scooter for quick trips inside the house, crutches strictly for getting out of bed and into the shower, and iWalk for everything else. Looking back, I've never loved a product so much while wanting nothing more than to never have to use it again."
iWalk 2.0 vs. Freedom Leg Hands-Free Crutches
Based on its unique design, it might not come as any surprise that if you're looking for a hands-free crutch that attaches below the knee, iWalk 2.0 is currently the only game in town. However, this doesn't mean that it's necessarily your only option.
For example, the Freedom Leg Off-Loading Brace ($450) features a meaningfully different design but promises to deliver many of the same core benefits, including hands-free operation, the ability to return to everyday tasks, and a lightweight and durable design.
The biggest differences were Freedom Leg's meaningfully higher $449 price tag and the fact that it allows users to climb stairs safely. It also gives users the opportunity to continue using the upper leg muscles on the injured leg to walk, and can accommodate individuals between 4'9" and 6'4", as well as those up to 300 lbs.
This is to say nothing of conventional hands-free options like roller crutches, many of which could be found locally, thereby putting them in your hands even faster, and making the return process quick and easy if you're dissatisfied. Many were priced less than $100. How to choose?
Like any other medical-related decision, the first step in the process should be speaking with your doctor. They can help you achieve the most bang for your buck, based on your specific injury, level of physical fitness, and so forth.
After writing about thousands of products over the years, if they recommend hands-free options like iWalk 2.0, we think you should focus on doing business with companies who:
Price their products competitively and offer reasonable S&H charges
Stand behind their products with solid refund policies
Come with mostly positive online customer feedback
Is iWalk 2.0 Your Best Option?
If you're looking for hands-free crutches that are competitively priced, iWalk 2.0 seems like a good choice (as long as you talk with your doctor first, of course).
The crutches—as well as the company behind them—also seem to come with mostly positive reviews from online customers. They offer a reasonable five-day trial period as well but keep in mind that since you're responsible for return S&H charges, it's not a completely risk-free transaction.
With all of these potential benefits in mind, since they're not ideal for those at the shorter or taller ends of the spectrum, can take some getting used to before they can be used regularly, and will take some time to take on and off, we're not sure they'll necessarily make conventional crutches obsolete, as advertised by the company.
And since many traditional crutches can be found locally for less than $20, higher priced options like iWalk 2.0 could be considered a bit of an investment. But if it improves your mobility for the days, weeks, or months you're injured, this small investment might pay big in the mobility department.
» Related: How to Choose and Use the Right Cane for You: A Comprehensive Guide