Jackson Hewitt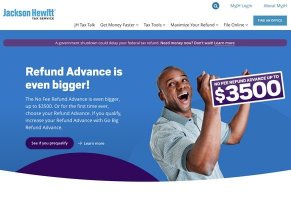 Jackson Hewitt is a well-known tax preparation company who's been around since the early '80s. Their tax filing options include in-office appointments, online tax software and tax return advances.
Jackson Hewitt Review: Is It the Right Tax Preparation Service for You?
Jackson Hewitt is a tax preparation service that offers in-person and online appointments to file taxes and get consultations throughout the year.
One of their defining characteristics is that they offer a no-fee tax refund advance, through which certain taxpayers can get their refund the day they file their taxes with Jackson Hewitt. Also, about half of their brick-and-mortar stores are located in Walmart stores.
According to business site Bloomberg, Jackson Hewitt was founded in 1982 in New Jersey and has, over the past 27 years grown to have offices across the country and thousands of employees.
In our review of this tax preparation service, we'll focus on analysis on their online product, as the IRS estimates around 100 million people file their taxes online. In addition to this, we'll do a brief overview of filing in person and doing a tax return advance.
Before we finish off with a conclusion about the service's pros and cons, we'll also compare Jackson Hewitt's online product to TurboTax, Tax Act, Tax Slayer, and H&R Block.
Jackson Hewitt's Online Tax Filing Service
At the time of publishing, Jackson Hewitt advertised three new types of filing packages but did not indicate what the pricing would be on those packages. Our research indicates that there will most likely be basic, deluxe and self-employed versions, each of which caters to a particular type of taxpayer.
Here are the three categories available:
Best for basic returns
Best for families and retirees
Best for complex returns
Jackson Hewitt provides a quick breakdown of what's available in each of those categories. The basic service is good for those who have standard deductions, up to $100,000 in taxable income and W2's.
The next tier up covers dependents, child tax credits, student loans, retirement income and more. Finally, their most comprehensive service will most likely be the most expensive and covers the self-employed, households making more than $100,000, those who own rental properties, itemized deductions and various types of income outside of W-2's and 1099's.
While the company's site didn't list prices for these three tiers of tax filing, our research indicates the pricing should fall between $20 and $99 depending on the tier.
A screenshot we obtained via web.archive.com indicates that Jackson Hewitt's online filing prices on Feb. 4, 2017, were: free, $19.95, $34.95 and $54.95. These prices were discounted, though. The non-discounted prices – the ones you most likely pay close to the filing deadline – were $34.95, $54.95 and $79.95.
In the event that you start a free online return but your return is too complex and needs a paid version, Jackson Hewitt will let you know as you're working through your return.
Filing In-Person With Jackson Hewitt
As we mentioned earlier, Jackson Hewitt has around 6,000 offices around the country where you can walk in and file your return with a tax professional.
According to their website, their branches are open late and they accept walk-ins, which can be a lifesaver if you prefer doing your taxes via a tax professional and you run into an emergency because of which you need your taxes done quickly by a pro.
As for who is preparing your taxes, research from Glassdoor.com indicates that out of 129 Jackson Hewitt tax preparers who posted their salaries on the site, the average total base hourly pay was $10. According to Jackson Hewitt's website, tax preparers undergo an entry-level course that, on average, takes 70 hours to complete in order to do clients' taxes.
How much your tax return costs depends on the complexity of your return. In general, doing your taxes in-office is more expensive than doing your taxes online.
Jackson Hewitt Tax Advance Refunds
The final main component of Jackson Hewitt's services is its tax refund advances.
Basically, you walk into a Jackson Hewitt office, do your return with them and then, instead of you having to wait for the IRS to send you your refund, Jackson Hewitt gives it to you early.
According to a phone rep with whom we talked, you can choose to put the advance on an American Express Serve prepaid card (takes a few hours for the money to appear) or you can do a direct deposit, which can take up to five days to arrive.
Here's a quick rundown of the three types of refund advances Jackson Hewitt does:
| | Early Refund Advance | No Fee Refund Advance | Go Big Refund Advance |
| --- | --- | --- | --- |
| Interest Rate | 0% | 0% | 35.90% |
| Loan Amounts | $200 - $400 | $200 - $3,500 | $1,000 - $7,000 |
| Interest Payments on $3,000 | N/A | $0 | $70.82 |
The Early Refund Advance is something you can get before you file your taxes, provided you can give them a recent pay stub by which they can calculate your refund.
Also, at the time of publishing, the company offered first-time refund advancers a deal in which the amount of a No Fee Refund Advance was $450-$4,500.
There's one big caveat to these refund advances, though. You have to do an in-office tax return with them; these advances are not available for online filers. And this is where the "free" advances are no longer free.
A post from IRS.com indicates that the average prepared tax return is $261. Keep in mind that the number will be lower if you have a basic tax return with standard deductions. Whenever you throw in itemized deductions or, for example, a Schedule C (popular with freelancers), then the price will go up.
Let's take a conservative approach and say you'll pay Jackson Hewitt $125 to do your taxes so that you can get your refund advance. In our opinion, that fee just isn't worth it for any No Free Refund Advance that's less than $1,250, as your fee will be at least 10% for refunds of that amount.
And, remember, the Go Big Refund Advance is only available through an office visit, so you'll pay an in-office preparation fee in addition to interest. So, if your return costs $125 and you pay $70.82 on a $3,000 refund (national average), then you'll end up handing over nearly $200 for a $3,000 loan.
What's really fascinating about this particular loan is that it's given on a 24-day term. If you were to calculate the yearly APR based on how much you'd pay for the 24-day loan, your APR would be 99.2%, which is more than three times the yearly interest rate of the highest APR's on most credit cards.
Pro tip: To find out if you qualify for an advance, you can head to Jackson Hewitt's website to do a pre-qualification questionnaire.
Customer Reviews of Jackson Hewitt
We did a brief examination of customer reviews from various sites and found that, for the most part, customers were not happy with their Jackson Hewitt experience.
The majority of complaints we read focused on inexperienced tax preparers making mistakes on tax returns and tax refund advances not showing up on the prepaid cards to which they were deposited.
We also read a few complaints about the prices of in-office tax preparation.
As far as customer service goes, we had a pleasant experience talking with the phone rep. She was helpful and informative. Keep in mind, though, that phone reps can't quote you a price for an office visit. You'll have to call your local office for that information.
How Jackson Hewitt's Online Filing Compares to TurboTax, TaxSlayer, Tax Act, and H&R Block
One way to compare online tax software is to take a look at their pricing packages so that you can get a sense of how your particular tax situation fits into a site's pricing tiers.
A lot of times we'll use a table or chart to help you see the differences between sites, but this time around we want to give you our thoughts on the cheapest site for specific tax situations. The sites we're comparing are TurboTax, H&R Block, TaxSlayer, TaxAct and, of course, Jackson Hewitt.
At the end of this section, we'll give you some bullet points that show the price for each site's pricing tiers at the time of writing. Remember, these sites offer lower prices the further you are from the tax filing deadline. As the deadline gets closer, the prices go up.
Cheapest for Freelancers: TaxSlayer
TaxSlayer offers a freelancer package for $55, making it the most affordable option. TaxAct's freelancer tier is actually cheaper than TaxSlayer, but the site's fee for state taxes pushes the overall cost past TaxSlayer.
Cheapest for Homeowners: H&R Block
If you earn W-2 income and you own a home but have no other investments or any 1099 work, H&R Block will let you file for free.
Cheapest for Members of the Military: TaxSlayer
The site has a 50% discount for military members, making it the top choice. Their $17 filing tier is pretty comprehensive, too, which means that servicemembers could pay as little as $8.50 for their taxes.
Best for Tax Refund Advances: Jackson Hewitt
At the time of publishing, Jackson Hewitt offered the most options for tax refund advances, whereas H&R Block only offers one option.
Tax Software Pricing
As promised, here's is a quick list of the price points for Jackson Hewitt and the four other sites we mentioned...keep in mind that each site has a free option:
Jackson Hewitt: $19.95, $34.95, $54.95
TurboTax: $39.99, $59.99, $89.99
H&R Block: $29.99, $49.99, $79.99
TaxSlayer: $17, $37, $47
TaxAct: $9.95, $29.95, $34.95, $49.95
The Final Word: How to Use Jackson Hewitt to Your Advantage
Based on our analysis of Jackson Hewitt's services, we think there are some distinct advantages to using the company.
First, we see this company's tax refund advances being a good fit for someone who absolutely needs their refund as soon as possible and has a very simple tax return: W-2 wages, standard deductions and no homeownership or investments.
In this case, there's a good chance your return will cost you $125 or less, which is a decent value for a tax return of at least $3,000. Keep in mind, though, that if you can wait for your refund, then the simplicity of your tax return could mean that you can file online for free.
Second, we think that Jackson Hewitt could be a solid choice for someone who does the majority of their shopping at Walmart and prefers to do their taxes in-person as opposed to online. Because Jackson Hewitt has about half of their offices in Walmart locations, you can fit your tax appointment into your normal daily schedule.
Because tax season can mean long lines at tax preparation offices, we suggest setting up an appointment through Jackson Hewitt's website as soon as you have all your tax documents. Go to their Office Locator page, give them your zip code and choose the closest location.
---
Finally a nice trip

By David W.

,

Georgia

,

Feb 9, 2020
Verified Reviewer

Overall Experience:

Just went to Jackson Hewitt in Suwanee, Georgia and had my best experience ever with any tax service. The reason was my Tax Pro. Her name was Esther Kim. She was by far the most genuine sincere kind person I've met in years. If I had my own company then I would hope that I could find help like her. Even when the manager came (sorry can't remember his name) he was super nice. I had switched from another tax service and I can honestly say that I will remain with Jackson Hewitt and hope Esther Kim is there waiting with her smile!

Bottom Line: Yes, I would recommend this to a friend

---

What a joke!

By David C.

,

Kentucky

,

Mar 16, 2019
Verified Reviewer

Overall Experience:

My experience with Jackson Hewitt would be 0 out of 5 stars if they gave you that option.

I had my taxes filed here for the first time this year and was excited to get the $100 for switching. After the lady got finished with my simple W2 and child credit, head of HH, my preparation fee was $517.95. WHAT? Anyway, it takes over a month and during that wait on my return, I was checking the IRS website where my refund amount drastically reduced not once but two diff times, and then when it was finally loaded to the card they provided me, it was $691.00 less than expected and what was on my paperwork.

I call Jackson Hewitt only to get put off for 3 days and then get told I should call and see what happened. So I do because it's clear the $517 fees didn't include sorting out any problems they caused when filing them for me. After hours of being on hold with state and fed agencies and checking to see if I owed anything, I found out I didn't and no one can explain where that money went. Just POOF, gone, and the $100 new customer promo is BS, never got a penny and still yet no answers on what is going on and no concern shown by Jackson Hewitt. I will NEVER do business at Jackson Hewitt again!

Bottom Line: No, I would not recommend this to a friend

---

Advertisement

---

No help

By Therriel S.

,

Chicago, IL

,

Mar 7, 2019
Verified Reviewer

Overall Experience:

I filed my taxes with Jackson Hewitt. I wanted my return sent to my bank. They tell me about the card where you can have your return sent to and you will get it faster. Ok, who doesn't want their return faster? I signed up for the card. This card is BS, you can't talk to an operator. Every option leads you back to the same thing over and over again. My taxes we released by the IRS Monday, ok, I'm going to wait 48 hours. Nothing, can't talk to anybody to even see if there's anything pending. I called Jackson, they can't tell anything. I will never come back to Jackson Hewitt.

Bottom Line: No, I would not recommend this to a friend

---