JD Annuity Reviews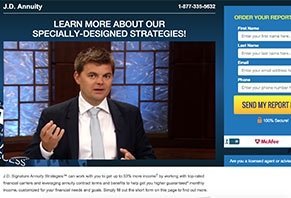 Founded by Joshua Mellberg, JD Annuity claims to offer index (or hybrid) annuities that can help clients maintain their current lifestyle long after retirement.
About JD Annuity
Brought to you by Joshua Mellberg, founder and CEO of J.D. Mellberg Financial, JD Annuity claims to help their clients achieve financial safety through hybrid (also known as indexed) annuities that can provide them with the highest cash flow and purchasing power during their retirement years. In fact, JD Annuity claims to help provide retirees with "guaranteed money for life."
In order to accomplish this, JD Annuity claims to work one-on-one with their clients to figure out the least amount of money they need to put into a guaranteed insurance contract in order to pay them money for life. You'll simply need to tell them when you want to retire, and they will walk you through the "best of breed" contracts that will pay you the highest level of cash flow, while providing increasing income over the years. In other words, JD Annuity claims to provide you with a customized strategy that's uniquely designed for you.
According to JD Annuity, they're among the top 1% of financial advisors who have access to proprietary contracts with highly rated financial institutions, which can provide you with 20% to 40% more income than the leading competitors.
You've worked hard all these years, and now that retirement is approaching, you want to make sure you can maintain your current lifestyle after you retire. But is JD Annuity the best way to accomplish this? Consider the following:
Who is Joshua Mellberg?
Joshua Mellberg is founder and CEO of J.D. Mellberg Financial, a financial services company based out of Tucson, AZ that's been in business since 2000, and specializes in proprietary retirement income strategies to help individuals maintain their current standard of living long after retirement. Joshua is a Registered Investment Advisor, is licensed in all 50 states, and regularly gives presentations on retirement and investment planning.
What is an Annuity?
According to QuickAndDirtyTips.com, "an annuity is an agreement in which you make one or multiple payments in exchange for receiving a set amount of income for a period of time." And overall, there are three primary types of annuities:
Fixed – Provides a guaranteed, fixed income, regardless of the financial markets.
Variable – Provides a guaranteed minimum income, which can increase depending on the underlying investments you tie the annuity to, such as stock or mutual fund performance.
Indexed (or Hybrid) – This is the annuity type advertised on JD Annuity's promotional video and websites, and pays out based on the performance of an economic index. This may offer the best of both worlds, since you'll receive a minimum guaranteed payment, but that can increase when the market is flourishing.
What Are the Pros & Cons Related to Annuities?
Annuity Pros
Nearing Retirement – If you're nearing retirement but have realized that you may not have enough money to maintain your lifestyle once you've quit working, annuities can help you catch up.
Tax Benefits – The money you use to fund your annuity is not taxed, although your earnings will be taxed at the same rate as traditional income. This means your money can continue compounding.
Contribution Limits – With annuities, you can contribute an unlimited amount of money per year, unlike IRAs and 401(k)s.
Annuity Cons
Commissions – All annuities brokers will charge a fee for their services, which can cut into your overall profits (we'll talk more about this in the Pricing section).
Charges & Fees – While some annuities allow you to maintain control over your money, most include clauses that stipulate you can't withdraw your money for several years, although this percentage usually decreases over time until it's reached zero after 7-8 years. However, annuity fee structures can be complex, so you'll definitely want to speak with your JD Annuity advisor before making a decision.
Continued Payments – Some annuities allow you to name a beneficiary (such as children or your spouse) after you pass away, while others simply dissolve and the holding company retains the balance. Even if you find an annuity that works from a financial perspective, you'll also want to verify if beneficiaries can be named.
Research the Company – If the company you have an annuity through goes out of business, your annuity (and the significant investment it represents) could go with it. Because of this, you'll likely want to limit your options to companies that have an A+ or AA- (depending on the rating scale you're looking at) or better.
In order to figure out if annuities are right for you, JD Annuity recommends downloading their no obligation special reports titled "Is An Annuity Right for You?," the "#1 Mistake Retirees Make When Investing In the Stock Market," and "JD Signature Annuity Strategies."
Are JD Annuity's Customers Pleased with Their Experiences?
Overall, it appears that JD Annuity has a very positive online reputation with customers.
J.D. Mellberg Financial has a 9 out of 10 rating on TrustPilot, based on 120 reviews (as of 3/5/15), with common compliments citing knowledgeable and professional staff, lack of high-pressure sales tactics, and that representatives are focused on helping you learn the best options for your specific situation.
On the other hand, the few complaints listed there appeared to revolve around annuities that were purchased and did not meet the clients' needs, and much lower returns than promised. It's also important to note that nearly all TrustPilot reviews were posted from accounts where this was their only entry.
The company also holds an A+ rating with the Better Business Bureau, with just 1 closed complaint over the past 3 years, although the details of this complaint were not made public.
JD Annuity Pricing & Fees
While there are no specific prices or fees listed on the JD Annuity website, the company claims that they typically charge less than 1% in fees, and will maintain full transparent during the process. In addition, the company claims their annuities can provide a return of up to 8%.
However, keep in mind that these numbers can vary greatly depending on the product(s) you choose.
In order to discuss annuities or to learn more about JD Annuity's fees, you'll need to call a representative at 877-335-5632.
Other Low-Cost Annuity Options
While the low fees charged by JD Annuity are certainly a bonus, keep in mind that according to CNN Money, "Some investment companies sell annuities without charging a sales commission or a surrender charge. These are called direct-sold annuities, because unlike an annuity sold by a traditional insurance company, there is no insurance agent involved. With the agent out of the picture there is no need to charge a commission. Firms that sell low-cost annuities include Fidelity, Vanguard, Schwab, T. Rowe Price, Ameritas Life, and TIAA-CREF." In other words, you have options and it's up to you to fully explore them.
Will JD Annuity Help You Live Better During Retirement?
Chopping to the point: In short, this largely depends on how close you are to retirement, as well as your current financial situation. And while annuities can be a very good investment tool, it will be up to you to do your due diligence and make sure that an index annuity is right for you.
Great experience

By Rebecca B.

,

Rockville, MD

,

Mar 20, 2019
Verified Reviewer

JD Annuity claims to provide customized strategy that's uniquely designed for every customer and this is very important in my opinion. I use their services and I'm very satisfied with everything. I would highly recommend it to everyone.

Bottom Line: Yes, I would recommend this to a friend

---

Fake advertising

By Chris Y.

,

New York

,

Mar 19, 2019
Verified Reviewer

There are many better alternatives to JD Annuity. The commissions, fees and charges, and continued payments really don't help with saving your money at all. False advertisements, and scams! There definitely are better options out there.

Bottom Line: No, I would not recommend this to a friend

---

Advertisement

---

False information

By Gene L.

,

North Carolina

,

Feb 14, 2019
Verified Reviewer

I purchased two annuities from JD Mellberg. Afterward they wanted to be my financial advisor, which they discontinued immediately after the annuity purchases. Also, they claim false information on annuity performances. They claim 8% average return on annuities where I have not received above 5% per year after 5 years. JD Mellberg is not a fiduciary financial advisor who recommends investments in the best interests of their client. I'm convinced they sell annuities that pay them the highest commissions.

Bottom Line: No, I would not recommend this to a friend

---

Beware

By Richard B.

,

Seattle, WA

,

Oct 16, 2018
Verified Reviewer

They were very aggressive in the initial purchase process, but support afterwards went downhill fast. The worst financial investment I ever made. Look elsewhere.

Bottom Line: No, I would not recommend this to a friend

---

Advertisement

---

No cap index annuities

Josh Mellberg advises all who listen to his DVD that prospective index annuity buyers should buy only "no cap" index annuities. Great! However, when I was ready to buy my index annuity with JD's agent serving NY and NJ, guess what? There are no "no cap" annuities sold in NY. They cap off at 8%. That's what I call false advertising. And I couldn't even buy it in NJ since I'm a NY resident. I think he needs to mention the states that exclude "no cap" annuities on his video and any other advertising medium he uses.

Bottom Line: No, I would not recommend this to a friend

---

JD Mellberg is so helpful

I have met several times with the Atlanta rep for JD Mellberg, and they have provided me the most honest and helpful advice that I've ever received. Two of their advisors came to my home on many occasions, and whenever I needed help with anything. The annuities of theirs that I chose have done everything that I've wanted from them, and I sleep so well knowing how secure my money is, and I have no worries now about my future retirement.

They also pointed me in the direction of another financial person to help me with other financial decisions, and that individual was just as upstanding. I have dealt with JD Mellberg for almost three years and will continue to do so. Yes, they called me several times to get me to agree to an appointment, but I'm glad that they did!

Bottom Line: Yes, I would recommend this to a friend

---

Fantastic experience

I had a fantastic experience with a JD Mellberg financial adviser! He came to our home to visit with my wife and I to help us come up with a solid retirement strategy. Our adviser presented us with great information, he was highly knowledgeable and was able to answer all our questions.

Overall, the entire experience was fantastic! We never felt any sales pressure, and I am confident that we made the right decision using JD Mellberg Financial. I highly recommend using this firm.

Bottom Line: Yes, I would recommend this to a friend

---

Best financial advisors

I find the three bad reviews here hard to believe. We were never asked financial information and they sent us the package. We were always given great advice, and they made sure we understood everything fully.

They even drove to California to visit us while we were waiting for our house to sell. They explained everything in detail. Never any pressure and not a dime had been invested by us at that point. They even advised us on our existing annuities we had bought from other advisors. Our previous advisors would not even answer any questions we asked.

Hence, DON'T believe the above reviews.

Bottom Line: Yes, I would recommend this to a friend

---

85 year old parent

By Anonomyous

,

Florida

,

Sep 3, 2016
Verified Reviewer

My 85 year old parent received three calls from JD Mellberg, all within five minutes of another.

Each of the messages went to my parent's voicemail. The caller claimed my parent contacted them for advice (Which never happened).

The message caller ID was different every time. One stated it was a Law office, the other JD Mellberg and the other was Senior Annuity. All of the telephone numbers are traced back to JD Mellberg.

CNBC advertises for them. Are you kidding?

I am staying FAR away from JD Mellberg !!

Bottom Line: No, I would not recommend this to a friend

---