Jetty Insurance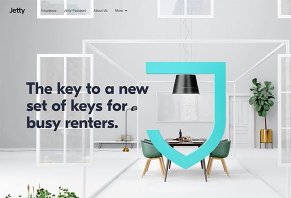 Jetty's renter-focused services provide a way for you to acquire renter's insurance, a co-signer and a security deposit. The fees charged for these services, however, may put Jetty out of reach for some.
About Jetty Insurance
Jetty is a company who provides security deposits, co-signing and renters insurance for consumers who are either shopping for an apartment or already living in one.
Normally, if you don't have the credit scores or income to qualify for an apartment, you'd have to do the really awkward thing and ask your parents to co-sign for you and/or help you pay for your security deposit.
Basically, co-signing means they're vouching for you and if you don't pay your rent, the landlord or rental agency can go after your parents. For a fee, Jetty will save you from that embarrassment through co-signing for you and, if need be, helping pay your security deposit.
And, when you move into that apartment, they can provide you with the renter's insurance you'd need to cover your personal possessions in the event of thievery or disaster.
The Jetty concept sounds great. You can avoid awkward conversations by hiring this company to take care of, aside from rent, all the financial obligations required to get a place.
With so many college graduates entering the working world with tens of thousands of dollars in student loan debt and an average monthly payment of around $350, the idea of saving up enough money for a security deposit, let alone have good enough credit for a decent apartment, can be daunting.
But is Jetty the right solution? What exactly do they offer when it comes to co-signing, security deposits and renter's insurance? What kind of fees are involved for their services?
These are the questions we're going to answer in this review.
Jetty Passport: Security Deposits and Co-signing
If you've got bad credit scores and minimal income, it can be tough to lease an apartment or home if the owner does a credit check.
Jetty's website speaks directly to that situation, saying, "Finding your dream apartment feels pretty swell. Dealing with a security deposit and searching for a co-signer on your lease? Not so much. That's where we come in."
Okay, so the stage is set. Jetty knows you're stuck because you found a place you like but don't have the financial credibility to get a lease. Even though you're the one in the difficult position, it doesn't mean you can't make clear financial decisions.
So, with that in mind, let's take a look at Jetty Passport, the name they give to their security deposit and co-signing services.
Security Deposits With Jetty
According to Apartment List, the average rent for a one-bedroom apartment in Los Angeles was $1,350 in 2017. The average American, as many sites have pointed out in the past few years, has less than $1,000 in their savings.
So, if you're moving into a rental for the first time, you don't have a previous security deposit to roll over and you probably don't have enough in savings to cover it.
Jetty comes along and offers to cover your security deposit for a 17.5% one-time fee that you won't get back. So, if you're required to put down a $1,350 deposit and you choose to go with Jetty, you'll pay $236.25.
The real question is, "What happens after that? How does Jetty take care of my security deposit?"
According to their website, Jetty doesn't pay your landlord anything. They use what's known as a surety bond. This financial product basically acts as an insurance policy for the landlord and a credit for you. If for some reason, your landlord demands all your security deposit because of damages, you're covered because the bond pays out to the landlord.
Jetty gets their cut, the landlord gets her money and, you? Well, according to Jetty's rules for their surety bonds, you're still liable for the damages you caused when you rented the place. That means that you'll still be on the hook for any money they pay to the landlord. Here's how they describe it:
"Keep in mind that this isn't an excuse to wreak havoc on your place, -- you're still responsible for any damages … and your fee won't be returned, but we'll take care of meeting your landlord's security-deposit requirement so you can move in without any hassle."
In order to sign up for their security deposit bond, you'll need to provide them with the following information:
Deposit amount
Length of lease
SSN
Pay stub/letter of employment and bank statements
Co-Signing With Jetty
The basic definition of co-signing is someone sharing the legal and financial responsibilities outlined in your lease. Basically, they are legally obligated to come up with rent if you flake out and don't pay.
Jetty is willing to be your co-signer through the same bond offered for the security deposit. The payment structure on this one is different, though. According to a conversation we had with a Jetty chat representative, you'll pay 5%-10% of a year's worth of rent in order to get the bond.
The bond guarantees the landlord gets paid if you don't come through on your rent. Just like the security deposit, though, you aren't automatically off the hook. You will owe them the amount they paid out to your landlord.
In practical terms, a year's worth of rent at $1,350 will cost you a co-signing fee of $1,215 if your fee percentage is 7.5%. Exactly which percentage you'll get, Jetty said, is based on your income and credit scores.
To apply for the co-signing service, you'll have to provide the same information you would if you were using a Jetty bond for your security deposit.
As for who can apply, a Jetty representative told us that they don't offer their lease guaranty to anyone with credit scores below 630. The product, we were told, isn't designed to vouch for people who have bad credit scores, but more for people who don't have credit scores: internationals, students, recent college grads and the like.
Getting Renter's Insurance With Jetty
The final service that Jetty offers is renter's insurance, a basic policy that covers the cost of any claims made in the following categories:
Contents: Your stuff
Liability: Damage to other people's property
Loss of use: When you can't live in your apartment or home
Medical payments: Someone gets hurt in your residence
Jetty also offers $300 worth of complimentary bed-bug protection that you'll get if a licensed professional confirms that you've got bed bugs.
These are the basic things the company offers in the renter's insurance. You can adjust the levels of coverage for each of the four areas we talked about and you can also add on Power-Ups, which are extended coverages for things like electronics or pricey valuables that usually have a cap on how much you can be reimbursed.
Your monthly premium depends on how much coverage you select and where you're living – you'll enter the address you're living at to start the process.
Bottom Line About Jetty: Who Is It Good For?
Jetty offers renters an interesting mix of products that seem very attractive if you are in a jam and don't have the money or credit history to get an apartment when you need it. It could also be good for those who aren't in a jam, which we'll talk about in a few seconds.
So, let's say you're looking for a one-bedroom apartment in L.A. and you don't have the savings, the credit or a co-signer to get your apartment.
We're guessing that you'll pay 10% (the highest rate) up-front for the co-signing, which would put your total initial payment for co-signing and security deposit at $1,856.25.
What's interesting about that number is that it's more expensive than what you'd pay for a one-month security deposit on an apartment with $1,350 rent.
In our opinion, that's a lot of up-front money to get into an apartment. Now, there's no arguing that Jetty is an innovative service that offers a way to get an apartment when you don't have many options.
But, we believe the service puts renters with low credit scores in a bind. For example, it's the poorest families who have the lowest credit scores. So, naturally, they'd be the ones who would probably pay 10% for co-signing.
There may be the occasional person with low credit scores and a really good income, but the stats say that is the exception to the rule.
So, what do you do if you've got low scores (bad credit) or no scores because you're a recent college grad with low income? There's a chance that your future landlord may deny your application or ask for a co-signer and/or a bigger deposit. In this case, Jetty could be a great fit.
However, you'll need to count the cost. If you don't have the money to pay for the co-signing service, then you'll most likely have to put some or all of your up-front payment on your credit card. Let's say you charge $1,5000 of that $1,856.25.
If it takes you one year to pay off that balance at an APR of 24.99% (common for those with bad credit), you'll pay about $210 in interest. So, your final bill for using Jetty ends up being more than $2,000 when, under normal circumstances, you'd pay a $1,350 security deposit, a nominal application fee and call it a day.
Now, let's say you've got decent credit scores and good income and, rather than giving $1,350 to a landlord or rental agency you don't know or don't trust, you want to pocket that money and use it, for example, to invest.
Jetty is an excellent tool for that because the 17.5% fee most likely won't break the bank and it will free up that extra money to do what you want with it. We also see it as being a great option if you live in a city like San Francisco or New York where the average rent in some neighborhoods can hit as high as $3,000.
In this situation, your Jetty deposit fee would be $525, which frees up $2,480. If you invested that money in a robo-adivsor like Betterment or Acorns and had the good fortune of earning 5% returns each year, that $2,480 would earn around $400 over three years, which, according to Jetty, is the length of the average lease in America.
---
Don't waste your money with Jetty

Atlanta, GA

,

Apr 30, 2018
Verified Reviewer

Overall Experience:

I opened a policy with Jetty at the beginning of January in Georgia. We had record breaking low temperatures which caused a pipe to burst in my garage causing major damages to the property and items inside the property. It is almost May, and the claim is still not resolved. Jetty only takes your money, a third party company takes claim information and then passes that information to another third party company who provides the adjusters and determines if they will cover said claim. They insult you every step of the way and try their best to find a way to say your claim isn't covered.

An adjuster came to my house and took pictures and asked questions. Two and a half months later I still have to contact them weekly to ask for an update. The worst insurance company I have ever dealt with! They can kiss my business goodbye!

Bottom Line: No, I would not recommend this to a friend

---

Sucks, total ripoff

By Morrbiz L.

,

Pittsburgh, PA

,

Jun 3, 2018
Verified Reviewer

Overall Experience:

I had my policy for almost a year. I'm in a rent-to-own property and recently got a roommate. So upon searching got a 616 New York inactive number, hoping to get an answer for when they move out. Waste of money, waste of time. You'll call claims, even after emails they'll send you to claims. If upon calling the 844-888 number they keep releasing your call with no answers. Don't waste your time, their customer service is horrible, and you'll never get anything answered. Just pay and file a claim is their business model, no customer service or sympathy. It's just a scam seriously.

Bottom Line: No, I would not recommend this to a friend

---

Advertisement

---

Do NOT do business with these people!

By Mr. Jon S.

,

Denver, CO

,

Jan 20, 2019
Verified Reviewer

Overall Experience:

This insurance is horrible! They do not represent their product. They do not even manage the claims. They collect money, that is all they do. They use Garret Basset claims to manage the claims and Garrett Bassett uses Frontier to manage the field adjusters. They use Home Link to manage the relocation of temporary housing. I had a terrible experience with them and a claim. They did not even have a field adjuster to my unit until nearly 15 days after a flood. I was lied to that the field adjuster called me three times and left a voicemail! No way! They just decided to stop covering additional living expenses and were given ample, ample discovery that stated that they were premature in doing so.

Do not be fooled! Do not do business with this company. Mark my words, you will be out on your butt, and no matter what you provide them to prove you shouldn't be, they will cut you off when they feel they can. I am having to now retain counsel to fight their treatment of me. You are better putting your trust in a major name brand company where they are not clearly unable to support the claims. They will hurt you more than help you if you do business with them! This is a bad insurance, bad, bad, bad!

Bottom Line: No, I would not recommend this to a friend

---

Terrible customer service

By Destinee K.

,

Cleveland, OH

,

Jul 18, 2019
Verified Reviewer

Overall Experience:

I canceled my insurance policy with an email confirming my last payment would be paid in February 2019. I am still getting charged for it monthly and I cannot get in touch with anyone to discuss this issue. Their customer service phone number takes you straight to a voice recording and the only thing you can do is leave a voicemail with your issue and they will give you a call back. I emailed their customer service email address but still no response. Messaged their "convenient" customer service chat online and it has been over 3 hours and response from them! HOW DO I GET IN TOUCH WITH ANYONE FROM HERE? I no longer want to ever purchase anything from them moving forward - awful customer service.

Bottom Line: No, I would not recommend this to a friend

---

Advertisement

---

Easy to purchase and informative

By Dat Truong

,

New York

,

May 8, 2018
Verified Reviewer

Overall Experience:

After reviewing differing renters insurance options, I decided to go with Jetty because they offered more coverage options and explanations to help me make a smarter decision and feel that I am covered adequately. Also, their support staff was really friendly!

Bottom Line: Yes, I would recommend this to a friend

---

Great company

By Ashley B.

,

Detroit, MI

,

Sep 15, 2018
Verified Reviewer

Overall Experience:

I got renters insurance with Jetty after graduating from college and found their rates to be the best between several others. They have protection for shattering your phone too, and every plan comes with bedbug protection which I have never seen before. I had a few questions, called their 1-855-MY-JETTY number and got everything answered really easily. Looks like they are improving vs. the other reviews here. I have been really happy with them the last few months. I would highly recommend.

Bottom Line: Yes, I would recommend this to a friend

---

Worst insurance company

By Julie W.

,

Tulsa, OK

,

Jun 5, 2020
Verified Reviewer

Overall Experience:

I paid my monthly premiums for 3 years to get coverage for my home and when I filed a claim for water damage, the adjusters treated me like I owed them something. Jetty was my insurance company that was supposed to look out for me but treated me like a thug on the street. They questioned the authenticity of my items even after giving them receipts, photos, etc. Then when I complained to the Insurance Commissioner office and let them know they were abusing their power and that I was in mental and emotional distress, then they send the field agent out, who had the nerve to ask me for receipts on just my handbags, not my rug, fur, shoes, just my high-end bags, which again were already given to the insurance company. The field agent asked for things that again where a slap in my face as the insured. I wish I would have known how horrible this company was and how they don't take care of their customers I would have not wasted my money. Run, do not do business with Jetty Insurance. The adjusters are hood chicks who don't know a real or fake bag from the next.

Pros and Cons:

Cheap monthly payments
Customer service
Harassment
How they handle claims

Bottom Line: No, I would not recommend this to a friend

---

Seems like a good deal - until you need to make a claim or contact anyone.

By Lee C.

,

Austin, TX

,

Jul 5, 2020
Verified Reviewer

Overall Experience:

I'm with Jetty for my renter's insurance. Even renewed for a second year as had no issues, but the one time I needed to make a cell phone claim (which I paid extra for), I realized that I had made a mistake trusting them.

The claim number on the website is a third party, which does not have any information or work for Jetty. The customer service number just says everything must be done by the website and hangs up.

It's been over 2 weeks since I filed a claim and I've not received any communication; I've followed up by email (since that's my only option) and still nothing.

Pros and Cons:

Competitive prices
Covers bed bugs
Affordable cell phone add-on
Communication
Claims process
Customer service

Bottom Line: No, I would not recommend this to a friend

---