J.G. Wentworth Reviews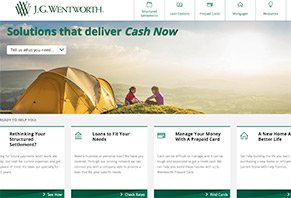 By purchasing future payments related to your structured settlement or annuity, J.G. Wentworth can help you get the money you need, when you need it most.
About J.G. Wentworth
In business for more than 20 years, J.G. Wentworth specializes in purchasing future payment streams related to structured settlements, annuities, lottery winnings, and more. In fact, J.G. Wentworth is the largest annuity and settlement payment purchaser in the country, and their whole process generally works over four steps:
A company representative will take a look at your existing payment stream and talk through your current situation.
Then, they'll offer a few different options that can help you sell some (or all) of your future payments.
After you choose the best option for you, you'll need to sign some paperwork and send it back to the company.
Finally, a judge will review the case and approve it through a court order, and you'll have your money in no time!
In addition to structured settlements and annuities, J.G. Wentworth has recently expanded into unsecured personal and small business loans, prepaid cards, and mortgage loans and home-refinancing options.
As you were browsing the J.G. Wentworth website, you might have noticed that almost every page is filled with beautiful scenery, smiling faces, and people throwing their arms up in sheer joy. If you decide to go with them, is this what you'll actually experience? Or, will your dream of financial freedom turn into a nightmare? We'll explore all of these factors here.
To begin, let's break down some basic terminology.
What's the Difference Between a Structured Settlement & an Annuity?
Technically, a structured settlement is defined as "a financial or insurance arrangement whereby a claimant agrees to resolve a personal injury tort claim by receiving periodic payments on an agreed schedule rather than as a lump sum." In real-world terms, what does this actually mean? Here's a quick example.
Let's say you were badly injured in a car accident and after going to court, you were ultimately awarded $120,000. Instead of giving you the entire amount at once though, you'll be paid $1,000 per month for the next 10 years.
On the other hand, an annuity is "a contract between you and an insurance company in which you make a lump sum payment or series of payments and in return obtain regular disbursements beginning either immediately or at some point in the future." In other words, annuities pay out monthly like some structures settlements. But instead of relying on a defendant's money, you'll be the one funding your own account.
Is It Wise To Sell Your Structured Settlement Or Annuity?
Whether your monthly payments are part of a structured settlement or an annuity, there might come a time when you need to free up some (or all) of your cash. But since these are legal agreements, you can't just call up your lawyer and ask for a lump sum payment.
Enter companies like J.G. Wentworth. Basically, they buy all or a portion of these agreements at a discount (more about fees in a second), which allows you to free up your cash and use it for whatever you like, whether it's buying a new home, starting a business, paying for medical expenses—the sky's the limit. Is this a good idea, though?
Well, this primarily depends on who you ask, as well as the details of your specific situation. Either way though, you'll certainly want to speak with a financial advisor and take your time making a decision. Don't go it alone and don't make a decision hastily.
To this end, CreditCards.com offers four pieces of advise if you're considering selling your future payments:
Discount rates (i.e. the total fees charged by companies like J.G. Wentworth) can range anywhere between 8% and 22%, so it pays to shop around. We'll talk more about fees in the Pricing section.
Get everything in writing upfront. Not sure about something? Ask as many questions as you need to feel comfortable with the situation.
Is the company reputable? Search the Better Business Bureau website, as well as other consumer advocacy websites like HighYa, and find out what everyone's saying.
Finally, as we mentioned above, it's always a good idea to rely on professional advice from an attorney and a financial planner before moving forward.
But purchasing future payment purchasing isn't the only thing offered by J.G. Wentworth.
J.G. Wentworth's Other Products
Personal & Business Loans
J.G. Wentworth can connect you with three different lenders (LendUp, Avant, and LendingClub) who provide unsecured personal loans up to $35K.
The company can also help you obtain small business loans ranging between $5K and $250K, which could come with fixed rates and fixed daily payments. And if you're approved (which might only take minutes), you could have your funds in as little as one business day.
Prepaid Cards
HG Wentworth's Prepaid Visa Card can be loaded by direct deposit, bank transfer, or by visiting a "load location" (i.e. any Western Union or MoneyGram store) and can be used anywhere Visa debit cards are accepted worldwide. J.G. Wentworth's MoneyPass feature can help you avoid ATM fees, and you'll be able to manage your account from your computer or mobile phone.
Mortgages & Refinance Options
Looking to purchase a new home, vacation home, or rental property? How about cash out some of your home's equity, consolidate debt, or move from an ARM to a fixed rate loan? In either option, J.G. Wentworth's refinancing options, along with their traditional, FHA, VA, HARP, and USDA mortgage options, just might be able to help.
Whether you decide to go with J.G. Wentworth's structured settlement service or something else, how much will you pay?
J.G. Wentworth's Pricing & Fees
According to their website, J.G. Wentworth doesn't charge any upfront costs to purchase future payments from your structured settlement or annuity. And while they don't list their fees either, the CreditCard.com article referenced above mentions that their cut can be anywhere between 8% and 22%.
How's this add up? Continuing with this same article:
As you can see, depending on the fees J.G.​ Wentworth charges you, there can be a huge difference in the amount of money you'll ultimately receive.
For more, be sure to also browse through J.G. Wentworth's prepaid card fees and estimate your mortgage costs with their free calculator.
If you need to speak with someone at the company, customer service can be reached at (855) 690-8769.
Given these relatively high fees, are customers generally pleased with their J.G. Wentworth experience?
What's Everyone Saying About J.G. Wentworth?
Although it's dated, Consumer Reports wrote a brief overview about J.G. Wentworth, and claimed that they might be a good option depending on your circumstances. However, they noted that they might not always be the best choice, so it's important to speak with a professional financial advisor and explore all your options before signing on the dotted line.
On ComplaintsBoard.com, dozens of customers provided feedback about J.G. Wentworth. What did they say? Overall, most seemed displeased with their hard-line sales tactics, high fees/out of pocket expenses, long waits, and just a general lack of communication throughout the process.
Here on HighYa, one reviewer claimed that JG Wentworth gave them the runaround and ultimately never delivered on their promises.
Despite this feedback, as well as the fact they had 53 closed complaints (as of 2/3/16), J.G. Wentworth held an A+ Better Business Bureau rating. Most of these also referenced unwanted sales calls (even after requesting to be removed from their list on multiple occasions) and dissatisfaction with settlement amounts.
Pro tip: It's important to note that the same complaints are voiced for other structured settlement companies, including Oasis Legal Finance, Peachtree Settlement Funding (who's actually owned by J.G. Wentworth), and more.
Let's bring it all together, shall we?
Should You Choose J.G. Wentworth?
When it comes down to it, this is only something you can answer. How much money do you need? What do you need it for? Are there other options available, like low-interest loans? These are all things you need to carefully consider before making a decision.
Whatever happens though, don't go it alone. Whether you're selling a structured settlement or an annuity, or are planning to use J.G.​ Wentworth or another company, the best place to turn is an attorney or professional financial planner. While their services might cost a little more money up front, they can help prevent you from making a decision that's not in your best interests and being full of regret a few months down the road.
Horrible service

By Annette K.

,

California

,

Sep 11, 2019
Verified Reviewer

Horrible horrible service! The worst experience with this type of company ever.

First spoke with Allen and proceeded with all the listed items requested for the loan process. Never heard back. When I called after 2 weeks, was told Allen had family problems so was now referred to Shawn, Shawn asks for the same information. Claims only received some of it from Allen. Don't understand because it was all sent together. So I send it all again.

After another 2 weeks with no reply, I again have to call them and am told via email they do not provide service to NV. The property is in CA, so here I am referred to a third person, Elizabeth. After a lengthy conversation with her, she looks through and claims she has all the paperwork, except for a couple of items. I go ahead and send those. Here it is again weeks later and she sends me via email with the same list of required items that were already sent twice. UNBELIEVABLE.

Their cost is higher than other loaning companies even though they claim the Costco discount. They did not lock me in the lower rate as originally told. After the numerous credit checks, I am now a little worried about my credit score. I had sent information with all account numbers and they can't seem to locate it. Very worried to say the least. All the time wasted, not to mention the aggravation. Called the corporate office and never heard back. Of course, I went elsewhere.

Bottom Line: No, I would not recommend this to a friend

---

Liars

For a VA loan, the lender, J. G. Wentworth, is required to ensure that a housing division/condominium complex is an approved complex or they can submit for approval BEFORE they ask for money for an appraisal! This person made us pay $750 for an appraisal before the approval. Christopher Dugan lied, and refused to return calls after demanding $750 for an appraisal. Four weeks later, with no word from Dugan, I contact the VA and find out they suspended the appraisal because Dugan did not complete the simple task of getting approval first. No word still from Dugan or his supervisor. NO MONEY BACK. We now have to start over. BEWARE!

Bottom Line: No, I would not recommend this to a friend

---

Advertisement

---

Great loan officer/questionable motives

By R M.

,

Virginia

,

Jan 17, 2019
Verified Reviewer

Our loan officer was helpful and quick to respond. We closed on time. But they sold our mortgage to another company before the first payment was due. It seems this can be common practice, but still. It's now been sold twice more, dinging our credit scores each time. Do not recommend if your looking for a stable mortgage company to pay your house off through, but should be fine if you have all your ducks in a row for a quick close.

Bottom Line: No, I would not recommend this to a friend

---

Horrible

By Phyllis D.

,

Washington

,

Jan 9, 2019
Verified Reviewer

Like many other reviews I have read, they are only are aggressive when they need something from you, and are rude and degrading when you're demanding! I am tired of the runaround, stop pointing fingers and fess up to the truth! I referred my husband, with a $500 bonus. I received an email stating "Our new referral bonus $500 UP FRONT!" Upon asking for the referral payout, was told the policy is when THEY ARE FUNDED! Read the fine print on the email:

This Friends and Family referral bonus offer is good for referrals made for 30 days from the sent date of this email. Referred person must not already be in J.G. Wentworth's database and must be receiving structured settlement payments. Prior to paying the $500 bonus the referred person must confirm that they are receiving available structured settlement payments by completing a conference call with a J.G. Wentworth representative and the applicable insurance company or providing sufficient documentation showing that there structured settlement payments are available for sale. Maximum of 10 referrals per person. All purchase transactions are subject to our underwriting guidelines and approval is at our sole discretion. Call us for additional terms and conditions that apply. This offer is not available in Maryland, is void where prohibited and all transactions are subject to federal, state, and local laws. Offer is open only to U.S. citizens or permanent legal residents (green card) who have reached the age of majority in their respective domiciliary state as of the date they respond to this email. Please obtain permission before providing us with the referred person's contact information.

Correct me if I'm wrong, but that is what it states. Yes understand it has to go thru underwriting, but don't state it's up front! Tired of being bullied and degraded!

My husband had court on December 18, 2018 and has still not been funded! It is coming from another lender, but we have done another transaction that the money was coming from a different lender and NEVER took this long. On top of that, my husband received a quote for $7500 more in which my husband decided to use that company. I myself had done two prior transactions with J. G. Wentworth and convinced my husband to stay with J. G. Wentworth because I felt they really went put off the way to help me. Boy was I wrong.

Bottom Line: No, I would not recommend this to a friend

---

Advertisement

---

Deserves a big fat zero!

By Joshua M.

,

Houston, TX

,

Nov 18, 2018
Verified Reviewer

Do you enjoy having to constantly follow up with people? Do you like to be YELLED at when asking for an update? Do you enjoy working with people that can't take responsibility and are constantly pointing the finger? Are you planning on missing your closing date? Would you like to lose your mind after you tell them they were behind schedule and they literally yell at you and blame you for being behind schedule even though you send them everything they ask for within an hour of the request? Do you like it when people lie to and get angry with you because you asked for an update or explanation on something?

Do you like asking a yes or no question and getting a 20-minute ambiguous answer that doesn't answer the yes or no question and then trying to spend an additional 10 minutes to get them to pick yes or no? Do you love calling and emailing people everyday for the same issue? Do you frequently send personal information like SSN, bank accounts, drivers license, etc., only to wonder if they got it and if it's still sitting in the email even though you have explicated asked several times for a quick "Got it" or "Thank you" confirming they have received it? Do you have a need to work with incompetent "professionals," liars, rage monsters, morons, arrogant salesmen type people, and lazy finger-pointers?

If you answered yes to any of these questions, you will love working with J.G. Wentworth because they literally did all of the previously mentioned things. This is my first bad review ever, and they deserve it! They literally did not have a single redeemable quality.

Bottom Line: No, I would not recommend this to a friend

---

I couldn't be happier

By Allan F.

,

Jacksonville, FL

,

Aug 27, 2018
Verified Reviewer

Honestly speaking, I don't know where these reviews are coming from. I can attest to the excellent experience I had with J.G. Wentworth. As a disclaimer, I am just a legit customer and not affiliated with any institution. I started shopping for mortgage loan companies last year (August 2017) to refinance our home. I shopped with Bank of America and SunTrust which is where I do personal banking with. I did not find their interest rate competitive as J.G. Wentworth. I learned about J.G. Wentworth through a website which reviews mortgage companies, and they are really highly rated.

So I went with them and never regretted my decision. The whole process was seamless, and I was very satisfied with how they handled everything. Bottom line, I ended up getting a mortgage interest rate of 3.125% from my previous 3.625% from a 30- year fixed to a 15-year fixed. I paid no more than 4K for closing costs. One of my patients who happens to be a mortgage loan officer told me that I was able to get an excellent deal with J.G. Wentworth. He even told me that their company often lose clients to J.G. Wentworth because they cannot match J.G. Wentworth interest rate. The closing cost that I paid is even lower than the closing cost; they charge their customers. I am thankful to have done business with J.G. Wentworth.

Bottom Line: Yes, I would recommend this to a friend

---

Short sale nightmare happening now!

By Kim S.

,

Virginia

,

Jul 27, 2018
Verified Reviewer

J.G. Wentworth Home Lending. I am representing an owner of a home, a veteran that served our country, in the short sale of their home. Let me start with J.G. Wentworth has been very unhelpful during the entirety of this transaction. They have a viable contract in their possession that meets the terms of what they were asking to get out of the deal and they are rushing to foreclose on this Veteran and his family! The VA has even gotten involved since they are backing the loan on this property in Stafford County, VA, and has asked twice for an extension of 60 days on the foreclosure and J.G. Wentworth will not even acknowledge an official from the VA with this request!

The veteran and his family has jumped through every loop that this bank has asked them to do, like getting the paperwork back the same day as requested. Why are they rushing to foreclose on the owner when they have a contract in place that is exactly what they asked for? Why do they make the process so long and tedious by using a fax machine? Why do they take 48 hours or longer to acknowledge any paperwork sent to them? They drag their feet through the entire process, but now they can rush to foreclosure. This is a slap in the face of this veteran and his family. This was their dream home, their "forever home!" He had his body broken down through service for our country, and this is the best they can do? By the way, the veteran also has a special needs child.

Bottom Line: No, I would not recommend this to a friend

---

Criminals

By Julie P.

,

Georgia

,

Jun 28, 2018
Verified Reviewer

When we obtained our mortgage from J.G. Wentworth, we paid our attorney an escrow for taxes and other fees due at the end of the year. The attorney who held the money ended up sending the money to J.G. Wentworth (and we have proof of the cashing of this check). Our mortgage was later sold to a different institution who is claiming they do not have the funds. When we tried to connect with J.G. Wentworth, they kept giving us different people to talk to, not resolving our issue. The amount is over $5k, and we want J.G. Wentworth (who, again, we have proof deposited the money), to send it to the current mortgage holder, so we are not responsible for this ourselves. This essentially amounts to J.G. Wentworth stealing our money, and I want the money to go where it should.

Bottom Line: No, I would not recommend this to a friend

---

Wasted a month of my time and resources

United States of America

,

May 18, 2018
Verified Reviewer

I went ahead with Russell. He is a fast talker, literally and figuratively. He was constantly saying that he would call me back within a few hours, email me an update within 30 minutes. IF I did get a call or email from him, it was around 9 pm when I was through for the day. I found myself having to call him and leave messages when I didn't hear from him in a week.

Blake finally got ahold of me, and I got his phone number. Twice I asked him to please take over my account because of issues with Russell. I faxed all the information needed to Russell, and after promising me that he could get an IRRRL, he did a bait and switch recommending a conventional. And never got the email he offered suggesting options. I left a voicemail for Blake telling him that all bets were off with Russell and he could take over the account once and for all or nothing. Apparently, it's nothing.

I wasted a month of my time when I could have very easily gone to another lender and had my refinancing completely by now. I can honestly say I can't recommend them and will not use them in the future.

Bottom Line: No, I would not recommend this to a friend

---

Nightmare

If I could give a zero rating, I would.

I have never in my almost 40 years on this planet dealt with any place so deceitful. I was given a pre-approval at the beginning of March. With that I found a home to which it was sent through the underwriters and at that point given a conditional approval. I jumped through hoop after hoop. I did everything they asked me to do. In this time, I paid $500 earnest money $250 Due Diligence, $500 for a home appraisal (to J.G. Wentworth), and $425 for a home inspection. All of this done under the information that I would be approved with everything they asked.

They also wanted me to have a reserve in my checking account of $3000 after we closed, to which I had to ask a family member, for which to do, I had to have them fill out a form and get a bank letter stating that they have the funds to cover it. I had to get my deceased ex-husband's death certificate and our divorce record. I gave bank statement four different times. I had to hunt down a person that worked at a realty company I used to rent a house from. The company was no longer in business, but that didn't matter. I still had to locate an employee that worked there at the time just to fill out a paper that stated I made all of my payments on time. I did this. The impossible, but still managed to do it.

I've done the impossible for this company. Every hoop they threw at me I did what was asked. All this with the idea that I would have my home loan. A day before closing they come to me and say that my Debt to Income didn't meet what it needed to be because they were using income from two years earlier, which was before I got my promotion. I have been in my current position a year and a half. A day before closing, after I have spent $2600 getting everything together to get in this house, they deny me the loan.

Don't trust this company. I'm begging you go someplace else.

Bottom Line: No, I would not recommend this to a friend

---

Lack of communication and terrible loan structure

By Amy Roberson

,

Houston, TX

,

Mar 14, 2018
Verified Reviewer

I began a refinance with the company J.G. Wentworth in Boca Raton, Florida in October 2017. This company was suggested to me through LendingTree.com. After careful consideration, I decided to make it a go with this office.

It seemed everything was well and I worked diligently to obtain any information needed. It was not, and save yourself time, money and trouble. I knew I would be a hard account to close, yet still, I was assured that all was well and the loan would close. Even if it didn't, and if something came up, I had options. I thought great.

But the week of closing December 9, 2017, I could not get a return phone call or email from the loan officer or whoever was working on my account, as well with title work and underwriting (I'm not disclosing their names at this time) completely stopped and left me hanging with no explanation. This was after I paid for an appraisal through their site and becoming a member of a discount club to lower interest rate points. Money for nothing out of my pocket. I contacted management, and he continued to play email and phone tag with me, never to reach out to me for answers.

I truly thought this company believed in me as a client and wanted to help me even if the loan did not go through at that time. I was assured by my loan officer that he would guide and help me make a long-term plan for refinancing my home and financial structure from there. It was all false. Still, to this day, I have not gotten answers as to why or how the ball was dropped on my loan. Save yourself time and trouble from this company.

Bottom Line: Yes, I would recommend this to a friend

---