Joy for All Companion Pets Reviews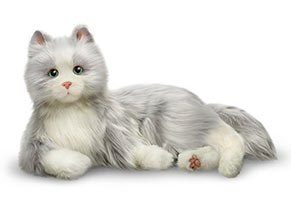 Joy for All Companion Pets offer lifelike engagement for seniors no longer capable of caring for a live cat or dog by reacting to touch with movement and sound.
About Joy for All Companion Pets
Getting older comes with the loss of many things we take for granted, like the ability to move quickly, wake up without achy knees, or read a menu without glasses.
Another unfortunate and less talked about aspect of aging is that many seniors are no longer able to care for the animals that bring much-needed comfort and companionship.
Joy for All Companion Pets are designed to offer seniors all the benefits of having a loving cat or dog—but without the responsibilities that can prove too taxing for those with decreased mobility and memory, or the ability to care for a living animal.
These automated stuffed animals (available in both cat and dog models) are designed to provide seniors with companionship, meaningful interactions, and engagement—without requiring the care that a living companion pet demands of its owners.
Who Makes Joy for All Companion Pets?
You might already recognize Hasbro, since the company is nothing short of a household name, as the provider of your own children's favorite toys. That's because Hasbro has been making toys since 1923, and has grown into the parent company of multiple brands, including Nerf, My Little Pony, Monopoly, and Transformers among many others.
Through their various products, Hasbro continues to fulfill their mission of providing the world's best play experiences.
Now, with Hasbro's Joy for All brand, the company that's known for exciting the imagination of children everywhere is offering a new line of products aimed at bringing delight to consumers in their later years.
What Is an Automated Companion Pet?
At first glance, an automated Joy for All Companion Pet looks like a high-quality stuffed animal. Available in both cat and dog models, the Companion Pets feature long, plush fur, jointed limbs, speakers that emit sounds, and attentive details such as blinking eyes and moving ears.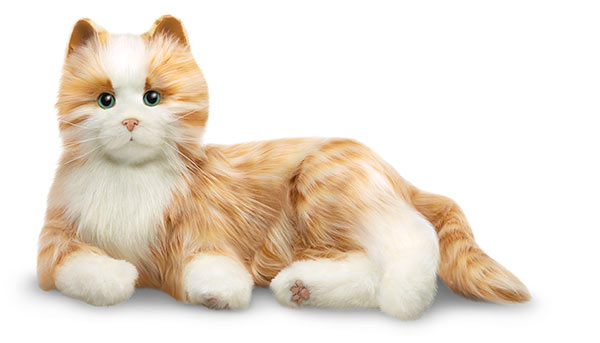 Image credit: Hasbro.com
However, unlike a regular stuffed animal, Joy for All Companion Pets are equipped with built-in motion sensors that respond to touch.
Because the responses of Companion Pets differ between the dog and cat models, we'll divvy up the details for each below:
Joy for All Companion Pet Cat
Joy for All's Companion Pet Cat is equipped with four sensors that allow it to come alive in response to your touch. The sensors are located on its left cheek, belly, back, head, and brow.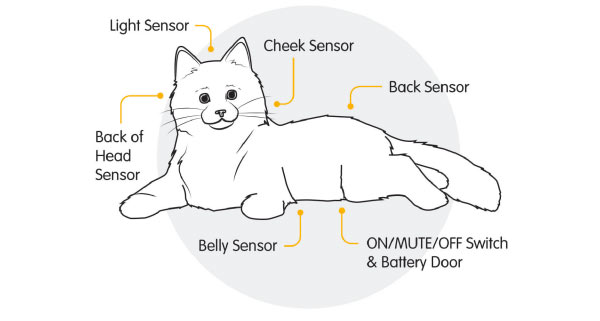 Image credit: Hasbro.com
Stroke the Companion Pet cat on the cheek, and it will nuzzle into your hand. Pet the back of its head, and it purrs loudly. Keep petting your cat, it will roll over only it's back, allowing you to stroke its soft belly. (Thankfully, Companion Pet seems to have eliminated the realistic cat behavior of attacking your hand when they've had enough.)
According to Joy for All, the more that you stroke your cat, the more relaxed it will become, eventually drifting off into a simulated slumber. The animatronic doll is also equipped with light sensors that allow it to "fall asleep" when you turn out the lights.
Of course, the Companion Pet cat doesn't behave exactly like a real cat. As we mentioned above, it doesn't need a litter box, regular feeding times, or occasional trips to the vet.
Companion Pets are also unable to move around freely—it can't get up and walk around or jump up onto a chair.
Joy for All Companion Pet Cats come in three different coat colors, including orange tabby, creamy white, and silver. Each is approximately the size of a real, adult cat and run off of batteries, which are included with your purchase.
Joy for All Companion Pet Dog
Always been more of a dog person? There are definite differences between Joy for All's Companion Pet cat and the dog models.
To start, the dog only comes in one color and breed. Designed to look like a Golden Retriever puppy, the Golden Pup comes outfitted with a jaunty red bandana to compliment his plush golden fur.
The dog model also features behavioral differences. For example, if you stroke Golden Pup's cheek, it will nuzzle your hand. However, petting or patting the pup's back initiates a gentle heartbeat sound and sensation that imitates the reaction of a dog receiving affection.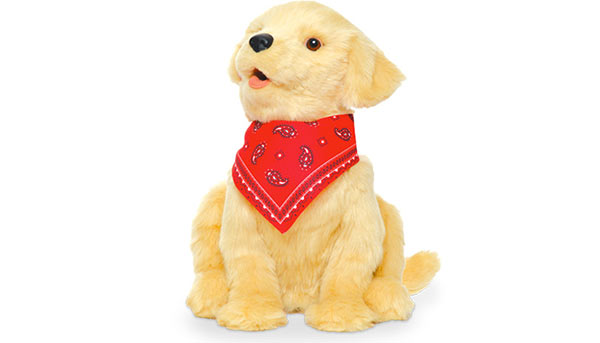 Image credit: Hasbro.com​
Another difference is that you can get a reaction from the dog model by simply talking to it: If Golden Pup hears you say his name and speak in his direction, the doll will look towards you and emit puppy-like sounds of excitement.
Similar to Joy for All's cat model, if you don't interact with the pup for several minutes, he'll fall asleep. To wake him back up, just pat him on the head.
How to Operate and Care for Your Joy for All Companion Pet
Joy for All Companion Pets come with the batteries needed already installed. However, they do need to be switched on before first-time use.
To do so, use the care pamphlet included with your purchase to locate a flap of fur which is on the doll's underside. When lifted, it will reveal an on/ mute/ off switch. You only need to access this area to initially turn on the Companion Pet, mute the doll if you'd like to experience motions without sound, or disable it for storage.
Companion Pets require minimal care. However, the cat model comes with a brush that can be used to keep its coat smooth. (The doll will purr while being brushed as well.)
Should your Companion Pet get dirty, you can wipe the fur clean with a slightly damp cloth. However, it should never be immersed in water or need detergent to clean.
Joy for All also recommends that Companion Pets are stored off the ground on an elevated surface, less for their wellbeing than to avoid becoming a tripping hazard to their elderly owners.
How Much Does a Joy for All Companion Pet Cost?
Joy for All Companion Pets are available for purchase at select CVS locations or through their official website.
All three colors of cats (orange tabby, creamy white, and silver) are available for $99.99.
The Golden Pup is available for $119.99.
When purchased through Joy for All's official website, both models offer free shipping to addresses within the US.
If your Companion Pet cat or dog stops working, the instruction pamphlet states that you should first follow the directions to change the batteries. (Instruction pamphlet included with purchase.)
We were unable to locate any information on a return policy or warranty for Joy for All companion pets. However, should changing the batteries not fix any problem, customers are encouraged to call 1(800) 255-5516.
Is There Any Real Benefit from Automated Companion Pets?
The Joy for All Companion Pet isn't an entirely new idea. In fact, it's based on the Paro Therapeutic Robot, which is built to resemble a snowy white harp seal.
But Paro isn't a stuffed doll meant for play, it's a $6,000 medical device—and understanding a little about the research behind Paro and it's intended uses can help inform those considering a Joy for All Companion Pet.
Hailed as a pioneer among socially interactive robots, Paro was created to those suffering from dementia. In 2008, a study found that Paro soothed dementia patients and helped them communicate. That same year, Paro was cleared by U.S. regulators as a Class 2 medical device (a category that includes powered wheelchairs).
Interactions with the Paro robot have also proven to increase brain function. Additionally, a six-month study of over 920 interactions between Paro and Front Porch residents showed that the robot (facts and figures below taken directly from the study):
Calmed 73% of residents who wander and 59% of residents with anxiety.
Helped increase social behavior among 97% of isolated adults.
Helped 153 out of 193 residents (79%) stay alert, resulting in improved moods, socialization, and appetite.
Helped residents avoid psychotropic medications in 61% of cases where medications were considered an option.
It's important to note that Joy for All Companion Pets don't feature all the bells and whistles of Paro, who remembers interactions, emits "body heat," and tracks movement.
However, Paro is also significantly more expensive.
With the difference in features (and cost) in mind, the positive response to Paro by senior care professionals is worth noting for those considering purchasing a Joy for All Companion Pet for a loved one.
Bottom Line: Can a Joy for All Companion Cat or Golden Pup Bring Happiness to Your Loved Ones?
To some consumers, animatronic dolls are a slightly disturbing take on synthetic companionship. For others, they're possibly the best caregiving gadgets since the Clapper.
However, as New York Times writer Jeremy Larson pointed out in his piece, Letter of Recommendation: Hasbro Joy for All, as bizarre as younger consumers might find these animatronic companion dolls, they have the potential to offer their intended recipients something that is no less valuable despite being beyond our understanding.
Bottom line: If your parent, relative, or loved one is no longer able to care for a living animal and seeks companionship (and you're not quite in the market for a $6000 robotic seal), these products present an opportunity for comfort, engagement, and affection without the risks and inconveniences of a live pet.
» Recommended Reading: Successful Aging: Lifestyle Habits of People Who Age Well
Perfect Pet

By Jeanne T.

,

Monroe, NC

,

Feb 9, 2020
Verified Reviewer

I hesitated to make this purchase. I felt that it was a bit pricey. But I wanted to try something to help my mother. I ordered the yellow cat. My mother suffers from dementia. She is in a memory care unit. Her vocabulary, communication skills, and just plain interactions with people have been rapidly declining. The cat has been a true, great "joy"! She smiles and relaxes with it in her lap. We took a stroll around the facility with the cat in her lap. She petted it and talked with it as we walked. The other residents heard the cat meowing and stopped to look for the cat. It's been a conversation piece for my mom as well as others. I had difficulty leaving with the cat yesterday because one of the other ladies was enjoying holding and petting the cat. The purchase was worth it for my mother.

Bottom Line: Yes, I would recommend this to a friend

---

The best present

By Lynn D.

,

Horley, Surrey, England

,

Mar 26, 2019
Verified Reviewer

I just bought this for my mum who suffers from dementia. She has spent today talking and stroking the cat and has not stopped smiling - she just loves it. It is so realistic to her that she even asked me if I had fed her cat! She has already named her Poppy and this was just the perfect gift for her for this Mother's Day. I am total delighted with this cat - many thanks, you have made someone very happy.

Bottom Line: Yes, I would recommend this to a friend

---

Advertisement

---

Well named, joy for all.

By Louise Hartgen

,

South Wales, United Kingdom

,

Jan 22, 2018
Verified Reviewer

I am middle-aged, totally blind, suffering from various annoying chronic health problems which have left me more or less totally housebound. I also suffer from anxiety attacks. I would not dream of trying to care for a real animal, even if we were allowed them here, which we are not, it would be totally unfair on my family, they would end up caring for it. I heard of the Joy For All pets through an American friend. They are not readily available here in the UK, but my husband managed to get one through a third party seller.

I have the Golden Pup, and he is absolutely beautiful. The fur is so soft, he looks so lifelike that he has been taken for real, and I love the way he responds to my voice or sounds in the room.

One surprise I found, which I have never seen mentioned anywhere, is that you can feed him. If you gently open his mouth and press down on his lower jaw, he will make a slurping sound, interspersed with sniffing. He will do this for so long, then, when he has finished eating, turn his head away. He does not come with anything to feed him with, which I think is a good thing as elderly people might lose a bone or bottle etc., they could just pretend with their fingers, or do what I do and use a piece of play food (I have a plastic piece of chicken).

Overall, I have found Hero, my puppy, totally therapeutic; he helps with pain and anxiety management and cheers me up if I'm having a bad day. Of course I know he isn't real, but it's nice to have something to love that responds to me. I think these pets are well named Joy For All. Hero has certainly brought a lot of joy to me.

Bottom Line: Yes, I would recommend this to a friend

---