Joyome Reviews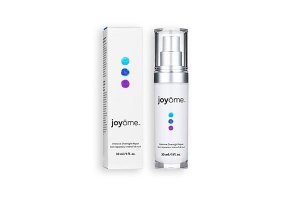 Using a combined blend of 11 powerful ingredients, Joyome's two-part Day and Night system claims to replenish healthy bacteria levels and improve the condition of your skin.
About Joyome
Formulated by Plexus, Joyome's two power-packed products—Illuminating Day Serum and Intensive Overnight Repair—use a unique Microbiome Balancing Complex that promises to help increase good microbes on your skin, while combating bad ones that could accelerate the signs of aging.
Combined with its patented delivery system that enhances absorption of its ingredients, as well as a formula 100% free of harmful chemicals and irritants, the company advertises you can say hello to strikingly beautiful, replenished, glowing skin.
According to the website, the process works over the following effortless steps:
In the evening, wash your face with your favorite cleanser.
Apply three pumps of Intensive Overnight Repair to your face and neck, softly patting the skin around the eye area.
In the morning, apply Illuminating Day Serum after cleansing your face, followed by sunscreen and makeup.
Once you look past its attractive packaging and website design, can you realistically expect the ingredients in Joyome's two-part system to deliver more youthful looking results? Let's start by taking a closer look at the relationship between bacteria and healthy skin.
The Basics Behind Probiotics and Skin
According to Healthline, our digestive tract (informally known as the 'gut') contains about two pounds of bacteria, which play an essential role in everyday health and longevity, including immune function.
As a result, probiotics (beneficial bacteria strains) have been taken internally as dietary supplements for decades to help provide a variety of benefits like improved digestion, reduced gassiness and bloating, and decreased instances of diarrhea and irritable bowel disease (IBD) symptoms, to name just a few.
Despite their concentration in our digestive tract, Julie E. Russak, MD, founder of Russak Dermatology Clinic, emphasizes in an interview for a 2017 GQ article that "We have more bacteria on our skin than we do in our body."
And the fact of the matter is that these bacteria—including fungi and viruses—play an integral role in "protecting against invasion by more pathogenic or harmful organisms." Therefore, if "disruptions [occur] in the balance on either side of the equation, [it] can result in skin disorders or infections."
Taking all of this together, Russak points out that "a strong, balanced microbiome is essential for a glowing, healthy complexion."
How Does Plexus' Joyome Work? Taking a Closer Look at its Ingredients
According to the list on the Joyome website, most of the ingredients in their two formulas constitute typical beauty cream components that primarily act as emollients, emulsifiers, thickeners, skin conditioners, moisturizers, preservatives, fragrances, and so forth.
However, between them, Plexus emphasizes there are a total of 11 "multi-active ingredients help to correct the visible signs of aging, each handpicked for their scientifically-demonstrated effectiveness, bioavailability, and safety."
In fact, they indicate these ingredients have been "Scientifically demonstrated to increase beneficial microbes (S. Epidermidis), and decrease harmful ones (S. Aureus)." And all of this without ingredients like BHA, BHT, Hydroquinone, parabens, phthalates, sulfates, PEG compounds, or synthetic fragrances.
Illuminating Day Serum
This Joyome formula features six active ingredients:
Argireline Peptide
Hyaluronic Acid (HA)
Red Clover
Niacinamide
Eyeseryl Peptide
Ceramides
Together, Plexus advertises you can expect benefits like reduced pore visibility, diminished dark circles and puffiness, decreased expression lines and wrinkles, improved skin firmness and elasticity, and increased brightness and radiance. These also promise to control oil and rehydrate skin.
According to sites like Truth In Aging, The Derm Review, WebMD, and Paula's Choice, Argireline is a proprietary peptide manufactured by Lipotec that stops neurotransmitters from contracting muscles, and therefore creating wrinkles on the surface of the skin.
Eseryl is another proprietary ingredient from Lipotec the company advertises will reduce puffiness and under eye bags, although they don't list any clinical evidence supporting these claims on their website.
Whether in Joyome or another skincare line, hyaluronic acid is a molecule that can hold more than 1,000 times its weight in water. When applied to the skin, this ability can help maintain moisture, act as a natural environmental barrier against many factors that can lead to premature aging, and even firm the underlying skin.
Niacinamide (vitamin B3) might help protect skin against UV damage, while ceramides are plant-derived ingredients that can also help prevent skin's moisture loss and also protect against environmental stressors.
Intensive Overnight Repair
Joyome's Intensive Overnight Repair contains the system's remaining five active ingredients:
Retinoid Ester
Matrixyl Peptide
Azelaic acid
Lactic acid
Bakuchiol
These are said to reduce the visibility of deep lines and wrinkles, tighten and lift skin, increase radiance, diminish age spots, decrease the appearance of redness, and protect the skin's moisture. The Matrixyl in Joyome is a peptide that may also stimulate collagen production.
Retinoids (a chemical class closely related to vitamin A) have been clinically shown to help increase skin's collagen production, stimulate new blood vessel formation, fade the appearance of age spots, and even prevent serious side effects of excessive UV exposure.
Azelaic acid is a dicarboxylic acid that may help exfoliate skin and unclog pores, while lactic acid is a type of alpha-hydroxy acid (AHA) that can help provide many of the same benefits by exfoliating the skin.
Related: AHA vs. BHA: What's the Best Chemical Exfoliant for Your Skin Type?
Could Joyonne's Ingredients Cause Side Effects?
These same sites indicate that in general, most of these active ingredients won't cause meaningful side effects. And if they do, they likely won't be worse than mild, temporary redness or irritation at the application site.
Still, it's always a good idea to speak with your dermatologist before purchasing any new skincare products, who can help you avoid potential side effects based on your specific diagnosis. Even then, spot test on an inconspicuous area before applying Joyome or any other skincare formulation to your entire face and neck.
With this in mind, WebMD indicates that red clover can cause "rash-like reactions, muscle ache, headache, and nausea," while retinoids can lead to dryness and sunlight sensitivity in some individuals.
How Much Does Joyome Cost?
Joyome is only available from Plexus, where a 30ml (1 fl. oz.) bottle, which is advertised as a 60-day supply, is priced as follows:
Illuminating Day Serum: $80 one time purchase, $68 subscription
Intensive Overnight Repair: $85 one-time purchase, $72.25 subscription
Plexus also combines these two products into an Essentials Combo, priced at:
Retail: $153
Preferred Customer: $130 – You'll receive automatic savings as soon as you set up a subscription, plus get an additional 10% off after your third consecutive month of ordering.
Ambassador: $115 – Pay a one-time $34.95 enrollment fee, which will give you the opportunity to earn commission and receive 25% off all Plexus products.
Plexus backs all Joyome products with a 60-day money back guarantee. You'll need to call 480-998-3490 or email cs@plexusworldwide.com to request one.
Joyome vs. Other Day & Night Anti-Aging Skincare Systems
While there are perhaps thousands of anti-aging formulations available at just about every imaginable price, we only encountered a handful of systems advertised explicitly as providing day and night protection like Joyome:
| | | |
| --- | --- | --- |
| Brand | Price | Active Ingredients |
| Joyome | $68 - $153, depending on product/set and membership level | Argireline Peptide, Hyaluronic Acid (HA), Red Clover, Niacinamide, Eyeseryl Peptide, Ceramides, Retinoid Ester, Matrixyl Peptide, Azelaic acid, Lactic acid, Bakuchiol |
| SeroVital Day & Night Total Facial Rejuvenation Kit | $80 | Barley Extract, Sunflower Seed Oil, Isododecane, Bark Extract, Cocoa Seed Butter, Phytosteryl Isostearate, Sandalwood Extract, Saccharomyces Cerevisiae Extract, Algae Extract, Pea Extract, Aloe Leaf Juice, Bisabolol, Allantoin, Niacinamide |
| Elysee Fab 5 Day and Night System | $70 | Proprietary complex of peptides, including Argireline (hexapeptide-3), Matrixyl (pentapeptide-3) and ESCoDerm |
| Olay Regenerist Day & Night Skin Care | $20 | Amino-Peptide Complex, Exfoliants, Glycerin, Salicylic Acid, Vitamin B5, Vitamin E |
| No7 Restore & Renew Night Cream; Day Cream | $23, each | Glycerin, Cyclopentasiloxane, Butyrospermum Parkii (Shea, Buerre De Karite) Butter, Cetearyl Cyclohexasiloxane, Cera Alba (Beeswax, Cire D'Abeilles), Rosa Moschata Seed Oil, Sodium Lauroyl Lactylate, Retinyl Palmitate, Diospyros Kaki Calyx Extract, Lupinus Albus Seed Extract, Ceramide 3, Ethylhexylglycerin, Ceramide 6 II, Tocopherol, Palmitoyl Oligopeptide, Palmitoyl Tetrapeptide-7, Ascorbyl Palmitate, Ceramide 1 |
Using these core criteria, how can you choose the best option?
Not to sound like a broken record, but the first person you should consult is your doctor, who can speak to you about your goals, recommend options based on their professional experience, and warn of any potential side effects based on your specific diagnosis.
The next step is to maintain realistic expectations. Many of these active ingredients could help deliver moisture to the skin, promote collagen production, and potentially tighten and firm skin. Results will likely be subtle and accumulate over time.
However, Plexus doesn't list any clinical evidence on their website that either of Joyome's formulations can help "increase S. Epidermidis, a skin-friendly microbe" or "impede the adhesion of S. Aureus, a microbe that makes skin susceptible to breakouts, dryness, dullness, and signs of aging."
Finally, like any other anti-aging product, you'll want to make sure any options you're considering come with competitive prices, at least 30-day refund policies, and from a company with mostly positive online customer feedback. After all, this could be a significant indication of what you'll experience after handing over your money.
How's it look once we apply all these criteria to Joyome?
Our Concluding Thoughts About the Joyome 2-Part Skincare Regimen
Based on what Julie E. Russak, MD reported earlier, bacteria do indeed play an essential role in overall skin health, since too much of one strain or another can lead to problems like dryness, eczema, psoriasis, and other forms of irritation. Therefore, it makes sense that you'd want to optimize your exterior bacterial levels.
However, the Plexus website doesn't provide any support for their claims that Joyome's formula can help deliver this primary benefit any better than meaningfully less expensive, single-part formulas.
Along these same lines, even if only sticking to multi-part day and night systems, we can see from the table above that Joyome's is among the most expensive on a per-product basis. It's also relatively new to the market, so there's no way to gauge overall customer satisfaction levels yet.
Still, Plexus stands behind the skincare system with a 60-day satisfaction guarantee, which should be more than enough time to decide if it's right for you.
Major rash

By Regena G.

,

Murfreesboro, TN

,

Mar 2, 2020
Verified Reviewer

I used the day and night cream for 3 days now and woke up with a major rash on my face neck and arms where I've touched them. Something in it I can't use. Was hopeful that it would be as great as I have read and was told about but not for me, unfortunately.

Bottom Line: No, I would not recommend this to a friend

---

I love my Joyome

By Stacy T.

,

Hackettstown, NJ

,

Nov 23, 2019
Verified Reviewer

Never in a million years did I think I would be going without foundation a 55, but I am! Since I started using Joyome, my skin is softer, my fine lines around my eyes have almost disappeared, the circles under my eyes have disappeared, and my skin has a wonderful glow. My skin feels like it was when I was in my 30's. The company has recently come out with a new Collagen product in the Joyome line. It has only been out for about a month, but the results people are getting are amazing. Anything Plexus the Plexus company sells is wonderful. Highly recommend!

Bottom Line: Yes, I would recommend this to a friend

---

Advertisement

---

I love my new face creams!

By Mable P.

,

Texas

,

Apr 13, 2019
Verified Reviewer

This is a great combination! I love how these creams have left my skin feeling and noticeably looking younger and healthier! My eyes look great! My skin feels smoother and brighter.

Bottom Line: Yes, I would recommend this to a friend

---

Plexus Joyome works great

By Terrie S.

,

Mobile, AL

,

Dec 14, 2018
Verified Reviewer

I was actually stunned by the difference in my face after 30 days of using Joyome. The redness was gone and my skin tone was completely even. Normally I have to use a concealer to get rid of the redness. My fine lines were visibly reduced. I love the way it feels on my skin and the way it smells. If I chose to, I could actually go without makeup on my face, it looked that good. I'm 63 years old!

Bottom Line: Yes, I would recommend this to a friend

---

Advertisement

---

Joyōme review

By Tara S.

,

Pennsylvania

,

Nov 20, 2018
Verified Reviewer

I would highly recommend Joyōme. It has definitely moisturized my skin and I no longer need any lotions. Also, my skin looks like it has a healthier glow. It is smoother and the fine lines have diminished but have not 100% gone away. However, I think that believing your wrinkles will go away 100% is unreasonable. The bumpiness on my skin, especially by my hairline, is completely gone! I believe that the day and night cream has far surpassed my expectations and is super easy to use! I highly recommend it.

Bottom Line: Yes, I would recommend this to a friend

---

Joyome overnight cream

By Jackie J.

,

Sebring, FL

,

Nov 6, 2018
Verified Reviewer

My skin feels great using the Joyome overnight cream, however, the perfume smell is overwhelming. I'm not normally sensitive to smells, however, whatever is in this cream is too much. I gave the bottle to my mother.

Bottom Line: No, I would not recommend this to a friend

---

Joyome Skincare

By Bree G.

,

Harwinton, CT

,

Sep 6, 2018
Verified Reviewer

I absolutely LOVE this product! While it didn't erase all my wrinkles, I didn't expect it to since I'm a senior citizen. It did, however, improve a good portion of them and made my skin firmer and brighter. The additional and delightful bonus is only having to use two products after cleansing - easy and effortless! I would highly recommend Joyome to everyone!

Bottom Line: Yes, I would recommend this to a friend

---