Julian Bakery InstaKetones Reviews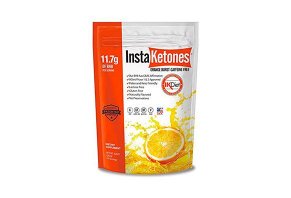 The manufacturer claims that taking just one scoop of Julian Bakery InstaKetones can provide benefits like boosted energy, decreased cravings, and weight loss.
About Julian Bakery InstaKetones
Julian Bakery InstaKetones is an orange-flavored powdered and bar supplement that promises to boost measurable blood ketone levels (as much as two mmol/L) in 30-45 minutes or less.
As a result, we're told it could help increase your endurance, improve mental clarity and clear brain fog, raise your endurance, curb appetite and cravings, and—when combined with Phase One of the free IKDiet Food & Exercise Plan—improve fat loss.
In addition, since this is an exogenous (bio-identical) source of ketones, the website advertises that if you mess up your diet, a single scoop can help "minimize the time it takes to get you back into a ketogenic fat burning state."
Combined with the fact that it's Paleo and keto-friendly, as well as lactose, gluten, and preservative free, there seems to be a lot to like about Julian Bakery InstaKetones. But, is it as innovative as the manufacturer advertises? Is there sufficient clinical evidence to support their "game changer" claims?
Let's take this step-by-step, starting with the underlying concept.
What's the Relationship Between Ketones & Weight Loss?
Without going into unnecessary detail, the Diabetes Teaching Center at the University of California, San Francisco, explains that ketones are an alternative fuel "formed when there is not enough sugar or glucose to supply the body's fuel needs." They're made in the liver from the breakdown of fats.
In short, "ketone production is the body's normal adaptation to starvation," they tell us, since it burns fat to help keep everything working. This process is formally known as ketosis.
Purposely increasing protein consumption and cutting carbohydrate intake, thereby causing the body to enter a state of ketosis, is a popular—and typically very safe—method of losing weight.
The problem, WebMD explains, is that "For healthy people who don't have diabetes and aren't pregnant, ketosis usually kicks in after 3 or 4 days of eating less than 50 grams of carbohydrates per day. That's about 3 slices of bread, a cup of low-fat fruit yogurt, or two small bananas."
In other words, it's a lot of work, and one slip up can quickly ruin the situation. As a result, it makes sense that a supplement like InstaKetones would be highly sought after by those looking to lose weight.
However, among more than 700 clinical study matches for "exogenous ketones" and 500+ matches for "ketone supplementation" on the National Institutes of Health's PubMed website at the time of our research, none indicated a direct correlation between ketone supplementation and improved weight loss results in humans (beyond the 1-2 pounds weekly from proper diet and exercise).
But are there any ketones contained in Julian Bakery's InstaKetones? We'll address this in just a moment, but let's first look at their supplemental food and exercise plan, since it's such an important component of the program.
How Does the InstaKetones Food & Exercise Plan Work?
According to the InstaKetones Simplified IKDiet Plan, you could lose up to two pounds per day over the course of two phases:
Phase 1: Slim Down
A low-carb (no more than 7 g of net carbs per meal), low- to- no-fat (no more than 5 g per day), simple high-protein (1 g per pound of weight), low-calorie approach that will last up to eight weeks, depending on how much weight you want to lose.
You'll completely cut out fruit, grains, starch, and legumes, and consume only vegetables (mainly broccoli), and InstaKetones (up to 3-4 times per day, spaced between 4-6 hour intervals).
Phase 2: Maintenance Plan
Described as a "Paleo or Vegan, low carb, moderate fat diet that makes it easy to maintain the results" you achieved during Phase 1.
You'll continue to focus on a calorie deficit (1,200 to 1,800 calories per day for women; 1,400 to 2,000 calories per day for men), but will add healthy fats to improve satiety. You'll also continue consuming one scoop of InstaKetones daily, at least five days per week.
The meal plan is flexible based on your preferences, but for the first two weeks, you'll focus on consuming 70% protein, 15% fats, and 15% carbs (from vegetables and fiber). Afterward, this will change to 60% protein, 20% fat, and 20% carbs (from vegetables and fiber only) for the remainder of the phase.
The IKDiet Workout Program
Here's a general idea of what each workout will involve during the program:
Mondays – 3 x 10 min intervals of stair step, jogging/running, elliptical. Back/bicep exercises for strength (horizontal pulls, low back hyper extensions, ab wheel rollouts, etc.).
Tuesdays – 3 x 10 min intervals of stair step, jogging/running, elliptical. Chest/bicep exercises for strength (chest dips, push ups, cable flies). Treadmill and TRX finishers.
Wednesdays – Day off (no training)
Thursdays – 3 x 10 min intervals of stair step, jogging/running, elliptical. Lower body strength exercises (leg extensions, leg press, calf raises). Treadmill for finisher.
Fridays – Conditioning. Various intervals of stair step, jogging/running, elliptical, treadmill, TRX, pull-ups, and rollouts.
Saturdays & Sundays – No training, although your schedule may differ.
Although you'll ideally work out four to five days per week, the minimum noted by Julian Bakery is three days per week, with a goal of burning 600 to 1,000 calories per session.
Before each workout, you'll consume one serving of InstaKetones by mixing with water until dissolved. Immediately following each workout, you'll consume protein powder or a Paleo Protein Bar and a serving of BCAA powder.
When consuming InstaKetones, exactly what ingredients will you be putting in your body?
Taking a Closer Look at InstaKetone's Ingredients
Each serving of InstaKetones powder contains:
Carbohydrates < 1 g
Vitamin A 163 mcg
Calcium 1,128 mg
Sodium 1,320 mg (is this high?)
Beta Hydroxybutyrate 11.7 g
Additional ingredients: Sodium Beta-Hydroxybutyrate, Calcium Beta-Hydroxybutyrate, Citric Acid, Natural Flavor (Orange Extract), Taurine, Lo Han Guo (Monk Fruit) Extract, L-Leucine, L-Tyrosine, Beta Carotene (color)
On the other hand, each InstaKetones Orange Burst Bar contains the following:
Total Fat 8g
Sodium 1.31 g
Potassium 220 mg
Total Carb 18 g
Protein 15 g
Additional ingredients: Beta Hydroxybutyrate (goBHB), Organic Digestive Resistant Prebiotic Tapioca Fiber (Non-IMO), Egg White Powder, Organic Sunflower Butter, Amino Acid Blend (L-Taurine, L-Tyrosine, L-Leucine), Calcium, Sodium, Orange Extract Oil, Citric Acid (From Lemon/Limes), Lou Han Guo (Monk Fruit)
According to PerfectKeto.com, the three ketones your body can run on are acetoacetate, acetone, and beta-hydroxybutyrate, the latter of which you'll find in both of Julian Bakery's InstaKetones products.
However, taking a look at sites like PubMed, WebMD, and the Natural Medicines Database, we didn't encounter an agreed-upon dosage for beta-hydroxybutyrate, or any other of the three ketones, that might deliver meaningful health benefits.
These same sites indicate the amino acids found in InstaKetones' Bar (L-Taurine, L-Tyrosine, L-Leucine) act as important building blocks in almost all biological processes. And in some instances, tyrosine has been shown to boost mental performance and memory under stressful conditions, and for improving alertness following a lack of sleep (no dosages noted).
Outside of this, they indicate insufficient clinical evidence that the supplement's other ingredients could help boost measurable blood ketone levels up to two mmol/L, or that this increase could help improve weight loss, curb appetite, or support any of the manufacturer's other claims.
Could InstaKetones' Ingredients Cause Side Effects?
The Natural Medicines Database, Examine.com, and WebMD indicate that if these ingredients cause any side effects, they likely won't be worse than mild, temporary digestive upset.
In some instances (again, no dosages or other circumstances noted), they note tyrosine could have a moderate interaction with Levodopa, as well as thyroid hormone medications.
To help minimize your chances of experiencing unwanted side effects or medication interactions, talking with your doctor is a must before ingesting any dietary supplement.
How Much Does Julian Bakery InstaKetones Cost & Where Can You Buy?
The InstaKetones powdered formula is available in caffeinated and caffeine-free versions, priced as follow:
1 Pack (30 servings): $49.99 ($ per serving)
2 Packs: $84.99 ($ per serving)
3 Packs: $134.99 ($ per serving)
InstaKetone Bars (12-Pack): $29.99 ($ per bar)
As mentioned earlier, their free food and exercise plan comes with each purchase.
We also found InstaKetones powder and Bars sold through third-party online retailers like Amazon, iHerb, LuckyVitamin, and EliteNutrition, to name just a few, for about the same prices.
Non-perishable products purchased directly from the manufacturer come with a 30-day refund policy, less S&H, but only if they're unopened. The Julian Bakery website emphasizes that returns are not accepted for opened perishable products.
To request a refund, support can be reached at 760-721-5200 or customerservice@julianbakery.com.
What Can We Learn From InstaKetones Customer Reviews?
On Amazon, more than 500 customers had given InstaKetones powder an average rating of 3.3 stars at the time of our research. There, common compliments related to ease of use, effective results (increased energy, improved weight loss, boosted ketone levels, etc.), and competitive price, while complaints frequently referenced less-than-stellar taste and no results.
From a company perspective, Julian Bakery, Inc. is based out of Oceanside, CA and has been in business since 2003. In that time, they've created a line of dietary supplements like AminoSculpt Peptides, C8Fuel Caprylic Triglycerides, ProGranola Protein Cereal, and PrimalThin Protein Bars.
They held an A+ rating with the Better Business Bureau, based on 19 negative customer reviews and 65 closed complaints, as of 2/13/18. Where details were available, most seemed related to shipping issues, and a company rep responded in each instance with a resolution.
Julian Bakery Ketones vs. the Competition
Searching online marketplaces like Amazon and Google Shopping, we encountered a handful of competing powdered ketones supplements. Here's how they compared:
| Company | Price | Ketone Ingredient(s) |
| --- | --- | --- |
| Julian Bakery InstaKetones | $30-$135 | Beta-hydroxybutyrate (no dosage listed) |
| Pruvit Keto//OS | $80-$130 | Beta-hydroxybutyrate (no dosage listed) |
| Ketond | $870-$240 | Beta-hydroxybutyrate (11,700 total mg) |
| Kiss My Keto Exogenous Ketones | $35-$50 | Beta-hydroxybutyrate (no dosage listed) |
| NutriCost Ketone Salts | $50 | Potassium, calcium, magnesium, and sodium ketone salts (no dosage listed) |
We can see here that all of Julian Bakery's closest competition utilizes the same beta-hydroxybutyrate found in InstaKetones, and except for Ketond, none provide corresponding dosages. However, there seems to be huge differences in pricing between some options. How can you figure out which one might deliver maximum value?
After years of investigating hundreds of dietary supplements, we've learned two core criteria to keep in mind if you're thinking about purchasing one:
First, reputable medical organizations like the National Institutes of Health, Nutrition.gov, Harvard Health, and the US Preventive Services Task Force (to name just a handful) indicate that otherwise healthy individuals likely won't experience meaningful benefits from taking dietary supplements.
And it's for this reason that you should start by discussing the situation with your doctor, who can recommend science-backed options based on your diagnosis—and whether or not these should involve dietary supplements.
Second, we've learned there can be vast differences in the quality of companies behind dietary supplements, which is why we'd recommend you only do business with those who:
Support their reasonable claims with double-blind, placebo-controlled clinical studies
Provide complete ingredients lists with no proprietary blends (which don't show dosages)
Price their supplements competitively
Don't force customers to purchase through a free trial or automatically sign them up for recurring monthly shipments
Support their supplements with at least a 30-day refund policy, with no restocking fees
How does all of this line up for InstaKetones?
Our Final Thoughts About Julian Bakery InstaKetones
Based on what we learned from sites like PubMed, WebMD, and the Natural Medicines Database, there doesn't seem to be much clinical evidence indicating that exogenous ketone supplementation can provide meaningful benefits in humans, weight loss-related or otherwise.
Given this, we think it's positive that Julian Bakery stands behind their InstaKetones supplement with a 30-day refund policy. However, this goes away as soon as you try the product.
And given its relatively high (although competitive) price, we think you might achieve the most value by speaking with your doctor before placing an order for InstaKetones, or any other ketone supplement.