Jumpcut Reviews
This company has claimed this profile, is getting alerted on any new customer reviews entering this page, and may engage in dialogue with its customers to address their matters.

Companies cannot pay money or provide goods in order to remove or alter customer reviews.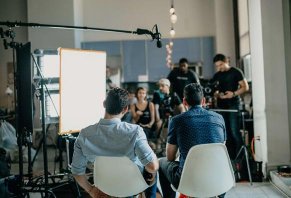 Summary
It isn't easy creating viral YouTube videos or getting millions of subscribers. But Jumpcut's free and paid courses claim to deliver actionable insights.
What Is Jumpcut?
Founded by seven of the biggest social media influencers in the world, who collectively have over 10,000,000 subscribers and billions of views, Jumpcut Academy 2.0 promises to offer captivating online courses that can help you follow in their footsteps.
Specifically, the website reports you'll learn how to create original content, develop a dedicated online following, and monetize your videos so that you can make money while doing something you're passionate about. Bonus content also covers topics like gaming, legal issues, making music, and growth hacking Facebook, to name just a few.
And because these videos bring "the best practices from the entertainment industry to online education," Jumpcut claims you'll binge watch them instead of falling asleep from boredom. Together, this is why we're told more than 10,000 Academy members have found success already.
The spotlight videos shown on the Jumpcut website are filled with success stories. But will their course make you one as well? In other words, can you expect to have everything you need to become a "highly-paid YouTuber that gets to follow your passion in life"?
Over the next few minutes, we'll help you learn more about this central question. First, we'll start with their paid course, and then quickly look at what's included in their free option.
Taking a Closer Look at Jumpcut's Main Course
According to People.com, the top nine YouTubers collectively earn in excess of $54 million per year, with more than 120 million combined subscribers. To help their students move one step closer to achieving their own YouTube success, the main Jumpcut Academy course is broken down into five stages:
Stage 1: Social Media Secrets – Here, we're told you'll learn all their "magical" strategies for making a living as a YouTuber."
Stage 2: Launch Your Own Channel – This is where you'll find your passions and interests and use them to create a "perfect channel idea that's primed for success."
Stage 3: Viral Marketing Masterclass – You'll learn "the art and science of virality."
Stage 4: Influencer Intel – How to use your viral marketing to build a large audience of tens of millions of fans.
Stage 5: Paid to Promote – At this stage, you'll learn how to make money from your videos and potentially rake in millions, just like the program's creators.
In addition to the standard sections, the Jumpcut website advertises three free 'upgrades':
Viral Academy Bootcamp – A five-week intensive with up to 19 other students, where members will "complete daily challenges for the chance to win money and private one-on-one mentorships with the instructors."
Private Community – Around the clock access to support, advice, and motivation to help you continue following your passion.
Video Review System – A gamified method of receiving fantastic in-depth feedback on your content.
While this was all the information provided on Jumpcut's website, based on what we learned from some of the founder's comments on Reddit, "each of these new videos is accompanied with a step-by-step structured assignment that gives you an exact work plan on how to accomplish the goals set out in each video. This ensures that you have no questions about how to implement what you learned in each lesson."
Based on our email conversation with COO Peter Lu (more about this in a moment), we learned the platform provides approximately 15 hours of audio and video content, in addition to online written resources, including "summaries of every video, assignments for every concept, and a YouTube startup guide and resources bible."
He adds there are also "innumerable hours of content on our forum," including "the 50+ best posts by our instructors and most active members on how to edit, how to make thumbnails, success stories, and insider tips."
In addition to posting on the forum for advice, members can add their videos to Jumpcut's peer review system mentioned above and receive "real, blunt, honest feedback on how to improve your content."
Which Instructors Teach Jumpcut's Main Course?
We're told this course is taught by seven different instructors across five teams:
David So (DavidSoComedy) – 1.4M subs, 245M views. Specialty: Comedy Vlogging
Aryia (simplesexystupid) – 900K subs, 100M views. Specialty: Blog Marketing
Joe & Bart (justkiddingnews) – 1.6M subs, 1B views. Specialty: Brand Deals
Jesse & Kong (simplepickup) – 2.7M subs, 325M views. Specialty: Digital Products
Vitaly (vitalyzdtv) – 9.2M subs, 1.3B views. Specialty: Viral Videos
What About Jumpcut's YouTube Influencer 101 Course?
Comparatively, there are four videos in this free series:
Video #1: The Channel Idea Scorecard – This video primarily acts as an overview about what you'll learn in the remainder of the course, although they do emphasize that Kevin Kelly's 1,000 True Fans guideline (i.e., finding a core group of people who loves what you put out and who will be interested in buying what you produce) is perhaps the single most critical piece of advice you should know.
From there, they'll outline a framework to help show you how to find these fans, for coming up with passion-based channel ideas that have a high chance of being successful, and by providing a step-by-step system for building profitable channels. However, they emphasize that there's no magic pill and that this is going to take real work:
Step 1: Magical idea – List out at least 12 topics you're passionate about. Ask three questions for each: On a scale of 1-5, how big is the audience? How much do people care? How passionate are you about the topic? Tallying up the highest scoring topics and using their Remix Strategy (revealed in video two) will allow you to enter a competitive niche and still be able to go viral.
Step 2: Build an audience
Step 3: Monetize your audience
Video #2: The Remix Strategy – Here, you'll learn about the proprietary Remix Strategy, which involves coming up with viral video ideas that are primed to be shared around social media, without needing to truly be 'original' yourself. We're told this is how SimplePickup channel founders Jesse and Kong were able to have their videos reach more than one million views—and sometimes more than 20 or 30 million views.
According to Peter Lu, "It's the difference between trying to speculate on uncertain trends, and knowing an exact formula for creating killer video ideas that are almost guaranteed to succeed."
Video #3: The Traits of Virality – The three specific psychological triggers—telling a story, eliciting emotions, and having a unique perspective—that cause people to share your video with their friends and make it go viral.
While these might seem like common sense, Peter emphasizes that how they're implemented is what separates successful YouTubers from those who are near obscurity.
Video #4: The Influencer Economy – In the fourth and final video training, Peter notes that you're walked through the story of how Jesse and Kong were able to "go from college dropouts to successful entrepreneurs who built their first YouTube channel into a multi-million dollar online business."
From there, Jesse will walk you through some of the key mindsets necessary to achieve YouTube success, and then gives real-life examples of how this information can be directly implemented to the tune of tens of thousands of dollars in passive income.
Afterward, you'll also be invited to enroll in the main Jumpcut Academy 2.0 program, for a limited amount of time, as the community is kept highly exclusive (often only opening enrollment two times per year). Let's talk more about this next.
How Much Does Jumpcut Academy 2.0 Cost?
As mentioned earlier, Jumpcut's YouTube Influencer 101 course is free, and gaining access only involves entering your name and email address.
On Reddit, founder Kong mentioned that the main course's price is $997, and one user noted it's payable over the course of six months, which provides lifetime access.
With this said, there's currently a waitlist for the main course, so we sent an email to support@jumpcut.com for additional details, including the exact release date, cost, upgrade pricing, and refund details. We'll discuss what we learned in a moment.
Returning to Reddit, though, Kong emphasized that Jumpcut comes with a 100 percent risk-free, 365-days guarantee, with "the only condition being you actually go through the course and do the assignments."
What Do Know About the Professionals Behind Jumpcut?
Jumpcut has been in business since 2014 and is based out of Los Angeles, CA. Simplepickup duo Kong Pham (mentioned earlier) works as the company's Chief Executive Officer, while Jesse Jhaj is the Chief Content Officer. The company went through the Y Combinator program during the summer of 2016, where they earned themselves eighth out of 50 companies.
Peter Lu, the company's Chief Operating Officer, previously worked as an Associate Consultant for Bain & Company, as well as a Project Associate for Innovations for Poverty Action.
In his email to us, Peter explained that, "One of the reasons why we got into the program is because we want to change the way education is taught in the entire world. Lectures will be obsolete in 50 years. We're trying to create cinematic courses that will actually hook students in and teach them the concepts effectively."
On Jumpcut's Facebook page, nearly 190 users had given the company an average rating of 4.4 stars as of 1/3/17, with most compliments referencing high-quality customer support, along with effective information that can help you succeed.
On the other hand, frequent complaints—what relatively few there were—seemed to revolve around less information than expected (most often related to the 101 course), and unaffordability. In each instance, the company responded directly in an effort to maintain an open dialogue and acknowledge suggestions.
We also encountered five customer reviews on Google Maps, with a similar 4.2-star average rating and many of the same compliments (the single one-star review provided no details). Again, a representative responded to gain insightful feedback.
Outside of these sites, while a couple of Reddit users noted they liked what they learned, common complaints were that Jumpcut didn't provide information that couldn't be found elsewhere—often for free. One member who wrote an in-depth review specifically noted they found the concepts couldn't be applied universally, the video quality was less-than-stellar, and the support community was relatively inactive.
However, Kong took the time to provide a detailed reply to this user in an effort to directly address their concerns.
Jumpcut also held a C- rating with the Better Business Bureau, based on one closed complaint, as of 1/3/18. No details were available, and the company hadn't responded.
Our Conversation With Jumpcut COO Peter Lu
After sending our email above, we received a quick reply from COO Peter Lu, who had this to say:
Can you tell us when the program is set to release?
Peter told us that in order to ensure everyone has the opportunity to join the premium course, as well as to make sure "their claims about limited time (and exclusive) enrollment are always fair and accurate," anyone interested must first make it through the entire Jumpcut 101 video training series. After this, they'll be given one chance to join.
If this single opportunity isn't seized, the only other chances to join will occur biannually, generally around January and June.
How much does the main course cost?
Peter confirmed that the program's cost is $997 for lifetime access to the course material, which can either be paid upfront or across six monthly installments of $197 each, deducted from your Paypal account or credit card the same day each month.
Once you gain access, he emphasized there are no additional fees and no "premium" content that had to be unlocked. "Once you pay, you get everything, including any new features we build," he said.
Can you tell us more about the refund policy and any conditions?
While all the nitty-gritty details can be found on Jumpcut's Money Back page, Peter told us that if the premium course doesn't deliver results, you pay nothing. All you have to do is show them that you went through the entire program, including completing assignments and worksheets.
While he said that you could technically accomplish this over the course of a few days, he recommends "that you take your time, so that you can internalize the concepts (hence, the 365-day time limit)." In general, students typically take a month to go through the material.
Peter stressed that they "do not make any exceptions to this policy due to personal circumstance. Fortunately, the 365 days are long enough for you to find a way to do the work needed for the refund."
Are There Other Viral YouTube Academies Like Jumpcut?
Reading through Redditors' comments, one free resource frequently recommended was YouTube's Creator Academy, which provides access to content that covers many of the same topics mentioned in Jumpcut's Influencer 101 course, including foundations for success, getting noticed, how to earn money, and building business and niche-specific channels, to name just a few.
Furthermore, all of this content can be filtered by experience level (e.g., beginner, intermediate, advanced). So, if you're serious about creating viral YouTube videos and channels, it's likely that you've read through this resource. But if not, it could be invaluable for your initial and continued success.
Outside of this, there are perhaps thousands of third-party sites and videos dedicated to helping YouTubers find channel success in all aspects, which are accessible simply by typing phrases like 'how to create viral YouTube videos" into your favorite search engine.
Does this mean you'll necessarily achieve more value by paying for Jumpcut's premium content? Let's answer this question as we wrap up in the next section.
Our Final Thoughts About Jumpcut
Just like finding success in any other endeavor, reaching viral status with your YouTube videos will take hard work, persistence, a willingness to fail, and quite a bit of trial and error.
And while insider information from people who've already found success might help get you up to speed faster and avoid common mistakes, there's no avoiding this fundamental recipe for success. So, we think it's positive that the Jumpcut website is clear to point this out.
Furthermore, COO Peter Lu sent us this forthright statement about who their program definitely isn't for:
"If you're not in a financial state to enroll, and think you might not be able to make the payments, I would encourage you NOT to join right now.

You can do a ton with the free info from our online class. Think about it: you know how to come up with a channel idea, you understand how videos go viral, and you know how to utilize the remix strategy for your content. This is more than 99.99% of people know before they start their channel.

So put that information to good use. Then, later down the road, once you have the cash, you'll be able to afford the program.

We're going to be around for a long, long time, and we literally make the course better all the time. We'll be here when you're ready to enroll. I don't want you spending your last dollar on this program. Wait until it's not a financial burden for you to join, and then sign up."
On top of this, this company appeared to come with mostly positive online customer feedback on Facebook and Google Maps. And in some of the Reddit thread where consumer feedback wasn't wholly positive, co-founder Kong often replied to provide everyone with additional explanations.
In the end; yes: Spending nearly $1,000 for Jumpcut's main course could be considered steep. But if it helps move you one step closer to following your passion and potentially earning a living doing what you love, then it might be considered a drop in the bucket in the overall scheme of things.
Also, based on COO Peter Lu's candid responses to our questions, it seems that Jumpcut is dedicated to keeping their prospective students informed and helping them succeed—and that you might not have much to lose by giving their course a shot.
But to help give you a better idea of the tone and approach of their videos, we'd recommend that you start by signing up for their free YouTube Influencer 101 course and going from there. In fact, based on what we learned about their limited enrollment model, you really don't have another choice.
Editor's note: This article was originally published on December 20, 2017, and then updated on January 17, 2018, to include the interview from the company's COO, Peter Lu.
Customer Reviews
This company is actively collecting reviews from its customers. All reviews submitted are subject to moderation and approval to ensure they meet our
Review Guidelines
.
Our Promise to You
In order to safeguard you and ensure helpfulness and relevance, our compliance team manually assess every customer review before it goes live.
We have a zero-tolerance policy for fake reviews, and companies cannot control or alter any reviews at any time.