JumpStart Flashlight Reviews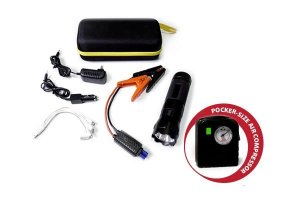 By combining a flashlight with a rechargeable battery and jump starter, the JumpStart Flashlight claims to help provide you with security and peace of mind.
About JumpStart Flashlight
The compact and lightweight JumpStart Flashlight combines a rechargeable military-grade tactical flashlight with a jumpstart power charger, promising to help you restore a dead car, boat, or ATV battery; inflate a tire, raft, or mattress, or recharge your cell phone, laptop, or tablet.
The website also indicates that the device features an extra bright LED that can be seen up to two nautical miles away, SOS signal and strobe features to disorient and neutralize intruders, and the ability to hold its charge for up to six months. They also tell us it can work in hot or cold extreme weather, while easily storing in your trunk or glove compartment.
Based on what we learned from the product's commercial, it certainly seems like the JumpStart Flashlight delivers some compelling features that could come in handy in a variety of scenarios. But does that necessarily mean you should hand over your money and purchase one? This is the central question we'll help you answer in this article.
How Do Portable Battery Chargers & Jumpstarters Work?
According to Lifewire, "The two main types of jump starters out there are jump boxes and plug-in units. Jump boxes are essentially just sealed, maintenance-free batteries that have jumper cables attached to them, and plug-in units are basically battery chargers that are capable of delivering the huge burst of amperage that your starter motor pulls when it's turning the engine over."
Comparatively, less powerful external portable battery packs provide the ability to recharge smaller batteries while on the go, such as those contained in personal electronic devices like smartphones and tablets.
In either instance, though, the basic premise is the same: these devices feed power from their internal cells into the attached device's battery, thereby extended their charge, or bringing them back to life if they've completely exhausted their reserves.
Next, let's find out if you'll pay a lot for this on-the-go power with the JumpStart Flashlight.
How Much Does the JumpStart Flashlight Cost?
The JumpStart Flashlight is priced at three payments of $19.99, or single payment of $59.97, plus free shipping. During checkout, you'll be able to order a pocket-sized air compressor for a separate fee of $14.97, bringing your total to $74.94.
Regardless of the options you choose, each order will include a three-way DC charging cable, along with a 60-day money-back guarantee, less S&H.
To request a refund, you'll need to contact Tristar Products' customer support department at 973-287-5113.
What Do We Know About the Company Behind JumpStart Flashlight?
Second only to Telebrands, Tristar Products is the largest As Seen on TV company in the industry, with hundreds of products to their name across their more than 30 years in business. These include recent hits like Clear TV, Copper Chef, Copper Wear, and Power Air Fryer XL.
Tristar held an A+ rating with the Better Business Bureau, based on more than 770 customer complaints and 17 consumer reviews, as of 9/26/17. Where details were available, most of these appeared to revolve around customer service issues (often related to lower-than-expected quality and difficulty obtaining refunds), although a company rep responded in each instance to help resolve the issue.
Are there any other flashlight-charger-jump starter combo devices competing in the same space as the JumpStart Flashlight? And if so, what criteria can you use to choose the best option for your needs?
What to Look for in a Portable Jump Starter & Device Charger
Combined, you'll find hundreds of portable batteries competing for the same customers as the JumpStart Flashlight, some of which are tailor-made to help recharge electronic devices, while others are designed more for jumpstarting car batteries in the event of an emergency.
So that you can have a high-level overview of what you can expect to encounter during your research, let's take a look at each of these individually.
Then, we'll bring everything back around to the JumpStart Flashlight.
Key Features For Portable Jump Starters
The Lifewire article cited earlier advises that, if you're most interested in the ability to restart a dead battery, you should keep in mind that purpose-built models often include features like a high reserve capacity, air compressors, emergency lights, radios, 12-volt accessory receptacles, and even inverters.
They continue: "Some battery chargers [also] have a "start" setting that delivers a much higher amperage. Depending on how dead the battery is, you may even be able to turn the charger on, select the "start" setting, and immediately crank the engine."
When considering different options, JumpstarterExpert emphasizes that you should also keep engine size of in mind, as the more cylinders there are, the more amperage you'll need to turn the motor over in the event of a dead battery. Even the fuel type (gas or diesel) can impact the amount of power you'll need.
We spoke with several customer service reps looking for additional details about JumpStart's amperage (power output) and any additional features it might include, although none had any information available.
What About a Standalone Device Charger?
On the other hand, if you're more focused on recharging small electronic devices, HowToGeek recommends that you start by estimating your mAh (or total power capacity), which will determine how much power you need to charge any devices you plan to regularly connect.
As with our automotive example in the previous section, they note that you'll also need to estimate the appropriate amperage (or total power output), which will largely depend on the device you plan on connecting the battery to, and whether or not you plan on plugging it in while the device is in use.
Finally, you'll want to make sure that the battery pack contains enough ports for all your devices, as well as any beneficial extras, such as a built-in flashlight or LED indicators (current power level, when the battery needs recharging, and so forth).
How does all of this line up for JumpStart?
Our Final Thoughts About the JumpStart Flashlight
While we didn't test the device ourselves, by combining a flashlight and a built-in battery that can be used to do everything from jumpstart your car to recharge your smartphone, tablet, or other electronic devices, the JumpStart Flashlight seems to provide several core features that consumers might find useful.
On top of this, if you're looking for something with the exact same set of features, it appeared that it was the only device on the market at the time of our research. Furthermore, it seemed to come with a competitive price, and the manufacturer stood behind it with a 60-day refund policy in case you're not satisfied with its performance.
With this said, without knowing JumpStart's mAh or amperage specifications (despite speaking with multiple customer service representatives), the size of its battery, the number of recharges it might be able to provide, how long it takes to recharge once depleted, or how long it can last on a single charge, it's difficult to directly compare the device's performance to the substantial competition.
If you feel like giving JumpStart Flashlight a try, though, just keep in mind that you'll be responsible for paying return S&H charges if you're dissatisfied, plus any fees associated with the bonus pocket-sized air compressor.