June Intelligent Oven Reviews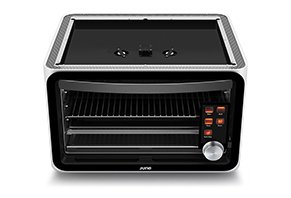 Dubbed the "first kitchen computer," the June Intelligent Oven claims to feature an HD camera, smartphone connectivity, and more to help you cook like a pro.
About June Intelligent Oven
If you're the chef in the family, the June Intelligent Oven, a "precision countertop oven" invented by Matt Van Horn and Nikhil Bhogal, is claimed to help you cook like the pros, whether toasting, baking, roasting, broiling, or slow cooking.
According to the product's website, the June Intelligent Oven accomplishes this by providing a host of never-before-seen features in a kitchen device, including:
An NVIDIA 2.3 GHz quad-core CPU with 192 CUDA GPA cores.
Six carbon fiber heating elements that instantly heat up and use 30% less energy than traditional countertop ovens.
Advanced machine intelligence called Food ID, which uses a combination of weight sensors, an HD camera, overhead LED lights, and a core temperature probe to recognize the food you're cooking, and then provide a chef-designed program to help you cook it perfectly. The June Oven will also learn, so the more users there are, the more foods it will immediately recognize.
The ability to connect with your smartphone via a mobile app and your home's WiFi signal, which offers live video monitoring, intelligent push alerts, cook status, and the ability to control temperature and cook time.
Pre-set cooking modes, as well as a manual mode that allows you to set cavity temperature, top and bottom element power levels, convection fan speed, and more.
… and much more!
On top of this many of June Oven's features can be customized, including adding cook modes and utilities, saving timers, choosing sounds, and more.
Despite the fact that June Intelligent Oven offers one cubic foot of interior space, it's claimed to take up minimal space on your kitchen countertop, remain safe to the touch, feature an easy clean interior, as well as a 5-inch touch screen interface to bring everything together.
With your June Intelligent Oven order, you'll also be given access to a large collection of high-quality animated video recipes, authored by master chefs for all skill levels.
Considering all of this, is the June Oven really the "the first true kitchen computer," and can it help you "cook smarter and eat better?"
We'll answer this important question in a moment, but let's first look at some things you should keep in mind prior to placing your order.
Things To Keep In Mind about the June Oven
Although everything we discussed above sounds revolutionary, especially if you thoroughly enjoy cooking, there are some considerations you need to understand before making a decision.
First, although the June Intelligent Oven might be able to help you cook a variety of foods, it's still a countertop device, which means that interior space may be limited. As such, the oven has about a 1 cubic foot capacity and can only take dishes up to 11X16 inches (for full details, be sure to visit the Tech Specs page).
Despite its relatively small size though, the June Oven can't be built into your kitchen like a standard stove or microwave, as the device's back requires 2 inches of space, while the top requires 4 inches of space. In other words, it will have to remain on your countertop.
Next, the June Intelligent Oven will only recognize 15 different foods once it's shipped (more about this in the Pricing section), although this will be expanded soon after release. So if this is the main feature you're interested in, you might want to hold off on your purchase.
The June Oven also only reaches 450 degrees Fahrenheit when baking, and 500 degrees when broiling. In all reality, you probably won't need anything higher, but this temperature ceiling is certainly something to keep in mind.
Finally, the June Oven will currently only work with iOS phones, and it will need an active WiFi connection in order to communicate.
These concerns aside, what is everyone else saying about the June Intelligent Oven?
Professional Reviews for the June Intelligent Oven
With so much technology packed into a useful kitchen device, the June Oven certainly has generated a lot of media attention, and has been featured in Wall Street Journal, Forbes, Fortune, Wired, and many others.
However, nearly all of these contained the same information, since June wasn't yet available at the time of our research (again, more about this in the Pricing section), and no one has actually tested the oven firsthand.
We did find CNET provided some good insight by noting that, while June's push notifications and built-in camera could definitely come in handy, many full-size smart ovens are available in the same price range. In fact, CNET even noted that, "If you remove connectivity as a factor, the June oven is similar to the $249 Breville Smart Oven."
From a company perspective, the June Intelligent Oven is manufactured by June Life Inc., although they weren't listed with the Better Business Bureau, and no additional information was available online.
June Intelligent Oven Pricing & Release Date
The June Intelligent Oven won't be available until Spring 2016, at which point it will be priced at $1,495. However, you can currently reserve your own for $95, while the remaining balance will be due once June is released.
Each order will also include a baking pan, a broiler pan, and one core temperature probe.
Note: According to Ovens.Reviewed.com (and other third-party online sources), the June Oven's price was set to increase to $2,995 after July 10th, although the $1,495 price remained at the time of our research (7/29/15).
Regardless of the price, the June Oven is only available to US residents.
If you'd like a refund on your June deposit, you can send an email to support@juneoven.com. Once the oven has shipped though, it appears no refunds are available, although it will come with a 1-year warranty.
Can the June Intelligent Oven Help You Cook Better?
Between its ability to automatically detect the foods you're cooking, the push alerts it sends, the automatic monitoring it performs, and the dozens of video recipes available, it's likely that the June Intelligent Oven can up your cooking game.
However, considering that June's retail price is almost twice as much as a traditionally-sized smart oven, this could potentially be a big stumbling block for chefs of any pedigree.
Like most new technology though, it's reasonable to assume that over time, June Intelligent Oven's price will come down, making it increasingly accessible to amateur cooking enthusiasts. So you might just have to be patient.
Have you used the June Intelligent Oven? Tell the world about your experience by writing a review below!