KANOA Headphones Reviews
Claimed This company has claimed this profile, is getting alerted on any new customer reviews entering this page, and may engage in dialogue with its customers to address their matters.

Companies cannot pay money or provide goods in order to remove or alter customer reviews.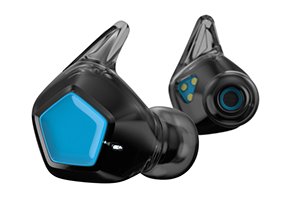 KANOA Headphones feature a truly wireless design, along with top-notch audio technology and app connectivity that can provide the ultimate music experience.
About KANOA Headphones
Whether you're biking, running, swimming, lifting weights, or engaging in any other kind of physical activity, you already know that the right music can make all the difference in your performance. And while music device and headphone technology has come a long way since Walkmans and their foam padded monstrosities, we're still tethered by wires, which have a habit of getting in the way at the least opportune times.
But with their completely wireless earbuds, KANOA Headphones is out to change how the game is played. Not only will you gain complete freedom of movement, but KANOA's ergonomic design and customizable fitment ensure maximum comfort, while their cutting-edge audio technology will deliver "beautiful sound straight to your ears."
Each pair of KANOA Headphones connects via Bluetooth to most modern devices from up to 33 feet away, where the free app (not yet released—more about this shortly) allows you to fine tune the sound to match your preferences. Here, you'll also be able to track heart rate, calories burned, distance traveled, and time. Then, when it's time to recharge, simply place your KANOA earbuds into the included carrying case, and they'll be good to go in about an hour and a half.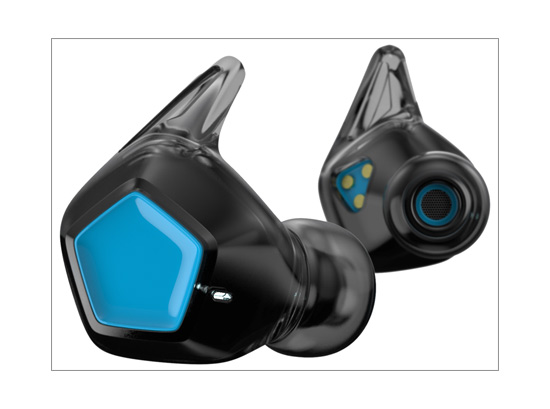 In our opinion, if you want a truly wire-free music experience, whether you're working out or not, KANOA Headphones could be a game-changer.
Between their completely wireless design, the ability to track core fitness stats (say goodbye to your separate tracker!), and their customizable fitment and audio options, there's a whole lot to be excited about when it comes to KANOA Headphones. But are they your best wireless earbud option? Does the company even have any competition? Are there certain things you should keep in mind before ordering? It's my job to ensure you have as much information as possible, so I'll cover all of this—and much more—in this review.
KANOA'S Audio Features
In order to provide the best audio quality available, KANOA implemented a variety of different technologies into their headphones. This includes balanced armature devices that provide safe, crystal clear, lossless audio, along with specially developed sound profiles to deliver a full range of "warm yet precise bass, smooth mids and crystal clear highs."
Along with the aptX® technology, KANOA's chipset and audio compression and coding processes allows you to stream CD-quality sound, while the app's audio equalization feature gives you fine control over your audio. Not only this, but KANOA's built-in microphone will allow you to make and receive phone calls!
If you run or bike on public streets, paths, or trails, you likely understand the importance of maintaining environmental awareness when listening to music. KANOA's Audio Transparency can help you accomplish this by allowing you to choose whether or not you'll let sound in or block it out.
Finally, remember how we mentioned that KANOA Headphones can track some of your core vitals, like heart rate and calories burned? According to the company, the app can use this information to change your music's pace and volume in order to improve your performance (something they call Dynamic Audio). Here's how they explain it:
For example: You select your "Back and Biceps" playlist with a 45 minute session. The App starts your music at a warm-up pace and increases steadily as time elapses. Music intensity such as volume and speed increase in peaks for a more dynamic workout before coming down for the cool-off.
KANOA's Fitment & Other Important Features
Regardless of how good the audio sounds, if earbuds won't stay in place or you find them uncomfortable, they won't do you much good. To this extent, KANOA's Headphones include a variety of different sized, shaped, and styled silicone jackets that can help ensure a proper fit. They'll also include memory foam tips to help them stay in place better and provide even more comfort.
KANOA Headphones feature different silicone jackets and memory foam tips to ensure a proper fit.
You probably noticed that a lot of the athletes shown on the KANOA website specialize in water sports, which is why they're completely waterproof (IP68 Rating). This means you can actually get in the water with them in place.
Inside KANOA's app, you'll be able to view your Performance Tracking metrics (heart rate, calories, distance, time), play around with the custom tuner/equalizer, go through the quick, one-time setup and sync, select motivating playlists from the pros, and access various social and sharing features.
The KANOA Recharging Case
The company claims that KANOA Headphones will provide 4-6 hours of play time, after which you'll need to use the included carrying case to recharge them (takes about 1.5 hours), and you won't even need to remove the silicon jackets. The carrying case itself plugs into any standard outlet via a USB cable, and once fully charged, can recharge your earbuds up to five times.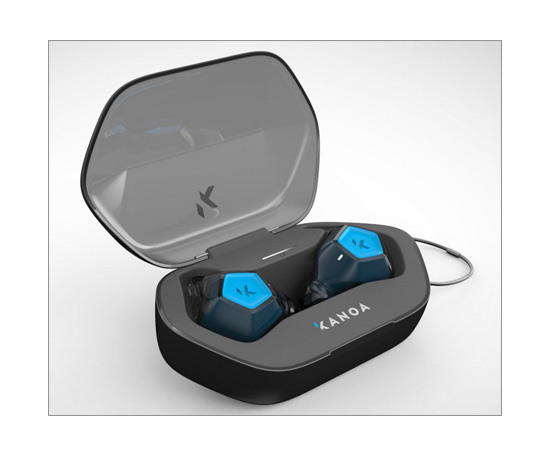 KANOA's small, portable recharging case can provide protection and extra battery power on the go.
KANOA's case is small and lightweight, and can slide right into your pocket or even attach to your jacket, keys, or belt loop using the attached steel loop. And since it closely securely, it can double as a protective carrying case.
How much will you pay for all this?
Are KANOA's Prices So High You'll Pop an Eardrum?
At the time of our research, KANOA Headphones were only available for preorder, with a 40% off price of $179. For this price, you'll receive:
2 KANOA Earphones
1 Charging / Carrying case
3 Sizes Silicon Jackets
3 Sizes Silicon Ear Tips
Extra Memory Foam Ear Tips
Safety Leash and Accessories
Sticker Pack
Batch 1 (already sold out) had an estimated ship date of April 2016 on a first come, first served basis. Batch 2 (53% reserved at the time of our research) had an estimated ship date sometime around May, or after all Batch 1 orders have shipped.
There wasn't a refund policy listed on KANOA's website, so we emailed the company for additional information. After waiting less than 24 hours, here was their reply:
"While we're incredibly confident in our product here at KANOA, if you don't like your earphones you can return them within the first year after receiving them! In addition, if you'd like to cancel your order for any reason before we ship, we can process that for you without a problem. We really are here for you!"
KANOA Headphones also come with a limited 12-month warranty that covers manufacturing defects or issues resulting from normal use.
Given these features and pricing, how do KANOA's Headphones fare against the competition?
Is KANOA the Best Wireless Earbud?
As you might imagine, the term "best" is highly subjective, and depends on a wide variety of personal preferences. For example, you might find one brand of wireless earbuds to fit perfectly, while someone else can't stop them from falling out. On the flip side, you might find one brand's audio to be terrible for cycling, but someone else might find them perfect for the slower pace of running.
With this in mind, if you're on the hunt for truly wireless earbuds, your options are fairly limited. Which, in my opinion, is really surprising. After all, there seems to be huge demand for these products from the fitness community, but only a handful of companies have been able to release successful products to date, including EARIN and Bragi. Other options, like Earity and Elbee, never made it past the crowdfunding stage.
Of these two options, KANOA is currently the clear winner from a price perspective, coming in at 40% less expensive (although this will increase after Batch 2 is sold out). Outside of price, it's a matter of which features are most important to you.
For example, EARIN doesn't feature a microphone, so you won't be able to take calls. It also doesn't seem to provide any tracking, although it does come with a cool-looking recharging pod. On the other hand, Bragi's earbuds feature tracking, a microphone, app connectivity, and much of the same audio technology as KANOA, but can also be controlled directly by touch. You'll pay for this added feature though, as Bragi's headphones come in at nearly $300.
Outside of these options, if you search online for "wireless earbuds," most results will be for products that aren't connected to a music device (often communicating via Bluetooth), but they are tethered to one another. While this design might eliminate some of the problems associated with wires, you still won't get a truly wire-free experience like you will with KANOA. But if this isn't your main concern, they're often much less expensive.
So, should you preorder KANOA Headphones? To help answer this question, I'll provide my opinion as an avid cyclist.
A Cyclist's Take On KANOA Headphones
During the height of the cycling season, it's not uncommon for me to bike 200+ miles per month, and for much of this time, I'm listening to music. I have whole playlists set up just for cycling, and (probably like you), I've found music can make a big difference in my physical performance.
The problem is that unless I want to snake my earphones down the back of my jersey and connect them to my phone, which I store in my jersey pocket, I don't have a lot of options. And because I only wear a bud in my right ear (I always keep my left ear open to maintain awareness of my surroundings), existing "wireless" earbuds won't work—unless I want the spare bud flopping around for a few hours as I ride over rough singletrack. No thanks.
Even then, my existing setup is an imperfect solution, since a sudden sideways glance is enough to yank the bud out of my ear and interrupt my flow.
But with existing options like Bragi and EARIN, it's hard for me to justify spending $250-$300 for technology that—according to several media outlets—can leave quite a bit to be desired. On the flip side, earbuds like EARIN are sold at local big box electronics stores, so returning them is easy and free (there's no return shipping!) if I end up dissatisfied.
Ultimately, I think this might be the biggest sticking point for KANOA. Sure, it seems to provide many of the same features as higher-priced wireless earbuds, but it hasn't been released yet. So, I can't gauge my buying decision on customer feedback, and as I've learned with some of the other new tech we've reviewed, new companies often experience setbacks and delays that can frustrate customers.
What a rip off

I invested $250.00 and waited a year and a half. Never received the headphones. What I did receive was an email telling me that they had lost their major investor and thanks for the money. No seriously, the final email stated that they wanted to thank me for my support. But in another email the same day, they said that I was sent an email to opt out and get my money back and the time has now passed.

They NEVER, NEVER sent an email asking if I wanted my money back, or I, like a lot of other people, would have asked for it back. they should be banned from Facebook ads and all other forms of advertising.

Bottom Line: No, I would not recommend this to a friend

---

Ripoff

By Kirkpatrick

,

Twinsburg, OH

,

Feb 6, 2018
Verified Reviewer

The company failed to make the delivery. They stole my money for the earphones that I ordered one year and a half ago. I hope that they get what they deserve for ripping people off. Horrible people and horrible company.

Bottom Line: No, I would not recommend this to a friend

---

Advertisement

---

Disappointed!

By Jack Morgan

,

Colorado

,

Sep 7, 2017
Verified Reviewer

I invested in the pre order fund a year and a half ago in good faith to help the company and was excited to eventually get the wireless earbuds. However, it looks like that will never happen. Lack of response, as well as a recent email stated "We lost our major investor" so it was a waste of $150 on the "pre-order." DO NOT pre-order, they will take your money, but you'll get nothing!

Bottom Line: No, I would not recommend this to a friend

---

Order without result

By Thani

,

Abu Dhabi, United Arab Emirates

,

Aug 30, 2017
Verified Reviewer

I ordered these headphones and am waiting to receive. I send them many emails to refund my money without any response from the company. Bad business. I don't recommend anybody to order. I think many other products better than KANOA.

Bottom Line: No, I would not recommend this to a friend

---

Advertisement

---

A scam years in the making

I ordered the KANOA earbuds on the first offer more than two years ago. I am sure I am not alone in saying that no one can fault them for the design of their site. And since it looked professionally done, ever since they missed their first deadline, they sounded fishy to me.

The idea behind the earbuds is good, so good in fact that Apple launched a similar product on the last launch period. Samsung had a version, and other high-end earphone/sound companies had their versions.

I held on to their broken promises for over a year until they missed again their self-imposed deadline on the fall of 2016.

One day, just wasting time at BestBuy, I saw on discount something called the Amps Air. An actual product that I could take home with me, for $99.00 because it was on sale.

I bought them, and while they sounded really nice, I couldn't comfortably fit them with my motorcycle helmet. There were many nice features on these SOL Republic Amps air. A reputable real company mind you. Features like the ridges that made the buds comfortable and not fall or that they magnetically cling to the charging case, but the helmet issue, plus the fact that they not always paired automatically made me return them.

With that as an experience, I immediately requested my refund from KANOA. I figured, if SOL Republic, which makes very high-end products, even professional products like in ear monitors used by the top artists on earth can get this technology right, then what hope does a non-existent company that keeps failing on its self-imposed deadlines has.

I requested a refund, and much to KANOA's credit, I received all my money back. But let's be clear, I paid with American Express Platinum, so had they played hooky with my money, I would have simply filled a claim with AMEX, and I would have got my money right back.

I will give KANOA credit for something. They had a great idea, like I said such a great idea indeed that many big companies with lots of R&D money and assembly lines ready to go picked the idea and gave it a try. Some gave it a big try like SOL and Apple.

I blame KANOA, but I also blame the current crowdfunding environment we live in where hundreds of "products" appear from the woodwork before they ready for primetime.

I think the main issue is that people are too quick to fund something that seems like a great idea, and these people with the idea, and neat videos, and neat pictures, before the proponent of the idea did a real professional product viability research. And then, either they half ass a launch, or do nothing at all and keep the money, or get sued when they realize that their "great idea" was nothing new and was just not attempted due to various reasons by real companies.

After this experience, I absolutely will never fund any other product until the product is sitting on a shelf somewhere with some sort of guarantee and someone I can go and return it to and get my money back if their product is not up to my complete satisfaction.

Bottom Line: No, I would not recommend this to a friend

---

Shameful

By Jesse Putman

,

Detroit, MI

,

Aug 30, 2017
Verified Reviewer

The scam pulled by the people at KANOA is one for the record books. My experience with KANOA is my first with crowdfunding, and while I assume there are great crowdfunding stories out there, I, unfortunately, will never participate in another.

With some hesitation, I shelled out cash for a pre-order near the end of the first batch and patiently waited and waited and waited. I ignored all the stuff I read online that said this was a scam. I ignored my gut feeling when I watched the videos they posted and emails they send. Today I got an email basically telling me that I should have pulled out earlier and got a refund while they were still offering them, and that everyone at Kanoa had been fired and the business was shut down. Awesome.

I hope I get to read someday how karma has caught up to each and every one of the people responsible for this farce.

Bottom Line: No, I would not recommend this to a friend

---

Closed doors!

By Gary

,

Australia

,

Aug 30, 2017
Verified Reviewer

Well shock horror, KANOA have closed their doors. With promise after promise of shipping dates then suddenly just before shipping was to start, they have no money to continue. I backed them back in April 2016 and was expecting a long wait for the product, but never thought it was a scam until it was.

Bottom Line: No, I would not recommend this to a friend

---

Crowdfunding scam

As so many others, I bought the earbuds in August 2015 with a promised shipping date of February 2016 and a promised "money return guarantee whenever I want." There was no shipment and no money back. It's the usual crowdfunding scam with excuses after excuses with nicely written emails and then they pulled the plug. Bad people.

Bottom Line: No, I would not recommend this to a friend

---

Out of business

By Jennifer

,

Fresno, CA

,

Aug 30, 2017
Verified Reviewer

I purchased my earbuds in February 2016 and it looks like no one is getting their orders filled. I just now got this email (here's the link - https://getkanoa.com):

Important Notice

Dear backers of KANOA,

Over the past 2 years you have joined KANOA on this journey to create something special. Despite the many challenges and setbacks, you have continued to support us, and for that we are forever grateful.

Unfortunately, we have come to a roadblock. We've summarized a chain of events to explain how we got here and what it means for you.

How we got here:

KANOA was born out of a passion for merging music and technology into our everyday life while doing that in the most natural way possible.

Before opening up our crowdfunding campaign, the foundation of KANOA was already in the works. Our founder invested the initial capital in KANOA, which went primarily into market research and a feasibility study designed by a large engineering firm hired to develop the product.

Year 1: Progress looked promising until the end where it became apparent that we were not ready for production; the product did not meet our standards and we knew it would not meet yours either.

Year 2 : It has always been our mission at KANOA to seek the highest of quality at all cost. Thus we made the tough and costly decision to start over and develop the product we had initially envisioned. Our dedication to our backers and their belief in our product pushed us to continue.

To catch up on a mostly lost Year 1, we began hiring more in-house, brought on seasoned experts to manage the transition into a new team of hand-picked engineers, and took greater control of the development of the product. Another costly endeavor, but our team included some of the most skilled and hard-working people. Throughout this process, being completely transparent with our backers became a corner stone of our culture, posting a detailed update every single Thursday since. We partnered with an excellent contract manufacturer who helped us make leaps of progress towards bringing the product to market.

Last week : We shipped some of the first KANOA earphones and launched our mobile app into the Apple App Store. .

Capital funding is essential for ramping up production. Unlike on typical crowdfunding platforms we allowed backers to ask for refunds at any time. This policy kept us honest, but also added vulnerability once we had made major financial commitments. Setbacks and some bad publicity, like reviews of non-shippable beta units, stirred our audience. Most significantly and to our unpleasant surprise, our investors recently backed out of our funding round. We do not blame them, but this was a pivotal setback since capital was essential for ramping up production.

Today : At this time, we are in negotiations with investors for funding, and also large tech companies on an acquisition, while prioritizing our commitment via KANOA to you. Unfortunately, without that investment, we do not have enough capital to stay operational while we find a solution.

What this means for backers:

As a backer you have played an integral role in the development of the KANOA product and company. We are proud of the level of engagement and passion you have shared with us every day. Our loyalty and dedication has always been towards you. Which makes it even more difficult to say that without the capital to fund production, we will not be fulfilling any more preorders.

While we are proud of our team for taking the company this far, without the necessary capital to continue, all employees have been let go; this means that customer support and social media are unmanned or have been shut down.

This is not the outcome we had foreseen, and with the quick turn of events, we are emotionally overwhelmed. We know you are disappointed, and can only ask that you understand that we genuinely tried.

KANOA was a small dedicated team, and we fought persistently day and night to make KANOA a reality. You can be assured that we are doing our utmost best to come back to you in the future with an option to deliver to you.

Sincerely,

-KANOA, INC.

Bottom Line: No, I would not recommend this to a friend

---

Out of business!

By Neil

,

West Palm Beach, FL

,

Aug 27, 2017
Verified Reviewer

Important Notice

Dear backers of KANOA,

Over the past 2 years you have joined KANOA on this journey to create something special. Despite the many challenges and setbacks, you have continued to support us, and for that we are forever grateful.

Unfortunately, we have come to a roadblock. We've summarized a chain of events to explain how we got here and what it means for you.

How we got here:

KANOA was born out of a passion for merging music and technology into our everyday life while doing that in the most natural way possible.

Before opening up our crowdfunding campaign, the foundation of KANOA was already in the works. Our founder invested the initial capital in KANOA, which went primarily into market research and a feasibility study designed by a large engineering firm hired to develop the product.

Year 1: Progress looked promising until the end where it became apparent that we were not ready for production; the product did not meet our standards and we knew it would not meet yours either.

Year 2 : It has always been our mission at KANOA to seek the highest of quality at all cost. Thus we made the tough and costly decision to start over and develop the product we had initially envisioned. Our dedication to our backers and their belief in our product pushed us to continue.

To catch up on a mostly lost Year 1, we began hiring more in-house, brought on seasoned experts to manage the transition into a new team of hand-picked engineers, and took greater control of the development of the product. Another costly endeavor, but our team included some of the most skilled and hard-working people. Throughout this process, being completely transparent with our backers became a corner stone of our culture, posting a detailed update every single Thursday since. We partnered with an excellent contract manufacturer who helped us make leaps of progress towards bringing the product to market.

Last week : We shipped some of the first KANOA earphones and launched our mobile app into the Apple App Store. .

Capital funding is essential for ramping up production. Unlike on typical crowdfunding platforms we allowed backers to ask for refunds at any time. This policy kept us honest, but also added vulnerability once we had made major financial commitments. Setbacks and some bad publicity, like reviews of non-shippable beta units, stirred our audience. Most significantly and to our unpleasant surprise, our investors recently backed out of our funding round. We do not blame them, but this was a pivotal setback since capital was essential for ramping up production.

Today : At this time, we are in negotiations with investors for funding, and also large tech companies on an acquisition, while prioritizing our commitment via KANOA to you. Unfortunately, without that investment, we do not have enough capital to stay operational while we find a solution.

What this means for backers:

As a backer you have played an integral role in the development of the KANOA product and company. We are proud of the level of engagement and passion you have shared with us every day. Our loyalty and dedication has always been towards you. Which makes it even more difficult to say that without the capital to fund production, we will not be fulfilling any more preorders.

While we are proud of our team for taking the company this far, without the necessary capital to continue, all employees have been let go; this means that customer support and social media are unmanned or have been shut down.

This is not the outcome we had foreseen, and with the quick turn of events, we are emotionally overwhelmed. We know you are disappointed, and can only ask that you understand that we genuinely tried.

KANOA was a small dedicated team, and we fought persistently day and night to make KANOA a reality. You can be assured that we are doing our utmost best to come back to you in the future with an option to deliver to you.

Sincerely,

-KANOA, INC.

Bottom Line: No, I would not recommend this to a friend

---

Out of business

By Joe

,

Dallas, TX

,

Aug 27, 2017
Verified Reviewer

Surprise surprise. Officially now a scam. From their website:

Important Notice

Dear backers of KANOA,

Over the past 2 years you have joined KANOA on this journey to create something special. Despite the many challenges and setbacks, you have continued to support us, and for that we are forever grateful.

Unfortunately, we have come to a roadblock. We've summarized a chain of events to explain how we got here and what it means for you.

How we got here:

KANOA was born out of a passion for merging music and technology into our everyday life while doing that in the most natural way possible.

Before opening up our crowdfunding campaign, the foundation of KANOA was already in the works. Our founder invested the initial capital in KANOA, which went primarily into market research and a feasibility study designed by a large engineering firm hired to develop the product.

Year 1: Progress looked promising until the end where it became apparent that we were not ready for production; the product did not meet our standards and we knew it would not meet yours either.

Year 2 : It has always been our mission at KANOA to seek the highest of quality at all cost. Thus we made the tough and costly decision to start over and develop the product we had initially envisioned. Our dedication to our backers and their belief in our product pushed us to continue.

To catch up on a mostly lost Year 1, we began hiring more in-house, brought on seasoned experts to manage the transition into a new team of hand-picked engineers, and took greater control of the development of the product. Another costly endeavor, but our team included some of the most skilled and hard-working people. Throughout this process, being completely transparent with our backers became a corner stone of our culture, posting a detailed update every single Thursday since. We partnered with an excellent contract manufacturer who helped us make leaps of progress towards bringing the product to market.

Last week : We shipped some of the first KANOA earphones and launched our mobile app into the Apple App Store. .

Capital funding is essential for ramping up production. Unlike on typical crowdfunding platforms we allowed backers to ask for refunds at any time. This policy kept us honest, but also added vulnerability once we had made major financial commitments. Setbacks and some bad publicity, like reviews of non-shippable beta units, stirred our audience. Most significantly and to our unpleasant surprise, our investors recently backed out of our funding round. We do not blame them, but this was a pivotal setback since capital was essential for ramping up production.

Today : At this time, we are in negotiations with investors for funding, and also large tech companies on an acquisition, while prioritizing our commitment via KANOA to you. Unfortunately, without that investment, we do not have enough capital to stay operational while we find a solution.

What this means for backers:

As a backer you have played an integral role in the development of the KANOA product and company. We are proud of the level of engagement and passion you have shared with us every day. Our loyalty and dedication has always been towards you. Which makes it even more difficult to say that without the capital to fund production, we will not be fulfilling any more preorders.

While we are proud of our team for taking the company this far, without the necessary capital to continue, all employees have been let go; this means that customer support and social media are unmanned or have been shut down.

This is not the outcome we had foreseen, and with the quick turn of events, we are emotionally overwhelmed. We know you are disappointed, and can only ask that you understand that we genuinely tried.

KANOA was a small dedicated team, and we fought persistently day and night to make KANOA a reality. You can be assured that we are doing our utmost best to come back to you in the future with an option to deliver to you.

Sincerely,

-KANOA, INC.

Bottom Line: No, I would not recommend this to a friend

---