Kaplan University Reviews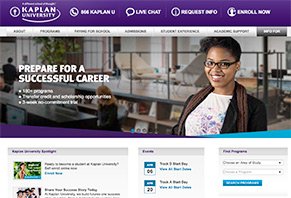 Between their 180 degrees and programs, 15 real-world campuses, and flexible online classes, Kaplan University can help you get the skills you need to succeed.
About Kaplan University
In 2001, Kaplan University's first year in business after acquiring American Institute of Commerce (AIC), just 34 students were enrolled to take all of their courses exclusively online. Today however, Kaplan boasts a current enrollment of more than 38,000 students, 180 different degrees and programs, and 15 campuses across the country.
Despite these physical campuses, the majority of Kaplan University's students are nontraditional (meaning they're often older than 30, working parents, people changing careers, late bloomers, etc.), so they require the flexible learning environment and schedules offered by online coursework. And compared to traditional universities, Kaplan claims their certificate and degree programs are focused on providing real-world skills you can use to achieve your professional and career goals.
Not only this, but Kaplan University also claims to offer extensive student-centered service and support, including online math, science, technology, and writing centers, along with expert resources and tools to help you succeed.
In many cases, there's little doubt that furthering your education can have a big impact on your employability—and your income. But when it comes to Kaplan University, will the payoff match your payout? Is it even the best online education option for you?
We know you're anxious to start (or continue) your learning, so in this review, we'll cover some of the most important aspects about Kaplan. Ultimately though, we'll leave the final decision up to you.
Kaplan University's Degree & Certificate Programs
All of Kaplan's educational programs are regionally accredited by The Higher Learning Commission (HLC), and their online classroom portal uses "advanced technology and enhanced delivery methods to make classes easy to access and use." There, you'll be able to review lessons, communicate with students and faculty, and tailor your curriculum to fit within your schedule.
With this in mind, here are Kaplan University's degree and certificate programs:
Certificate Programs
Corrections, Crime Scene Technician, Family Nurse Practitioner, Humans Resources, Elder Care Services, Medical Office Administration, Oracle Database Administration, Phlebotomist, Private Security, and many more.
Kaplan Associate's Degrees
Accounting, Business Administration, Criminal Justice, Early Childhood Development, Fire Science, Health Information Technology, Human Services, Information Technology, Medical Assisting, Medical Office Management, Medical Transcription, Paralegal Studies, Nursing
Kaplan Bachelor's Degrees
Accounting, Business Administration, Criminal Justice, Communications, Early Childhood Development, Environmental Policy and Management, Fire and Emergency Management, Fire Science, Health and Wellness, Health Care Administration, Health Science, Human Services, Information Technology, Legal Studies, Liberal Studies, Nutrition Science, Paralegal Studies, Psychology, Nursing – RN-to-BSN, Nursing
Kaplan's Master's Degree Programs
Public Administration, Psychology, Educational Psychology, Accounting, Management, Administration, Finance, Education, Teaching-Nationwide, Instructional Technology, Higher Education, Teaching-Iowa Certification, Educational Psychology, Health Care Administration, Public Health, Health Education, Informatics, Information Management, Information Technology, Nursing, RN-to-Master of Science in Nursing, Master of Science in Nursing-DNP Path
How much will these programs cost you?
Kaplan University's Admissions Process, Tuition, & Fees
Enrolling at Kaplan University
Exactly what's required for admission into a Kaplan program depends on which one you choose. Regardless, you will have to pay a $45 application fee, along with several other standard and program-specific fees (such as transcripts, course assessments, technology, and more).
Compared to many of the other online universities we've reviewed (more about this soon), the university offers a 3-week trial, known as the Kaplan Commitment℠, to all students. This way, you'll be able to take a Kaplan course for up to three weeks with no tuition obligation.
Pro tip: Just remember to contact the university and manually un-enroll. Otherwise, as long as you're passing the class, Kaplan will assume you want to continue and will bill you accordingly.
After enrolling at Kaplan, you'll receive personalized support from a network of financial, education, and admissions advisors, who will help you save money by applying your real-world experience and previously earned credits to the cost of your education. And because the school is focused on providing a career-oriented education, your Competency Report monitors your "capacity, demonstrated throughout his or her program, to effectively apply the knowledge, skills, abilities, and behaviors required to execute work-related activities and projects." This way, you'll have "a more complete picture of [your] academic achievement and the competencies important to [your] career."
How Much Does a Kaplan Education Cost?
According to Kaplan University, their tuition costs range anywhere between $37,000 and $66,000, with the average falling at about $46K. As with most other online universities, how much you'll actually pay depends on a range of factors, including your chosen program, previously earned credits, and more.
Keep in mind that select programs are offered through Kaplan's Tuition Cap program, which tops out at $22,500 for associate's degrees and $45,000 for bachelor's degrees.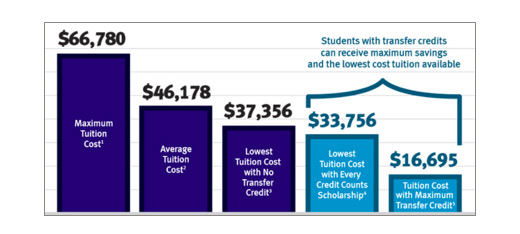 Depending on your chosen program and available financial aid options, you could pay anywhere between $17K and $67K for your Kaplan degree.
For a high-level overview of what you might expect to pay for your Kaplan program, be sure to take a look at their tuition comparison worksheet and net price calculator.
Is Financial Aid Available?
Like most universities (online or otherwise), Kaplan University provides a full suite of financial aid programs to students, including scholarships, grants, military discounts, and loans.
Have questions about tuition, fees, or other costs? A Kaplan University Financial Aid counselor can be reached at 866-458-2008.
How do these prices compare to other online universities?
Is Kaplan Keeping Up With the Competition?
If you're looking for a flexible online degree program, the good news is that modern technology means you've got a whole lot of options to choose from, with a range of total costs.
Kaplan's Overall Cost
For example, University of Phoenix charges an average of $14,550 per year for their programs, while Liberty University and DeVry will cost you well over $20,000 per year. On the other end of this spectrum, Western Governors University will cost around $6,000. Although most online colleges specialize in one or more degree tracks, if you're looking for a generalized degree (such as business or accounting), you'll have to decide if paying more for one online university than another is worth the money.
Financially, loan defaults (which represent a student's ability to repay their federal loans after graduation; the average is about 10%) for Kaplan are currently at 17.2%, compared to 8%, 24%, and 6.6% for Liberty, DeVry, and WGU, respectively.
Does Kaplan Have Solid Academics Track Record?
What about from an academics perspective? In general, online universities tend to have lower core statistics than traditional, campus-only colleges, likely because most of their students are non-traditional and lead busy lives, as well as the fact that most are part-time.
With this said, according to Kaplan's 2015 Annual Report, part time associate's students had a 28% graduation rate, bachelor's an 18% graduation rate, and master's at 44%. However, when referencing full time students, the graduation rates increases to 52%, 48%, and 58%, respectively. Comparatively, Liberty's graduation rate is 69%, DeVry's is 41%, and Western Governors comes in close at about 40%.
Bringing It Together
What can we derive from these statistics? Kaplan University seems to charge middle-of-the-road tuition and graduates a decent amount of full-time students (although nowhere near as many as traditional universities), but it might be the case than alumni aren't experiencing a wage increase in line with their overall education expenses.
Now, according to this same report, Kaplan alumni seem to rate their experience (and their overall education) as positive. So, in the next section, let's find out what they're saying.
Kaplan University's Feedback from Current Students & Alumni
As we've found when reviewing other popular online universities, Kaplan's student reputation tends to be mixed, depending on where you look.
On Consumer Affairs, Kaplan University had an average rating just north of 1 star, with a total of 335 students providing feedback. There, most complaints seemed to reference problems with financial aid. In fact, although Kaplan received (sometimes much) higher marks from students on GradeReports.com and Colleges.Niche.com based on education quality and flexibility, the most common complaints still appeared to reference problems with payment and financial aid.
Here on HighYa, Kaplan had a 1-star rating amongst two student reviews, one of which referenced problems with payment, while the other referenced inadequate academics.
It's important to note that these same core complaints are common with most of the online universities we've reviewed, so Kaplan isn't necessarily unique in this aspect. And to their credit, Kaplan Higher Education (the University's parent company) had an A+ rating with the Better Business Bureau at the time of our research, with no closed complaints.
But is there any aspect where Kaplan University is unique? In other words, who might make an ideal Kaplan student? Let's discuss this while we wrap things up.
Should You Become a Kaplan University Student?
Let's quickly compare an online education to a car: both are big financial commitments, but if used properly and strategically, they can improve some measure of your life, and could even help boost your finances. But, although there are some really great cars available at all different price points, there's not just one that will meet everyone's needs and suit their preferences. And online universities are no different.
To this extent, the Kaplan Commitment℠ might be a good tool to help you "test drive" the university before signing on the dotted line. However, it's important to remember that most universities (whether online or otherwise) often feature withdrawal periods built in to every course you take, so this might not be necessarily unique.
Nonetheless, will Kaplan University help you succeed? Like the "perfect" car, each and every one of us has a different definition of what it means to be successful, although furthering your education (in a strategic manner, of course) is certainly one of the more direct routes to increasing your compensation. However, you'll have to sit down and run the numbers to see how long it'll take to recoup your overall expenses after graduating from Kaplan.
Are you a current or former Kaplan University student? We want to hear from you! Tell us all about it by writing a review below!
1 out 1 people found this review helpful

GRE Course

By Lela Clarke

,

San Francisco, CA

,

Jun 3, 2017
Verified Reviewer

I took a GRE course when I was attending the University of Georgia and was applying to Museum Studies and Art History graduate programs. The course length was six weeks, and I had a really thorough, soft spoken instructor. By taking the course along with completing all of the workbook assignments and practice tests, I was able to do really well on the verbal portions of the exam, while the math portion was still pretty difficult for me (but math has always been my weak spot and I had not taken a math class since freshman year).

In summary, I was really glad I took the course and kept using the books to retake the test for a second go round.

Bottom Line: Yes, I would recommend this to a friend

---

1 out 1 people found this review helpful

Graduated Summa Cum Laude in Health Care Administration in 2013, and still not employed

Riverside, CA

,

Dec 2, 2016
Verified Reviewer

I received my A.S. in Health Information Tech. at Kaplan College in Riverside, brick and mortar school, then went on to online to finish my BS. Of course, I was 55 and changing my life. Positives are both College and Kaplan University online, you graduate in 3 years instead of 4.

You can pay out of pocket and/or student loans. And, you get what you put into it, like anything worth it in life. I learned, I qualified and I received my degrees with hard work. BECAUSE I started late and jobs are not that plentiful without a graduate/Masters degree. When I started to job hunt, every Human Resources frowned about online school not getting enough of hands-on education. And I agree. Total cost for both degrees was $52K. Now, I am underemployed, not in healthcare at all, and stressed about making my loan payments. Because of my age and not having any experience in healthcare, I couldn't even find a volunteer position at any hospitals or clinics.

Suggestions: DO NOT BORROW money from your student loans to live on. ONLY borrow what you need for classes and books. MAKE sure you have a great printer and an updated laptop or PC. If you are an older student, YOU do get American Opportunity Tax Credit or Lifetime Learning Credit on your taxes, $2,400 a year for 4 years, while you are in school.

Kaplan in general is an okay school, it would have been less expensive to go to a state university. Possibly, look into classes for certifications in your line of work, or to add to your own credentials, not a complete degree. Look at the costs, overall, the "honest" time you can put into an online school. Online schools are not good for procrastinators.

Make your job search, directly after graduation a full-time job. I mean 40 hours a week looking, and Kaplan will help with setting up interviews. We are having tough times in the job market and you will have a few months after graduation free, before your student loans are due. Don't think that it's a free education. Student loans will follow you forever, and the government will get their money, whether you pay your loans or not.

Bottom Line: Yes, I would recommend this to a friend

---

Advertisement

---

1 out 1 people found this review helpful

Kaplan University

Kaplan is a very good university offered a large variety of degrees.

Bottom Line: Yes, I would recommend this to a friend

---

3 out 3 people found this review helpful

DO NOT ENROLL! DO YOUR RESEARCH!

By Sherry

,

Hagerstown, MD

,

Jun 20, 2015

I have been a student of Kaplan for about a year now and am currently trying to drop out. I was so excited about this school and felt I could finally make college work for me since I could do it at home. I was so proud to finally be able to balance being a mother, having a demanding job, and getting an education.

In my fourth term now, I started to feel like I should be challenged. Courses are very easy. I did some research on the school and found that their "degree" is useless. I am not saying I just believe whatever the internet said but I have already realized how easy the courses are.

Professors give 100% grades on almost all of my papers, and I will even admit that I shouldn't have, I know I had grammatical errors. When I called the school out on how easy the courses were, they told me I was just a good student and should be proud. Then I started an environmental science course with Professor Rowe, It's not even educational! I feel that i joined a "save the whales" club. The main project is to log our progress on becoming more "green". I literally just put the date and say i bought organic food today in an excel paper.

I am not learning anything. And good luck dropping out. They literally tried to intimidate me by saying I should consider the fact that if i drop out i will have financial obligations. Umm, yeah I'd rather cut my loses now.

Please do your research on this school before you enroll. http://www.huffingtonpost.com/2010/12/22/kaplan-university-guerilla-registration_n_799741.html there are more than reviews, there are many sources that should be a red flag that the school is a scam.

Bottom Line: No, I would not recommend this to a friend

---

Advertisement

---

3 out 3 people found this review helpful

Verification Dept/ Financial Aid

By Edwige Celestin

,

Florida

,

Jun 16, 2015

I am so disappointed and upset at myself with the fact that I chose Kaplan University. I started school in March for an associate degree in human services. Since that day, I cursed that moment since I made the decision to enroll myself at Kaplan and my life became a nightmare with financial aid/verification dept. It is a constant harassment with these 2 departments.

On my second term they decided to decline me stating that I owe them $ 3,390.00 and therefore my account has been blocked. My new class starts on the 10th of June, but I cannot continue with my program. I wanted to withdraw from Kaplan but I was told this is not how it works and that I have to stay.

I am so lost and confused. I really do not know how to get myself out of this mess. These people are not competent and they're hungry for money and money only. I am going to wait and see what legal procedures I can take in order for me to get myself out of this mess. If anyone knows please share some advice. Please be aware that Kaplan is not a different school of thought, it's horrible!

Bottom Line: No, I would not recommend this to a friend

---