Kars4Kids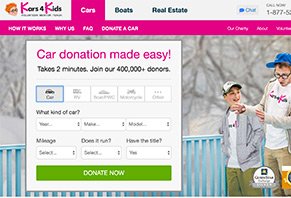 Kars4Kids is one of the largest car donation charities in the US, with 400,000+ donors to date along with a network of more than 1,650 mentors and volunteers.
Kars4Kids Review
By cutting out middlemen, the Kars4Kids charity makes donating your car, RV, boat, personal watercraft, motorcycle—just about any vehicle—fast, easy, and completely free. All you have to do is take two minutes to fill out an online form or call direct, and your vehicle can be picked up within 24 hours, regardless of the state you live in, or the state of your car.
But Kars4Kids isn't all about cars; they can also accept donations of cash, real estate, life insurance, and more.
Regardless of how you do it, by donating to Kars4Kids, not only will you help "build a complete child," but you'll also save money on your taxes and receive a voucher for a two-night, three-day hotel stay at 50 locations across the US. And all of it happens without paperwork, headaches, or cost to you.
Taken together, this is why Kars4Kids is one of the largest car donations charities, with 400,000+ donors to date.
There's little doubt that charities like Kars4Kids do meaningful work and make a difference in thousands of children's' lives. But if you have a vehicle you need to donate, is Kars4Kids necessarily your best option? In this review, we'll help answer some of your most important questions.
About Kars4Kids
Based out of Lakewood, NJ, Kars4Kids is non-profit charity organization "dedicated to addressing the educational, material, emotional and spiritual needs of Jewish children and their families" since 1995. In a nutshell, Kars4Kids' network of 1,650+ nationwide mentors and volunteers help children succeed in life by fostering positive experiences in a child's school, friends, community, and family.
In conjunction with their sister charity, Oorah (more about them in a moment), Kars4Kids accomplishes this in the following ways:
Youth Development – Summer meal programs, 40+ ChillZone locations, summer camp, extracurricular programs and youth groups, and volunteer leadership development.

Educational Services – School placement and tuition assistance and afterschool learning.

Community & Family Outreach – Family holiday retreats, charity distributions, cultural activities and community outreach, small grant initiatives, and public service campaigns.
The Kars4Kids Donating Process
Beginning the Kars4Kids donation process happens one of two ways:
Using their online form. Simply enter the vehicle type, year, make, model, and mileage, and indicate if it's running and if you have the title. After clicking the Donate Now button, you'll need to enter your name and contact info.

Calling 877-527-7454.
Whether your vehicle is running or not, after speaking with Kars4Kids, they'll arrange to have a local, professionally licensed, bonded, and insured towing company contact you within a few business hours. From there, your vehicle will likely be picked up within 24-48 hours thereafter (or faster, if necessary), regardless of the state you live in.
All of this occurs without any cost or hassle to you, and you don't even have to be home during pickup. Just remove any personal belongings and leave the key and title under the dashboard, and you're good to go.
The towing company will provide you with a temporary receipt, which will include you car's information, along with the charity's name and phone number. Within two weeks, you'll also receive your tax-deductible receipt and hotel voucher.
What Does Your Kars4Kids Voucher Provide?
Through their partnership with Vacation Breakaway, all vehicle donations to Kars4Kids will receive a hotel voucher along with your tax-deductible receipt.
This involves 50 different locations throughout the US (According to the charity, "The hotel destinations offered in this program are of similar quality to the Choice Hotels brand and La Quintas."), although this doesn't include taxes, airfare, or other transportation, and there are some other conditions. You'll also have to send in a $50 refundable deposit within 30 days.
Feedback for Kars4Kids
In this section, we're going to look at Kars4Kids from two different perspectives: national charity watchdog groups and individuals who donated to the charity.
Professional Feedback for Kars4Kids
Whenever you're researching a charity you're thinking about donating time or money to, it's always a good idea to check out industry websites that rank charities based on key factors like financial performance (how much of each dollar goes to children, for example), accountability and transparency, and more.
According to their 2014 filing, Kars4Kids brought in about $34.7 million, with about $3.9 million remaining after expenses.
With this in mind, Charity Navigator gave Kars4Kids an overall rating of 2 stars, with just 1 star for financial (about $0.47 of every dollar actually goes to the charity's programs, while $0.48 goes toward raising more money), but 5 stars for accountability and transparency.
Speaking of which, CharityWatch.com wrote a fairly detailed article about Kars4Kids (and their related charities, JOY and Oorah) in 2010, claiming that JOY spent $118 in advertising costs for each car donated, although each vehicle only sold for an average of $400.
CharityWatch also noted that JOY has run into some past issues with state regulators, leading to fines totaling $65K. In PA and OR, legal settlements with the charity required "JOY and Oorah to be more up front with their Kars4Kids advertising," specifically "that the physical and spiritual support and private religious education offered by Oorah are intended to persuade secular Jewish families to take on a more Orthodox Jewish lifestyle." In other words, their "programs benefit a particular group of children."
In addition, the article mentions that the free hotel vouchers were basically just tickets to timeshare presentations. Did we find any of the charity's clients saying the same thing?
Feedback from Kars4Kids Clients
On the other hand, Kars4Kids had a 99% approval rating on Feefo.com, where most clients claimed the process was fast and easy. Most complaints (what few there were) seemed to reference delays obtaining paperwork post-donation.
Kars4Kids also had a 3.5-star review on Yelp, based on 13 individual reviews. Again, most compliments referenced the easy process, while most complaints reference processing/paperwork problems.
Finally, there were dozens of Kars4Kids complaints on ComplaintsBoard, which referenced everything from who the charity's money benefits to problems receiving paperwork.
Our Botton Line: Should You Donate Your Car to Kars4Kids?
There are probably dozens (if not hundreds) of different personal factors that might go into choosing one charity over another, such as ease of doing business, recommendations from friends or family, the charity's overall mission, financials, and much more. And each one of these factors will weight differently for all of us.
In general though, CharityWatch's Tips for Donating a Car to Charity recommends you look for an organization that minimizes the use of middlemen, which is exactly what Kars4Kids claims to do. However, to maximize your deduction, they recommend donating it to a charity that uses the vehicle in their operations or who donates it directly to an individual, which is not something Kars4Kids does. Otherwise, you might get less than fair market value.
To make sure you get the most return on your gift (again, as we talked about at the beginning, assuming this is your ultimate goal), you might want to search online for other car donation organizations around the country, which support a variety of causes. For more information, you can also check out the IRS' Donor's Guide to Vehicle Donation, as well as Kars4Kids' tax filing tips.
2 out 2 people found this review helpful

Disappointed in process

By Doug C.

,

Hamilton, NJ

,

Aug 13, 2019
Verified Reviewer

I donated to Kars4Kids my 1995 Honda Odyssey with a book value of $1320 retail and $1000 wholesale. I received a letter from KFK with a listing of $500 for tax purposes. I requested a copy of the sales receipt, which KFK would not provide. I believe the value for tax purposes should be the selling price of the car, and not an arbitrary number. I called KFK twice to follow up, and was treated curtly and somewhat unprofessionally. I believe the KFK procedure is inherently unfair and probably illegal.

Bottom Line: No, I would not recommend this to a friend

---

Toyota Corolla donation

By Lori S.

,

Pleasanton, CA

,

Jun 17, 2019
Verified Reviewer

I filled out an online form at Kars4Kids and within minutes I got a call to schedule a pick-up. The pick-up date had to be changed a few times due to my schedule but they graciously accommodate. The pick-up happened within the time frame given. I was told that the receipt will be issued after the auction.

About 10 after, got an email with the receipt then followed by a vacation voucher that I never expected. I will be skeptical to use the vacation voucher.

Bottom Line: Yes, I would recommend this to a friend

---

Advertisement

---

1 out 2 people found this review helpful

Try someone else

By Frank W.

,

DFW, TX

,

Jun 12, 2019
Verified Reviewer

I donated my car to this organization and received a write off of only $500, when the car write off was worth much more, like $1000, they sell the parts. I also very discouraged about the vacation breakaway offer, it was a hassle to use in fact, I gave up on this company. They want $50 as a non-refundable deposit, if that was the case, why ask for the deposit. I would not donate to this charity as you can read the online reviews, donate to your favorite charity.

Bottom Line: No, I would not recommend this to a friend

---

Life saver for me

By Nanci N.

,

Athens, GA

,

Apr 8, 2019
Verified Reviewer

Both my parents passed away, within four months of each other, and left behind a 2006 van that smelled of urine from my mother's numerous accidents. The van was filthy. The front end was damaged from the wreck my dad had two weeks prior to his death. I tried to sell it for parts but no takers. I filled out the Kars4Kids form online and they picked it up within 24 hours. 48 hours after they picked it up I had my tax receipt for $500 and the vacation voucher. Couldn't ask for anything better than this service. If you've ever been stuck in this type of situation, you will appreciate how helpful it was to have it off my hands.

Bottom Line: Yes, I would recommend this to a friend

---

Advertisement

---

4 out 4 people found this review helpful

Don't do it!

By Jeffrey N.

,

Michigan

,

Jan 12, 2019
Verified Reviewer

I filled out the online stuff, a few days later they came and picked up the Toyota Van I was donating. This was in September 2018. I waited a month, no word, I called them, and they stated it hadn't been auctioned yet. It finally did sell or auction or whatever and I only got an $850.00 write off for it. So, OK, I won't deal with them again. At the end of the year, I get a notice from the police department and court in lower Michigan, five hours away, that the vehicle had been abandoned and I am on the hook for it. I am still dealing with this dilemma as I am writing this review and will have to put in the time in an effort to hopefully remedy this situation. I'd give less than one star if I could.

Bottom Line: No, I would not recommend this to a friend

---

1 out 2 people found this review helpful

Doesn't even get close to market value

By Lee A.

,

Minnesota

,

Nov 8, 2018
Verified Reviewer

If you are looking for a maximum tax deduction, don't go this route. They didn't even get close to market value of my donation of a 1996 280 Larson Cabrio. I do not consider this company to be an honest company based off of trying to help kids when they don't start a bid close to the market value of a donation. Getting a tax write off for $1,900 vs. if we would have sold it ourselves and given the money to this charity for even $10k we would have been much better off (which would have been pretty easy to do where these boats with a 454 7.4 L engine is worth far more money then $1,900, let alone the lower unit refurbished is worth $4,500 and the trailer work about 1,500).

So, if you really want to help the kids, sell your car, truck, RV, or boat first then give the money because the kids will benefit more from this then what kind of prices Kars4Kids could ever sell your donation for since they don't care what they get for your donation.

Bottom Line: No, I would not recommend this to a friend

---

3 out 8 people found this review helpful

Low ball price, where did the money go?

By Kevin J.

,

California

,

Oct 13, 2018
Verified Reviewer

I am very disappointed! This was a poor decision on my part to go with Kars4Kids. I will not be ripped off by them in the future.

2006 Pontiac Grand Prix with 4-door V6, Power Windows, doors, AC, and Cruise Control

- New stereo with Bluetooth

- 20" Mags with low profile tires

- New catalytic converter $1,200

- Rebuilt engine

- White car black interior

Bottom Line: No, I would not recommend this to a friend

---

2 out 3 people found this review helpful

Worst service

By KK N.

,

Massachusetts

,

Oct 5, 2018
Verified Reviewer

Please do not consider this organization for donating your car. Very poor service. I called their organization to donate my car and even filled it in online. It took more than 72 hours for them to tell me that none of their carriers are available. Also, when I tried to call them, the representative made me wait for 45 minutes. Worst service. Please consider donating to some other deserving organization!

Bottom Line: No, I would not recommend this to a friend

---

Flexible scheduling

By Pamela T.

,

Maine

,

Sep 3, 2018
Verified Reviewer

The company came when they said they would to pick up the donated car. I had to change the date a couple of times and they worked with me to arrange a convenient time. I was only given a value of $500 for tax purposes and after reading other reviews, seems like this is the value they are assessing most cars. Little disappointed with the limited tax deduction/value of car amount, but they were timely in picking up the car. I am not too sure about using the vacation voucher that was sent to me as there are quite a few restrictions/rules and have to give a $50 deposit. Probably will not use it.

Bottom Line: Yes, I would recommend this to a friend

---

2 out 2 people found this review helpful

Boat trailer

By Carl H.

,

Bangor, ME

,

Jul 19, 2018
Verified Reviewer

We moved from Damascus, Maryland in May 2017, and I couldn't take my 25-foot sailboat at that time. In the meantime, I bought another trailer that had 2 axles and not one like the one the boat was on. I called Kars4Kids, and they said they could take the boat trailer when I was ready. By the time I found another trailer it was fall and decided to bring the boat to Maine the next spring. In the meantime, I kept in touch with Kars4Kids.

On May 7, 2018, Kars4Kids said they would arrange a local tower to pick up the trailer. After I arrived in Maryland, I texted Kars4Kids on May 15, 2018, and received a text stating that "unfortunately, we are unable to accept the trailer due to its insufficient resale value." I had to pay a salvage company $160 to have it towed. Had I known at least a day or two ahead of time, I could have arranged with a friend of mine to come and pick it up (for free) to sell for scrap metal. Kars4Kids gave me no advance notice, and I had to then move it immediately.

After working with them for almost a year and then to have them change their mind with no advance notice is unprofessional and not good business. I would not give them any stars, but I have to give at least 1 to submit this.

Bottom Line: No, I would not recommend this to a friend

---

11 out 12 people found this review helpful

Horrible

By Lauren C.

,

Weare, NH

,

May 31, 2018
Verified Reviewer

They picked up my car the next day. Worth about $1200, I was only able to write off $500. The vacation they advertise two nights free is a joke. I live in New Hampshire and they offered Salem or Dover, but there is nothing there. After all of the fees, they wanted me to pay $196 for a two-night stay in Dover. Again this is a joke.

Bottom Line: No, I would not recommend this to a friend

---