Kazu Pillow Reviews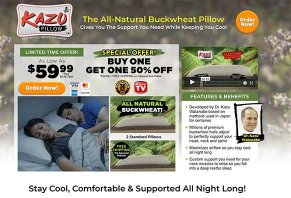 The buckwheat-filled Kazu Pillow from Top Dog Direct claims to help support your head and neck, align your spine, keep you cool, and improve comfort related to a host of medical conditions.
What Is Kazu Pillow?
Filled with millions of premium, all-natural buckwheat hulls, the Kazu Pillow promises to perfectly support your head, neck, and spine while maximizing airflow, so you stay cool all night long.
Combined, the manufacturer advertises it's guaranteed to give your neck muscles the custom support they need to relax and deliver deep, restful, life-changing sleep. They even indicate it can help provide comfort from conditions like arthritis, fibromyalgia, allergies, sleep apnea, and snoring.
Can you realistically expect to experience these benefits after handing over your hard-earned money for the Kazu Pillow? Or, should you consider third-party competitors—or different pillow materials altogether?
We'll walk you through everything we learned during our research so you can answer these central questions, starting with the pillow's functionality.
How Does Kazu Pillow Work?
Buckwheat is a gluten-free grain that's processed into everything from tea and oats to flour and noodles.
The seeds are full of minerals and antioxidants, which are housed inside hard outer shells called husks that are naturally strong, allergen-free, aromatic, and reflect heat. As a result, manufacturers often use them to fill pillows and furniture upholstery, where they act as an alternative to other materials like feathers, foam, or synthetic fibers.
In fact, as mentioned on the Kazu website, buckwheat hulls have been used for these same purposes for centuries across different parts of Asia, where the plants are native.
Specifically, the millions of micro-movements provided by buckwheat hulls inside pillows can closely contour to the shape of your head and neck, provide related support, and maximize comfort while you sleep. In addition to muscle support and naturally hypoallergenic and dust mite-resistant properties, all of the tiny spaces between the hulls can also maximize airflow and help keep you cool throughout the night.
Related: 25 Hot Sleeper Solutions for Sleeping Better
Buckwheat hulls tend to firmly hold your head and neck in place, though and can take some getting used to since they don't move like traditional pillow materials. They also feature a natural odor that can be overwhelming, depending on your preferences, they're noisy when you move at night, weigh a lot (about one pound per 14 cups), and you can't wash them.
With these details in mind, unless you plan on repeatedly slamming your head into your pillow at night, we don't think the egg and glass-cracking tests shown in the Kazu commercial relate to real-world sleep environments.
Furthermore, we contacted customer support, who couldn't provide additional details regarding the Kazu Pillow's dimensions, weight, or the source of their buckwheat hulls.
How Much Does Kazu Pillow Cost?
One King/Queen size Kazu Pillow costs $59.99, plus $9.99 S&H. You can order a second pillow during checkout for an additional $29.99 free, and also upgrade to a Deluxe version for $10 more per pillow.
Again, customer support couldn't provide insight into Kazu's size or weight, or what you'll get with the Deluxe version for the extra money.
All orders come with a 30-day money back guarantee, less original shipping charges and fees for the BOGO offer, as well as a lifetime warranty. You can call customer service at (800)340-3418 or send an email to customerservice@TopDogDirect.com.
Kazu Pillow vs. Competing Buckwheat Pillows
Because buckwheat hulls have been stuffed inside sleeping surfaces for centuries to help promote support and natural airflow, there are perhaps thousands of pillows competing for the same customers as Kazu.
Like the product in question, they also promise to promote airflow, deliver the ideal head and neck cushioning, and prevent the buildup of allergens and dust mites.
Here are a couple of top-rated options on Amazon, as well as how some of their core criteria compare:
| | | | | |
| --- | --- | --- | --- | --- |
| Product | Price | Size/Weight | Average Amazon Rating | Notes |
| Kazu Pillow | $59.99 | Queen/King, unknown | N/A | Order second for $29.99 fee, $9.99 shipping (non-refundable), |
| Hullo Standard Size Buckwheat Pillow | $109 | 20" x 26", 8.5 lbs | 4 stars, 42 reviews | Uses USA-grown hulls and organic twill, hidden zipper |
| Magnolia Organics Standard Buckwheat Pillow | $64.95 (Queen: $74.95, King: $84.95) | 25" x 18" x 3.5", 7.3 lbs | 4.1 stars, 32 reviews | Organic cotton cover (no petroleum used), manufactured in the US |
If you're looking to pay the least amount of money, Kazu comes in quite a bit lower than the closely related buckwheat pillows above. In fact, you could purchase almost two Kazu Pillows for the same price as one of Hullo's standard-size versions.
Furthermore, you can buy a second Kazu during checkout for half price, thereby potentially delivering even more value. However, we know the fewest details about Kazu, including its size, weight, and the origin of its buckwheat hulls. You also can't get a refund on the BOGO fee if you're dissatisfied and decide to request a refund.
Price-wise, Magnolia comes in the closest to Kazu, but we know its weight and dimensions, that it (and Hullo) features organic fabric covers that are either manufactured or assembled in the US and that it comes with mostly positive feedback among Amazon customers.
Combined, we know the least about Kazu's details, although it comes with a much lower price than some of the competition. But, do these factors mean that it's the right option among many for you? Let's conclude next.
Coming to a Conclusion: Should You Order the Kazu Pillow?
Based on what we discussed earlier, buckwheat pillows can help provide contoured support for your neck and head muscles, align your spine, and keep you cooler at night than denser options like memory foam. Combined, these attributes could help you sleep better, find comfort from the wide range of conditions cited on the Kazu Pillow website (arthritis, fibromyalgia, etc.), and wake up more rested in the morning.
The catch is that as long as you have a pillow that matches your preferred sleeping position and other personal attributes, any option—whether filled without buckwheat or any other material—could help deliver many of the same benefits. As such, buckwheat isn't necessarily unique in this regard.
Furthermore, buckwheat pillows are often more expensive than memory foam (shredded or whole block) and down options.
Along these lines, we should point out that if you can sew an even somewhat straight line, there are a multitude of online tutorials walking you through how to purchase bulk buckwheat hulls for $3 or less per pound, and then craft your own pillow at home for much less than many other competing options.
This avenue could also allow you to choose a cover that more closely matches your bedroom's décor, while also making sure that you're sourcing hulls from trusted, organic suppliers that don't use toxic chemicals in their harvesting and manufacturing processes.
Bottom line: If you're dead set on purchasing a competitively priced buckwheat pillow that could deliver improved support, more effective cooling, and a better night's sleep, but without the more labor-intensive process of crafting your own, the Kazu Pillow seems to fit the bill.
But, if you're still trying out different options, keep in mind that its relatively steep shipping charges and other fees aren't refundable if you find it doesn't meet your needs, potentially making it the most significant risk to your money among close buckwheat pillow competitors.