Keto Max Burn Reviews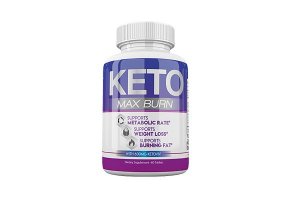 Packed with beta-hydroxybutyrate ketones, the manufacturer advertises that taking two capsules of Keto Max Burn daily can help you lose more weight and feel energized.
About Keto Max Burn
Keto Max Burn is an advanced dietary supplement that uses BHB ketones to help you release fat stores, significantly boost fat burning, improve mental clarity, and naturally increase energy levels, without dieting or exercise.
You'll take its all-natural ingredients, which utilize "proprietary methods" to maximize potency, twice per day—once in the morning and again before bed. If you stick with it, the website advertises you could lose up to five pounds in the first week, as much as 20 pounds in a month, and achieve your weight loss goals within three to five months.
All of this is why the manufacturer says Keto Max Burn is, "the most powerful and potent ketosis supplement you can buy," and was voted the #1 fat burning product in the United States.
But, can you really expect it to work almost instantly, help get you into "celebrity shape," or make you "love the way you feel," as advertised on the website? After taking a look at the formula's pricing, competition, and clinical support for its ingredients, this is the central question we'll help you answer in this article.
Do Keto Max Burn's Ingredients Cause Ketosis?
Other than indicating that it contains BHB ketones, there isn't an ingredients list or supplement facts label shown on the Keto Max Burn website. We called customer support and learned that it contains a total of 1,200 mg per dose, although they couldn't provide the types of BHB it contains.
With these details in mind, BHB, which is short for beta-hydroxybutyrate, is a type of acid called a ketone. Your liver forms these when there aren't enough carbohydrates for your body to use as an energy source, at which point it switches over to using fat reserves via a process known as ketosis. This results in increased fat burning and improved weight loss.
According to Healthline, taking exogenous—or, outside the body—ketones, which are often bound to salts like magnesium, calcium, and sodium and delivered in powdered form, can help mimic the same blood levels experienced by those undergoing nutritional ketosis.
However, they say there's currently mixed clinical evidence as to whether or not they can deliver similar fat and weight loss benefits, so they can't recommend it for weight loss at this time.
A couple of additional nuances to quickly address before moving on. First, the Keto Max Burn website explains that, "with the massive loads of carbohydrates in foods, our bodies are conditioned to burn carbs for energy instead of fat," which isn't exactly correct.
Instead, your body naturally burns the glucose from carbohydrates as its primary energy source. It only switches over to fat and enters ketosis when you restrict carb intake to 5% or less of your diet. Thus, ketosis is the "conditioned" state, in this instance.
Next, the manufacturer advertises that nutritional ketosis, "takes weeks to accomplish," although you can probably achieve the state after a few days restricting your carbohydrate intake.
Finally, two images on the website insinuate that Keto Max Burn's ingredients can help reduce plaque buildup inside arteries (a.k.a arteriosclerosis), although Healthline didn't report any clinical evidence supporting this claim.
Do Keto Max Burn's Ingredients Cause Side Effects?
Common side effects associated with nutritional ketosis include decreased sex drive, nausea, vomiting, weakness, and irritability—cumulatively known as the "keto flu," which typically passes within a couple of days.
Although there are a limited number of clinical studies regarding exogenous ketones' ability to help people lose weight, the most common side effects aren't as severe as the "flu" and include mild, temporary nausea and digestive upset.
Before taking Keto Max Burn or any other dietary supplement, it's essential to speak with your doctor regarding potential side effects and medication interactions.
How Much Does Keto Max Burn Cost?
Although you'll only pay a $4.95 shipping fee to get your hands on a full-size bottle of Keto Max Burn (test strips included), it's important to emphasize that this only begins your 14-day trial.
After two weeks have passed, the manufacturer will charge your credit card the full price of $89.92, and also enroll you in their autoship program. Here, you'll continue receiving a new bottle of Keto Max Burn once every 30 days, and they'll keep charging your card $89.92 each time.
All orders come with a 30-day satisfaction guarantee, less return shipping. To request a refund, cancel your trial, or stop your recurring shipments, you'll need to call (844)568-0707 or send an email to support@tryketomaxburn.com within the first 14 days after you place your order.
Keto Max Burn vs. Competing Exogenous Ketones Supplements
The keto diet is extraordinarily trendy at the moment, so there are perhaps hundreds of exogenous ketones supplements containing BHB salt blends and making many of the same health-related claims as Keto Max Burn.
Here are a couple of popular options currently on Amazon, as well as how some of their core criteria compare:
| | | | |
| --- | --- | --- | --- |
| Formula | Price | BHB Salts | Average Amazon Rating |
| Keto Max Burn | $89.92, 60 capsules | Unknown | N/A |
| Nutriana Best Keto Max Diet Pills | $18.95, 60 capsules | 800 mg Calcium, Magnesium, Sodium | 4.4 stars, 1,105 reviews |
| Purely Optimal Premium Keto Diet Pills | $18, 60 capsules | 904 mg Calcium, Magnesium, Sodium | 4.5 stars, 730 reviews |
While the manufacturer doesn't provide many details about Keto Max Burn's formulation, calcium, magnesium, and sodium are the most common beta-hydroxybutyrate salts found in keto supplements. As such, the most significant differences between them are the dosages found in each serving, the price you'll pay per dose, and the level of online customer feedback they have.
Using these criteria as our guidelines, we can see that Keto Max Burn comes with the highest price of the bunch—so high, in fact, that you can purchase five bottles of Best Keto or Premium Keto for the price of one bottle of Keto Max Burn.
Keto Max Burn is also the only option in our table above where you're forced to enroll in a monthly autoship program, whereas you can save an additional 5%–15% off the already much-lower price if you choose to receive monthly shipments from competitors via Amazon.
Furthermore, there isn't a universal BHB dose used in the clinical trials found on the National Institutes of Health's PubMed (many were also conducted on rats, not humans), so it doesn't appear that you'll necessarily achieve better results by paying more for a keto supplement.
Finally, there isn't any online customer feedback for Keto Max Burn, whereas Nutriana's formula comes with more than 1,100 reviews on Amazon and Purely Optimal following close behind with more than 700—not to mention a 4.5-star average rating.
Collectively, Keto Max Burn comes with a much higher price than close competitors, forces you into a recurring auto-ship program, and comes with zero customer reviews.
Our Final View: Will Keto Max Burn Deliver Value?
The bottom line is that according to Healthline, taking exogenous BHB can mimic the ketone levels found in your blood during nutritional ketosis. However, the available clinical evidence is mixed as to whether this delivers the same health benefits like increased fat metabolism and improved weight loss.
So, if you're going to risk your hard-earned money on an unproven dietary supplement, it only makes sense that you'll want to spend as little as possible. And in this regard, Keto Max Burn costs almost five times as much as popular competitors, without any evidence it will be more effective, based on our research.
You'll also have to deal with un-enrolling yourself from the manufacturer's mandatory autoship program if you're dissatisfied—which is one of the most common consumer complaints among the thousands of dietary supplements the HighYa team has written about over the years.
Overall, we'd recommend avoiding Keto Max Burn and going with a different option if you're set on trying a ketosis-related dietary supplement.
>> Continue reading: Do You Need to Take Vitamins or Dietary Supplements?