KetoGen4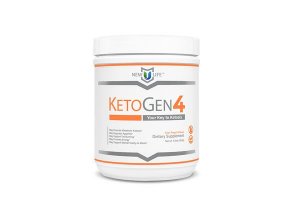 KetoGen4 is a powdered ketone drink sold by New U Life that's designed to keep you in ketosis longer than possible through diet alone for better fat-burning potential.
KetoGen4 Review: Is It Worth It?
What Is KetoGen4?
Developed and sold by New U Life, KetoGen4, also called KetoGenesis4, is a powdered ketone drink mix that's designed to help you quickly reach ketosis.
The company claims that their cutting-edge formula contains a proprietary 4-BHB (beta-hydroxybutyrate) salt combo that provides your system with a quick supply of exogenous ketones to get you in an efficient fat-burning state.
From what we learned from the product website, KetoGen4 works by putting your body in the metabolic state of ketosis, a time when your system burns fat for fuel instead of carbohydrates. This is the key process behind the ketogenic diet.
Entering ketosis isn't a quick process, but KetoGen4 claims to speed it up. The formula relies on four types of exogenous ketones (ketones in pill form) and three other proprietary blends to get you in ketosis, keep you there longer, and relieve uncomfortable side effects associated with being in ketosis in the process.
Beyond weight loss, the brand claims that taking KetoGen4 will support mental clarity, increase your energy, and suppress your appetite so that losing weight is easier.
Does this make sense? Can you really turn to a kiwi-peach flavored smoothie for better success with the ketogenic diet? We'll delve into the details below, starting with whether taking BHB in supplement form truly helps you enter ketosis.
Can Taking BHB Put You in Ketosis?
From what we learned from Healthline, Beta-hydroxybutyrate (BHB) is one of two main ketone bodies produced by your body during ketosis. These ketones are bound to salt molecules and come in many varieties. Common types include sodium, potassium, calcium, and magnesium (KetoGen4 contains all four).
As KetoGen4's BHB molecules are thought to be responsible for ketosis-induced weight loss, the theory goes that supplementing your diet with extra amounts will help you lose weight faster. In other words, you can consume BHB when you eat food that isn't keto-friendly to keep your body in ketosis.
There's only preliminary research on these benefits, but it looks promising. A study in Obesity from 2018 shows that taking exogenous ketones might act as an appetite suppressant, leading to weight loss over the long term. And as reported by Healthline, another study found that consuming 12,000 mg of ketone salts lead to a blood ketone increase of over 300%. For comparison, KetoGen4 contains 9,000 mg of BHB per serving.
That's not to say there aren't any downsides to BHB ketones. We learned from Everyday Health that they are notorious among dieters for being expensive and terrible tasting.
There's also some evidence that BHB can be difficult on your digestive system when you first start taking it, so you might need to halve or quarter your serving size initially. For the best results, you might want to take BHB in the morning, as Healthline reports many people find it creates a spike of energy that interferes with sleep.
What Other Ingredients Are in KetoGen4?
KetoGen4 contains more than BHB. Below are some of the standout ingredients within each of the drink's proprietary blends, and a few facts about them.
Unless otherwise specified, we pulled this information from ConsumerLab, a leading database of clinical studies for health and beauty ingredients.
Fat Burning & Mental Focus Proprietary Blend
Coffee fruit: The fruit of coffee beans is high in antioxidants and supports brain health.

La-carnitine tartrate: This is a common supplement ingredient to treat low levels of carnitine in the blood, which helps metabolic functioning for energy production.

Betaine: Also called trimethylglycine (TMG), betaine is a naturally produced substance that supports liver health, especially against the effects of alcohol.

Bacopa monniera power: This herb has been used in traditional Indian medicine to improve cognition. It shows potential for improving memory and reducing anxiety.
Alkalizing Proprietary Blend
Spinach, broccoli, kale, chlorella powder: these plant-based powders are high in antioxidants and essential nutrients, and they are used in ketogenic products to provide nutrition without carbohydrates that can spike glucose levels.
Normalizing Adaptogenic Proprietary Blend
Ashwagandha: Often called Indian ginseng, ashwagandha is classified as an adaptogen, which means it works to improve the body's ability to deal with stress for better general wellbeing.

Various mushroom powders (reishi, maitake, lion's mane, chaga): These mushrooms are all classified as adaptogens.
Enzyme Proprietary Blend
Amylase, cellulase, lactase, lipase, protease: these enzymes are responsible for thousands of metabolic processes, and it's easy to become deficient when following a ketogenic diet that cuts out carbohydrates. Taking them in supplement form prevents
KetoGen4 Cost
At the time of writing, KetoGen4 is sold by New U Life as a subscription for $119.99 or as a one-time purchase of $139.99. Shipping is included with both offers, and you can select a delivery frequency of either monthly or bimonthly for the subscription.
Regarding use, the company suggests consuming one scoop in the morning with a meal, up to six days a week. You'll receive 24 servings per container.
The company offers a 100% satisfaction guarantee for your order. The fine print shares that you can submit a return or refund request for any purchase within 60 days of ordering for a full refund, minus shipping costs (orders of two or more bottles are subject to a 25% restocking fee).
You can send back unopened bottles to the company so long as you include the original packing slip and a product return form, but need to contact the company by phone (844-510-6398) or email (support@newulife.com) before returning any product that's been used or has a broken seal.
What's the New U Life Company Reputation?
We couldn't find any customer reviews of KetoGen4 at the time of writing, though the parent company New U Life has a page on the Better Business Bureau. There were 89 complaints as of summer 2019, though many of them were marked as resolved.
From what we saw, the biggest complaint customers had about the company was that canceling their auto-ship service could be difficult, and they were occasionally charged a month longer than desired.
It seemed to us that the company dealt with most of these complaints and compensated customers accordingly.
The Bottom Line: Should You Consider KetoGen4?
Now that we've looked at the available information, do we think that KetoGen4 makes sense? We're hesitant to recommend products that we can't read customer reviews of, but the evidence we found doesn't necessarily discourage its use.
While a daily serving of KetoGen4 serves up less BHB than what was used in the clinical trials we referenced, we think that it's still likely to be enough to help keep your body in ketosis. However, we believe it's a red flag that so many ingredients within this supplement are formulated in proprietary blends, as this provides little information about their actual concentration.
It's also important to realize that KetoGen4 won't work as a magic solution for losing weight. Your benefits will be negligible if you take it without also following the ketogenic diet, so it's important to keep in mind that you will still need to make a dietary change.
And, considering the price for this supplement, you might be better off investing in more keto-friendly foods so that you reduce the time you're out of ketosis in the first place.
In summary, we think this supplement makes the most sense for people who work hard to follow the ketogenic diet and want a safety net so that they don't fall out of ketosis when they slip on and consumer carbs.
There's a good chance it will just be an expensive and mostly ineffective supplement if you take it with a standard diet and assume it will help you lose weight without making other lifestyle changes.