Kevo Reviews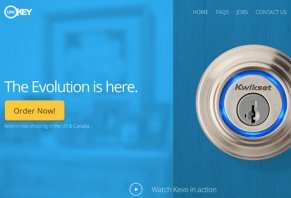 The Kevo electronic deadbolt lock uses Bluetooth 4.0 Smart touch-to-open Technology to provide you with a safe, secure keyless entry system focused on the ultimate in convenience.
About Kevo
Invented by Phil Dumas and distributed by UniKey Technologies, Inc., Kevo is a proprietary touch-to-open deadbolt lock that uses your smartphone to provide an unprecedented level of convenience. Kevo made its debut on the popular ABC television show Shark Tank in April 2012, and is one of the few products to have garnered high-dollar offers from all five Sharks. Ultimately, it was Mark Cuban and Kevin O'Leary who earned the winning offer, with $500K in cash, a 40% stake in the business, and controlling board seats.
Neither UniKey nor Kevo are listed with the Better Business Bureau, but due to its proprietary technology, it has been widely featured in reviews from Gizmodo, Engadget, CNET, Mashable, and many more. From a customer satisfaction standpoint, most seem to be relatively satisfied with the Kevo's performance, though the majority of complaints include the very high price point, lackluster quality, and ease of overriding the mechanical lock.
How Kevo Works
At its core, the Kevo uses Bluetooth 4.0 Smart Technology to allow you to unlock doors using a connected iDevice, or one of the two includes fobs. If your smartphone or fob is in your pocket or purse, you simply have to be within four feet of the lock, and then touch it with some part of your body (e.g. a finger, elbow, etc.). In addition, one iDevice or fob can act as a "key" for all the locks in your home, so you have the opportunity to drastically reduce the number of keys you carry around. It's important to note that UniKey Technologies doesn't actually produce any products, but instead licenses its technologies to relevant companies. For the Kevo lock, the company has partnered with popular manufacturers Kwikset & Weiser, who offers deadbolt lock models in Satin Nickel, Polished Brass, and Venetian Bronze finishes.
According to the Kevo website, the lock can be installed just as easily as any other deadbolt, and all that's needed is "a single Phillips head screwdriver and about 5 minutes of DIY time." However, several online reviews noted that installation from scratch (e.g. cutting a fresh hole in a new door) was significantly more labor-intensive than a standard deadbolt.
The Kevo deadbolt lock is powered by 4 AA batteries that are claimed to last a year with normal use. When the batteries are running low, you'll be notified multiple ways, including visual/audio alerts, application notifications, and even text and email alerts as well. Even if your batteries do completely run out of power, the Kevo lock will still operate as a standard mechanical deadbolt lock.
If you'll be using your iDevice with your Kevo (versus one of the two included fobs), the mobile app can be downloaded for free from the Apple App Store. According to the company's website, "this app allows you to set up your Kevo lock, send, disable or delete eKeys, as well as manage Kevo fobs."
Kevo Security Features
When most people first learn about Kevo's hands-free access, the first thing that comes to mind is security, so we thought it would be a good idea to specifically address this.
According to the company, Kevo uses "military grade encryption/decryption algorithms" to ensure that no one can ever "hack" into and bypass your lock. In addition, it also includes patent-pending technology that can detect whether you're inside or outside your home before engaging the lock. This way you don't have to worry about inadvertently unlocking your door when you're inside your home, or allowing someone with unauthorized access to enter your home.
In addition, if your smartphone is lost or stolen, you can delete its Kevo access using a PC or another internet connected device. According to the company, once you sign into the app from another device, all "keys" are deleted from the original device, and transferred to the new one." However, the company recommends you always have a backup mechanical key, just in case.
Kevo Pricing & Refund Policy
The Kevo 925 Bluetooth Lock is currently priced at about $219, and can be purchased through Amazon.com, Newegg.com, Knobs and Hardware, Build.com, the Apple Store, and many more. Refund policies are the sole discretion of the retailer, so this is something you'll want to verify prior to purchasing.
All Kevo locks come with a "Lifetime guarantee," but this only applies to the lock's finish. Electronics, on the other hand, are only warrantied for one year.
Bottom Line: Is the Kevo Worth it?
While the Kevo seems to be a quantum leap forward in deadbolt lock technology, and can also add a little bit of convenience to your life, there are some fairly big concerns.
First, the price is extraordinarily high—about seven-times the cost of a traditional deadbolt lock. Next, support is not available for Android, Blackberry, or Windows phones, though these platforms are currently under development. This means that unless you own an iDevice, you'll be forced to use one of the two included fobs. This doesn't sound like too big of a deal at first, until you realize that software security updates can only be transmitted via phone, leaving you without these important upgrades.
From a security standpoint, you can rest assured that your Kevo lock will never be "hacked," but there are hundreds of online reviews and YouTube videos that show how easily the mechanical lock can be picked—in some cases in as little as 10 seconds. Apparently, this is primarily due to the use of the lock's telltale SmartKey slot, and an interior that is constructed of cheap, low-grade aluminum. And until these materials are updated to heavier gauge materials, such as standardized brass, this will continue to be a major issue.
So, if you're thinking about purchasing a Kevo lock; is it worth it? Based on our research, the answer is: It depends. While the Bluetooth hands-free technology can certainly add a little convenience to your life, the ease with which the lock can be bypassed is certainly disconcerting. If you live in a gated community or have other in-home security features (such as an alarm system), the Kevo may be a solid option. However, if you're looking to use it as a primary security feature, you may be better served by a traditional deadbolt lock.
Won't work with Android

By Skip S.

,

Winter Haven, FL

,

Oct 14, 2019
Verified Reviewer

Like many others here in Traditions, we have a KEVO lock on our front door. There is a pending update for it but I just found out that it isn't compatible with our Android Motorola Cell Phones (which we love). So I can't update our lock. Just a note to everyone to find another front door lock company that has working tech that you can actually USE and not this junk. NEVER AGAIN. Heck, I was going to get one for our garage door; but no more. It only worked part of the time anyway!

Bottom Line: No, I would not recommend this to a friend

---

Advertisement

---