Kids Live Safe Reviews
Claimed This company has claimed this profile, is getting alerted on any new customer reviews entering this page, and may engage in dialogue with its customers to address their matters.

Companies cannot pay money or provide goods in order to remove or alter customer reviews.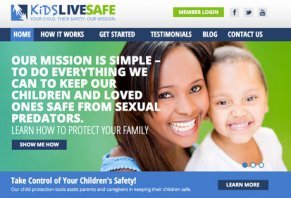 Kids Live Safe claims to help keep your child safe from sexual predators by providing you with a list of offenders in your area, in addition to email alerts and other features.
---
Updated review

initial bad experience but they were able to fix it

By Deed

,

Texas

,

Apr 8, 2016
Verified Reviewer

Overall Experience:

I initially had a bad experience with customer service but I was able to have it taken care of by the support manager. Thank you.

Bottom Line: No, I would not recommend this to a friend

Apr 8, 2016

Thank you taking the time update your comment; we are very happy we were able to resolve this situation to your satisfaction.

-Kids Live Safe, Member Support Staff

Previous review
Apr 4, 2016

Complete rip off, there are other free apps

I called them on the seventh day, and they still charged me the $30. I called and spoke with one of the most rude customer service people I've ever come in contact with. They talk over you if they don't agree with what you're saying. I then talked to the supervisor who pulled up my phone call, all of my information, had my location where I called from and even the IP address to the device. Talk about privacy violation. I didn't authorize them to collect such information. Anyway, he then proceeded to tell me everything under the sun in order to not give a refund. Don't do business with these vultures, they will rob everything you have.

(

read more

read less

...)

---

$30 monthly charge lowered to $2.95 per month when I called to cancel.

By M Mitchell

,

Florida

,

Feb 15, 2016

Overall Experience:

Apparently I signed up for the $1 per day for 7 days in November 14. Shame on me for not noticing but they have been billing my AMEX card $30.00 per month.

After multiple requests to cancel, the agent I spoke to said he would offer the service at their cost of $2.95. I should probably do it but with the tone, the lack of professionalism and the absolute grind of going though the cancelation, I think I'll pass.

Bottom Line: No, I would not recommend this to a friend

Mar 16, 2016

Hello M. Mitchell,

We are sorry for experiences and welcome the opportunity to resolve these issues. We do offer our service on an introductory trail basis and it does renew at a monthly rate unless cancelled but in no way want our customers to find it difficult to cancel. Cancellation can occur 24 hours a day, 7 days a week via our automated system and our customer service department is available at 1-800-831-9235 between 5 a.m. to 9 p.m. PST 7 days a week. We are sincerely sorry the customer service you received was unsatisfactory and would welcome the opportunity to rectify this situation. Please contact us and let us know what we can do to resolve this situation to your satisfaction; we are always happy to help our customers.

---

Advertisement

---

DO NOT recommend this service.

By Colleen Tandiama

,

Des Moines, WA

,

Feb 10, 2016

Overall Experience:

Very pushy customer service representatives. Charge you $29.97 a month. You go to cancel and now it's only $2.97 a month. Takes 5-7 days to get a refund. You can get FREE sex offenders alert through your county sheriff.

Bottom Line: No, I would not recommend this to a friend

Feb 15, 2016

Dear Colleen Tandiama,

We are saddened to hear that you are dissatisfied with the customer service. Our goal is to make sure all customers are completely satisfied with how we resolve each situation and invite you to reach out to us by phone so that we can discuss this matter further. It does appear as though we have issued a refund of the monthly fee. The time it takes for the refund to post to your account is dependent on the way in which your financial institution processes refunds. We do apologize that we have not been able to resolve this situation to your satisfaction.

Please call us 7 days a week from 5 a.m. to 9 p.m. at 1-800-301-5905 and ask to discuss this matter with a supervisor. If for some reason a representative or a supervisor is not available, simply leave us a detailed message and we will get back to you as soon as possible.

We thank you for the opportunity to resolve this situation to your satisfaction.

---

Kids Live Safe is the predator

Overall Experience:

This site is the predator, they prey on old stupid people that thought they were only donating a dollar for a good cause, but I have no use for this service as all my children are grown. I thought I was just donating a dollar. And then I got off the site and never got back on it. Next thing I know, they took my last 30 dollars out of my account. Now I will have no groceries and no job because I can't put gas in the car to go to work. Pretty sorry if you ask me.

Bottom Line: No, I would not recommend this to a friend

Jan 11, 2016

Dear Medina Hutton,

We are saddened to hear that you are dissatisfied with our service. We show that you have contacted our member service department and appears as though we were able to resolve this issue. Our goal is to make sure all customers are completely satisfied with how we resolve your situation and invite you to reach out to us by phone so that we can discuss this matter further.

Please call us 7 days a week from 5 a.m. to 9 p.m. at 1-800-301-5905 and ask to discuss this matter with a supervisor. If for some reason a representative or a supervisor is not available, simply leave us a detailed message and we will get back to you as soon as possible.

We thank you for the opportunity to resolve this situation to your satisfaction.

---

Advertisement

---

Scam

By Judy Rockett

,

Kingston, MA

,

Nov 15, 2015

Overall Experience:

I was very disappointed to learn that this is just another scam to get the consumers credit card info and steal from their account. Shame on them for using the safety of innocent children as a scam.

Bottom Line: No, I would not recommend this to a friend

Jan 11, 2016

Dear Judy Rockett,

We are saddened to hear that you are dissatisfied with our service. Our goal is to make sure all customers are completely satisfied with how we resolve your situation and invite you to reach out to us by phone so that we can discuss this matter further.

Please call us 7 days a week from 5 a.m. to 9 p.m. at 1-800-301-5905 and ask to discuss this matter with a supervisor. If for some reason a representative or a supervisor is not available, simply leave us a detailed message and we will get back to you as soon as possible.

We thank you for the opportunity to resolve this situation to your satisfaction.

---

Scam

By John Daniels

,

Albuquerque, NM

,

Sep 17, 2015

Overall Experience:

This is a scam and you can get better updated info for free. You have to call them in order to cancel. Scam job.

Bottom Line: No, I would not recommend this to a friend

---

Free Should Mean Free, Not $1.00 For 7 Day "Trial," Then $29.95.

By Kay Cunnin

,

Sep 1, 2015

Overall Experience:

This site "claims" to give "free" sex offenders searches, all "free" for $1.00 for a 7 day "trial" period, then $29.95 for a subscription. There is nothing "FREE" about this website. False advertisement, false information that's "available", and completely misleading to people trying to find out pertinent information that could possibly affect our children. How dare this site even claim to be "free" yet charge for the "reports". This site will be reported to the FTC, Federal Trade Commission, the Internet watchdogs, among other governing agencies that oversee these supposedly "free" websites. My advice, go to your local sheriff or police department and ask for a truly "free" report, and DO NOT give your credit card information. Fortunately, I didn't fall for the "free for $1.00" nor did I give my banking information. This site should be ashamed of itself, there is nothing "free" about this website. This site will be investigated for False Information and Advertisement, Misleading Information and Advertisement, and potential Scamming of unsuspecting person(s) that give their credit card information, only to be billed continuously, without the possibility of refunds. How dare this website!

Bottom Line: Yes, I would recommend this to a friend

Jan 11, 2016

Dear Kay Cunnin,

We are saddened to hear that you are dissatisfied with our service. We do offer free searches on our website, the goal of this is for the customer to determine if the personal record they are looking for is on the site prior to registration. Our goal is to make sure all customers are completely satisfied with how we resolve your situation and invite you to reach out to us by phone so that we can discuss this matter further.

Please call us 7 days a week from 5 a.m. to 9 p.m. at 1-800-301-5905 and ask to discuss this matter with a supervisor. If for some reason a representative or a supervisor is not available, simply leave us a detailed message and we will get back to you as soon as possible.

We thank you for the opportunity to resolve this situation to your satisfaction.

---

Unprofessional and shady!

Overall Experience:

I'm not happy with the site or the unprofessional customer service rep. This is a scam and you can get better updated info for free.

Bottom Line: No, I would not recommend this to a friend

---

Incomplete

By John Smith

,

Memphis, TN

,

Jul 29, 2015
Verified Reviewer

Overall Experience:

As a sex offender, I am not listed in this database, so their information is not reliable.

Bottom Line: No, I would not recommend this to a friend

---

Scam

By Anonymous

,

Texas

,

Jul 26, 2015

Overall Experience:

My mother never signed up for this and was charged $29. We're unsure how they got her debit card information. You don't need to pay these people money to tell you where sexual predators are. It's open source and public record! Scam.

Bottom Line: No, I would not recommend this to a friend

---

Overall Experience:

Do not sign up even for their $1 seven day trial. They say to call to cancel or email and I did and got charged $29.97. They give no predator information of your area. It's a bogus money making scam. Stay away from this company. When you get an email from them and try to send them a response it's all mumbo jumbo symbols. They are a rip off company. Stay with your local police updates for FREE!

Bottom Line: No, I would not recommend this to a friend

---