Kin Insurance Reviews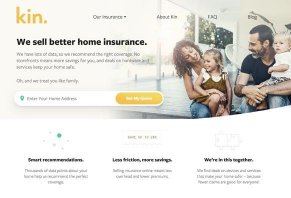 Kin is an insurance website where you can get quick low- and high-dollar quotes for policies provided third-party insurance companies, as well as add on specific coverages to your policy.
What Is Kin Insurance?
Kin is a homeowners insurance company who offers home insurance policies for residents of Texas and Florida, providing multiple add-ons to further insure your home, other structures on your property and those who live around your home.
The company is based in Chicago and was founded in 2016 by Sean Harper, Lucas Ward, Sebastian Villarreal, Stephen Wooten and Jason Heidkamp.
Everyone but Heidkamp is still part of the Kin team. Harper is the CEO and is also a graduate of the Booth School of Business at the University of Chicago. His background is in payment process – he was chief product officer at 2Checkout and director or breadcrumb payments at Groupon.
As we mentioned earlier, the company's two coverage states are Texas and Florida, a pair of places were hurricane damage tends to be severe, especially in the past few years. They offer several different types of coverages you can add on to your basic policy.
Over the course of this review, we're going to examine the various aspects of what their homeowner's policies offer, using my home address as a template for their pricing. We'll also cover how the company's pricing compares to other websites where you can buy a policy online.
Pro tip: Kin is a broker, which means they're selling you policies from other companies.
Kin Insurance Quotes and Services
To get a feel for what it would be like to come to the site as a consumer looking for a quote, I plugged in my address to get a quote for a policy for my home.
In a matter of seconds, Kin gave me a pair of quotes: "Least Expensive" and "Responsible."
"Least Expensive"
The Least Expensive option was $555 a year, or $46.25 a month. This plan is designed for someone who doesn't want to pay high premiums and only wants a plan that they'll use in the event that their home is totally destroyed.
As a result, your deductible for non-hurricane damages is $2,500, while the hurricane deductible is 10% of your home's value. According to financial site smartasset, the average sale price of a home in Florida in 2018 was $200,000. So, if your home is damaged due to a hurricane (not including flooding), then you'll pay $20,000 out of pocket for the repairs.
This coverage doesn't include "Other Structures," which means that you'll have to pay out of pocket for damaged things like sheds, fences, driveways and structures not attached to the actual house.
» For Further Reading: Does Home Insurance Cover Hurricane Damage?
"Responsible"
Unlike the Least Expensive plan Kin presented us, the Responsible option included Other Structures coverage, five times the liability coverage, a deductible that was $1,500 cheaper and 2% hurricane deductible as opposed to 10%.
Basically, Kin's description sums this plan up well: "This is good for people that want the highest coverage."
What we found interesting about Kin's quote is that, when you click on the option to customize your quote, you'll have to submit an email and then answer a series of questions. Here are those questions, word-for-word:
Is the residence under construction or major renovation, or does it have unrepaired damage, including hurricane or flood damage?
Do you currently have insurance on this home?
Is there a dog living at this residence?
Is this property listed on any rental websites like Airbnb, FlipKey, HomeAway, VRBO or similar?
We were curious about the dog question, so we responded "Yes". We were then asked if our dog's breed was on a list they presented us.
We said that our dog was on the list. When we clicked through to the next page, Kin informed us that we weren't eligible for insurance. Based on our answers, we believe they denied us because our fictional dog was on their list of dangerous breeds.
This isn't unusual, though. Some insurance companies will allow you to have dangerous breeds because they'll cover injuries those dogs inflict on people. Kin, however, won't cover you at all.
According to InsuranceQuotes.com, more than one-third of all homeowners insurance claims in the U.S. are due to dog bites. So, it makes sense that Kin would avoid these situations, especially because dog bits could lead to lawsuits and costly attorney fees.
The Types of Insurance Kin Offers: Dwelling, Coverage B-F
The basic insurance you get when you purchase homeowners insurance is called "dwelling insurance." It covers your home in one of two ways: actual cash value and replacement cost.
Actual cash value price, according to Kin stipulate that, in the event of a claim, your home will be fixed and valuables replaced based on their depreciation.
So, if you put premium siding on your home 10 years ago and the value of that siding dropped by half, then the siding used to replace your home will equivalent to half the value of your siding, not the original value.
The other type of dwelling insurance is replacement cost. This type of policy will utilize building materials of "like kind and quality," Kin notes. This means that, if you or your builder used premium materials to build your home, then your insurance company will pay, in theory, for premium materials to repair your home.
Kin offers the latter: replacement cost. While this type of coverage tends to be more expensive, it ensures, more or less, that your home is repaired with the quality materials with which it was built.
The remaining coverages that you can add to your dwelling insurance are known by their letters: Coverage B, C, D, E and F.
Coverage B: Other Structures
We mentioned this one earlier. This added protection is meant to pay out if structures that are not attached to your home are damaged. Kin says that your "other structures" are covered up to 10% of your home's value. So, if your house is worth $200,000, then your insurance company may pay up to $20,000 on a Coverage B claim.
Coverage C: Personal Property
This part of your coverage is an add-on that will compensate you for the personal items within your home or other structures that are destroyed or damaged. Kin notes that some of the items included in personal property are:
Clothing
Furniture
Electronics
Jewelry
Recreational equipment
Should a fire destroy your home, for example, Coverage C is what you'll use to replace your belongings. You'll have to provide a list of what was destroyed, which can be tough to do in the wake of losing your home. We suggest using an app like HomeZada to photograph and record all of your personal belongings.
Coverage D: Loss of Use
This coverage is designed to pay for the expenses you have when your home is damaged or destroyed and you are displaced. Some of the things that are covered, the Kind website says, are temporary accommodations, pet boarding as well as any restaurant or grocery expenses you have that go beyond your normal monthly spending in those categories.
Coverage E and F: Personal Liability and Medical Payments
This area covers you for injuries that happen to other people as the result of your property. The example Kin uses is a situation in which a handyman comes to your house and, during the course of his repairs, a bookshelf falls on him and injuries result. He decides to sue.
Kin's Coverage E covers up to $500,000, which can be applied to medical bills (Coverage F), attorney fees and any monetary judgements the court grants the plaintiff.
A Look at Consumer Reviews of Kin
We did a quick check of company reviews left on various sites and found most of them to be positive. However, we did notice that, on one particular site, all of the company's one-star reviews have come in the past seven months.
Those negative reviews came in the context of many positive ones, yet many of them had one complaint in common: cancelled policies.
Kin requires something called a four-point inspection of your home and, if you don't pass the inspection, they can cancel your policy. From what we read, it seems best for you to get your Kin four-point inspection done as early in the process as you can so there aren't any surprises down the road.
How Kin's Rate Quotes Compare to Other Companies' Quotes
We did a quick search of insurance companies to get quotes for our analysis and discovered that only Geico and Progressive gave us quotes:
Geico: $1,229
Progressive: $1,481
Allstate and State Farm told us either to call one of their agents to talk about a policy, while Farmers informed us that they didn't offer policies in Florida.
To us, it's pretty clear that Kin's coverage is cheaper, but it's really important to keep in mind that Kin's quote is a basic one and doesn't include information that the other sites asked for. For example, both Progressive and Geico wanted to know which type of roof our home had and when the roof was installed.
These are the kinds of questions that Kin left out so It's important to take to heart the site's disclaimer that their quotes are based on limited information and are not rock-solid estimations of what you'll pay.
The Final Word: Pros and Cons of Kin Insurance
Based on our research, we believe Kin's greatest strength is that you can get your insurance online quickly and, according to our quote, their prices seem to be much more competitive than what you'd find at a big insurance company like Geico or Progressive.
We also like that their "Responsible" plan includes $500,000 of personal liability coverage, something that could come in handy in the event that a neighbor, friend or stranger hurts themselves as a result of something on your property.
The downside to the site is that coverage is, at the time of publishing, limited to Texas and Florida. In one sense, that's a good thing because Florida and Texas are vulnerable to hurricanes, depending on where you live in those states.
Another disadvantage we see is that Kin is a new company and, at this point, consumer reviews are minimal, although positive (minus a spat of recent negative reviews). Much of what makes an insurance company worth its premiums is how they handle claims, so keep that in mind as you consider using them for your homeowners insurance policy.