Kloverbox Reviews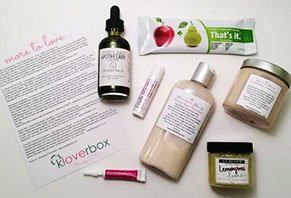 Kloverbox is a monthly subscription service that delivers eco-friendly and organic beauty, lifestyle, and nutrition products directly to you door each month.
About Kloverbox
Kloverbox is a discovery commerce company that sends monthly, expertly curated boxes of eco-friendly, natural, cruelty-free, and organic beauty, lifestyle, and nutrition products to your door.
Each Kloverbox is claimed to help replace products you currently use with "conscious alternatives" that can allow you to "live naturally and organically." You'll also receive a card (with a handwritten message on the envelope) outlining each product in your Kloverbox, in addition to discount codes for additional savings.
Receive cool new products each month that can help you live more eco-conscious—and pay a lot less than retail? Yes please! Kloverbox might be a good deal, but there are definitely some things you should keep in mind.
What Is Discovery Commerce? Is It Popular?
According to The Digital Marketing Glossary, discovery commerce (also known as discovery retail or subscription commerce) is "an ecommerce activity by which consumers subscribe to periodically receive a box with new products or samples," usually within the "beauty, apparels and food sectors."
In layman's terms? You pay a monthly fee to receive regular shipments of product samples, for less than what you'd pay at retail.
We've reviewed many of the most popular discovery commerce companies, such as Flaviar and Club W, as well as very similar options to Kloverbox like Conscious Box and Birchbox.
Across nearly 100 HighYa reader reviews (as of 9/2/15), these companies received a variety of consumer ratings. Some seemed to look forward to receiving their new products each month, the unique variety of products included in each box, and good customer service in the event of a problem.
On the other hand, common complaints appeared to revolve around mediocre products (or products that provided little-to-no value), late shipments, and poor customer service (usually, difficulty cancelling subscriptions).
Will you experience the same with Kloverbox? Let's keep reading to learn more.
Customer Feedback for Kloverbox
Kloverbox, based out of Saint Charles, IL, has been in business since 2014, although they weren't listed with the BBB at the time of our research.
Nearly all online Kloverbox reviews we found were from independent bloggers, some of which provided reviews in exchange for free boxes. Others were actual Kloverbox subscribers, many of whom had been using the company since they first opened their doors.
Overall? Most subscribers appeared to be pleased with Kloverbox. Common compliments were that the value of the items exceeded the cost of the subscription, and that each box featured attractive packaging with nice colors and finishes.
However, many subscribers didn't like that most of Kloverbox's products are beauty-related (we'll come back around to this shortly). Also, more than one blogger claimed that their boxes had begun arriving increasingly late each month.
Considering Kloverbox? Let's find out how much a subscription will cost you.
Kloverbox Subscription Plans
Kloverbox products are available through 3 different subscription plans, including free shipping:
Monthly Subscription: $25 per month
3-Month Subscription: $23.75 per month ($71.25 total)
6-Month Subscription: $22.50 per month ($135 total)
Important note: Kloverbox's 1-month and 3-month options are recurring, which means you'll continue being billed until you call to cancel. The 6-month option is a one-time purchase.
Regardless of your subscription plan, all sales are final. No refunds.
Is Kloverbox the Right Subscription Service for You?
It seems that most customers were pleased with their Kloverbox subscriptions, but we noticed a couple important things during our research.
Lots of Beauty Products: Kloverbox claims their shipments include "beauty, lifestyle, nutrition, and healthy home products." But based on past boxes shown on Kloverbox's blog (as well as online customer reviews), it appears that they lean heavily toward beauty products, with an occasional nutrition (e.g. various energy/nutrition bars) or lifestyle (e.g. candles, small pouches, etc.) product.
So if you're just mildly interested in trying out new beauty products, Kloverbox might not be an ideal choice.
Company Information: Despite the fact that the company had been in business for more than a year at the time of our research, there wasn't a whole lot of information about Kloverbox online—including the Better Business Bureau.
Kloverbox didn't provide very much detail about themselves on their website (or about their boxes, other than the blog), which is much different than many of the other discovery commerce companies we've reviewed in the past.
For example, we didn't learn that each box includes a card that 1) explains each product and 2) provides discount codes for additional savings on these products until we read Kloverbox reviews on third-party websites.
As we mentioned though, most customers seem pleased with Kloverbox, so it's likely that you will too. Before going all in, we might recommend signing up for a 1-month subscription and testing out the service. Then, if you're pleased with everything, you can sign up for a longer 3 or 6-month subscription plan.
You know what we think about Kloverbox. Now, it's your turn! Tell the world about your experience, and help consumers all around the globe make more informed buying decisions!
Image credit: Kloverbox – February 2015 Box
1 out 2 people found this review helpful

Scam

By Carla

,

Buffalo, New York

,

May 2, 2016
Verified Reviewer

This box is a scam. Customer service is lacking and they don't reply to their emails. If you complain on their social media sites (because they won't reply to their emails) they block & ban you from their pages. They are quick to take your money but won't help after. They should be ashamed.

Bottom Line: No, I would not recommend this to a friend

---

3 out 6 people found this review helpful

WHAT A SCAM

By Sarah

,

Washington, D.C.

,

Oct 31, 2015

I have never encountered a more deceitful scam in my life! I ordered the Kloverbox in late August as a birthday gift for my mother with the intention that it be delivered in mid-September. Upon ordering, I checked the account to find out that the first box isn't due to be sent until the end of September -- AFTER when I wanted it and MORE THAN A MONTH after I had placed my order.

I contacted their customer service to find out when the first delivery on my order was expected, to confirm that I wasn't mistaken. When I got no response AFTER TWO WEEKS, I canceled my order.

Despite my cancellation, Kloverbox fraudulently processed my original order and I received a shipment notification 3 weeks after canceling. Upon emailing the company twice to inform them that I in fact had canceled the order, and having received no response, I disputed the charge on my credit card. When the shipment inevitably arrived in the mail (because apparently no one actually works at this horrible company), I wrote "return to sender" on the box and placed it back in the mail.

However, Kloverbox had the audacity to challenge my dispute of its fraudulent charge on the credit card! How absolutely ridiculous -- it seems the only way to get a response from the company is through the billing department! I am horribly disappointed and will be sure to inform everyone I know to stay away from this company, as it is a complete scam.

Bottom Line: No, I would not recommend this to a friend

---

Advertisement

---