Kool Grill Reviews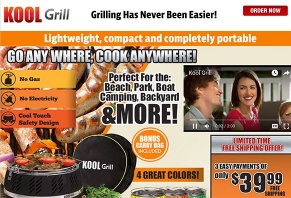 The Kool Grill is an "As Seen on TV" portable charcoal grill that relies on a unique, fan-powered design that allows for portable cooking, no matter where you might be.
About Kool Grill
The Kool Grill bills itself as a portable alternative to heavy, bulky barbecue grills that require lots of maintenance and upkeep. According to the manufacturer, the grill requires no gas, no electricity, and can be taken just about anywhere as a result.
The manufacturer claims that the grill features a double wall layer, allowing it to stay cool to the touch even while in use. They also claim that the entire grill is dishwasher safe, stating that it quickly comes apart for easy cleaning and storage.
The Kool Grill comes in 4 different colors, including yellow, orange, green, and standard black.
The grill also features a draining bowl that collects excess fat from whatever it is that you're cooking, which the manufacturer claims can help keep meals healthier and cut down on fat consumption in the food.
This is potentially notable because many grills tend to have excess fat buildup that occurs over time, whereas the Kool Grill should potentially be able to sidestep this issue entirely, leading to lean, healthy meals that taste better because of it.
At the end of the day, though, it's still just a grill, right? What exactly makes the Kool Grill so special? Let's find out.
What Makes The Kool Grill Different From Other Grills?
It doesn't take very much effort to discover that there are a variety of different "portable" charcoal grills on the market currently. A simple search on Amazon or Google turns up literally hundreds of results, and it isn't hard to pick out similarities between the various models.
The Kool Grill does tend to stand out, however, for its unique design and form factor, as well as its unique fan-powered method of operation.
At $120, there are certainly cheaper portable charcoal grills out there that will get the job done, but almost none of them seem to include the features and conveniences that the Kool Grill affords, at least from what we could tell in our research.
Obviously, one of the key differences between the Kool Grill and more traditional grills is the portability factor provided by the unique design of the grill itself. Being able to take a travel-sized grill anywhere you go, from the beach to the woods and even while out boating or hiking could quite possibly be something that many of us find significant value in, provided the grill was able to deliver on the quality we've come to expect from our cooking appliances.
The Kool Grill features a unique design in that it can be tipped over without risking loose charcoal presenting a burning or fire hazard, as it might on other grills that don't have a dedicated capsule for the charcoal itself.
This is a potentially valuable feature for those with families, and especially small children who are more prone to accidents than others. It also makes sense in the grand scheme of the product's intended use, because a portable grill is likely to be used in situations where bumps and falls are more likely to occur.
Additionally, the grill features a unique cooking method, relying on a AA battery-powered fan and charcoal system instead of a more traditional gas or electric-based setup. All of these seem like fairly unique features on the surface, but how exactly is is supposed to work in practice?
Can you really expect the same sort of performance here that you would from a standard, full-sized grill? We'll take a closer look at both of these questions and more in just a moment.
How Does The Kool Grill Work?
Essentially, the Kool Grill features a stainless steel construction that houses an inner chamber where the charcoal is located. You only need to place the charcoal inside this container, light it using a lighter and some lighter gel, and place it down into the grill itself, clamping it shut using the metal clamps on the outside of the grills rounded edges.
Once this is done, the battery-powered fans can begin fueling the flames and heating the inner chamber, in turn rapidly heating the cooking surface. This process should take about 5 to 6 minutes, according to the FAQ on the products main website.
The manufacturer even goes so far as to state that the Kool Grill is capable of heating to cooking temperature even faster than standard charcoal grills, though we aren't told what standard was used to determine this.
The manufacturer claims that the extended cooking space on the top of the grill can accommodate up to 6 steaks, 8 hamburgers, 16 sausages and up to 20 chicken wings, and can also be used for a variety of different foods such as pizzas, popcorn, and even deserts. They also claim that the product can cook this variety of foods for up to 1 and a half hours continuously before needing to be stocked with charcoal.
Now that we know a bit more about using the Kool Grill, let's find out how much it'll cost you to get your hands on one.
Kool Grill Pricing & Return Policy
The Kool Grill is currently only available for purchase on the main website for the product. There are two purchasing options for the various colors; a one-time purchase of $119.97, or 3 payments of $39.99.
Shipping and handling is free with every order, regardless of which option you choose. Additionally, batteries, charcoal and lighting gel are not included and will need to be purchased separately in order to use the Kool Grill as it was intended by the manufacturer to be used. Lastly, each order comes with a free matching carrying case to store and travel with the grill in a convenient and organized manner.
As for the return policy, it looks as though you'll have a 30-day window to return the product from the date of receipt. The company states a few conditions in order to be able to return a product for a refund, such as stipulating that the product must be shipped in its original packaging and all bonus items must be included as well. Additionally, they state that you will be responsible for any shipping charges to get the product back to the manufacturer.
Finally, the product comes with a 1 year Manufacturers Limited Warranty. In order to claim this warranty, you'll need to reach out to customer support at 1-800-200-3111 or by email at UsaSupport@branddevelopers.com. According to the terms laid out in the FAQ, the following does not apply for a warranty claim:
Damage due to accident, misuse, abuse, commercial use or vandalism.
Improper or inadequate maintenance.
Unauthorized modification or commercial use.
Damage in return transit.
Normal wear of parts (wear and tear that occurs over time and with use).
Repairs made by an unauthorized service technician.
Keep in mind that normal wear and tear is a natural part of a product's life, so don't be caught off guard if this warranty doesn't end up covering any potential issues you might have with the Kool Grill down the line.
The Bottom Line: Is Kool Grill Right For Me?
The Kool Grill is a very interesting product, we'll give it that. It certainly isn't the cheapest grill ever made, but it's also not even close to the most expensive, especially for what you're ultimately getting.
Out of 3 reviews that came in on HighYa, 2 were rather pleased with the grill on all fronts. However, one of the reviewers expressed dissatisfaction with the grill.
That being said, we recommend you take a close look at the terms and conditions before making a purchase, keeping in mind the 30 day return policy and the 1 year limited warranty included with the grill.
Have you used the Kool Grill before? Leave a review and share your experience with others!
---
Fast and efficient

By Phillip W.

,

Auckland, New Zealand

,

Dec 29, 2019
Verified Reviewer

Overall Experience:

Best grill I have ever had. It's amazing how long a handful of charcoal lasts and how quickly it heats up. The food tastes lovely and smokey. Very easy to clean being dishwasher friendly.

Bottom Line: Yes, I would recommend this to a friend

---

Rip off

By Peter W.

,

Perth, Western Australia, Australia

,

Oct 29, 2019
Verified Reviewer

Overall Experience:

No color choice, only black or black, no temperature gauge, no cookbook. Product is cheap and nasty. I would not recommend this item to anyone and would ever buy another one again.

Bottom Line: No, I would not recommend this to a friend

---

Advertisement

---

Overall Experience:

This has been the best BBQ ever bought, and I have tried loads at our static caravan. It is light and easy to use. Food cooked perfectly medium to well done, and for us cooking within 6 minutes. Stays cool to the touch, very easy to clean that makes a change, and so little charcoal used. An unbelievable product.

Bottom Line: Yes, I would recommend this to a friend

---