Kube Reviews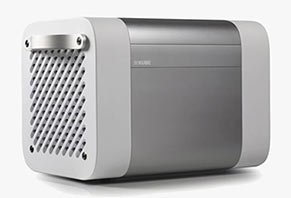 Kube from Thomas & Darden is a premium audio system that combines 400 watts of Bluetooth-connected sound with a drink storage compartment for fun on the go.
About Kube
Manufactured by Thomas & Darden, the Kube high-fidelity audio system promises to deliver 400 watts of clear, "concert-quality" sound that will "fill any space"—all while keeping your drinks ice cold.
Combining premium sound with a 33 quart, LED-lined cooler, Kube connects wirelessly to your device via Bluetooth, while its premium drivers pump out distortion-free tunes at up to 125dB.
According to the company, you'll be able to use Kube in any setting or weather due to its marine grade water resistance, and it'll run for up to 20 hours on a single charge.
Reading through Kube Sound's website, it's fairly clear to see that the device is designed with luxury and performance in mind. But is it a reasonable purchase? Who is Kube's target market?
What's Everyone Saying In Their Kube Reviews?
We'll talk more about this in a second, but the Kube cooler/speaker is currently only available for pre-order. As a result, there weren't many hands on reviews at the time of our research—and what few there were involved product demos at electronics shows.
Pro tip: It seems the original Kube prototype was released in early 2015, although the company appears to have since made several meaningful changes to its design. As such, many online reviews from this time period may contain outdated information.
On CNET, we learned that most of Kube's components are IP67 rated for water resistance, which "means you can probably hold it underwater for a while, but it's not really recommended." They also mentioned that it features a 500ft Bluetooth range and that it will deliver 20 hours of play, but only at 94dB or less.
Digital Trends got a good look at Kube during the 2016 CES and noted that it "produces an immense amount of bass" and it's "extremely loud." They liked that it streamed via Bluetooth (or a direct connection, if you prefer) and that the interface was simple. Ultimately, they called it an "all-in-one party station" that's getting tons of attention.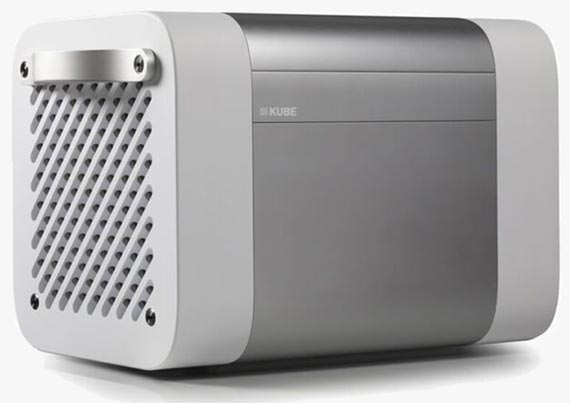 Kube combines a high-powered sound system with a discreet cooler, wrapped in a sleek, stylish design.
Macworld had the chance to attend an even at SXSW featuring the Kube sound system. Like Digital Trends, they found it played music "insanely loud," with its sound projecting up to 500 feet. They mentioned you can tell a lot of thought went into its details, and that—if you have the dough to purchase two devices—you can use one as your right channel and the other as your left for true stereo sound.
Macworld claimed Kube weighs 46 pounds, without drinks or ice inside, although Maxim put the weight at closer to 60 pounds.
Finally, according to a post on the Audioholics forum:
"The Kube is the result you get when you take the design knowledge of US company Thomas & Darden and combine it with the audio expertise of Polk Audio in one single product."
However, this partnership wasn't noted on the Kube Sound website.
Now, here's the big question: How much will you pay for this high-quality sound, flexibility, and attention to detail?
How Much Does the Kube Audio System Cost?
While Kube's original price (in early 2015) was expected to fall somewhere around $1,100, its advance price is now set at $2,999, with a $200 deposit to reserve. Shipping is expected to commence during the Fall of 2016.
According to the Digital Trends link above, everything is set for Kube's production, including tooling and parts, so you hopefully won't experience any delays commonly associated with crowdfunded projects.
Are There Other Party Coolers Like Kube?
Speaking of crowdfunding, it seems at least one other competing project was launched in the year and a half between Kube's original prototype and its release, named Coolest Cooler. While it's meaningfully different than Kube (with features like a cutting board and built-in blender) and priced much lower, it does also feature a speaker system.
Related: KANOA Headphones Review
Outside of this, if you search online for "speaker cooler," you'll find many third-party companies that take traditional top-of-the-line coolers (such as Yeti) and add waterproof speakers. You'll also find DIY instructions (see here and here as examples) to accomplish the same on your own.
Granted, none of these options will feature the fit, finish, and "cool factor" of the Kube sound system, but they'll also come with much lower prices. Let's carry this thought over to the final section.
Is Kube Speaker from Thomas & Darden Worth the Money?
At its most basic, "worth" is a question of value. Value, in turn, is largely dependent on your needs and preferences.
Do you "need" a $3,000 cooler/speaker combo? Probably not. After all, if you're simply looking to keep your beer cold while listening to music, you could likely complete a DIY project for under $200, depending on the materials you choose. Or, you could purchase a more traditional (but still high quality) standalone Bluetooth speaker.
But we don't think Thomas & Darden is necessarily targeting the DIY crowd with Kube. Instead, if you're interested in this sound system, you're likely either a) really, really into new tech, or b) have thousands in surplus cash to spend on what amounts to a party-starter.
Do you throw a lot of parties or special events, whether indoors or outdoors? Is money rarely an object when it comes to new tech? If so, you're probably not going to find anything cooler or higher quality than Kube. If you place your order, be sure to come back here and let us know your thoughts!
Beforehand though, here are a couple important considerations to keep in mind:
Will Kube's Weight Be an Issue?
At between 50 and 60 pounds (depending on the media outlet you're citing), Kube is certainly less hefty and bulky than a traditional multi-piece sound system, but it's not light. In fact, whenever you see Kube being moved in their promo video, it's always handled by two people.
So, when you see Kube resting on a dock in the middle of a lake (like on the product's website), you need to keep in mind that it probably got there by boat, and it likely took a couple people a solid heave-ho to put it in place.
What Kind of Battery Does Kube Contain?
Kube's battery can last up to 20 hours on a single charge but it's unclear what kind of battery it contains, how long it takes to recharge, how many charge cycles the battery is expected to last, and whether or not the battery is replaceable. Otherwise, you might have to spend another $3,000 to obtain a replacement.
See Also: Rowkin Mini Wireless Bluetooth Earbud​ Review