Kumon Reviews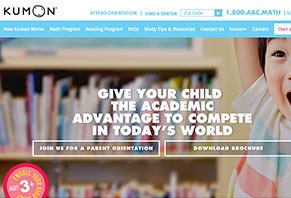 Kumon utilize step-by-step worksheets to help your child excel at math, reading, critical thinking, and other skills that can help them succeed in life.
About Kumon
In business more than 50 years with locations in 48 countries, Kumon is the largest after school math and reading program in the world. At each of the Kumon's franchise locations, instructors can help "accelerate your child's learning" through their individualized, carefully planned instruction and disciplined, worksheet-based approach, which allow your child to progress at his or her own pace, regardless of academic level.
Starting from age 3 through high school, Kumon's structured, proven self-learning math and reading programs claim to give your child "a lifetime of advantages," including a pattern of academic success, a spark for critical thinking, and help building their self confidence. In fact, many Kumon students study above their grade level, which the company claims can help them "compete in today's world."
Whether you're looking to move your child beyond their current school curriculum, or to help them catch up, is Kumon a good choice? Even if your child excels at Kumon, will this translate into real world benefits? Is it expensive? Let's start answering all your important questions by taking a closer look at the Kumon process.
How Do Children Learn at Kumon?
At the core of Kumon's methodology are their worksheets, which actively involve your child in the process, and which are "continually fine tuned to keep them relevant in the modern world." According to the company, their math program was developed from the top-down by asking: "What mathematical skills are necessary to study calculus," while their reading program is intended to reinforce reasoning, interpretation, induction, and persuasion skills.
During the week, your child will be responsible for completing seven assignments (one per day), which take about 30 minutes each. Five of these assignments will be completed at home with your guidance, while the remaining two are completed at your local Kumon center.
Worried about tutoring your child at home? According to Kumon, their worksheets teach concepts in a logical way, so your child will have a solid grasp of the fundamentals before moving ob to the next step. Furthermore, Kumon's materials are built to enhance what students learn in school, not replace it, so you'll have the insights to know "if your child is struggling with lessons – or advancing ahead of grade level." Remember this point, because we'll come back to it shortly.
Does Kumon Help With Reading?
Kumon's reading program is designed to help students of all ages and abilities conquer reading, from basic phonics to in-depth comprehension.
To do this, each student will work through a series of assignments in incremental progressions. For example, they'll first learn to make sounds. Then, they'll use sounds to form words by connecting words with familiar objects and reciting rhyming phrases.
Next, they'll use words to form sentences. This is accomplished by studying simple phrases and basic sentences, identifying subjects and predicates, and learning to define words using context clues.
Now, your child will lean how to use sentences to form paragraphs. Here, they'll start by creating compound and complex sentences, learning to understand the main and supporting ideas of statements, and developing a relationship between sentences in a paragraph, and also between paragraphs.
Finally, Kumon's reading program will move into the summary and critique levels, where you child will sharpen their logical reasoning ability and learn how to apply information gathered from text. This includes developing analysis skills and introducing story elements like plot, character, and descriptive language by exposing them to many different styles of writing.
Kumon's Math Program
The Kumon Math Program was designed to help students studying at any level, from learning to count to calculus, regardless of their current abilities, age, or grade by asking the question: "What mathematical skills are necessary to study calculus?" As with Reading, each level within Kumon's Math Program is designed to build on the previous level:
Ages 3-5 – Using engaging, colorful worksheets, your child will begin developing basic math skills like counting, writing numbers, and addition and subtraction. This with honing the fine motor skills necessary to write numbers, followed by number sequencing, developing mental calculation skills, and boosting critical thinking skills.

Ages 6-12 – At this point, your child will be introduced to more advanced math concepts like arithmetic, fractions, and decimals, including multiplication tables, single and multi-digit numbers, division, fractions, and ultimately, algebra.

Ages 13+ – Now, your child will learn advanced, high-school level math, from simple equations and quadratic equations, functions, and integrals, to differential equations. This will prepare them for calculus, college, and ultimately, their career.
How much will Kumon's worksheet-focused instruction cost you?
How Much Does Kumon Cost?
Most Kumon educational centers are franchises, so they're independently owned and operated and prices may vary. However, according to DetroitMommies, you should "expect to pay $95 – $125 per month, per subject, plus a $30 – $50 one-time registration fee."
After enrollment, your child will take a no-cost assessment to determine their best starting point. As mentioned above, upon beginning, this includes all worksheet-based assignments, as well as 2 weekly visits to your neighborhood Kumon center, where your child will complete their assignments.
Regarding these visits, we contacted Kumon customer support to obtain additional information and learned that your child will spend about 30 minutes in class (roughly the same amount of time it will take them to complete assignments at home). This time can vary though, depending on your child's progress, whether or not they have any problems that need to be addressed, questions answered, etc., which is the primary purpose of these visits.
What Is Kumon+?
Every complete month your child attends Kumon, they can earn points that can be traded in for different rewards, such as microscopes and art tools, games and sports equipment, and even the ability to make a charitable donation to a worthy cause.
All students' points are displayed on their personalized home page, along with their complete rewards catalog.
Are Parents & Students Happy with Kumon's Instruction?
If you search online for "Kumon reviews," you'll quickly find a sharp difference in opinions; it seems that reviewers either love Kumon or loathe it, with little middle ground.
For example, many of the parents interviewed in this 2011 NY Times article seemed pleased with their child's progress at Kumon. However, most of the professionals quoted in the article questioned the programs' real world usefulness. The author specifically stated, "Research suggests that there is little benefit from this kind of tutoring; that young children learn just as much about math, if not more, fitting mixing bowls together on the kitchen floor." Similarly, Alison Gopnik, a professor of psychology at the University of California, Berkeley, was quoted as saying, "The best you can say is that they're useless."
Donald Sauter, a former Kumon franchisee whose contract wasn't renewed after he claims he attempted to raise concerns about the coursework, seems to think there are many more cons than pros. Specifically, he thinks the company has an "unreasonable" approach to math:
"Above the arithmetic levels, there is hardly any correspondence between Kumon levels and school grades. For example, Kumon puts calculus before trigonometry. But that's not the reason your child will never reach trigonometry; Kumon is almost certain to weed him out long before calculus. It does this with ridiculously complicated work in polynomial factorization; in maxima and minima of every sort of function to come down the pike; and wrestling with inequalities of those functions.

… speaking from the point of view of someone who loved math and was a physics and math major in college, I found much of it very painful and of very questionable value. It's no mystery that there are long- and well-established Kumon centers that have never had a math program completer."
To this extent, MathInsider.com claims that Kumon isn't "the answer to all maths problems but it's not a rip-off or scam either." In other words, while your child could very well experience progress, it's important that you keep your expectations realistic and understand that:
Teachers may not be "qualified" to teach math (and different ones will have different personalities),
There is a lot of rote memorization involved, and
There's very often a difference between the methods taught at Kumon and what your child might learn at school.
Finally, from a company perspective, Kumon North America, based out of Teaneck, NJ, had an A- Better Business Bureau rating at the time of our research. Although there were only three closed complaints, the company failed to respond to all of them. However, none referenced the company specifically—only individual branches.
This is a modern look at Kumon's curriculum and reputation, but how did it all begin?
Who Founded Kumon Education Centers?
Back in 1954, a Japanese father and math teacher named Toru Kumon set out to help his son Takeshi better prepare for high school and college entrance exams. Specifically, he felt his son's textbooks didn't allow children to master a concept before moving on.
In order to do this, Toru had Takeshi complete short, incremental assignments each day that taught a core concept. Then, when Takeshi would master a concept, Toru would move on to a more advanced concept.
According to the company, Toru's approach was so successful that by the time he reached the sixth grade, Takeshi could solve high school level calculus problems. As parents took notice and his services increased in demand, Toru opened the first Kumon Center in 1956 in Osaka, which gained an international presence by 1958.
Today, Kumon has helped millions of learners all across the globe. But does this necessarily mean they're the right choice for you and your child? Let's wrap everything up.
Is Kumon a Good Tutoring Program?
Is Kumon a scam? Absolutely not. The company's been in business for well over half a century, most centers are independently owned and operated by hardworking franchisees, and you'll find supportive Kumon reviews wherever you click online.
Just like any other legitimate business, though—especially one that focuses on learning—what works well for one child might be a disaster for another.
For example, based on much of the professional feedback we read during our research, it appears Kumon takes a repetition and drill-oriented approach to learning; especially math. Students might repeat the same equation dozens of times before moving on, with as little explanation as possible. On top of this, students are frequently expected to complete highly challenging timed tests in order to qualify for higher levels.
Given these points, if your child prefers to have someone provide a detailed explanation of the concept behind the equation they're working on, if they require diversity in order to remain engaged, or they don't perform well during timed drills, Kumon's learning style may not be their (or your) cup of tea.
On the other hand, thousands of parents swear by what their children have accomplished through Kumon's learning centers, and claim that they're often light years ahead of their peers. Does this mean your child will be taking college-level classes in grade school, as advertised in some of Kumon's videos? While that certainly remains to be seen, just keep in mind that it will require extra time, hard work, commitment—and money—to get them there.
Also, as with any other purchase, remember to explore all your options. In addition to Kumon, there are other nationwide tutoring and after-school centers like Sylvan, online-only programs, and even options available through many school districts!
Read Next: Protecting Your Children from Cyber Bullying, Sexting, & Social Media
Bad and rude tutor

By Rohit K.

,

Melbourne, Australia

,

Dec 5, 2019
Verified Reviewer

My son goes to Kumon Ivanhoe center. The lady instructor Nora here is very very rude. She just does not let the parent talk. It's a very bad experience and so so difficult dealing with her. Never seen any teacher so aggressive and trying control. Don't know how they treat kids when they are talking to parents like that.

Bottom Line: No, I would not recommend this to a friend

---

Feed back

By Daniel M.

,

Nashville, TN

,

May 16, 2019
Verified Reviewer

It has been a couple of months since my son started attending Kumon. He started with the reading program. He improved very significantly his understanding of the articles he read and reflected of a significant improvement in his school performance. He initially hated to do the homework but later on, he developed the habit of doing his homework regularly and with no reminder from his parents. Seeing his improved performance in reading, he started the math class. The teachers are very dedicated and diligent in their work and I would say that this is the high-value service I ever found for my child. I recommend all parents to consider this as an important gift to their children.

Bottom Line: Yes, I would recommend this to a friend

---

Advertisement

---

Still taking money after stopping membership

By Ippei Y.

,

Georgia

,

May 15, 2019
Verified Reviewer

We stopped the membership 6 months ago and signed paperwork to stop Kumon. However, they took money from the bank and do not return them. They keep ignoring phone calls or texts. Currently I'm working with a lawyer for this issue. Their study program was OK, but how they handle customer's money is no good.

Bottom Line: No, I would not recommend this to a friend

---

Not a sustainable program

By Jenny B.

,

Credit View/Britannia, Mississauga, Canada

,

Apr 11, 2019
Verified Reviewer

I sent my child to the center for English Reading. The program was good for him initially, but in just less than a year, it became too difficult for him to continue. At the center, there is an inexperienced teaching staff. When the child is struggling with understanding concepts, this is not explained to them. The solution offered by the staff is to get the student to repeat the same material over and over again without understanding the concepts taught. The Kumon solution is simply, to repeat the material multiple times. The child hates doing the same material over and over again. The staff will also make a student repeat the material if they take more than the allocated time to complete each book. My child took much longer to do the material than the allocated time, as he hated doing the work and spent most of the time complaining about having to do the material. He is also a very slow writer. Kumon does not take any of these factors into account. It assumes that if a child takes longer than what they determine is acceptable then, the child needs to repeat the material. When the child repeats the material, they remember the answers not how to determine the answers.

The early levels 7A to 2A (inclusive) tests did not assess his spelling of basic words. They started testing spelling at A1 level. I noticed that even though my child moved on to a higher level, he still did not know how to spell basic words. Kumon assumes that the child will learn how to spell basic words in earlier levels which is wrong. At A1 level and beyond, the child is expected to learn how to spell about 150 words (which is excessive) in addition to the concepts taught at each level. In the material, there are no strategies explaining to the child how to answer comprehension questions.

The Kumon material also does not explain concepts well or often, provides no explanation at all. Kumon books, which can be purchased from retailers, explains concepts far better than the course material.

In some levels, there is too much for the child to learn in one level. If the child fails, they are given the same test to do. The child passes the second time, simply because they know the answers to the test not because they have learned the concepts in the level tested. This is a "false" sense of achievement for the child and the parent. But Kumon does this to make parents believe the program is working for their child.

The center offers no helpful assistance to the child and the program is 100% reliant on the parent to assist the child. So you are paying for the material $130- $150 per month.

Significant improvements need to be made to the Kumon material and the method of teaching. My recommendation is if you want to try the program, try it for no more than 8 months and then switch to another course or use the Kumon books instead, which can be purchased online.

Bottom Line: No, I would not recommend this to a friend

---

Advertisement

---

No comment

By John R.

,

Victoria, Australia

,

Feb 20, 2019
Verified Reviewer

The Kumon center which is located in Springvale is a very unsafe place mentally and physically. It is not recommended to send your children there or work there. The owner of the franchise bases in Springvale is very rude with his employees, whom he abuses verbally and physically. The students who are sent there are very rude and uneducated, always yelling and being rude towards the teachers and each other.

Bottom Line: No, I would not recommend this to a friend

---

Hate Kumon!

By Andrew L.

,

Warsaw, Poland

,

Feb 10, 2019
Verified Reviewer

Attitude to people like cattle! It is the worst conference in Warsaw! Not recommend Kumon this to a friend! Not a transparent selection!

German behavior, manners gone. The method is interesting but very bad organization and people from the German office - Thomas Ashlin. Bad, very bad!

Bottom Line: No, I would not recommend this to a friend

---

Great program!

By Geetha V.

,

King of Prussia, PA

,

Jan 15, 2019
Verified Reviewer

This program helped a lot to my son. He improved his skills (writing/reading). We started this program when he is in Pre-K. And still, he continues. I would recommend this program for all students. Great learning.

Bottom Line: Yes, I would recommend this to a friend

---

Great method

By Valentina P.

,

North Miami, FL

,

Oct 23, 2018
Verified Reviewer

My husband discovered this method of learning 6 years ago. My older son started the program in math when he was 4 years old and the program worked very good, and the kids learn to do the work by himself day by day. After more than 5 years I can observe that this is a method of consistency that requires discipline, little time and we parents have to correct the work at home, make the kids use to keep working on vacation and weekends, also the adult need to drive the kids to the center two times a week. Kumon helps the kids to focus, they notice their own improvements in time and when they go to class at school. Kumon keeps the kids motivated.

We also made our youngest son start when he was 4 years old.

I don't see Kumon like a tutoring system because I believe that if they start before kindergarten, the kid is used to do this little work every day before they start the school homework. This method, in my opinion, is a long-term program to improve the kids' capacity of learning.

I hope you like it too!

Bottom Line: Yes, I would recommend this to a friend

---

Terrible ownership

By Kiril M.

,

Hoffman Estates, IL

,

Oct 7, 2018
Verified Reviewer

The place is very bad and dirty, the owner took an over $700 deposit and after only one lesson refused to refund. My kid did not like the place, it was dirty and stinky.

Kids sit there and solve same problems for hours, no logical education. The place is a total scam and the corporate office did not help since it's a franchise business.

Bottom Line: No, I would not recommend this to a friend

---

The experience was addictive

By Ema G.

,

Brooklyn, NY

,

Sep 19, 2018
Verified Reviewer

My child has been attending Kumon at the Bay Ridge center and I can easily say that this program is worth every penny. My son started at the beginning of first grade and his reading level was barely a C, and he is not even 100% coveted when it comes to homework, but he can read a level J now. I am very pleased with this learning center, and it has become addictive and hard for us to leave it. Thanks to these wonderful teachers.

Bottom Line: Yes, I would recommend this to a friend

---

Very pleased

By Naira S.

,

Boca Raton, FL

,

Sep 18, 2018
Verified Reviewer

As an ex-Kumon student, I absolutely recommend the program. Kumon just gave me that extra confidence that I needed to succeed in math. Now my daughter goes to and in less than 9 months in the reading program she already improved 100% and calls the homework from school too easy. I am happy for my experience and sad that some people did not get to have the same.

Bottom Line: Yes, I would recommend this to a friend

---