Kuna Reviews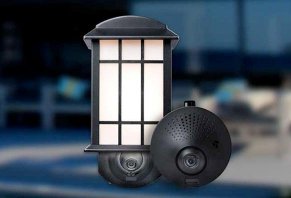 Kuna Smart Home Security offers three easy-to-install security lights that feature 720p cameras, weatherproof construction, and instant alerts when motion is detected.
What Is Kuna?
Kuna's proprietary technology powers a line of outdoor home HD security cameras and smart lights that can help you prevent break-ins and can be controlled anywhere from your phone.
Whether it's your front door, back door, or side entrance, Kuna provides a live video feed that helps you keep an eye on your house, your pets, and your vacation home or small business, and can even alert you when family comes home—regardless if it's day or night.
Once an activity is detected, Kuna will send advanced alerts that allow you to decide how to respond, whether it's playing a pre-recorded message, speaking with the visitor, sounding an alarm, or calling the police. All video recordings are stored in a secure cloud for later viewing.
You want peace of mind, but you also want to make sure you're getting the most value from all your purchases. From this perspective, does Kuna offer everything you need, or should you consider the competition?
Let's start off by taking a look at Kuna's lineup.
Which Products Does Kuna's Technology Power?
All Kuna-powered devices come with standard features like:
720p, 116-degree angle camera (manually-adjustable up to 40 degrees left-right, up-down)
Full-color video that uses the light bulb for nighttime illumination
Two-way intercom
100+ decibel siren
Passive infrared sensor that detects change in motion
Weatherproof design (Rated IP44 for snow, rain, and humidity)
Continuous power, so there's no need to replace batteries
15-min installation
The ability to automatically play a pre-recorded message or chime as soon as someone is detected (optional)
Ignores trees and small animals, and will learn and get smarter over time
Records 10 seconds before an event is triggered and you're notified
No limit on the number of cloud recordings
2-hour "lookback" window for captured events, as well as three downloads per month
In order to view the video transmitted by your Kuna product, you'll need to connect to a Wi-Fi signal. This then feeds the information to your device.
Kuna's smart lighting products also integrate with Alexa, although as of this writing, the only skill you could create was turning all connected lights on or off at the same time.
With these similarities in mind, let's take a look at some of the meaningful differences between Kuna's products.
Toucan Surveillance Kit
Instead of a standalone unit, Kuna's Toucan Surveillance Kit pairs a smart socket USB adapter with a USB powered HD camera that retrofits into your existing outdoor light. The website claims the process works over three steps:
Install the Smart Socket by screwing it in like you would any standard light bulb.
Connect the camera's USB cable.
Pair with smart device.
Pro tip: Keep in mind that Toucan's smart socket appears to add about two inches to the overall length of the light bulb, so you might want to make sure that your existing light can accommodate this extra length.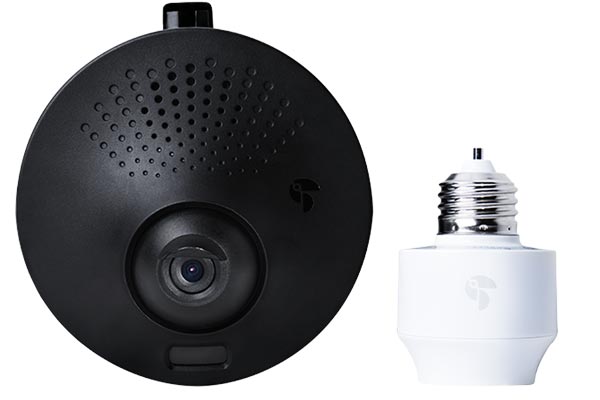 Kuna's Toucan Surveillance Kit works with your existing outdoor lighting to add security functionality. Image credit: Kuna Systems
Maximus Smart Security Light
Instead of a retrofit device, Kuna's Maximus Security Light features a smart Wi-Fi camera built into an elegant outdoor light fixture. The company's website tells us you just have to replace your old light fixture and use the existing wires, making it ideal for the front door, back door, and garage areas.
In order to match different decors, Maximus is available in Craftsman, Traditional, Contemporary, and Coach designs.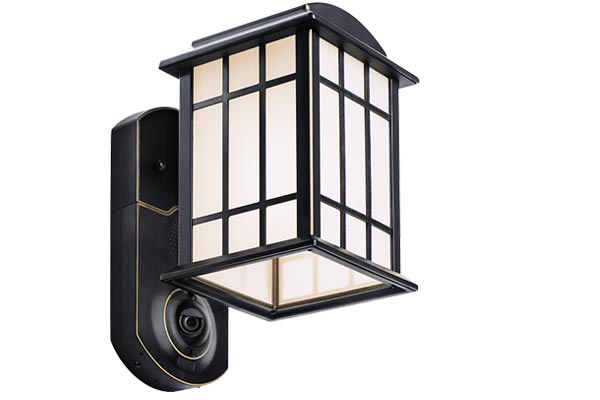 Kuna's standalone Maximus Security Light replaces your existing light and is available in a variety of designs. Image credit: Kuna Systems
Maximus Companion Light
In a nutshell, Kuna's Companion lights are designed to look exactly like their Maximus brethren, but without the functionality of a camera or two-way intercom. They sync with Maximus via Bluetooth and turn on and off at the same time.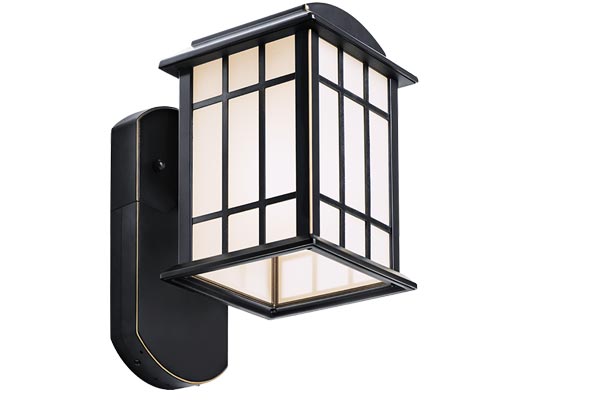 As you can see, Kuna's Companion lights are designed to match their Maximus lights, without a camera or intercom. Image credit: Kuna Systems
How Does Kuna's App Work?
Kuna's app is where all the heavy lifting is done, including receiving notifications, viewing the live HD video feed, play an automatic greeting, speak to the person at the door, call 911, blast the siren, and interact with Alexa.
Inside the app, you can also download and share videos, adjust the motion detection sensitivity, change light settings, and turn off notifications.
In order to use Kuna, you'll need to own an iOS device running iOS7 and above (iPhone 4S and above and iPads enabled with Bluetooth 4 capability), or an Android device supporting Bluetooth LE: 4.3 (Jelly Bean) and above.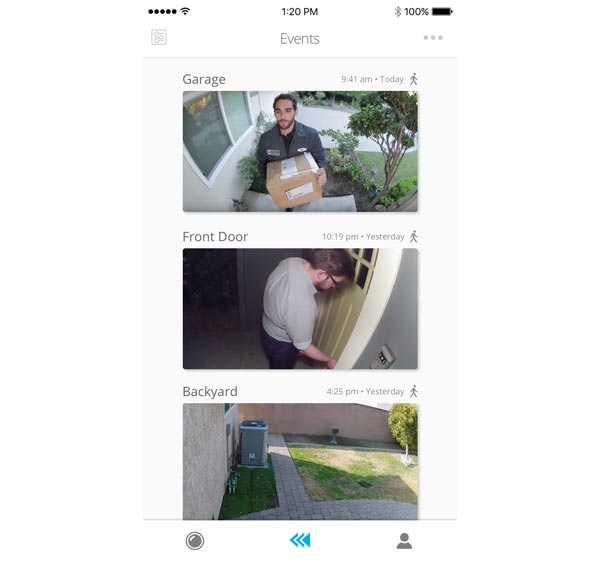 Among other features, Kuna's app provides a timeline view showing recent events and their video clips. Image credit: Kuna Systems
How much will this technology cost you?
How Much Do Kuna Smart Security Devices Cost?
Kuna's devices, which are currently only supported in the US and Canada, are priced as follows, including free shipping:
Toucan Surveillance Kit: $149.99
Maximus Smart Security Light: $179
Companion: $70
Kuna's lights can also be purchased online and locally at retailers like Amazon.com, Home Depot, Lowe's, Best Buy, and Walmart (in some instances, for less).
It's important to point out that, if you're looking to download more than three videos per month, or to review, rewind, and download for up to 30 days (versus two hours), you'll have to sign up for Kuna's Premium Plan at $4.99-29.99/mo, depending on the number of devices and whether you choose to pay monthly or annually.
With the Premium Plan, you'll also gain access to lifetime theft protection, priority support, and 5%-15% discounts off future device purchases. There are no contracts or hidden fees, and you can cancel at any time.
All Kuna-powered products come with a 60-day money back guarantee, less S&H charges, along with a one-year warranty against defects in materials and workmanship when used normally.
Support can be reached at (888) 804-5862 or support@getkuna.com.
Do Kuna Light Products Come With Positive Customer Reviews?
On Amazon, Kuna's Maximus light had well over 600 customer reviews and an average rating of four stars at the time of our research. There, most compliments related to ease of installation, quality audio and video, the lack of batteries and cords, and its intuitive app.
Several common complaints referenced less-than-stellar nighttime picture (usually related to excessive glare), along with a delay seeing who's there (often accompanied by a black picture lasting for several seconds) when going to live mode in the app. More than one also complained about the $60/year cloud fee for improved functionality.
On both iTunes and Google Play, Kuna Smart Home Security's app had an average rating of three stars. Many claimed to have experienced ease of use and solid functionality, while others reported laggy video, delayed notifications, and bugginess.
As a company, Kuna Systems, based out of San Bruno, CA, was co-founded in 2012 by CEO Sai-Wai Fu and CTO Haomiao Huang.
Sai-Wai previously founded YesVideo, and Haomiao has extensive experience in robotics, computer vision, machine learning, and sensor networks.
From a professional perspective, Kuna's Security Light received 3.5-star average ratings from CNET, Tech Hive, ASecureCam.com, as well as PC Mag.
Most of these popular media outlets reported that the Kuna Security Light looked nice, was easy to install and use, delivered sharp HD video and motion-activated recording, clear two-way audio, and an intuitive app.
In short, many recommended it if you're looking for a no-hassle way to keep a closer eye on unexpected visitors.
On the other hand, common complaints were the lack of dedicated night vision that didn't always capture low-light conditions well. Similarly, A Secure Cam noted that Kuna's lack of WDR (Wide Dynamic Range) means that some users might lose picture quality if their porch is shaded while their walkway is sunny.
Pro tip: Remember the glare we just talked about? According to Tech Hive, "the company recommends using either a LED or a CFL bulb with a maximum brightness of 800 lumens to eliminate glare on the camera lens."
Another concern was the ongoing cost of cloud storage, especially if you own multiple Kuna cameras, along with the fact that it doesn't feature an IFTTT channel to work with other smart home products.
Speaking of which, are there any other products competing in the same space as Kuna?
Kuna vs. Ring & Other Porch Light Security Cameras
When it comes to easy-to-install, motion-activated entry cameras, there's probably no more popular current option than Ring Doorbell. As a result, Kuna often gets lumped into the same category—but the reality is that there are some meaningful differences.
First, the similarities: Both Kuna and Ring offer 720p HD cameras with motion detection, weather-resistant construction, and cloud video access; send push notifications, and are priced between $179 and $199.
However, Kuna also offers on-demand video, a siren, and the ability to play a pre-recorded message or chime as soon as someone is detected.
Ring can detect motion up to 30 feet away (with editable zones), features an 180-degree view (versus Kuna's 116 degrees), and connects to Phones and iPads, Android phones and tablets, and any Windows 10 computer (compared to Kuna's iOS and Android-only capabilities).
Outside of these, you won't find any other comparable devices that feature motion-activated recording, HD video, two-way communication, and cloud storage.
With this said, there are some close competitors like the Skybell Video Doorbell (video only), Nest Outdoor Cam (more involved installation w/exposed wiring), as well as Vivint (requires additional hardware and a contract).
We've certainly covered a lot of territory, so let's wrap everything up.
What's the Bottom Line About Kuna?
Not too long ago, if you wanted a basic front door camera with motion-activation and two-way audio, it might've cost you thousands of dollars and dozens of hours in labor. Today, however, an increasing number of all-in-one, set-it-and-forget-it home automation solutions are entering the market.
Not just front door cameras like Kuna, but also interior home security systems like Blink and Angee, lighting like Emberlight and SVET, Wi-Fi systems like Luma and Amplifi, and even air sensors like uHoo and Awair.
Products like these have made it easier than ever for even the least tech-savvy among us to enjoy all the benefits that home automation can offer. And they largely seem to do it very well.
Based on customer feedback for these plug-and-play devices—Kuna included—though, it seems like you might trade a lot of customization for these systems. As a result, they might not be ideal if you're an advanced home automation enthusiast who's used to testing the limits of their electronics.
Just keep in mind that the performance of systems like Kuna is almost wholly depending on your Wi-Fi connection, which might not always be strongest by your front door. If this is the case, you might need to invest in a signal booster.
Worst company and biggest waste of money

By Anthony A.

,

Colorado

,

Jan 4, 2020
Verified Reviewer

Save yourself the time, money and aggravation - this is a terrible company. Once your product is out of warranty all they want to do is sell you a new product and not try to fix the existing one. I believe that they control your Bluetooth and WiFi and will cause you issues, especially if you complain about the company. It's actually a nice product with the exceptions of everything goes through their app.

Worst company I've ever had to deal with.

Do not purchase this product! Kuna is not a good company!

Bottom Line: No, I would not recommend this to a friend

---

Absolute worst company to deal with when you have problems

By Robert R.

,

Chesapeake, VA

,

Dec 27, 2019
Verified Reviewer

Absolute worst company to deal with when you have problems. I currently own a Kuna/Maximus security lamp white camera. Here recently there was a failure to reconnect my camera to my Kuna app/home internet. According to Kuna, they said that I have a bad Bluetooth inside the device. They asked me if I had a warranty, and I told him I had it since 2015 and we are in the current year 2019, almost Christmas time. Here recently I have been going back and forth with customer service, with one the way after the next delay for the replacement camera. I understand it is the Christmas season, but I am a current customer in good standings. I'm getting nothing but snowballed by them and one excuse after the next of why they cannot send me a replacement at this time. Absolute worst company to deal with, better off going somewhere else.

Bottom Line: No, I would not recommend this to a friend

---

Advertisement

---

Purchased two light fixture Kuna devices

By Eureka L.

,

Texas

,

Dec 3, 2019
Verified Reviewer

The product is awesome but the back end is a rip-off. This classic Razor and razor blades issue. The product is relatively cheap but there is a mega catch. Your storage is costly and there is no way to send it to your own PC. Two-year ownership of two cameras on the lowest paid plan for two to four devices is $240. If the life of the device is 5 years, $600 not including the devices. You're better off buying a generic system that connects to your own storage.

Bottom Line: No, I would not recommend this to a friend

---

Terrible customer service

By Kyle B.

,

Chula Vista, CA

,

Oct 22, 2019
Verified Reviewer

WHEN your floodlight stops working, and it will, you will be forced to deal with customer service agents from India. The reviews about poor customer service are no exaggerations. Positive reviews are coming from people who have not yet had to deal with Kuna's "customer service". Be warned! Do not ever buy from this company.

Bottom Line: No, I would not recommend this to a friend

---

Advertisement

---

New detective Kuna Maximus security light

By John T.

,

Virginia

,

Sep 10, 2019
Verified Reviewer

I purchased two Kuna devices new online, 30 days after began experiencing issues with them - WiFi issues, camera issues, etc. The Maximus security floodlight stopped working first, meanwhile, I had talked to Kuna and already they agreed to replace it, then the Maximus security light also stopped working but Kuna refuses to replace it. Now I am trying to figure out how to make them satisfy their warranty. Please DO NOT BUY any Kuna products, look at me, spend hundreds of dollars thrown away! THESE PRODUCTS ARE WORTHLESS.

Bottom Line: No, I would not recommend this to a friend

---

Changed internet provider and now Kuna will not connect

By Kenrick E.

,

Plano, TX

,

May 3, 2019
Verified Reviewer

I have had my Kuna porch light for 3 years with no problems at all. Cost $199, purchase date December 2015 from Amazon. But when I had to change my internet provider from Spectrum to Frontier, immediately afterward, my Kuna stopped working. I called Kuna tech support, they told me the Bluetooth chip is not working and the unit will have to be replaced I was told I was a premium member by the tech and that they would try to work something out as far replacing the unit, just email a record of purchase to them. I did immediately, and now I am in a holding pattern. I have a yearly subscription, for around $59, so I will be looking forward to seeing how Kuna will responding to this situation, will they screw me or change me half price for a replacement or string me along. I don't have a leg to stand on, totally out of warranty, this is how you can tell if a company is worth dealing with for the long haul or not (during adversity). 4/27/2019. Will update ASAP.

Bottom Line: No, I would not recommend this to a friend

---

Stopped working after a year.

By Chris H.

,

Chino, CA

,

Mar 21, 2019
Verified Reviewer

I purchased this item on June 13, 2017 (actually purchased three) and setup was easy. Worked great until I changed my WiFi SSID and that was it. Turns out the device uses the Bluetooth to connect the first time to set up the WiFi connection. To my surprise, the Bluetooth stopped working and I was not able to communicate to the light to get the WiFi setup. Now I just have a really expensive light. Not sure when the Bluetooth stopped working, but the warranty only covers the first 12 months. So I needed to make this discovery in the first twelve months or that was it. Called support and was told, "sorry, you are past the twelve months and there is nothing we can do." Really disappointed with the product and the support. I recommend the Ring at this point.

Bottom Line: No, I would not recommend this to a friend

---

Kuna is an awful company...stay away.

By Mike S.

,

Kyle, TX

,

Mar 7, 2019
Verified Reviewer

I purchased several of the Maximus lights. The Craftsman along with the companion and a floodlight. What they do not tell you is that if you purchase it on eBay or from anywhere except the handful of distributors, you will be out of luck if you have problems. I accidentally dropped the base plate for my floodlight and when it hit the cement it shattered into many pieces, I found out they do not have any replacement parts and I was left with a $300 light that does not work. I got the shaft from Kuna.

Then my Craftsman companion light would not link to the security light. I contacted them and after I sent them the receipt that I purchased the item new on eBay, they refused to remedy their faulty product because it was not purchased from their distributors. They did offer to sell me another at a discount and then I never heard from them again.

Be very aware that they will not provide you with any warranty if you get it from eBay or a gift from someone else. At the price they charge for the lights it almost seems illegal. I am not happy with this company.

Bottom Line: No, I would not recommend this to a friend

---

Non existent customer service

By Chuck M.

,

Vancouver, Canada

,

Feb 17, 2019
Verified Reviewer

I purchased flood light and camera combo LED from Costco that came with 6 months premium service, which would normally be a ridiculous $19.99 per month. The internet has to be super close in order to work with the Wi-Fi reception it's quite poor in receiving signal. Was supposed to come with a 6-month coupon from Costco in the Box as a promo. As my box didn't come with it, I was asked for proof of purchase and to forward an email. After a plethora of emails, I receive the last email requesting a serial number from a two-and-a-half week old product. If they wanted at the beginning why didn't they ask for it? I'm not running around for any company, this product goes back. That's the beautiful thing about Costco, you don't have to deal with these jokers anymore, stand up for your rights, let Costco know what should the service you get from them. I didn't want to find a new pen pal, I just wanted my coupon, LOL.

Bottom Line: No, I would not recommend this to a friend

---

Don't buy Kuna, scam cam

By Ken B.

,

Harrison Township, MI

,

Feb 2, 2019
Verified Reviewer

Don't buy this...

Kuna makes you pay a ridiculous monthly fee to use their service. After the free trial is up you lose all activity within hours of occurrence, making this a useless security tool.

Bottom Line: No, I would not recommend this to a friend

---

Biggest waste of money

By V W.

,

Nashville, TN

,

Jan 4, 2019
Verified Reviewer

I bought and installed this unit. I had it about a week and it rained. The rain caused the system to die. Getting someone on the phone was next to impossible, so I emailed them. I got the BIGGEST runaround. That run around lasted MONTHS! Then I finally received a " return label" that turned out NOT to be a return label at all! I took that package to USPS, FedEx, AND UPS and they all looked at me as if I was trying to scam them. I emailed Kuna several more times after discovering that they sent me a bogus return label and I never heard from them again.

Bottom Line: No, I would not recommend this to a friend

---