Kybella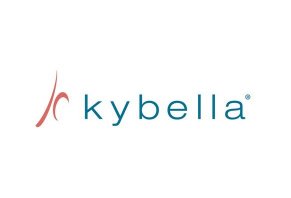 Summary
Kybella claims to eliminate your double chin by using a series of injections that are less invasive than liposuction and can be done in a matter of minutes.
Pros
FDA-approved
Non-invasive
Quick recovery time
Most side effects subside quickly
Can be done in a matter of minutes
Cons
Expensive if you need more than two treatments
Swelling is likely and can be embarrassing
More likely to see moderate results rather than drastic ones
Limited to a specific area under your chin
Not a good fit for everyone
Kybella Review: Is This Double Chin Treatment Right for You?
Kybella is an FDA-approved injection treatment used to remove your double chin.
What makes the treatment so inviting is that it doesn't require surgery and can be completed in just a few minutes. There are no incisions or anesthesia, just a series of injections that melt away your "submental" fat, which is commonly known as "double chin."
This convenience and effectiveness are what is most appealing about Kybella. Yet this convenience comes at a price, making it a big investment that you may or may not be willing to pay for.
We'll help you make that decision in our review. We will cover how the treatment works, how effective it is, possible side effects and pricing.
Along the way, we'll include the opinions and insight of dermatologists who perform the Kybella procedure.
How Does Kybella Work?
You'll set up an appointment with your dermatologist or plastic surgeon that can include a consultation and the procedure on the same day. There might be cases where the consultation and procedure take place on different days.
Your doctor will examine your chin fat and give you their opinion about how many treatments you'll need to eliminate the fat in the areas you'd like to change.
Each treatment consists of up to 50 injections spaced 1 centimeter apart in the area under your chin you.
Most of the dermatologists we spoke with told us that you'll need at least two treatments to see the best results. These treatments will take place at least one month apart and you can have up to six treatments in total.
Once the treatments are done, it should take up to three months for the fat in the treated area to disappear. Also, you'll do at least one follow-up visit with your doctor within the first three months.
Dr. Susan Bard, the owner of Brooklyn-based Vive Dermatology, said she typically sees her patient one month and three months after the last treatment.
Candidates
We interviewed seven different dermatologists during our research and found the general consensus is that Kybella is a good fit if you have a double chin or excess fat in certain areas.
The treatment, says Dr. Michelle Lee, a board-certified plastic surgeon at Perk Plastic Surgery in Beverley Hills, is most effective if you have "small, superficial pockets of fat."
If you have excessive fat under your chin, Lee said you aren't a good candidate for the procedure.
"Excessive" is a general term and is based on Kybella's directions for use. Your doctor will determine if your fat is excessive during your consultation.
Their determination will be based not only on how much fat is there but where the fat is in relation to the area under your chin and where the fat resides amid the various layers of your skin.
Dr. Nicholas Jones, a plastic surgeon at Atlanta-based Nip and Tuck Plastic Surgery, echoed this sentiment, adding that patients with sagging skin under their chin are not good candidates, either.
This is because your sagging skin will likely look worse once Kybella dissolves the fat in those areas.
Is Kybella Permanent?
Kybella treatments are permanent because once a fat cell is destroyed it is gone forever. However, Bard said, that doesn't mean that you won't see fat grow back under your chin.
"The existing fat cells can expand to a certain extent to accommodate more fat gain and new fat cells may be generated with extreme weight gain," she said.
Therefore, it is important that you avoid rapid weight gain, as your body could produce more fat under your chin and negate the positive effect of your Kybella treatment.
Effectiveness
The FDA approved the Kybella procedure in 2015. The procedure uses deoxycholic acid, a synthetic form of the bile that your body produces in the gall bladder to burn fat.
When your doctor injects Kybella into the fatty areas under your chin, the deoxycholic acid burns away the walls (cell membranes) of your double chin. With those walls gone, the body metabolizes the fat left behind and, over the course of a few months, your double chin starts to shrink.
Kybella went through rigorous testing to gain its FDA approval and has decisive evidence for its efficacy.
The testing included 514 people who received Kybella and 508 who received a placebo. Eighty-five percent of the people in the study were women. The participants had moderate to severe double chins.
Of those 514 people, 70% saw a modest decrease in the size of their double chin while 13% saw a significant decrease. Overall, Kybella helped 83% of people in the study reduce their double chin.
What this means is that there's a high probability that you will see a benefit from your Kybella treatments. At the same time, using Kybella isn't a guarantee that all your chin fat will disappear.
The study's results indicated modest to significant decreases in fat, but not complete elimination of fat.
Risks and Side Effects
Kybella caused side effects during its FDA testing, most of which were not severe. The most common set of side effects were "injection site reactions" – 96% percent of participants experienced them.
The following list shows the likelihood that you'll experience side effects at the injection site:
Swelling: 83.5%
Bruising: 69.1%
Pain: 67.2%
Numbness: 63.3%
The likelihood that you'll experience other side effects drops significantly. Unlikely side effects include:
Nerve injury
Difficulty swallowing
Ulcers and tissue death
Baldness at the injection site
The doctors we consulted said you'll most likely deal with swelling and bruising for one to two weeks after the procedure.
Cost
The price for a Kybella treatment varies depending on the doctor you use and it is not covered by insurance in most cases.
The eight doctors with whom we spoke said they charge between $1,000 to $2,700 per treatment. Your doctor will determine your treatment price on how many vials of Kybella he or she uses.
Now, remember that you'll most likely need at least two treatments, so the overall cost will be between $2,000 and $5,400.
Kybella vs. Liposuction and CoolSculpting
Two of the popular alternatives to Kybella that doctors mentioned were liposuction and Cool Sculpting. We will compare Kybella to these two alternatives, covering invasiveness, price, effectiveness, and recovery.
Kybella vs. Liposuction
Kybella is non-invasive, which means doctors don't have to cut into your skin to perform the procedure. Liposuction, on the other hand, requires your doctor to insert a thin tube into your fatty areas to remove the fat. Liposuction will require general anesthesia at times, too.
As for cost, the average price for a lipo procedure is $3,518, according to the American Society of Plastic Surgeons. The cost for a double-chin procedure may be lower than that since you're treating a very small area on your body.
Kybella may be the cheaper option if you need minimal treatments but will most likely be more expensive if you have to go in for multiple treatments.
Both treatments are effective in removing fat – none of the doctors we talked with mentioned one being more effective than the other.
Finally, Kybella's recovery time is about the same length (1 to 2 weeks) as liposuction. However, you should be able to return to work and normal activities the day after Kybella treatment. Liposuction treatments, even in the small area under your chin, could put you out of work for a couple of days.
Kybella vs. CoolSculpting
Both Kybella and CoolSculpting are non-invasive procedures. CoolSculpting is the less invasive of the two because the procedure doesn't penetrate your skin. Your doctor will use a device to cool your skin, which in turn freezes fat cells and destroys them.
As for price, CoolSculpting and Kybella are very similar. Our research indicates a CoolSculpting session can cost between $1,000 to $5,000.
The price for a single area like a double chin will drive that cost down, so there's a good chance a CoolSculpting treatment will be cheaper than Kybella. Most plastic surgery offices offer both procedures and will most likely do a free consultation to help you see the price differences.
Both Kybella and CoolSculpting are effective ways to eliminate your double chin. Both do the same thing—kill fat cells—but go about it in different ways. Kybella uses acid to dissolve fat-cell walls, while CoolScuplting freezes fat cells to death.
Also, CoolSculpting has a shorter recovery time. In many cases, you can return to work the same day you receive your CoolScuplting treatment.
This is because the common side effects aren't that severe: pain, redness, numbness, and tingling are common. On the other hand, even though you may be healthy enough to return to work the day after your Kybella treatment, the high probability of swelling may cause you some embarrassment.
In our opinion, CoolSculpting is the better choice if you want to avoid the aesthetic side effects of Kybella and if you don't like needles. Not only does CoolSculpting avoid the use of needles and swelling, but it also may be cheaper because of the small area you're treating.
Pros & Cons
The Bottom Line
In general, Kybella is a good option for your double chin if you can afford the treatments, have small pockets of fat under your chin and want to avoid the rigors of liposuction.
As a whole, Kybella's drawbacks reveal that it's not a guarantee to eliminate your double chin.
There's a very good chance it will have a moderate effect on your chin fat but the chances of it eliminating your double chin are lower, based on the research done for Kybella's FDA approval.
Customer Reviews
Posted on Jun 7, 2018
Misrepresented
Kybella is intended for a very small fraction of the population seeking double chin relief without surgery. The unscrupulous physicians and spa personnel offering this service are scamming you. They are not being honest when it is offered to the mature client and fail to inform you that results may take many expensive treatments with little or no results. For what I spent believing these money mongers that results were forthcoming, I could have had conventional surgery to remedy my double chin. It is my strong opinion that this is an industry that is 'practicing' on clueless clients and charging them exorbitant prices for the privilege. I would not be surprised if a class action lawsuit ensues in the future.
Bottom Line: No, I would not recommend this to a friend
Posted on Apr 19, 2017
Love it!
I'm at the six-week mark, and I'm beyond thrilled with my results. I'm now wearing my ponytails without fear of my double chin!
Bottom Line: Yes, I would recommend this to a friend
Posted on Mar 5, 2017
45 year old, moderate double chin
I had a moderately sized double chin at the age of 45. I am only a few pounds overweight and have good skin tone, am a non-smoker, healthy, etc.
I had cool sculpting done first (two rounds). That took away about 30% of my double chin with two treatments over four months.
Then I went to see about lipo for the remaining fat, and my doctor told me I would only need two kinds of Kybella, and it would cost less than chin lipo, so I signed up for two rounds.
The first round stung the most, swelled the most, and I bruised terribly. I took me eight weeks to get back to baseline. Then, at 2.5 months later, I saw no change, but went ahead and did the second round of Kybella. I swelled about 50% as much and had less bruising, but it still took about eight weeks to get back to baseline.
I went to see my doctor. Neither of us saw a difference, so I did a third round of Kybella, and it took ten weeks to get back to baseline! It was the holidays, so I decided to wait until January to see my doctor. She took more photos. Looking at the photos of my frontal view, I saw a 50% change. Looking at the profile pictures I saw a tiny, minuscule change.
Bottom Line: No, I would not recommend this to a friend
Our Promise to You
In order to safeguard you and ensure helpfulness and relevance, our compliance team manually assess every customer review before it goes live.
We have a zero-tolerance policy for fake reviews, and companies cannot control or alter any reviews at any time.