Ladder Insurance Reviews
Claimed This company has claimed this profile, is getting alerted on any new customer reviews entering this page, and may engage in dialogue with its customers to address their matters.

Companies cannot pay money or provide goods in order to remove or alter customer reviews.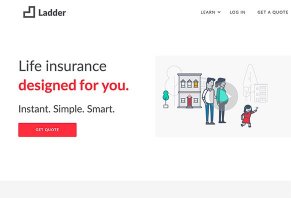 Ladder Insurance's algorithm-based underwriting approach claims to help you obtain up to $8 million in term life insurance coverage in minutes, without an exam.
About Ladder Insurance
Instead of choosing between dozens of companies, filling out tons of paperwork, completing medical exams and interviews, and waiting weeks for an approval, Ladder Insurance promises to deliver a term life insurance quote in seconds, and active coverage within minutes.
In addition, the company gives clients the ability increase or decrease their policy's limits directly through the website, providing them with instant, simple, and streamlined coverage when they need, without a hassle.
Because of this, Ladder claims to deliver "life insurance designed for you"—especially if you value a streamlined process. But how do they compare to other direct-to-consumer life insurance companies? And how can you choose the best option?
Let's discuss what we learned during our research, starting with term life insurance basics.
What Are Potential Pros & Cons Related to Term Life Insurance?
Investopedia tells us that there are four basic types of life insurance:
Term – You choose the term (policy length), and the policy provides death benefit coverage, with payments that generally remain the same each year.
Whole – A permanent type of insurance that pays death benefits regardless of your age, as long as the policy is in force.
Universal – Similar to whole, but allows you to increase or decrease coverage as needed, even in the middle of the policy term.
Variable – A type of policy that gains cash value over time, although this value, as well as the death benefits paid, can change.
Term (whether offered through Ladder or another company) is typically the least expensive type of life insurance and is considered one of the most straightforward and easiest to understand. However, premiums generally increase with age, potentially making them more expensive than other types; don't carry any living benefits (such as cash value), and aren't very flexible.
Regardless, will you even qualify for a Ladder term life insurance policy?
Who Underwrites Ladder Insurance's Term Policies & What Are Their Eligibility Criteria?
According to their FAQ, Ladder only offers a single product through a single company: A term life insurance policy underwritten and issued by Fidelity Security Life Insurance Company ("FSL"). Basically, Ladder acts as your life insurance agent in the process.
While you can submit an online application and be covered within a few minutes, Ladder is careful to point out that every customer is underwritten individually.
However, basic requirements indicate you must be a U.S. citizens or lawful permanent resident who has lived in the country for more than two years, is between the ages of 20 and 60, and is a resident of California (more states coming soon).
What about a medical exam? After all, saving you time is one of Ladder's claims to fame.
Here again, the company indicates there's no way to know if you'll be required to complete a lab appointment after submitting an application. But if you are, any required appointments are fee. In fact, the site tells us that a traveling technician will come to wherever's most convenient for you, whether your home or office.
During this appointment, you'll be asked a few questions, have your height and weight measured, your blood pressure and pulse taken, along with a urine and blood sample.
But what will you pay?
How Much Does a Ladder Life Insurance Policy Cost?
You can obtain a Ladder Insurance ballpark quote by entering your gender, birth date, height, weight, smoking status, zip code, and overall health (rated between one and five stars) on their website.
From there, the only way to determine your actual monthly cost would be to submit an application. Even if you're approved, the whole process is free (sales agents aren't commissioned) and there's no obligation to accept.
As far as premium, the website tells us:
"Your monthly payment is determined based upon your personal situation, taking into account your age, sex, health, family medical history, and other factors. In addition, your monthly payment also depends very much on the length of your term and amount of your desired coverage."
With this in mind, we submitted a quick quote (40-year old man, 6'1", 180lbs, lives in 90210 zip code, non-smoker, $1M coverage) and received the following rates at the time of our research:
10 Years: $45/mo
15 Years: $56.67/mo
20 Years: $72.50/mo
25 Years: $92.50/mo
30 Years: $122.50/mo
Ladder also provides a coverage calculator you can use to determine your required limits, based on your current expenses, debt, and dependent needs.
If you need assistance, a salaried, licensed insurance professional can be reached at help@ladderlife.com or via an online contact form on their site.
What Can We Learn From Ladder's Client Reviews?
On TrustPilot, Ladder Insurance had five customer reviews and an average rating of about 3.5 stars at the time of this writing. Most customers seemed pleased with the company's streamlined process, quick approval, and competitive rates. The only complaint referenced a declination due to a major medical condition.
From a company perspective, Ladder Financial Inc. was co-founded in 2015 by Jack Dubie, Jamie Hale, Laura Hale, and Jeff Merkel, and is based out of Palo Alto, CA.
Previously, Jack worked as a software engineer for Dropbox and Orchestra, Inc., Jamie as founding partner at Aldenwood Capital, Laura as a consultant and founder at Generation Grit, and Jeff as founder and board director at H2.
Fidelity Security Life Insurance Company (Ladder's underwriter) held an A+ Better Business Bureau rating and four closed complaints (no details available), as of 6/21/17. They also held an A- (Excellent) financial rating through A.M. Best.
Are there other term life insurance providers who are backed by financially secure companies?
Ladder vs. Haven Life & Other Direct-to-Consumer Insurance Companies
The financial technology (aka fintech) industry has exploded in recent years, including categories like personal and business loans, mortgages (refinancing as well), auto loans, in addition to most forms of personal lines insurance.
Often times, companies create complex algorithms that perform much of the upfront underwriting, freeing up internal personnel and providing customers with the ability to receive instant approvals.
Specifically related to direct-to-consumer term life insurance companies that leverage technology-based underwriting, the only other major players currently in the marketplace are Haven Life and SoFi. How do they compare? Let's take a closer look at a few of their core factors:
| | Ladder Insurance | Haven Life | SoFi/Protective |
| --- | --- | --- | --- |
| Availability | CA only | All states except CA and MT | All states except NY |
| Underwriting Company | Fidelity Security Life Insurance Company | MassMutual | Protective Life |
| Coverage Limits | $100K - $8M | $100K - $6M | $100K - $5M |
| Online Quoting? | Yes | Yes | Yes |
| Commission-Based Agents? | No | No | No |
| Exam Required? | No | No | Up to $1M w/out exam |
| Approval Times | Within minutes | As little as 20 minutes | As little as 20 minutes |
As we can see, many of these companies' core details are the same. But if you're looking for the highest coverage possible, Ladder offers $2 million more than Haven, although their policies are only available to CA residents.
On the other hand, Sofi/Protective Life is only available to applicants 40 years old and younger, and not available if you live in NY State.
While your options are somewhat limited here, if you're willing to broaden your horizons to other direct-to-consumer term life insurance companies that don't require an exam—but that don't necessarily provide online approval in minutes—you'll find dozens more popular options like AIG Direct, Mutual of Omaha, Globe Life Insurance, Amica, State Farm, and Colonial Penn.
And if you don't even know where to start, there are companies like SelectQuote who could help match you with the right provider (albeit only ones already within their network).
Where does all of this leave you?
Our Final Thoughts About Ladder Insurance
As the insurance-related fintech category continues to grow and refine itself, it's only a matter of time until you're flush with direct-to-consumer term life options that implement algorithmic underwriting.
Until then, though, your only current options are Ladder, Haven, and SoFi/Protective. And as we can see from the table above, there aren't a whole lot of meaningful differences between them at face value. What you'll pay, however, could vary widely, depending on factors like your age, weight, overall health (especially related to smoking), and total coverage needs.
For these reasons, the only way to know for sure whether or not Ladder Insurance is right for you is first to obtain a ballpark quote based on your needs, and then submit a formal application if you decide to proceed from there. You're under no obligation to sign on the dotted line, and the process is completely free, so it doesn't seem that you'll lose much more than time for giving them a try.
What are your thoughts about Ladder Insurance? Tell the world about it by writing your review below.