Lash Ease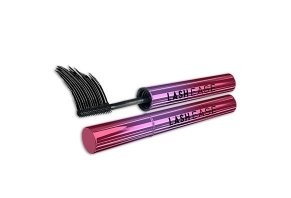 Summary
Looking beautiful takes a lot of work, but Lash Ease claims to make the process simple with a false eyelash applicator that can transform your eyes in an instant.
Lash Ease Review: Is It Legit or Just Hype?
Lash Ease is fiber building mascara designed to seamlessly enhance your lashes and build volume in a natural-looking way.
The company claims that their unique formula is infused with plant extracts and "soft flex fiber" that lets it stay on your lashes all day without risk of flaking, smudging, or clumping.
And when you're ready to go makeup-free, Lash Ease promises the mascara comes off easily with any makeup remover.
This review examines whether or not this beauty product is worth the hype.
How Does Lash Ease Work?
Lash Ease promises to help you build up your lash volume with every stroke of the applicator.
The product is designed to be applied like standard mascara, meaning that you coat the included wand with mascara and brush it against each eyelash to cover it.
The included lash serum then purportedly works to coat each lash with fibers that visibly increase their length as they are coated in mascara. This creates a one-step application process that Lash Ease claims that it differs from their competition.
The company claims that using Lash Ease will "virtually double" the length of your lashes and give you a buildable volume that allegedly last one full day by utilizing a fiber building mascara formula.
What Is Fiber Building Mascara?
Most fiber-building mascaras contain tiny fibers, usually made from silk, nylon, or other natural materials.
When you put on the product, these fibers adhere to your lashes and act as mini extensions. Unlike real extensions though, they take minimal time to apply. They also aren't designed to last, as you can wash them off at the end of the night.
Because fiber-building mascaras are still mascara, they can only build on the lashes you already have.
However, this is a popular technique for making thin, short lashes stand out more than they would with traditional mascara alone.
What Does Lash Ease Cost?
The company currently does not have its own website. However, it can be purchased on Amazon and Walmart for $7.44.
You are subject to the individual vendors' return policy.
What Do Customers Think of Lash Ease?
Amazon reviewers are weighing in on what they think of Lash Ease, and their opinions aren't always favorable. This product averages 3.1 out of 5 based on 266 reviews.
Most of the negative reviewers noted that they didn't think this product worked any better than standard mascara.
Several seemed upset that the company was advertising that the product could double the length and thickness of their lashes because they didn't notice much difference when they wore it.
Many reviewers left much more positive reviews. They stated that the product was easy to apply and wash off and that they appreciated that it lasted all day without flaking.
A few people also noted that their friends noticed the difference and wanted to try Lash Ease themselves.
Overall, reviewers who expected Lash Ease to work similar to other volume-boosting mascaras seemed happy with the product. Those who had higher expectations tended to be disappointed.
The Bottom Line: Is Lash Ease Worth It?
This thickening mascara product is designed for people who want to boost the appearance of their eyes without committing to false eyelashes.
From looking at the ingredients list for Lash Ease listed on Amazon, this mascara's main ingredient is talc, which is the primary fiber agent.
Talc is a common ingredient in baby powder and many cosmetic products, and it acts as a thickening agent.
If you're curious about Lash Ease but don't want to commit to buying two tubes, we think it's better to buy one off Amazon. Or, if you're interested in saving even more money, consider the baby powder trick and see if you like how much your lashes lengthen.
Customer Reviews
Posted on Jan 2, 2020
Very disappointed
I paid $19.99 in Walmart for this in the hope it would give me the lashes it described but it did not. It was clumpy and after only 4 days using it, it is dried up and no use. A complete waste of money.
Bottom Line: No, I would not recommend this to a friend
Posted on Aug 6, 2019
False advertisement
This product was a huge disappointment in regards to price and results. Not once during the entire month of use did my lashes stand out. There is absolutely no technology involved otherwise I would have experienced results. Downright, waste if money and in my opinion, false advertising. My $6 mascara performed better.
Bottom Line: No, I would not recommend this to a friend
Posted on Jul 26, 2019
Don't buy it!
I purchased this mascara according to the advertisements on this product. I have very thin eyelashes and seeing the results this mascara produces...well, it didn't do it for me. I was so disappointed and upset that this product did not work. I had to apply several times and instead of seeing longer lashes, all I saw was a mess, my eyelashes looked caked and all stuck together...so...you have to have eyelashes to get eyelashes from this product. I am so tired of all the fake lies these sponsors give to us people.
Bottom Line: No, I would not recommend this to a friend
Posted on Jun 7, 2019
All hype
I purchased a tube of Lash Ease with high hopes, but ended up being very disappointed. I purchased at Walmart, thinking it was going to make my lashes stand out an be seen, but honestly, Lash Ease is no better than the Maybelline mascara I normally buy. This mascara was very expensive an doesn't do what it advertised it does. I would not recommend this product to anyone, I could spend six dollars and get the exact same result.
Bottom Line: No, I would not recommend this to a friend
Posted on May 1, 2019
Not worth the price
I just tried Lash Ease and while it was a nice mascara it is no different than Last Blast or Voluminous. In fact, both of these products made my lashes appear long. They are 1/2 the price.
Bottom Line: No, I would not recommend this to a friend
Our Promise to You
In order to safeguard you and ensure helpfulness and relevance, our compliance team manually assess every customer review before it goes live.
We have a zero-tolerance policy for fake reviews, and companies cannot control or alter any reviews at any time.