Laurel Road Reviews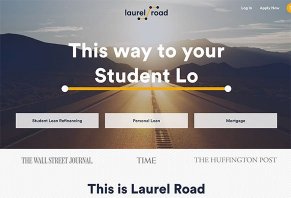 Laurel Road offers you student loan refinancing as well as personal loans and mortgages. The rates and fees on these loans differ depending on what you do for work and which types of loans you have.
About Laurel Road
Laurel Road is an online-based lender who offers you student loan refinancing, personal loans and mortgages.
The company is one of many lenders that have popped up in the past five or six years, a trend that has a lot to do with consumers' frustration over the banking crisis that fueled the Great Recession.
These new lenders offer a refreshing, all-online way to get a student loan refinance, personal loan or mortgage.
Laurel Road is actually the online lending arm of a Connecticut-based bank called "Darien Rowayton Bank" who, according to their LinkedIn page, has specialized in refinancing student loans. The bank was founded in 2006.
If you're confused, don't worry. We've found that many companies use website-based lending platforms under names different than their own. In some cases, as in life insurance, the page seems like it features a unique company when all it's doing is generating leads for an existing company.
In this case, Laurel Road is the internet-facing branch of Darien Rowayton Bank that focuses on the three areas we mentioned.
And, according to their website, they've been doing pretty good. They lend in all 50 states and have saved customers more than $400 million from the more than $3 billion in loans they've funded.
Any time you consider using a new lender, you should know the basics of the products they offer. What are the requirements? What are the loan amounts and interest rates?
These are the questions we'll answer throughout the course of this review.
Laurel Road's Student Loan Refinancing
As student-loan debt has grown, companies like Laurel Road, SoFi, Prosper and Earnest have pushed their student-loan refinancing program as a way to save money in the long run and get your loans paid off faster.
Now, "student loan" can mean a lot of things. At Laurel, there are four: undergraduates, in-school MBA students, residents/fellows and loans that parents sign up for (Parent PLUS).
Here's a table that shows the range of loan terms and interest rates you can get for each of these types of refis:
| Loan Type | Length (Years) | Variable APR | Fixed APR |
| --- | --- | --- | --- |
| Undergraduate | 5-20 | 2.99%-6.42% | 3.5%-6.99% |
| Resident/fellow | 7-20 | 4.52%-6.42% | 5.00%-6.99% |
| Parent PLUS | 7-20 | 2.99%-6.42% | 3.55%-6.99% |
| In-school MBA loans | 10/15/20 | 5.50%-5.70% | 6.40%-6.80% |
The rates you see here are, in general, equal to or lower than the rates now available for federal student loans. At the time of publishing, federal student loans had interest rates of 4.45%-6% for undergrad loans and 7% for PLUS loans (parents and graduate students).
A few things to keep in mind are that you can earn the biggest savings by paying off your loans in a shorter amount of time – five years, for example. However, that means your student loan payments will be much higher than they would if you were paying them back over the course of 20 years.
You get big savings – Laurel Road estimates their borrowers save an average of $20K – because your shorter repayment period basically cuts off your interest payments from piling up over two or three decades.
Also, variable-rate refinancing means that your interest rate will go up and down based on the prime interest rate, a rate that, in a very simple sense, goes up when the economy is good and goes down when the economy is bad.
According to Laurel Road's fine print, they add between 4.33% and 4.55% to the prime rate to determine your interest rate. What does this look like in the future? Well, if the Federal Reserve continues to raise the prime rate as they have in the past year then your interest rate will most likely go up.
The fine print says Laurel Road will cap your rate at 9% for loans with a repayment of up to 10 years and 10% for loans beyond 10 years.
Variable rate loans tend to start off with lower interest rates than fixed-rate loans but, over time, there's a chance that they'll be higher. In this sense, taking a variable-rate loan is a gamble.
If you're not sure which one to choose, the wise thing to do would be to sit down with a financial professional and get some advice.
Laurel Road's Personal Loans
The company handles their personal loans pretty much the same way they handle their student loans. They provide loans for several groups of people: everyone, physicians and dentists, and residents and fellows.
The big difference here is that these loans add money to your bank account instead of restructuring debt that you already have.
Here's a chart of the three groups of people and the length/rates you can get:
| Borrower | Length (Years) | Rates/strong> |
| --- | --- | --- |
| Everyone | 3/4/5 | 5.50%-11.74% |
| Docs and Dentists | 3/5/7 | 6.50%-9.99% |
| Residents and Fellows | 5/7 | 8.24%-9.99% |
According to Laurel Road, each one of these loans is fit to the person. So, if you fall into the "everyone" category, their loans will be shorter and have higher interest rates. Why? That has a lot to do with income; doctors make a lot of money and, because they have that extra income, lenders see them as less of a risk to not pay off their loans.
Therefore, you see the docs, dentists, residents and fellows getting longer loan repayment periods at lower rates.
But those aren't the only differences. For example, those who are considered part of the "everyone" category can be approved for loans between $1,000 and $45,000 depending on what they'll use the loan for.
The max loan amount for residents and fellows is $45,000. Why less than a doctor or dentist? Well, that's because residents and fellows are doctors who are still learning the ropes.
They typically have to have someone supervising them when they perform procedures. Their careers aren't as established, so the lender hedges their bets by lowering the max loan amount they'll give as compared to doctors and dentists who are already set in their careers.
Laurel Road's Mortgages
The final lending product that the company offers is mortgages, which includes loans for purchase and for refinancing.
To apply for a loan, you can use their site. We went through their preliminary line of questioning, which includes information like:
Marital status
Co-borrower (if any)
Income
Monthly expenses
Monthly mortgage/rent amount
Credit scores
First home or not
Type of home
From there, we were directed to a page where we could choose the loan amount we wanted, the type of rate (lower rate but higher up-front fees, and vice versa).
This page also provided options for the type of loan you want, which, from what we saw, were fixed-rate mortgages ranging from 10 to 30 years and adjustable-rate mortgages ranging from 20 to 25 years.
Rates and Fees
Laurel Road says they don't charge origination fees for their student loan refinancing. Expect to pay fees for your personal loan and, for sure, your mortgage. Read through the documents they give you when they offer you a loan. You should see a list of fees you'll be charged.
The Final Word: Pros and Cons of Using Laurel Road
We believe that the strengths of this company are that you won't pay any origination fees for your student loan refinancing. Also, based on our research, the company's refinancing rates are reasonable compared to the prevailing student loan rates.
Also, for those who trust businesses who've been around for a while, the fact that this company's bank has been in business since 2006 makes it relatively old in a world where many student-loan refinancing companies have started in the past few years.
As for downsides, we didn't find many with Laurel Road. You may not be too keen on the fact that Laurel Road doesn't carry with it a big name like Chase, Bank of America or Wells Fargo.
However, just because there aren't many downsides doesn't mean that your experience will go perfectly.
Remember, you are responsible to read through the terms and conditions of your loan to make sure you know what you're getting into. Don't be afraid to ask a financial professional or lawyer to help with your decision and verify any disadvantageous language in your loan agreements.
Also, don't be afraid to shop around. Go to sites like SoFi and Earnest and get some quotes from them, too. These sites don't run hard credit checks in order to give you an estimate for your loan, so you can get multiple quotes without it hurting you.