Layla Mattress Reviews
This company has claimed this profile, is getting alerted on any new customer reviews entering this page, and may engage in dialogue with its customers to address their matters.

Companies cannot pay money or provide goods in order to remove or alter customer reviews.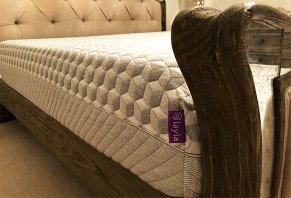 Summary
Layla Sleep's memory-foam mattress use copper-gel infused layers to promote a cooler, more comfortable sleep. The company's prices are competitive and the quality of their mattress is impressive.
Layla Mattress Review - What Our Sleep Trial Revealed
Layla Mattress uses a combination of support foam and memory foam infused with copper gel to provide a cool, supportive sleep.
The company's mattresses gained a tremendous amount of attention in the first half of 2018 when Forbes, Good Housekeeping, Apartment Therapy and Sleep Advisor included Layla in their lists of best mattresses/mattresses-in-a-box for 2018.
As far as mattress companies go, Layla is part of the new generation of companies who skip the middleman and ship directly to you for, most often in a well-designed box that can fit in the trunk of a car.
We've slept on this mattress for two weeks and provide you with our first-hand experience in this review.
Receiving the Box
We received the mattress in Layla's well-designed shipping box, which we found to be clean, modern, and visually-pleasing. Because of this, we were pretty excited to open the box.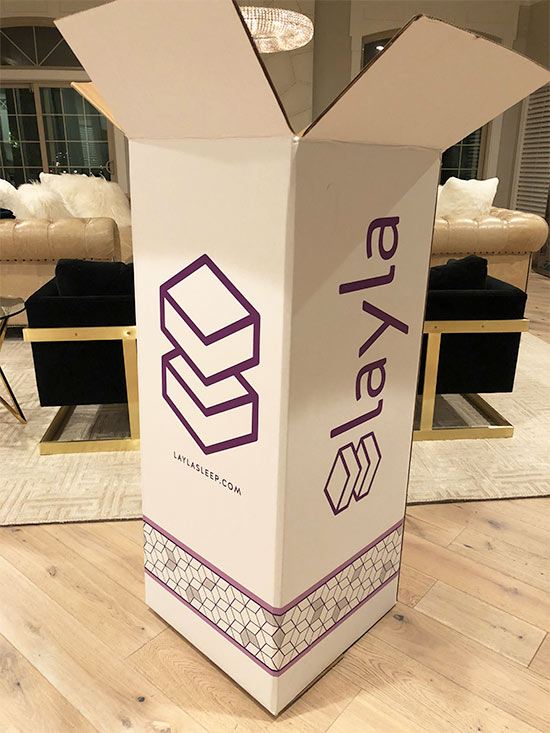 The box in which the Layla Mattress Arrived
We noticed that the box was pretty heavy, which is expected since Layla compresses the mattress down to a small size to fit into the box.
We suggest using two people to transport it, especially if you need to carry it up a flight of stairs.
Opening the Box
Now, the unboxing – it was a fun experience for us and we think you'll be surprised if, like us, you've never opened a memory foam mattress out of a box.
The company basically sucks the air out of the mattress to get it to fit in the box, and then they wrap it in plastic.
When we removed the mattress from the box, it quickly expanded. At first, we weren't exactly sure which side of the mattress we were supposed to use.
We soon found out that the soft side of the mattress is facing up and that, if you want to flip the mattress, you have to unzip the cover, take the mattress out, flip it over, then place it back in the cover.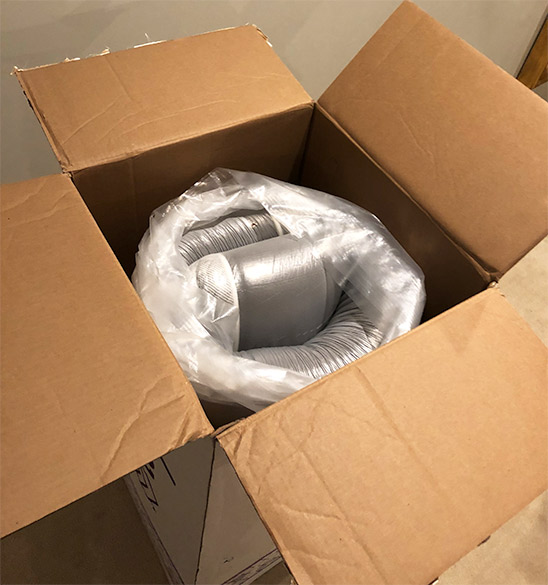 The Layla Mattress rolled up inside the box
As we looked over our new mattress, we noticed that it did have a very strong, chemical-like odor. It wasn't completely unpleasant, but it did have that fresh-out-of-the-factory-smell.
Because of this, we decided to let the mattress air out for a night before we slept on it. If you find that you are sensitive to stronger smells, it may be a good idea to unbox your Layla in the morning so that it airs out for an entire day before using it.
That chemical smell is typical among most memory foam mattresses; it's not specific to Layla. Their FAQ page says that the odor is not determinantal to your health and should go away after a few hours.
The Mattress Design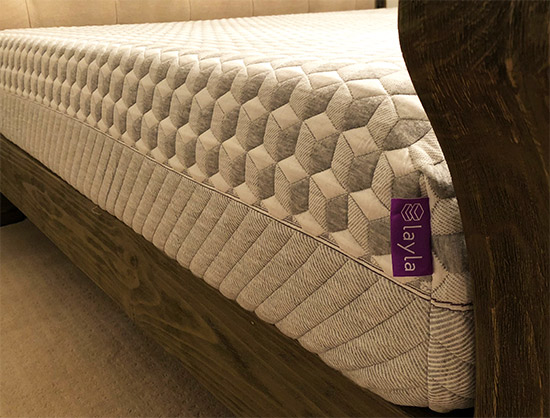 Close up shot of the Layla Mattress Design
Layla uses a 3D-style cube design on the cover fabric. This is one of the unique aspects of the mattress, as other companies like Casper tend to use a more traditional look that doesn't implement specific designs.
In our opinion, it was a more masculine design but, as our tester noted, his wife like the looks of it.
And, it's important to remember that how the mattress looks is somewhat of a non-issue because it will be covered by sheets and blankets.
Layers
The Layla mattress has four layers of materials. Here they are, listed from top to bottom:
3" memory foam top layer infused with copper gel (soft side)
2" convoluted support form
4.5" base support foam
1" memory foam infused with copper gel (firm)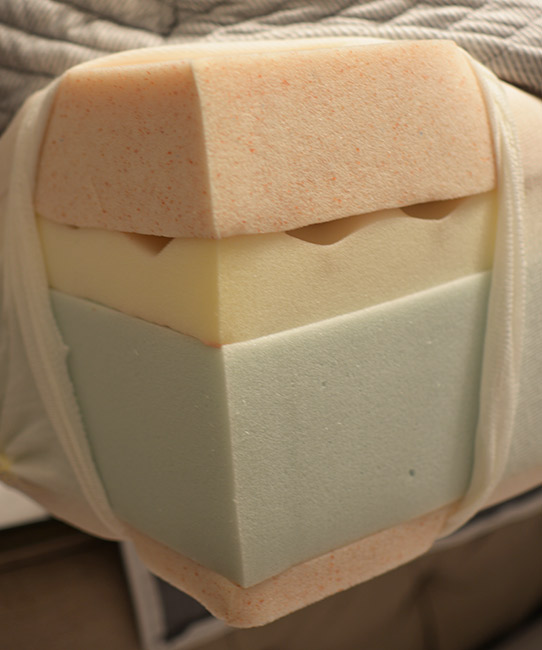 We opened the Layla mattress to see the layers inside
The top and bottom layers have the highest density rating (3 lbs. per square foot), while the second and third layers are rated at 1.8 pounds and 2 pounds, respectively.
According to Layla's website, the copper gel infusions provide a more comfortable, cooler sleep and fight bacteria.
In a specific sense, the site says, the beads of copper gel work together to provide extra support in the areas of the mattress on which they place the most pressure.
As a side note, many companies claim that copper has healing powers. Layla makes it clear on their site that the copper in their mattresses isn't intended to heal but provide support, and that all the studies done on copper are inconclusive as to its healing power.
The two copper-infused layers are intended to transfer heat and keep you cool. The convoluted layer is meant to circulate air and provide an extra mechanism for keeping you cool when you sleep.
The base layer is there to act as the anchor of your support.
Our Sleeping Experience
As a point of reference, the team member who tried the mattress is 6' and weighs 200 pounds. His wife is 5'8" and weighs 120 pounds.
The mattress felt extremely comfortable. It wasn't so soft that you'd sink into the mattress too much, but not so firm that there wasn't any give.
When you sleep near the edge, the mattress maintains its firmness.
However, once you get less than six inches from the edge of the mattress, it starts to give in and you feel like you might roll-off.
However, we don't believe this is something specific to Layla; most mattresses do this when you get close to the edge.
As for temperature comfort, our tester noted that he occasionally sweats when he sleeps, but that both he and his wife did not sweat while sleeping on the Layla.
They both felt it was the ideal temperature for a mattress. Keep in mind, though, that our tester slept with his thermostat set to the low 70's.
Our tester slept on his back, side, and stomach and found all three positions to be very comfortable.
Also of note is that our tester had a pre-existing back condition that caused pain in his lower back. The Layla neither made his back feel worse or better; the condition remained the same.
Our tester noted that the mattress didn't affect his sex life, which is an important point considering that, in 2012, Barron's published an article indicating that 40% of owners of memory-foam mattresses felt like sex wasn't as enjoyable.
Pricing
The prices for the Layla mattress are:
Twin: $499
Twin XL: $599
Full: $799
Queen $899
King: $999
Cal King: $999
Layla Sleep also offers the Layla Kapok Pillows which come in two sizes:
Return Policy and Lifetime Warranty
Layla provides you with a 120-return period in which they'll provide you a full refund without shipping or restocking fees. You have to sleep on the mattress for at least two weeks in order to get a refund.
If you aren't satisfied with your mattress after two weeks, Layla will return all your costs (shipping included), provided you send Layla a copy of a receipt showing that you donated the mattress to a charity who will give it to someone in need.
Layla notes that shipping charges won't be refunded for those who live in Alaska, Hawaii, or Canada. Shipping is free to the lower 48 states, however.
Layla's lifetime warranty covers you for two events: compression of more than 1" and seams coming apart.
The company's fine print notes that defects that aren't included in the warranty include:
Cosmetic faults
Bedbugs
Stains or burns
Mattress dimension discrepancies of up to 1"*
Also, make sure you take your mattress out of the box within two weeks of receiving. If you don't, the warranty will be voided.
In addition to this, keep in mind that your foundation needs to have ample support, especially in the center.
If your mattress has a compression of more than 1" due to your foundation not having center support, you could lose your warranty.
*This refers to the size of your mattress when it's shipped. If any of its dimensions are up to one inch shorter or longer than they should be, you can't make a warranty claim.
The Bottom Line
Based on our sleeping experience of this product, we rate it extremely high.
Our tester noted that both he and his wife felt well-rested in the mornings.
He also noted that he fell asleep quicker than he normally does. However, his wife didn't notice a difference in how quickly she fell asleep.
One of the things that most surprised him was the ratio of value to price.
Based on the price point, we were impressed at how comfortable this mattress was. Initially, we assumed that we would have to spend four to five times more in order to get the quality of sleep we did.
The copper-infused memory foam layers and the convoluted foam layer keep the mattress cool, so much so that our tester noted he slept cooler than he normally does.
Customer Reviews