Lazer Bond Reviews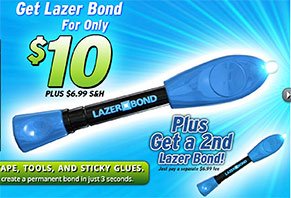 Lazer Bond is an "As Seen on TV" plastic resin that hardens in seconds using an attached UV light, which bonds to almost any surface and can hold up to 350 lbs.
About Lazer Bond
Lazer Bond is a liquid plastic resin that's claimed to create an airtight, watertight, "rock solid bond" on virtually any surface, including porcelain, plastic, leather, copper, wood, vinyl, metal, PVC, glass, and more. According to the manufacturer, this means you'll be able to fix broken glasses, leaky pipes, and just about anything else.
To use Lazer Bond, all you have to do is apply the resin and activate the attached UV light, which will create a permanent bond in just 3 seconds that's capable of supporting up to 350 pounds. On top of this, because Lazer Bond is claimed to never harden in the container, you'll be able to use every last drop.
When it comes down to it though, will Lazer Bond really pay for itself after just one use, or will it end up a bust? Consider the following:
Lazer Bond Test: Does It Work as Advertised?
For more product tests: Click here to subscribe to HighYa's YouTube channel
Can Lazer Bond Really Hold 350 Pounds?
Lazer Bond didn't have any online customer reviews available (more about this next) that could be used to gauge its efficacy, although this weight limit is often claimed by other similar products. However, we don't have any reason to discount the claim.
Keep in mind though, that other bonding agents don't provide the ability to form new pieces (such as the key ring shown in the Lazer Bond commercial), which might give it some advantages over traditional bonding agents.
How Messy is Lazer Bond?
Despite this advantage, keep in mind that any repair you make using Lazer Bond will not be neat and clean.
For example, the Lazer Bond commercial shows the resin being applied to a pair of eyeglasses, as well as to a wood table with a deep gouge in it. In both instances though (although the camera immediately pans away), the resin is clearly raised off the surface, creating a somewhat unsightly appearance.
In other words, while Lazer Bond may help repair everyday items to return their functionality, the results probably won't be pretty.
Lazer Bond Pricing & Refund Policy
One Lazer Bond pen is priced at $10 plus $6.99 S&H, although it's advertised you'll be able to purchase a second for pen for an additional $6.99 S&H. However, we weren't presented with this option when attempting to check out.
Lazer Bond comes with a 30-day refund policy, less S&H charges. This means that if you take advantage of the BOGO offer, you could lose 50% more in S&H charges than you'll ultimately receive as a refund.
With this said, in order to request a refund, you'll need to contact customer service at 855-668-1655.
Should You Buy Lazer Bond?
Chopping to the point: Although Telebrands might want you to think otherwise, UV-activate liquid plastic resin is fairly commonplace, and you might even be able to find an option or two at your local hardware store or home improvement center.
If you do decide to give Lazer Bond a try though, keep in mind that you'll lose a hefty chunk of change in non-refundable S&H charges if you end up dissatisfied.
I think it's a scam

By Julie M.

,

New South Wales, Australia

,

Sep 2, 2019
Verified Reviewer

I cannot evaluate the product. I ordered on their website almost 2 weeks ago. The starter kit was very expensive. The funds were sent by PayPal.

Ten days after ordering, I received an email giving a tracking number. The order was not sent at that time. This was the first I had heard from the company since ordering. On the same day, I went to the website and used their online chat box to see why it was taking so long. They gave me a contact email address.

I sent an email to them straight away, there has been no response.

As far as the tracking info goes, the item has still not actually entered the system...

Bottom Line: No, I would not recommend this to a friend

---

No can do

By James M.

,

Texas

,

Aug 31, 2019
Verified Reviewer

Tried this on several projects. Several pairs of eyeglasses. Plastic box lids. Broken pens, etc. Will not work for me. Did not meet my expectations. Would not buy this product again. Would not recommend this product to friends or family. Would not be reliable for commercial or industrial use...

Bottom Line: No, I would not recommend this to a friend

---

Advertisement

---

Worked for me.

By Mike C.

,

Columbus, OH

,

Jul 14, 2018
Verified Reviewer

The arm of my glasses broke and I can't see without them. I bought this product to repair them until I could get a new pair. I applied the bonding agent to one end, hit it with light, applied to the end and hit it with light. I then put more bonding agent on and affixed the two pieces together. Hit it with the light again. The bond did need some additional reinforcing, but held well.

Bottom Line: Yes, I would recommend this to a friend

---

Great

By Bev F.

,

Alamosa, CO

,

May 31, 2018
Verified Reviewer

I have used the Lazer Bond on oxygen hose, which needs to be flexible and it is. I have also used it on ceramic, and it has worked great. I am really impressed as I used in the refrigerator and it is still holding there. That was months ago. The winner with me was when I used it INSIDE my dishwasher on a part that takes abuse every time the door is opened, and it had held for around five months. I had to replace it yesterday! Every time I run the washer it is on Hot and Heated Dry. The Walmart here no longer carries it and I haven't found a place to get it.

Bottom Line: Yes, I would recommend this to a friend

---

Advertisement

---

Nope

By Joey D

,

Tampa, FL

,

Jan 10, 2018
Verified Reviewer

False advertising. Is completely incapable of "bonding" with any surface. For the heck of it, I put a small but flat puddle of it on some rough cut wood. I used the light until it solidified. You would think that because wood has so many small cracks and splinters in it, this stuff should seep in and have plenty of grabs. However, I scratched it once on the edge, and the whole piece came up.

It hasn't bonded with anything. I've tried using it on many different materials with no luck of an actual bond. Sometimes, the dried resin just falls off of surfaces. Any good reviews on here are definitely written by associates of the company who manufactures this garbage.

Luckily, I only paid $1 for it at Dollar Tree. On the plus side, you can make little models with it and build it up to make some neat stuff. Definitely not functional. Don't believe me? Go to Dollar Tree, and you will probably find it.

Bottom Line: No, I would not recommend this to a friend

---

Very dissatisfied!

I bought Lazer Bond on Amazon - big mistake! I tried to fix a pair of headphones that broke. As soon as I put the headphones on my head, they fell apart again! I think I forgot to clean the surface of the plastic that I wanted to bond, so I tried to bond smooth plastic together, and it still didn't work! $11 down the drain!

Bottom Line: No, I would not recommend this to a friend

---

Works great

By Damon May

,

Dayton, OH

,

Dec 18, 2017
Verified Reviewer

The stuff works great. The curing process isn't quite 3 seconds, even though it doesn't work with glasses broken like in the commercial. It does fix them if they are broke where they do realistically though, and it's good for fixing small things.

Bottom Line: Yes, I would recommend this to a friend

---

Too much for too little

it is almost the same as Super Glue but way more expensive. I think Super Glue works better and the light gimmick is just that. I tried to glue two pieces of black plastic, and I basically had to use the stuff as a putty on the outside because the middle never hardened. The only time it hardened was when it fell back apart with no strength, and then I used the light to harden the middle so it would peel off easier than the liquid.

Bottom Line: No, I would not recommend this to a friend

---

Follow the easy instructions and it works!

New York

,

Nov 8, 2017
Verified Reviewer

Lazer Bond is excellent and will work as good as any other bonding method IF you follow the instructions. Namely, clean the area to be bonded and roughen the slick surfaces (standard procedure for all gluing products). THAT'S IT.

It also helps bond where other glues just make a mess. The Lazer Bond liquid remains liquid until it is "cured" by the ultra-violet light. It cleanly wipes away if you accidentally apply it where it doesn't belong. Try THAT with any of those "quick dry" or "quick set" sticky glues; you can't. It would be a mess that ruins your repair's surface.

Bottom Line: Yes, I would recommend this to a friend

---

Customer

By Kay McKnight

,

Atlanta, GA

,

Oct 28, 2017
Verified Reviewer

This is a great bond, don't take someone else's opinion. Try it! I bought at a drugstore. It's the best for glass, porcelain, leather, etc.

The only possible drawback would be if you could not get the laser between two objects with the laser pointer. You can't close an object and bond if you only need to bond between. It doesn't work like glue that can ooze between and you have to hold forever until it dries.

It works perfectly in 2 second or less; you connect the two broken pieces, press the needle bond around outside of the two pieces, then use the laser light and boom it is stuck, and you're done!

I think it's the best I've ever tried. Gorilla Glue is not gorilla for me. 5 Second Glue is good, but you have to hold for a long time. This is the next big generation bonding! Try it, you won't regret it!

Bottom Line: Yes, I would recommend this to a friend

---

Lazer Bond

By Dave Obot

,

Scottsdale, AZ

,

Oct 19, 2017
Verified Reviewer

It's now at Dollar Stores, so that alone says a lot. I bought one anyway, but at least I'll end up with two batteries and a UV light that can be used to see yucky stuff on pillows and sheets in hotel rooms, LOL.

Bottom Line: No, I would not recommend this to a friend

---