Lazer Bond Reviews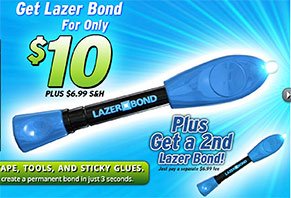 Lazer Bond is an "As Seen on TV" plastic resin that hardens in seconds using an attached UV light, which bonds to almost any surface and can hold up to 350 lbs.
About Lazer Bond
Lazer Bond is a liquid plastic resin that's claimed to create an airtight, watertight, "rock solid bond" on virtually any surface, including porcelain, plastic, leather, copper, wood, vinyl, metal, PVC, glass, and more. According to the manufacturer, this means you'll be able to fix broken glasses, leaky pipes, and just about anything else.
To use Lazer Bond, all you have to do is apply the resin and activate the attached UV light, which will create a permanent bond in just 3 seconds that's capable of supporting up to 350 pounds. On top of this, because Lazer Bond is claimed to never harden in the container, you'll be able to use every last drop.
When it comes down to it though, will Lazer Bond really pay for itself after just one use, or will it end up a bust? Consider the following:
Lazer Bond Test: Does It Work as Advertised?
For more product tests: Click here to subscribe to HighYa's YouTube channel
What Kind of Liquid Plastic is Contained in Lazer Bond?
While there isn't any additional information provided on the product's website about the liquid plastic resin contained in each pen, Lazer Bond appears to be very similar to Bondtastic, which in turn is nearly identical to Bondic. In fact, it appears that Bondic was the original "liquid plastic in a pen," and several other "As Seen on TV" companies appear to have since hijacked the concept.
With this said, the molecules in the plastic remain separated (i.e. in a liquid state) until exposed to UV light, at which time they bond and form a hardened plastic.
Can Lazer Bond Really Hold 350 Pounds?
Lazer Bond didn't have any online customer reviews available (more about this next) that could be used to gauge its efficacy, although this weight limit is often claimed by other similar products. However, we don't have any reason to discount the claim.
Keep in mind though, that other bonding agents don't provide the ability to form new pieces (such as the key ring shown in the Lazer Bond commercial), which might give it some advantages over traditional bonding agents.
How Messy is Lazer Bond?
Despite this advantage, keep in mind that any repair you make using Lazer Bond will not be neat and clean.
For example, the Lazer Bond commercial shows the resin being applied to a pair of eyeglasses, as well as to a wood table with a deep gouge in it. In both instances though (although the camera immediately pans away), the resin is clearly raised off the surface, creating a somewhat unsightly appearance.
In other words, while Lazer Bond may help repair everyday items to return their functionality, the results probably won't be pretty.
What Are Customers Saying about Lazer Bond?
Lazer Bond was a very new product at the time of our research (URL registered April 2015) and didn't have any online customer reviews available.
However, Lazer Bond is manufactured by Telebrands, who also makes many other popular ASOTV products, including Mighty Blaster, Ankle Genie, and Grassology. And among more than 290 HighYa reader reviews for these products, they had an average rating of 1.5 stars, with common complaints citing failure to work as advertised, poor quality, and difficult customer service experiences.
Granted, you may not experience the same with Lazer Bond, although it might be something you'll want to keep in the back of your mind.
From a company perspective, Telebrands held a D rating with the Better Business Bureau, based on 1246 closed complaints (as of 6/22/15), most of which appeared to reference the same concerns above. In fact, the BBB revoked Telebrands's accreditation in August 2014 after the NJ Attorney General found the company "violated the Consumer Fraud Act through its practice of aggressively upselling products through its automated phone system and websites, failing to provide means for consumers to opt out of the ordering process, shipping and billing for products not ordered by consumers, and using misleading advertisements, among other violations."
Lazer Bond Pricing & Refund Policy
One Lazer Bond pen is priced at $10 plus $6.99 S&H, although it's advertised you'll be able to purchase a second for pen for an additional $6.99 S&H. However, we weren't presented with this option when attempting to check out.
Lazer Bond comes with a 30-day refund policy, less S&H charges. This means that if you take advantage of the BOGO offer, you could lose 50% more in S&H charges than you'll ultimately receive as a refund.
With this said, in order to request a refund, you'll need to contact customer service at 855-668-1655.
Should You Buy Lazer Bond?
Chopping to the point: Although Telebrands might want you to think otherwise, UV-activate liquid plastic resin is fairly commonplace, and you might even be able to find an option or two at your local hardware store or home improvement center.
If you do decide to give Lazer Bond a try though, keep in mind that you'll lose a hefty chunk of change in non-refundable S&H charges if you end up dissatisfied.
69 out 82 people found this review helpful

OMG

By Kevin Barlo

,

Jan 23, 2016

Wow this stuff has some pros and cons. We'll start with the cons:

Smells really bad
Doesn't work, just like all TV commercial products
I'm a sucker, and so are you if you bought it
Made in China, not USA

Pros:

Great gift for mother-in-law. I absolutely loved it, worked like a charm, glued my boat back together and had mother in law try it out. Epic fail.
Totally ripped me off and did a good job at it
It's cheap super glue and the light does nothing, the light or blowing on it - same result. Mother-in-law's hot breath also did the trick.
Paid $30 for super glue.
Support for Chinese economy.

Bottom Line: Yes, I would recommend this to a friend

---

68 out 73 people found this review helpful

This is a scam!

By Margie Schmidt

,

Nebraska

,

Dec 11, 2015

They advertise it as made in USA, my box clearly states made in China. I received 1 case with a damaged product in it, and the "free" case which they promised was totally empty. Yes I received 2 cases as promised but 1 was empty and 1 was damaged. I tried to call the 800 number but was told that they were busy and I should call back later. THIS IS A SCAM!

Bottom Line: No, I would not recommend this to a friend

---

Advertisement

---

59 out 62 people found this review helpful

It's junk.

By William

,

Redondo Beach, CA

,

Dec 5, 2015

I should have known when you seen the cable trick pulling that truck. This crap doesn't work at all. That 3 seconds claim is nonsense. I left light it on for over a minute. Don't buy it. THIS IS A RIP OFF.

Bottom Line: No, I would not recommend this to a friend

---

58 out 61 people found this review helpful

Junk

By Pete C

,

Rochester, N.Y

,

Mar 4, 2016
Verified Reviewer

I have seen the commercials for this sham numerous times on TV and it looks too good to be true, because that's exactly what it is. My daughters have a particular line of dolls which are junk and break in the same place all the time. I thought if this stuff works it would be a quick easy fix for these dolls. And a little FYI, you don't have to order this off TV or online, any Walmart, Rite Aid, or Walgreens sell this garbage in their as seen on TV section for $10 instead of the $20 they want online or on TV. You do get one extra tube for $20 on TV or internet along with a ridiculous carry case, which is not necessary at all. But at $10 from the as seen on TV section at a local store you can still get 2 tubes for $20 and not pay the ridiculous $7.95 shipping fee for something that really only costs pennies to send. So they make a killing on shipping, out of the $7.95 they charge they put over $7 in their pocket.

So now for the review? This stuff is junk. I did exactly as the directions said, and then some as for preparation. I even fixed my glasses just like on TV and as soon as I went to flex it just like on TV, it broke before I could even get any pressure on it. (Broke right on the glue joint because it adheres to nothing but itself.) Tried it right away on the kids dolls, and bam, didn't adhere to anything but itself as it popped right off in a chunk sticking to nothing but itself. Cleaned the doll parts off, gave them a light sand with 400 grit sand paper, thinking maybe a little texture would help it bond? Of course not, it broke right back off as it did every other time.

So I tried it on a different material with the same results, wood? Nope. Metal? Nope. Glass? Nope. Couple rocks from the driveway? Nope. Oh wait I know I'll try the exact same things they did on TV. Wine glass with a stem cut in half just like TV commercial? Nope. Little glass knob on decorative box as in TV commercial? Nope. A 25 lb dumbbell? I didn't cut one of mine yet to see, but I guarantee it fails. So one last try, I have a kitchen table with a little chunk of wood missing on the lower leg. I clean and sand around the area even though on TV they do not, filled the gap as shown on TV, cured it with the light as always and sure enough when I went to sand it down the sandpaper knocked the entire chuck of laser bond right out of the gap.

Tried to get a refund as it states right on the package and on TV and on the Internet, but they don't want to refund it because I got it at the store at a lower price than their commercial or Internet sell it for. And doing so they cannot keep the $7.95 they charged for shipping, which coincidentally more than covers what this junk really costs to produce and sell.

See that's the biggest part of the gimmick. Even if they have to refund your money they're still getting paid. The $20 they charge for it is all 100% profit on top of the $7.95 they made off shipping. And even if you jump thru the hoops they ask you to in order to receive the refund, you have to wait up to 60 days for it. So do yourselves a favor and use something that really works, like the number of 5 minute epoxy on the market that actually do work. Or if you need a quick fix like this that really works, try Bondic, it's much better.

Bottom Line: No, I would not recommend this to a friend

---

Advertisement

---

56 out 58 people found this review helpful

Crap

By Dave

,

Spencer, Ma

,

Dec 10, 2015

I bought this to fix a cracked plastic headlight on my plow. I pulled out of the garage and it fell apart. Will be looking for a refund. Wish me luck.

Bottom Line: No, I would not recommend this to a friend

---

55 out 56 people found this review helpful

Complete and utter junk.

By Bobby La Bete

,

San Francisco, CA

,

Dec 22, 2015

I wish I had read these reviews before I ordered Lazer Bond. Apart from the abysmal customer service, the product simply doesn't work. I should of known better.

Bottom Line: No, I would not recommend this to a friend

---

54 out 57 people found this review helpful

No good, a waste of money!

By Brad

,

New York

,

Dec 25, 2015

It was delivered with carrian case full off bond, and none in tube. I was on hold with customer service for one and a half hours. Then they finally hung up on me. HaHa, not funny!

Bottom Line: No, I would not recommend this to a friend

---

51 out 54 people found this review helpful

The truth.

By Patricia

,

Lexington, NC

,

Dec 27, 2015

I used Lazer Bond and it is just a lie. Things break again. Lazer Bond is as hot as a hot-glue gun. Doesn't work.

Bottom Line: No, I would not recommend this to a friend

---

47 out 47 people found this review helpful

Customer service is terrible

By Jim Akins

,

Knoxville, TN

,

Nov 14, 2015

I placed my order online on October 10th for the buy get one free glue pen with free shipping for $19.99. I called to check the status on November 11, and the automated system said they received the order on 10/15 when in fact my confirming email is on 10/10. After holding for about 10 minutes, I spoke to someone NOT IN AMERICA and was advised it may be longer than six weeks before I get the product as it was on back order. Their service sucks and I'll let you know if the glue works. Wish I had not ordered.

Bottom Line: No, I would not recommend this to a friend

---

47 out 49 people found this review helpful

Lazer Bond effectiveness

By Paul

,

Augusta, Maine

,

Jan 28, 2016

I tried it on two different objects and neither one held. So as expected, it is a scam.

Bottom Line: No, I would not recommend this to a friend

---

46 out 47 people found this review helpful

Don't order Lazer Bond

By Tim

,

Minneapolis

,

Nov 16, 2015

I ordered Lazer Bond almost a month ago and still don't have it. I have talked to their service center twice and each time they have told me that they haven't charged my credit card, but they have, and that they were sending it the next day, which they haven't done yet. Beware of this company.

Bottom Line: No, I would not recommend this to a friend

---