LCR Health Active Stem Reviews
Claimed This company has claimed this profile, is getting alerted on any new customer reviews entering this page, and may engage in dialogue with its customers to address their matters.

Companies cannot pay money or provide goods in order to remove or alter customer reviews.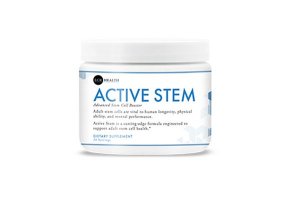 The LCR Health Active Stem powdered supplement claims to improve cognitive function, enhance muscle strength, and improve health by boosting adult stem cells.
What is Active Stem from LCR Health?
Using only five high-quality, science-backed ingredients, LCR Health Active Stem is a new berry flavored supplement formula that promises to boost adult stem cell proliferation, leading to better mental and physical health.
This includes improved cognitive function, enhanced joint and muscle strength, increased longevity, and improved energy levels, as well as anti-aging benefits.
LCR Health submits all batches of Active Stem to third-party testing for purity and potency, and the supplement is manufactured without synthetic additives, magnesium stearate, dairy, or caffeine.
You're passionate about your health, which is why you want to learn more about Active Stem before handing over your money. Is it a unique product? Will it work as advertised? Are its ingredients really backed by science?
Let's start answering your questions by taking a look at Active Stem's price.
How Much Does Active Stem Cost?
1 Bottle (approximately 30 scoops): $46.99 plus $3.95 standard shipping
3 Bottles: $117
6 Bottles: $214.27
All orders $50 and over come with free shipping. Regardless of the amount you purchase, Active Stem comes with a 90-day money back guarantee, less S&H, even if you've used the entire bottle.
To request a refund, LCR Health's customer support department can be reached at 800-384-8308 or support@lcrhealth.com.
What kind of results might you realistically expect for your money?
Are Active Stem's Ingredients Backed by Science?
One scoop of Active Stem contains the following ingredients:
Vitamin D3 2,000IU
Stem Cell Enhancing Blend 1,400mg: L-Leucine, Blueberry powder, Green Tea extract, L-Carnosine
Are there clinically proven health benefits associated with many of these ingredients? Certainly. For example:
Vitamin D3
Vitamin D3 (and vitamin D in general) plays an important role in calcium and phosphorus regulation inside the body, as well as in maintaining bone structure.
As such, according to authoritative websites like WebMD, vitamin D supplementation may help address softening of the bones, bone loss, and osteoporosis—all conditions commonly associated with aging.
However, these websites indicate that vitamin D supplementation may not be useful for those who aren't deficient or who are otherwise healthy.
L-Leucine
Leucine belongs to a class of essential nutrients known as branched-chain amino acids (BCAAs) that play an important role in muscle health.
Again, though, we're told that there isn't sufficient clinical evidence that l-leucine supplementation can provide any health benefits in humans, or play a role in boosting adult stem cell proliferation.
Blueberry Powder
Blueberry naturally contains high levels of vitamin C and other antioxidants that may help fight free radical damage, and its high fiber content can also boost digestion.
Green Tea
Green tea contains caffeine, which can temporarily boost alertness, while its polyphenol content may help prevent inflammation and swelling and improve joint health.
Like blueberry, green tea is also naturally high in antioxidants that may assist with heart and blood vessel health.
L-Carnosine
Carnosine is an amino acid (specifically, it's a combination of the amino acids beta-alanine and histidine) that helps the muscles, heart, liver, kidneys, and brain function and grow properly.
Despite the potential benefits of each of these ingredients, though, authoritative websites indicate there isn't enough evidence that their supplementation can provide any stem cell-related benefits in humans.
What About the Clinical Evidence Listed on Active Stem's Website?
On Active Stem's Research page, LCR Health referenced three studies to support their claims:
A 2010 study conducted by the International Biotechnological Center of MV Lomonosov at Moscow State University, which found "carnosine can be recommended for patients under oxidative stress as a natural remedy having high efficiency and no side effects."
Unfortunately, nothing else is referenced (such as actual clinical work) to support this conclusion.
A 1999 study completed by the Department of Biology of Physical Activity at the University of Jyväskylä, Finland, which found that the consumption of BCAAs (30-35% leucine) may play a role in reduced protein degradation and depletion of muscle glycogen stores.
However, they conclude by stating, "Caution must be paid when interpreting the limited number of studies [emphasis ours] in this area since, in many studies, leucine has been supplemented as part of a mixture of BCAA. Consequently, further research into the effects of leucine supplementation alone is needed."
Finally, the company references another 1999 study on carnosine that found the amino acid may affect fibroblast (a cell in connective tissue that produces collagen and other fibers) rejuvenation.
First, it's important to note that this study was conducted in vitro; e.g. in a Petri Dish, and not in humans. Second, fibroblasts aren't stem cells, so we remain unsure exactly how this study supports LCR Health's claims.
Granted, this is what we've learned during our research from authoritative websites. But what are Active Stem's real-world customers saying?
Active Stem vs. Other Stem Cell Supplements: What Can We Learn From Reviews?
LCR Health & Live Cell Research
Although we didn't encounter any legitimate feedback for Active Stem at the time of our research (it was too new), after clicking the LCR Health link at the bottom of Active Stem's ordering page, we were redirected to Live Cell Research's home page.
As a company, Live Cell Research (and their DBA LCR Health) is based out of Woodland Hills, CA and manufactures a whole line of popular nutritional supplements, including LA-3 and Niagen.
HighYa readers seemed to give Live Cell Research and their supplements an overall average rating of about 3.5 stars, with most compliments referencing health benefits (e.g. increased energy, improved sleep, boosted concentration) and solid service.
Among complaints, the most popular seemed to be that their supplements didn't work (in our experience, this is the most common complaint related to all supplements, not just those from LCR Health), in addition to billing problems, less-than-stellar customer service, and even some side effects.
Comparing Active Stem & Vital Stem
Will you experience any of the same with Active Stem? Based on their labels, Active Stem and Vital Stem appear to be identical products—right down to the pricing, formulation, and dosing.
On a positive note, of Live Cell Research's supplements, Vital Stem is their most highly reviewed here on HighYa, with an average rating of 4.4 stars. Most customers referenced benefits like reduced pain, reduced joint stiffness, better sleep, and increased strength and stamina.
Admittedly, everyone's body is different, so this isn't to say you'll achieve any of these benefits, but customer feedback seems highly positive nonetheless.
Are There Other Stem Cell Supplements?
Type "stem cell supplements" into any search engine and you'll be met with hundreds of results promising to help you accomplish much of the same as Active Stem (including Live Cell Research's own Vital Stem).
Some of these contain one or more of the same ingredients found in LCR Health's Active Stem, while others feature completely different formulations.
The problem? Regardless of the formulation, we didn't encounter any clinical evidence on authoritative websites during our research that directly linked food or ingredient supplementation with a boost in stem cells—adult or otherwise.
We spoke with Nathan Wei, M.D., a board certified rheumatologist with more than 30 years of clinical research experience, who told us:
"The various concoctions that claim to be able to do this through some type of pill, I believe, are shams. There is no credible scientific proof I'm aware of where these concoctions do anything except lighten a person's wallet."
Dr. Angie Sadeghi, a board certified gastroenterologist, expressed a similar sentiment when stating:
"If you have deep pockets, and can afford to take a risk of spending thousands of dollars without any potential clinical benefit from these products, go right ahead. Otherwise, I would say hold your horses, as these promises made by nutraceutical companies are driven by money instead of legitimate scientific research."
Furthermore, we didn't come across any evidence that the clinical use of stem cells can provide any of the benefits promoted by Active Stem's manufacturer.
Let's carry this thought over to the next section as we wrap things up.
Our Bottom Line About LCR Health's Active Stem Supplement
Stem cells are unspecialized cells that can divide and renew themselves for long periods of time, and can also become other specialized cells. There are two different types:
Derived from embryos, embryonic stem cells are known as pluripotent cells, since they can become all cell types; a heart cell, a brain cell, a skin cell, and so forth.
On the other hand, adult stem cells can only differentiate into different cell types of the same tissue origin. So, a muscle cell will remain a muscle cell, a skin cell a skin cell, etc.
Both embryonic and adult stem cells are cultured in laboratory environments under very strict conditions. They're also very fragile, which is why you often won't find them contained in supplements or creams.
But while the Active Stem website was correct when noting that our body produces increasingly fewer adult stem cells as we age, we didn't encounter—and the company didn't provide—any clinical evidence from authoritative websites drawing a link between Active Stem's ingredients and increased adult stem cell proliferation.
What's more, there are thousands of different supplements, many of which we've reviewed, that contain several of these same ingredients, so they're certainly not rare.
Based on this alone, we think you might get more value for your money by managing your stress, getting plenty of sleep, taking up an exercise routine (such as walking), and of course, by speaking with your doctor about low energy and any other concerns you may be experiencing.
If you decide to give Active Stem a shot, though, LCR Health stands behind the supplement with a 90-day refund policy, even if the bottle is empty. Just keep in mind that you'll be out a few bucks in shipping.
Gave me a great get-up-and-go

By Mary B.

,

London, England

,

Dec 12, 2019
Verified Reviewer

I had no energy and my legs felt dead and I would dread doing housework like moving furniture. Within 2 weeks of taking Active Stem, I have the feeling of get-up-and-go - that I can tackle anything. I feel I could move furniture, walk for miles and happy in my head. I found a great way of mixing the powder. I just put the required 15ml of water in an empty jam jar, put in the required scoop of Active Stem and gently shake the bottle and drink. I have got used to the taste. The only problem is that is this a product you take for life or can you stop and rest awhile? Since we cannot be affiliates, they could supply flyers that we can give to our friends and people we meet who are suffering.

Bottom Line: Yes, I would recommend this to a friend

---

Awesome product

By Diana P.

,

Ocala, FL

,

Nov 13, 2019
Verified Reviewer

I have used Active Stem as I was in pain and sick. Could just do work and chores then had to lay in bed as in pain and not able to function well. I saw an ad for this product online and tried it. I was able to get up, move around with ease, and the pain stopped and I was feeling well again. Didn't take very long after taking the product. I did have a time I was unable to order due to money and tried other less expensive things but found out I didn't get the results and found I would spend more on multiple products for joint pain and other things. So I ordered again and will stick with it. I call it my life supplement. It has helped me so very much. I hope you get the same results as I did. And customer service is very good also. And I recommend it to everyone I know and give a container away for them to try also. I know the horrible feeling one has when in pain or sick...not the way to live.

Bottom Line: Yes, I would recommend this to a friend

---

Advertisement

---

Much improved

By Amy B.

,

Greenville, KY

,

Jan 7, 2019
Verified Reviewer

It really helps me a lot!

Before I could hardly walk up the hill, go up and down stairs. Felt like my body was falling apart. Felt very old. Achy. Sensitive back. Tire very easily.

Now, I feel much younger with more energy!

Amazing!

I mix it with a teaspoon of ACV until it dissolves. Then add juices of any kind, plus Aloe Vera.

Bottom Line: Yes, I would recommend this to a friend

---

Thinking about it!

By Maryluz R.

,

West Springfield, MA

,

Nov 28, 2018
Verified Reviewer

I have not tried this product but decided to look into it a little more before trying it. I do wonder if these products are just a temporary fix while you use it only to keep you buying this product. This is a little expensive for a dietary supplement.

Bottom Line: No, I would not recommend this to a friend

Nov 28, 2018

Hi Maryluz, my name is Taylor with LCR Health. Thank you for taking the time to share your feedback! Our products are extensively researched and contain only the highest quality ingredients. We also offer a risk- free purchase; if you are unsatisfied or unchanged with Active Stem, you are able to return the product within 90 days. If you have any outstanding questions or concerns, please email me at taylor@lcrhealth.com and I will be more than happy to assist you.

---

Advertisement

---

Two weeks in

By Wild J.

,

Montana

,

Jul 10, 2018
Verified Reviewer

First thing I noticed is that it does not mix easily in water as stated, so not readily water-soluble. Even after serval hours and sever shaking in a glass bottle, there is a large amount of gritty sediment! The taste, although not pleasant, it is also not repulsive. Now at two weeks no positive effects. But I do seem to have more muscle and joint pain than before? I will continue for a full month before returning.

Bottom Line: No, I would not recommend this to a friend

Jul 10, 2018

Hi Wild, my name is Taylor with LCR Health. Thank you for taking the time to give us feedback on Active Stem. First, increased muscle and joint pain is not a typical side effect of Active Stem so please consult your physician to ensure that this product is right for you. Once you receive your physician's approval, I recommend using a shaker bottle or blending Active Stem into your morning smoothie to help the powder mix smoothly. Please feel free to reach out to me at taylor@lcrhealth.com with any updates, questions, or concerns!

---

Still too early to tell much.

I've been using the product for a few weeks, and feel that it may have some health benefits beyond what I was hoping for. I'd like to give it a full 3-month trial before weighing in officially. Initially, I feel that I may be sleeping better, my skin seems to have improved quite a bit, and just generally feel better.

Bottom Line: Yes, I would recommend this to a friend

---

Amazing results

My man and I have been using Active Stem for just over a year and have been continually amazed with the results. We both had a decrease in arthritic knuckle sizes within two weeks. He had been having pains, and those were gone. Within a couple of months, my whole body eczema was gone. I had lost about 2/3 of my hair, and it has grown back, shiny and thick. Now his bald spot is filling in and my eyebrows and eyelashes are coming back. We are both in our 60s and happy to be looking and feeling better.

Poo on the negative reviews. I've gotten friends and family on this now, and all are having good results with skin, hair, and arthritis, and energy levels. It's worth every cent.

Bottom Line: Yes, I would recommend this to a friend

---

Great

I am on my feet working retail eight hours a day. I walk five to six miles a day in the store. My knees and feet are in constant pain. After two weeks things have improved greatly. Pain is gone in the knees and feet feeling better.

Thank you so much.

Bottom Line: Yes, I would recommend this to a friend

---

Poor shipping practices

By John

,

California

,

Apr 23, 2018
Verified Reviewer

I ordered the product on 4/9/18. It's 4/17/18 and it's still not here. "Here" is Fresno, California, just a few hours away from their shipping warehouse. I was supposed to have received a tracking number within 1-3 business days-no number. I just got off the phone with one of their reps who told me that my order was still in their warehouse. What the heck? What kind of business and service is this?

Bottom Line: No, I would not recommend this to a friend

---

Really helps!

By Brenda Fox

,

Janesville, WI

,

Apr 6, 2018
Verified Reviewer

I had an L5/S1 Fusion back in 2006. My back started bothering me again, and I happen to see an ad for Active Stem pop up. I didn't really think it would work, but it was either that or steroid injection time. It helped more than I believed it would! I used six containers of it and then took a break. Needless to say, after a few months, I am definitely going to reorder. My back is starting to bother me again.

I am 53 and am very active and was VERY skeptical. This works. Period.

Bottom Line: Yes, I would recommend this to a friend

---

Absorbent pack in container leaking in the product

By Mike T

,

San Diego, CA

,

Feb 8, 2018
Verified Reviewer

I started taking Active Stem in the beginning of December 2017 to feel better. I noticed in about half of the Active Stem drinks I had made some little extra pieces at the bottom. Since I always added a 1/2 teaspoon of semi course sugar, I didn't think much of it.

After this continued, I said this isn't normal. Sure enough, I found a medium size hole in the absorbent bag that sits in the container. To be very honest this did not go over well with me since I was on my second container.

I called up their customer service number and reported it. The customer service rep offered a replacement bottle and tried to get me to ship it back on my dime. I said no, I want to speak to a supervisor. The supervisor refunded my order and apologized. I was totally shocked that this did not pass quality control and would not recommend this product at all. Very disappointing!

Bottom Line: No, I would not recommend this to a friend

Feb 9, 2018

Hi Mike, I'm Taylor from LCR Health. I truly appreciate you bringing this to my attention. I am so deeply sorry to hear about the experience that you had. I take these claims seriously and I will make sure that this does not happen again. I am so glad to hear that our customer service department was able to entirely refund your order. Again, I truly apologize for this situation. If you ever have any other concerns or problems, please don't hesitate to reach out to me directly at Taylor@LCRHealth.com, and I will take care of them for you right away.

---