LeafFilter Reviews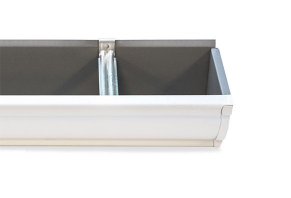 Using a patented micromesh design that doesn't require you to purchase new gutters, the LeafFilter gutter guards claim to prevent pesky (and potentially dangerous) cleaning each year.
About LeafFilter
In business since 2005 and headquartered out of Hudson, Ohio, LeafFilter's premium systems attach to your existing gutters and are guaranteed to permanently keep everything out except water.
As a result, their website advertises your gutters will remain clean and your home protected against costly repairs all throughout the year. And because you can avoid cleaning your gutters, the manufacturer also claims they'll help keep you "safe and off the ladder for good."
How can you choose between LeafFilter and the dozens of other popular gutter guards? In this article, we'll walk you through the pricing, online customer feedback, and the competition—starting with their basic functionality.
How Does LeafFilter Work?
Jim Gorman of This Old House magazine reports that just one inch of rain can represent up to 1,900 gallons of water falling on your roof. And if you don't have gutters diverting it to specific areas, this water can eventually lead to all kinds of problems, including a buildup of pressure that causes cracking and sinking in the foundation (depending on soil type), rotting in the siding, and can even penetrate window casings and enter your home's interior.
Despite their importance, most of us have the habit of letting our gutters fill with leaves, pine needles, and other debris to a point where their effectiveness is at least somewhat impacted. After all, it's a thankless, labor-intensive, and sometimes dangerous process that no one looks forward to.
To keep everything free-flowing and help you avoid this task, LeafFilter's system installs over the top of your existing gutters and is comprised of three core parts:
1. Micromesh Filter – On top is a micromesh filter made out of a surgical grade stainless steel, which will never rust, corrode, or allow anything to adhere to it.
While the holes in this filter are only 50 microns in size (small enough to even keep out shingle grit), the LeafFilter website explains that "as water flows down your roof and passes over the system, surface tension pulls water through the screen."
To effectively handle as much water as traditional open-faced gutters, while still shedding debris, LeafFilter's product is installed at a specific 11° pitch.
2. uPVC Frame – The filter is affixed to a durable uPVC frame, which we're told can handle the most extreme temperatures, whether heat or cold, and will never warp or deteriorate.
3. Reinforcing Hangers – As your LeafFilters are installed, internal hidden structural hangers are fastened into your fascia board, which prevents your gutters from pulling away from your home.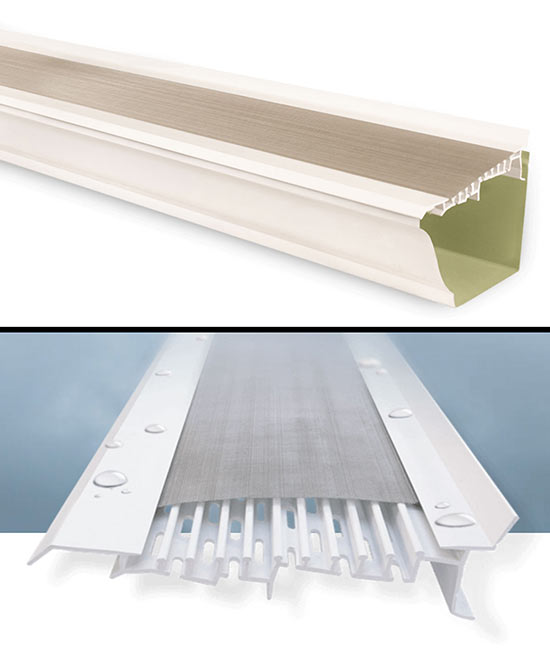 Here, we can see a cutaway of LeafFilter's three-piece gutter guard system, including the micromesh screen, uPVC frame, and reinforcing hangers. Credit: LeafFilter North, Inc.
Because of its low-profile design, LeafFilter advertises that their system won't be seen from the ground, and it's available in a number of colors to match your home's design and your taste preferences.
How Much Does LeafFilter Cost & Where Can You Buy?
According to their website, the total cost for a LeafFilter system will depend on a number of key factors, including the size and shape of your existing gutters, their length (as measured in linear feet), and their condition (some might need to be replaced beforehand). If you have some areas around your home with heavy debris, and others with little-to-none, you might only need a partial install as well.
With these details in mind, you can receive a free, no-obligation estimate, which is valid for one year. Financing is available for those who qualify, which can be as low as $35 per month with a 0% APR. Seniors and military personnel can also enjoy a 10% discount.
All LeafFilter systems come with a money back, no clog guarantee, so "you can enjoy the peace of mind that your gutters are protected for life." This warranty is also transferable to a new owner if you sell your home.
If you have additional questions, a LeafFilter representative can be reached at 800-290-6106.
What Can We Learn From LeafFilter Customer Reviews?
LeafFilter's systems had more than 1,500 customer reviews on Trustpilot at the time of our research, with an average rating of four stars. There, most compliments revolved around their effectiveness at keeping out debris, as well as quick and easy professional installation.
On the other hand, the relatively few complaints often referenced ineffectiveness (specifically, that rain goes right over them and creates a waterfall effect wherever they're installed), although many claimed this was due to faulty installation and warranty support provided by third-party installers.
We also encountered more than 10 customer reviews on Yelp, who had given LeafFilter a meaningfully lower 2.5-star average rating. Complaints and compliments mostly matched those found on Trustpilot.
Back in 2010, Consumer Reports tested some of the top gutter guards. And when it came to the top-scoring LeafFilter, they wrote that it, indeed, helped shed debris (like all of the competition), although its "screen was only middling at containing a severe downpour."
LeafFilter vs. Other Seamless Gutters & Gutter Guards
According to Jeffrey Fick of Fick Bros. Roofing & Exterior Remodeling Company, "There are over 70 gutter protection products in the U.S. and over 150 companies selling these systems."
In other words, LeafFilter is up against some hefty competition, many of which install over existing gutters, use stainless steel micromesh screens (or other patented aspects) to trap debris while maintaining water flow, feature weather and UV-resistant frames, are available in a variety of colors and finishes, come with extensive warranties, install using heavy-duty mounting brackets, and boast attractive/unnoticeable designs.
Here are just a handful of popular search results:
| | |
| --- | --- |
| Company | Standout Features |
| LeafFilter | Lifetime, transferable no-clog warranty; estimates are guaranteed and valid for 1 year |
| Gutter Guard by GutterGlove | Headed by the creator of micromesh technology (Robert Lenney), DIY and Pro versions, 4 different models available to suit a variety of installation scenarios |
| MasterShield | 4 models available (heated, leaf, pine needles, and copper), Shingle-Safe™ backing |
| Englert LeafGuard | In business since 1993, the only one-piece cover available, works using the principle of liquid adhesion (no mesh screen) |
| Gutter Helmet | Also uses the principle of liquid adhesion, patented Nose-Forward design, heated version available |
| Gutter Topper | Another liquid adhesion model, patented Bird Guard, lifetime guarantee that's transferable, withstands heavy weight and strong winds, patented clip-on system w/no hangers or brackets |
| Ply Gem Leaf Relief | 5 models available depending on debris concerns, the manufacturer also makes complete gutter systems |
| Gutter Dome | 30-year lifetime limited warranty |
| Evelyn's Leaf Solution | In business since 2002, 25-year warranty, uses three unique longitudinal seams that allow it to be installed at a slope |
How to choose between these relatively similar options? Like with any other product, the price will certainly play a big factor, so you'll want to obtain several different estimates to ensure that you're not paying too much. And if you're relatively handy and don't mind adding some sweat equity, installing a DIY leaf guard could represent the best bang-for-your-buck.
Once you've narrowed your options down to one or two manufacturers, another good idea is to verify whether or not their gutter guards are installed in-house, or by third-party contractors. If handled by third parties, based on what we learned from online customer reviews, experiences can vary. Sometimes, these contractors are responsible for providing warranty support, which means that if they go out of business, your warranty goes along with them.
Along these same lines, returning to the Consumer Reports article cited earlier, they point out that you'll want to ensure installing an aftermarket leaf guard won't void your existing roof or gutter warranty.
Finally, Kaylyn Boccia of The Brothers that just do Gutters emphasizes that you'll want to keep your expectations realistic, whether you choose to go with LeafFilter or another brand. This, she explains, is because "there is no such thing as a maintenance-free guard product":
"Although having guards can significantly decrease the maintenance, as you will no longer need to clean the interior of your gutter system, (with the right guards) you will still need to brush off the top of the guards to remove the leaves and debris that will inevitably pile on top of the guard.
If a contractor is stating that their product is maintenance free, they should have this information clearly spelled out somewhere in their terms and conditions and explain what exactly it means."
Let's pull all of this information together and come to a conclusion about LeafFilter.
Is LeafFilter the Right Gutter Guard for You?
Whether it comes to LeafFilter or another micromesh-based gutter guard, we think your first decision shouldn't necessarily revolve around effectiveness, but overall value.
For example, writing for Angie's List, Cynthia Wilson explains that in general, gutter guards cost between $7.50 and $10 per linear foot installed. "Considering that the average home has about 200 feet of gutter," she says, "homeowners should expect to pay about $1,500 and $2,000 for professional gutter guard installation, though more complex gutter guard systems will be more expensive."
Comparatively, HomeAdvisor reports that the national average cost for professional gutter cleaning is about $151. This means that if you had yours cleaned once per year, it could take you between 10 and 13 years to make up the price of a gutter guard installation.
With these details in mind, LeafFilter has been in business since 2005 and held an A+ Better Business Bureau rating, with on just one closed complaint, as of 7/24/18.
Based on the sheer number of feedback on Trustpilot, the overwhelming majority of customers also seem pleased with their gutter guards. And other than the Gutter Topper liquid adhesion model, they're the only micromesh-based option that offers a lifetime transferable warranty, if this is one of your main criteria.
---
Not good customer service

By B.L. W.

,

Indianapolis, IN

,

Jul 6, 2020
Verified Reviewer

Overall Experience:

I scheduled installation and the first time they called 45 minutes late and asked to come 3 hours later. The second time was scheduled for 8 am, 9:45 am I called, got a call back from Mr. Davis who said it would be later in the afternoon. I told him no, I couldn't, and he simply replied at this time I was not his customer and he didn't have to please. My reply was cancel it.

Pros and Cons:

Salesman was good
Customer Service is non-existent

Bottom Line: No, I would not recommend this to a friend

---

Lifetime warranty

By Gene L.

,

Fernandina Beach, FL

,

Jul 1, 2020
Verified Reviewer

Overall Experience:

Contract date 12/08/2015. Performed as expected. Kept my wife off the ladder. Recently, a roof serviceman commented the gutter guards on the screened patio had a problem. Called LeafFilter. They sent a person (Ronnie) to inspect for damage. He took pictures - about June 8th. Then on June 26, 2020 a serviceman came and proceeded to make the repairs. His name is Robert. He worked on the very hot roof during the middle part of the day in 90-degree heat for 7 or more hours. Never complained and only asked for water. Robert gets 5 stars. We haven't had a heavy rain, so I can't comment on the repair, just that Robert gets a big pat on the back. He ripped out several pieces, so I am guessing there was a major repair. I can't access the gutter so I am betting on Robert. Thanks.

Pros and Cons:

Product
Warranty
No gutter cleaning
No "cons" were specified in this review

Bottom Line: Yes, I would recommend this to a friend

---

Advertisement

---

Do not install these filters

By Armando G.

,

Highlands Ranch, CO

,

Jun 19, 2020
Verified Reviewer

Length of Use: 6–12 months

Overall Experience:

I had gutters with LeafFilter installed that were causing ice damage during the first snow storm. Icicles that formed that were at least 2-3 ft long (documented) where there was never a problem before. Water running down home siding and freezing which was never a problems before (documented). LeafFilter positioned a section of gutter to adjust the pitch, water pooled and never drained (documented). Their solution was to use caulking to seal gutters that never had these problems before their product was installed. Had technicians come out that were not truthful and never fully resolved the situation.

Pros and Cons:

Nice sales pitch with many promises.
Inferior product in colder climate.
Poor resolution.

Bottom Line: No, I would not recommend this to a friend

---

Major problems with LeafFilter

By Steve D.

,

Middle Grove, NY

,

Jun 18, 2020
Verified Reviewer

Length of Use: 3–6 months

Overall Experience:

Very unhappy with the LeafFilter system due to several problems in its performance. First of all, if you have pine trees, pine needles collect and get caught in the filter and back up onto the roof. This happens even on a very steep 12" x 12" pitch roof. In 32 degree and cold weather, the screen on the filter freezes with even the lightest mist or rain and blinds over. This effectively acts like another course of shingles and the water just runs down over the gutter and creates splash and water damage to the walls of the building. I asked for a refund and told them to come remove the system. A customer service rep came out and agreed with the fact that my gutters were completely covered and leaves and pine needles were piled up onto the roof. They agreed the gutter would have to be hand cleaned which their "Lifetime Guarantee" says will never have to happen. LeafFilter of North New York said the corporate office would have to handle the claim and I've been getting the runaround ever since. Would never recommend this system!

Pros and Cons:

No "pros" were specified in this review
False claims of performance
Will not stand behind their product
"Used car" sales approach with a big pitch and samples but the product doesn't work in the Northeast

Bottom Line: No, I would not recommend this to a friend

---

Advertisement

---

LeafFilters are worthless

By CA S.

,

Jamestown, TN

,

Jun 18, 2020
Verified Reviewer

Overall Experience:

Approximately one year after LeafFilters were installed on my house I was watching during a rainstorm as the water ran right over the LeafFilters onto my patio and drive. I called the "customer service" #1-800-749-4566 and listened to the recording tell me how important my call was for 20 minutes. I left a message to contact me about a problem. I then called the "main" #1-800-290-6106 but no one was there. Five days later no response. Called the "office" #1-865-249-7943 and was told they couldn't do anything until I contacted the "customer service" department. Telling him no one answers did not seem to matter. Called #1-800-283-8713, the number from the ad, and was told "can't do anything - call the customer service" and was disconnected. Called the "Easter Tenn. field rep" and was told he would have to talk to his boss. Three days later and still no return call. It has been my experience that the "leaf filters" don't work, the customer service is worthless, which makes the guarantee worthless. I wasted $4606.00!

Pros and Cons:

No "pros" were specified in this review
Their product does not work as advertised
There customer service is non-existent

Bottom Line: No, I would not recommend this to a friend

---

NO CLOG GUARANTEE

By Jeff L.

,

Winfield, KS

,

Jun 11, 2020
Verified Reviewer

Length of Use: Less than 3 months

Overall Experience:

I've had these on my house for about a month and the screens are clogged, when finally after two weeks of calling they told me that their no guarantee did not mean the screens, so now I'm stuck with something that I still have to climb on the house and clean.

Bottom Line: No, I would not recommend this to a friend

---

Never got filters

By Sandra M.

,

Okeechobee, FL

,

Jun 2, 2020
Verified Reviewer

Length of Use: Less than 3 months

Overall Experience:

On January 29, 2020 a salesman came to my home, checked my gutters, and said he could put on filters. January 30, 2020 a workman came out, tore off 2/3's of my less than one-year-old mesh covers and put on new mesh covers with 50-year adhesive. When I asked him where are my filters, he said my standard size metal gutters were not wide enough for filters. He also said he doesn't work on my remaining 1/3 gutters of white vinyl from home depot. They lied to me. I would not recommend this company. Their mesh clogs up leaves and I pay to have them swept off. Same problem I had before they came.

Pros and Cons:

Sounded good on TV ad
I did not receive LeafFilters
They lied to me, told me one thing, did another

Bottom Line: No, I would not recommend this to a friend

---

When the LeafFilter doesn't work

By Al D.

,

St. Charles, IL

,

May 14, 2020
Verified Reviewer

Overall Experience:

We live in a townhome and purchased the LeafFilter solution. It works just fine for roofs without channels, however, if you have one they need to install a Channel Guard. This will stop the water from running over the LeafFilter. Sounds good but in actuality, this is where stuff gets stuck, then the overflows happen. I had to go out and buy a leaf blower with an extension so I can reach up and over the guard and blow whatever is stuck up there. I use the leaf blower at least 2 or 3 times a week during spring and fall when there is a lot to get stuck. If you have channels on your roof, don't purchase this product because it's not as advertised in this circumstance (and of course they don't tell you that).

Bottom Line: No, I would not recommend this to a friend

---

Don't buy these

By Anne C.

,

Massachusetts

,

Apr 29, 2020
Verified Reviewer

Overall Experience:

This company is very disappointing to deal with from the moment the sale is made, if you complain they become angry, hostile, and unresponsive. The system DOES NOT WORK WHERE THERE IS SNOW! I don't know why this system is licensed to be installed in areas where there is snow. If you buy this product it creates a situation when the snow melts where it seems like you don't have gutters. It is expensive and I caution you, do not buy from this company as the customer service is TERRIBLE!

Bottom Line: No, I would not recommend this to a friend

---

Best I've found

By Linda C.

,

Florida

,

Apr 14, 2020
Verified Reviewer

Overall Experience:

I had used different types of gutter guards in the past with my old gutters. The gutter guards I used slipped under the shingles, and I believe that led to my roof leaking. After replacing my roof and installed new gutters, I called LeafFilter. The salesman had samples and explained their product did not go under the shingles, that they installed special hangars. So although not cheap, I agreed. I have 5 trees around my house so this fall was a test. No leaves accumulated on the gutters as advertised. No more climbing on ladders. Totally pleased.

Bottom Line: Yes, I would recommend this to a friend

---

Clogging gutters

By John M.

,

jhnmead58@gmail.com

,

Mar 31, 2020
Verified Reviewer

Overall Experience:

The system seems to have the right idea, just not so good applications. Customer service is horrible and do not get back with you regarding issues. My system clogs at the 90 deg corners and water runs over the top and behind the gutters causing wood damage to the facia boards. I've called the service manager and the salesperson for assistance to no avail.

I've called and emailed customer service several times to get the issues resolved but it seems LeafFilter is not interested in backing up their warranty or returning calls to resolve issues. They sent out a service rep to take care of the issue but was unable and told me that this issue is not fixable. Kind of takes the maintenance-free aspect of the product off the table and causes you to climb a ladder to clean the gutters anyway. Do I need to contact an attorney to get issues resolved? Maybe!

Bottom Line: No, I would not recommend this to a friend

---