Leap Life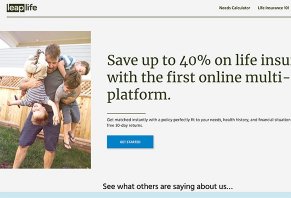 Leap Life is an online life insurance agency that uses artificial intelligence to pair you with the best policies for your budget so your beneficiaries are financially taken care of in case of tragedy.
Leap Life Reviews - Ideal Life Insurance For You?
Few of us want to think about our death, but the experience isn't exactly avoidable. You can ease the burden for those left behind with a life insurance policy, and Leap Life promises to make the process easy and affordable.
According to Leap Life Sales Director Shauna Visconti, the idea for Leap Life began when CEO Tom Patterson grew disappointed in the life insurance options available when he shopped for a policy after having children.
"He realized life insurance felt stuck in the past," Visconti told us, "lots of forms to sign, repeated questions, and a lengthy process with little insight into if it was really the best option for him."
This negative experience turned Patterson towards the prospect of relying on artificial intelligence to make the life insurance search process more efficient and cost-effective.
Today, Leap Life is a licensed life insurance agency that claims to have sold over $100 million in life insurance coverage from top insurance carriers from across the country (New York and Massachusetts are excluded). The company states that they work with the carriers with the best rates and ratings so that obtaining life insurance is a pleasant experience for you.
Should you trust Leap Life to start the process of selecting a life insurance policy? We'll go through the crucial details in this article.
Understanding the Basics of Life Insurance and the Policies Leap Life Offers
When is the right time to buy life insurance, and how much do you need? You're not alone if you're asking these questions, so we dug into some of the details behind life insurance to make it easier to understand.
Simply put, a life insurance policy like the ones you can get from Leap Life is a contract between you and an insurance company where you agree to pay regular premiums for a guarantee that they will pay your beneficiaries if you die under qualifying circumstances. If your policy expires or you stop paying your provider, you forfeit the benefits.
Leap Life tells us that most people should consider life insurance when they go through a significant life change that could impact others if they died, like getting married, buying a house, having children, or even going into debt.
There are four primary types of life insurance available through the Leap Life website, and we've highlighted their differences below.
Term Life
These policies last for a predetermined amount of time (typically 10—30 years), and your beneficiaries don't receive anything if you outlive it. The advantage of term life insurance is that it offers a straightforward, budget-friendly option that can be canceled at any point without consequences. The most significant drawback is that you might outlive your policy and leave your beneficiaries with nothing.
Accidental
Similar to term insurance, these policies cover you for a specific timeframe. The difference is they only pay out in cases of accidental deaths like car accidents, not illnesses. This restriction makes accidental insurance one of the least expensive policies you can purchase.
Whole Life
These policies last for your entire lifetime—though some cap out at 100 or 121 years—and they have a cash value that you can tap into when necessary. Premiums usually stay the same each year, and the cash value of your policy is guaranteed. The advantage is that you are guaranteed coverage for as long as you pay your premium, but the monthly cost and rates of return aren't as favorable as other options.
Universal Life
Like with whole life policies, universal life insurance policies don't expire (so long as you pay the premiums) and they have a cash value. They differ in their level of flexibility for how to pay premiums, as you can borrow against their cash value to pay them. They are a good option for those who are budget conscious, though the premiums will be higher than term policies.
How Does Leap Life Work?
According to the company website, Leap Life relies on "cutting edge artificial intelligence technology" to match you with the right carrier and policy for your needs. Your answers to the website's online application are used to predict your chances of getting approved for leading policies, and the company displays the best prices from all their carriers.
At the time of writing, Leap Life offered policies from Pacific Life, Protective Life, Assurity, Lincoln, Prudential, American General, Transamerica, SBLI, Mutual of Omaha, Fidelity, and Banner Life, and many of their term policies don't require a medical exam.
Leap Life states online that their policies are open to U.S. citizens and permanent residents between the ages of 18 and 75 at the time of application. Because they offer policies from a variety of providers, the pricing and details will vary from one person to another. We'll explore that next.
How Much Does Leap Life Insurance Cost?
When you use Leap Life to check life insurance rates, the company website starts the process by requesting information about your age, gender, height, weight, location and use of nicotine. You will then specify who will be the policyholder, whether you are a US citizen, and whether you have a history with a variety of medical conditions.
Further questions relate to your history with DUI's, bankruptcy, prior felony convictions, prescription medication use, and whether you have any bills in collection. You'll also specify whether your hobbies include skydiving, flying planes, rock climbing or car racing.
When I put in my information (25-year-old healthy female with low-risk hobbies), I was given three quotes from Assurity Life Insurance for level protection for twenty years.
Easy: $14.14/month for $250,000 in coverage
Essential: $22.19/month for $500,000 in coverage
Elite: $34.80/month for $1,000,000 in coverage
You can request more information to see a broader range of quotes from Leap Life partners. For me, the estimated monthly cost for $250,00 in coverage ranged from $11.36 (AIG) to $16.45 (Lincoln Financial Group).
Naturally, these quotes change significantly based on your age, health, and lifestyle. My husband (who is a similar age and health level to me) received quotes for $18.27—$54.71 for the same levels of coverage.
When I adjusted the details to account for a 60-year-old overweight man who smoked and enjoyed skydiving, and the rates per month ranged from $248.82—$1,186.68. I also looked at the options for higher risk scenarios and found that coverage was occasionally denied altogether.
For the policies I looked at, the company website stated that all the quotes shown were for term policies that covered both natural and accidental deaths anywhere in the world. Notably, the policies were voided in the case of suicides that take place within the first two years of signing up.
If you have questions about your policy qualifications, you can reach Leap Life directly at (844)755-5317 or at support@leaplife.com.
What Do Customer Reviews of Leap Life Show?
When it comes to buying life insurance, many people put off the task.
Leap Life Sales Director Shauna Visconti put it like this: "People are always concerned about getting the best price, and how big of a hassle was it to secure the policy."
It can be hard to pull the trigger on a policy, so we looked at customer reviews from people who worked with Leap Life to get a sense of their experience.
The Better Business Bureau didn't have any listed reviews or complaints about this policy provider at the time of writing, but they still awarded Leap Life an A+ ranking. Likewise, Trustpilot gave the company a perfect five stars after more than sixty reviews.
Some of the comments we looked at showed that customers appreciated that they didn't need to complete a physical exam for many of the policies and that the process from application to approval was prompt and straightforward. Many also commented that customer service was willing to answer all their questions and that the interviews for approval were thorough and professional.
A few people wrote that they didn't like that Leap Life operated as an agency that collected their information to help them shop for life insurance because they didn't think their health data was secure when they shared their medical history with a middle man. Saying that, Leap Life makes it clear that they are HIPAA compliant and will not sell or share their customer's information.
What Are Popular Leap Life Competitors?
Does Leap Life differentiate itself from the life insurance competition? We posed this question to Visconti, and she told us that many of their competitors merely offered one-size-fits-all insurance opportunities. Leap Life, in contrast, represented multiple top-rated insurance carriers and promised to track down the best insurance options at the lowest cost, either digitally or by working with an agent.
Does this make them stand out from other available options? We choose to look closer at Fabric and Ethos Life Insurance to get a better sense.
Like Leap Life, Fabric is a life insurance agency that offers both accidental death and term life insurance from an outside provider, Vantis Life Insurance. At the time of writing, the company provides a 20-year term policy with coverage levels as high as $5 million. To qualify, you'll need to conduct a home blood test and fill out a health questionnaire. If Fabric finds you lied on the application, they reserve the right to refuse to pay out.
Ethos differs from these two companies because the brand offers both term and whole life insurance policies. Their policies primarily come from Assurity, an insurance company that Leap Life also partners with.
We reported in our review of Ethos that there's a good chance you will need to take a blood test or a physical examination to qualify for insurance, and your results will affect your overall cost. Though the company states that their premiums start at $6 per month, you're more likely to pay closer to $30 or more.
One standout feature of this service is Ethos' "Name Your Price" tool that lets you put in how much you want to pay per month and see how much coverage you qualify for.
These three services each offer different advantages for shopping for life insurance policies, and your personal details will affect which ones make the most financial sense for you. Because life insurance is something you only want to purchase a few times in life, we think it makes sense to explore the options from all three agencies until you find the right policy for you.
Our View: Should You Consider Leap Life?
Sorting through life insurance policies might not be a pleasant task, but it's a responsible decision that can be a blessing for your family. Your risk of death goes up every year you are alive (obviously), so it's smart to buy life insurance as early as you can afford it so you can lock in lower rates.
Leap Life strives to make the selection process simple by streamlining your options so that you can see what policies you qualify for within minutes.
Says Visconti, "[with Leap Life] you can have peace of mind knowing you got the best possible policy with a carrier you can count on… we are the only agency where you have the option to fully apply online with multiple different carriers".
If you're in the market for a life insurance policy, we think that it makes sense to shop around on a site like Leap Life. It's free to browse, as you will pay for any policy you choose directly through the company that offers it.
One thing to keep in mind is that you might be overpaying for any policy that doesn't require an in-person medical test. If you take a test and your results come back healthy, the company sees you as a lower risk and might lessen your premiums.
As Leap Life makes it a selling point that they offer plenty of policies with online-only approval, there's a chance you might find some better deals elsewhere if you are young and healthy and willing to take a blood test.
Likewise, it's best to have a clear sense of what your financial needs for life insurance are before you shop for policies. The conventional wisdom is that you want to settle on a policy that will help your family in a time of tragedy without overpaying for unnecessary extras.
That's why we suggest using a tool like Leap Life's online Needs Calculator to help you determine the range of coverage that best suits your needs.