Lear Capital Reviews
Claimed This company has claimed this profile, is getting alerted on any new customer reviews entering this page, and may engage in dialogue with its customers to address their matters.

Companies cannot pay money or provide goods in order to remove or alter customer reviews.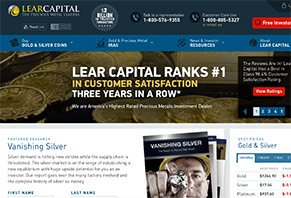 Lear Capital claims to help their consumers diversify their investment portfolios through the use of precious metals such as gold, silver, and numismatic coins.
About Lear Capital
In business since 1997, Lear Capital promises to help customers diversify their portfolio with bullion and rare coins, as well as through gold, silver, platinum, and palladium-backed IRA accounts.
This way, whether you're a first-time investor or a seasoned pro, Lear Capital might be able to help diversify your retirement investment while hedging it against global volatility.
As soon as you open a Lear Capital account, the company promises to provide a personal account representative that can outline your costs before you purchase, as well as provide an ongoing "real-time" investment relationship.
This way, we're told you'll receive the very best market data, insights, and breaking precious metals news that can potentially impact your investment. You'll even gain access to a custom coin search feature, an email price notification application, and more.
Taken together, this is why Lear Capital claims to be "America's highest rated precious metals investment dealer" with more than $2 billion in trusted transactions to date.
Does that mean that Lear Capital is better than the competition? We'll explore this important question—and many more—here, all aimed at helping you make a more informed decision.
What Is a Precious Metals-Backed IRA?
Perhaps the easiest way to think of an Individual Retirement Account (IRA) is like a tax-advantaged savings account. You put money in on a regular basis and as long as you don't withdraw it before retirement, you either won't have to pay taxes, or they might be deferred.
There are three types of IRAs:
Traditional – Primarily, an account where you add earnings before tax.
Roth – Adding contributions after you've paid tax.
Rollover – "Rolling over" contributions from other retirement plans, like a 401(k).
Now, whereas most IRAs are funded with paper money, they can also be funded using gold and other metals such as gold, silver, platinum and palladium. This is where companies like Lear Capital come in.
How Does Lear Capital's Precious Metal IRA Work?
According to the Lear Capital website, one of their team members can walk you through the application, which shouldn't take more than 10 minutes to complete. Then, once your application is processed, your account can be live within 24 hours.
From there, the company will contact your IRA custodian to roll over (remember what we learned in the previous section?) all or a portion of the money held in the account, which could take up to five business days.
You'll be the owner of any precious metals added to your Lear Capital IRA, which will be securely stored in a "state-of-the-art, IRS-approved, insured private" storage facility. When the time comes, this allows you to either take physical possession of the precious metals or liquidate your assets.
In between, we're told that your new IRA custodian, Self Directed IRA Services, Inc., provides the ability to track your portfolio's performance online and will send you a quarterly statement via snail mail.
How much will Lear Capital's services cost you? We'll talk more about this in a second, but let's first discuss the potential pros and cons of using precious metals as part of your IRA.
What Are the Pros & Cons for Precious Metals IRAs?
Here are some advantages and disadvantages related to precious metals IRA in general (not specifically those provided by Lear Capital):
Precious Metals IRA Pros
Directed only by you
Value isn't tied to the stock market
Often considered a good hedge against inflation
Helps diversify your portfolio
Can take physical possession or liquidate
Tax advantages
Precious Metals IRA Cons
Only very specific metals and purities are eligible
No compounding interest, which can be a huge contributing factor to your overall balance
Still subject to volatility. In fact, the price of gold and many other precious metals is at an all-time low since 2011 (more about this in a moment)
Holding costs
Let's continue talking about holding costs in the next section.
How Much Does Lear Capital Cost?
At the time of our research, Lear Capital's coins were priced as follows:
Gold Coins: $455 - $1,353
Silver Coins: $18 - $14K
Premium Coins: Varies
Lear Capital accepts cash, personal checks, cashier's checks, money orders, wire transfers, and credit cards. Once purchased, they guarantee shipment within 15-17 business days, although they typically go out within a week after your funds clear.
All gold orders over $10K receive free shipping.
If you currently own precious metals, you can also receive an offer for them by sending an email to clientservices@learcapital.com.
As far as Lear Capital's IRAs go, there is no minimum investment required, although you will have to pay a $160 per year fee for storage of your precious metals, insurance, and financial statements.
Outside of this, Lear Capital claims that their transaction fees vary greatly based on many factors, including the uniqueness or rarity of the product, the quantity purchased, size of the coins, and more.
When you open a new IRA account or roll over a portion of your existing IRA, Lear Capital provides a 30-Day Price Guarantee Certificate. If the price of your metals drops within this time, they claim they'll "adjust the value of your IRA to the market."
Have more questions? Lear Capital's customer service department can be reached at 800-576-9355.
What Can We Learn From Lear Capital Reviews?
Two HighYa readers had provided their feedback about Lear Capital since writing our original review, giving the company an average rating of 3 stars.
One customer wrote about great customer service and pricing, while the other claimed they experienced a "bait and switch" scenario regarding commission.
Lear Capital also had 38 closed customer complaints on the Better Business Bureau's website, most of which appeared to reference difficulty getting someone from the company to return their calls. In all instances, Lear Capital responded to the complaints.
From a company perspective, Lear Capital has been in business for nearly two decades, and is currently headed by CEO Scott Carter—who's also the face you'll see in many of their commercials.
Scott even fields questions directly via his Ask Scott Q&A page on the Lear Capital website.
Lear Capital vs. the Competition
Type the phrase "gold IRA" or "precious metals broker" into any search engine, and you'll quickly learn that there are perhaps hundreds of different companies that offer many of the same services as Lear Capital.
In fact, we've reviewed several of these popular options here at HighYa, including Merit Gold, Regal Assets, and Rosland Capital.
Of these, perhaps the biggest distinguishing factor is that Rosland Capital allows customers to invest in physical gold or gold-based ETFs, while most other options are physical only.
Physical or not, should you choose Lear Capital over the other guys?
Is Lear Capital a Smart Investment?
Talk about a short question with a long answer! In a nutshell, though, this depends on what you mean by "smart."
Do Precious Metals Always Increase In Price?
Is investing in precious metals—particularly gold—the sure thing it's often portrayed in many of the late night commercials? Definitely not. For proof, you can look no further than the fact that gold was at an all-time low back in April 2015.
The good news is that some are predicting a new record high for gold in the next year and a half.
But the point is that, although precious metals aren't tied to the stock market, they can still undergo massive price fluctuations in a matter of a couple years.
Are Coins a Wise Investment?
If you're talking about bullion (i.e. coins that are manufactured each year and are based on the price of the metal(s) they contain), many professionals indicate that they might be a good investment tool in your IRA, or even a broader portfolio.
On the other hand, the value of numismatic coins (i.e. those no longer in production) is largely based on rarity, condition, market sentiment (what other collectors are willing to pay), and other factors that might make them collectible, but that can also make them risky investments.
In the end, there are far too many personal and financial factors at play to understand whether or not Lear Capital is the right choice for you. However, what we learned during our research should help you start a conversation with your financial professional.
Looking to explore other personal factors? We'd recommend reading Investopedia's Should You Get a Gold IRA?
Before you go: Are you a Lear Capital customer? Tell the world about your experience by writing a review below!
Misleading sales pitch

By Joseph M.

,

Bronx, NY

,

Jul 24, 2019
Verified Reviewer

After seeing many TV ads on Fox News about Lear, I decided to call to order to transfer my deferred pension into their care. The salesperson (and that is exactly what he was) encouraged me to buy silver (as this was my first choice anyway). He explained that I would be buying at spot price, there was no commission, and that it was a perfect time to invest in silver. When, after two weeks I received my first statement, it showed that my investment went down by about 1/3 of its value (from $83K to approximately $55K). I could not understand this, and called them immediately. They told me that I was paying spot price, but that the 'mining cost was added to it. That was confusing and they did not want to give me my money back.

Bottom Line: No, I would not recommend this to a friend

---

Updated review

Great company. Great service!

Minnesota

,

Nov 16, 2017
Verified Reviewer

I received some information about Lear, am looking it over and pretty sure we will have a wonderful relationship. A+ guys, well done!

Bottom Line: Yes, I would recommend this to a friend

Previous review
Nov 13, 2017

Beware!

Extremely rude salesperson. I am very interested in investing and responded to a TV commercial. I was told that the WRONG commercial aired on the day I called, and they were giving silver coins and a catalog that day and NOT the slim/thin gold dollar, but the lady assured me she would HOLD my request until the following day when she says the "Mail Room" is sending out the thin, gold dollar bill samples.

Five weeks later, the salesperson keeps calling me on the phone and says "Did it show up yet?" and I say "Nope" and I don't want to discuss until they keep their end of the bargain. The sales person said to me "Well, if you can't get that piece of mail delivered, we sure don't want to send gold, have a good day" and HUNG UP ON ME! (Phone call at exactly 4:28 pm on 11/9/2017 from 201-249-6297).

I believe they never intended to send us consumers the free gold bars OR silver coin samples. BEWARE!

(

read more

read less

...)

---

Advertisement

---

Gold purchase

By Linda Ribbens

,

Milwaukee, Wisconsin

,

Mar 23, 2017
Verified Reviewer

I have purchased precious metals from a number of companies over the years, and after hearing about Lear Capital on TV, I thought I would give them a go. After discussing a number of options with a representative over the phone, I decided to hold off and asked them to contact me back at a later date.

About two weeks later someone from Lear named Alex called me back and wanted to know if I was still interested in making a purchase. He was very nice and even spent some time discussing my overall portfolio and several options about diversifying my IRA with precious metals. I told him I was not really interested in touching my retirement account, but I still wanted to make a sizable purchase of the Gold Grizzly Bears and 1-oz Maple Leafs. He walked me through the process, and we set up payment via a bank wire.

It did take a couple of weeks for them to ship my coins, but having made purchases with other companies, I know this is pretty much the industry standard. I also liked that my rep spent the time discussing my entire portfolio and I never really felt like I was being pressured into anything. Overall I had a very positive experience, and I will definitely be making more purchases in the future.

Bottom Line: Yes, I would recommend this to a friend

---

Purchased gold for portfolio

By John Espinoza

,

Scottsdale, Arizona

,

Feb 22, 2017
Verified Reviewer

At the end of January, I purchased 12 one-ounce American Gold Eagle coins from Lear Capital. The person who helped with my purchase was Terrence, who I had spoken with over the last few weeks about this order. I had not purchased any precious metals in a couple of years, but I was getting a little worried about diversifying my portfolio and decided to take the plunge.

The whole process was very painless, and Terrence was able to answer every one of my questions. I decided on paying via bank wire so there would be no delay in when my order was placed and when it would be fulfilled. I was also worried about delivery since this is a pretty large order for me and I did not wany anything to go wrong. They assured me that they would be using FedEx and the delivery would require a signature and be insured. I received my order less than a week after I sent payment and I could not be happier with how it all went.

I am currently discussing the possibility of setting up recurring orders to help keep my portfolio at a manageable risk level. I will update with details of any future orders.

Bottom Line: Yes, I would recommend this to a friend

---

Advertisement

---

Befriend, Educate, Mislead, but get their money

By Ed Saunders

,

Jacksonville, FL

,

Nov 8, 2016
Verified Reviewer

When I contacted Lear Capital, my concern was the probable collapse of our economy. I wanted to possess silver, which I could use for barter in case our money lost its value. Money in hand, not in a bank vault. If the economy were to collapse, there wouldn't be anyone to deliver it since they wouldn't be getting paid, themselves.

Gary (Rickets, Rickett, I don't remember) was the person I dealt with. He educated me about silver, etc. He's good. I'm grateful for the knowledge I gained. I was rolling over $17,000. I wanted "rounds", or "bullion". However, when the time came to purchase, I somehow let him convince me that what I wanted was the "collectible" Canadian polar bears. He even "threw in" 8 of them for free.

I had quite a shock when I got my first quarterly statement. The value of the account was $8,500. That was half of what I invested. I was told that that was the "melt down value". Basically the "spot" value. So, IF I can find someone to buy them, and IF they're willing to pay the premium value like I did, I can make my money back. Not likely to happen. The market has to double just for me to break even.

$8,500. I feel it was stolen from me. I don't have any use for a thief.

Bottom Line: No, I would not recommend this to a friend

---

Good personal customer service is hard to find

I had the pleasure of working with Joanne V at Lear Capital. From day one I knew she was a rare personable person. Always answering my questions and never pressuring me or my wife to rush into a decision. I was hesitant about investing into a self-directed IRA. After looking into several companies I discovered that Lear Capital provided me with the best information and Joanne's knowledge and insight have been spot on. What sealed the deal for us, was the fact that she negotiated strong pricing on our behalf even after the market went up during our deliberation period. It was an easy and smooth transition. I appreciate that we had a compliance call to secure the transaction as our IRA total is a significant amount of money and we demanded full transparency which she provided. Joanne was there at every point and was very helpful. I recommend Lear Capital to any first time investors looking for the best way to invest in a gold IRA.

Bottom Line: Yes, I would recommend this to a friend

---

Advertisement

---