Hempvana Leg Ramp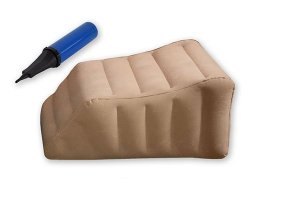 Leg Ramp is an inflatable leg rest that features a miniature hand pump and a suede exterior that allows you to quickly, easily, and comfortably elevate your legs and boost blood flow.
Hempvana Leg Ramp Review
Hempvana Leg Ramp quickly inflates to any firmness and elevates your legs and feet, which they advertise can help relieve pressure, promote positive blood flow, and reduce temporary swelling and pain.
Compared to a stack of pillows that can fall over, the manufacturer tells us the device fills with air using the included EZ pump and remains in place while delivering precise elevation angles and leg contouring for maximum comfort and results. On the outside, you'll also find plush, durable suede fabric that helps further promote your comfort.
Together, the commercial indicates that Leg Ramp represents a convenient and easy-to-use option for reducing achy muscles, back pain, sore feet, vein problems, restless legs, and even injuries.
But, is it the right option based on your needs? Are there other devices that might deliver greater value? We'll help you find answers, starting with an exploration of the underlying concept.
How Does Hempvana Leg Ramp Work?
According to Dr. Erum Ilyas, board-certified dermatologist and founder of Montgomery Dermatology in King of Prussia, PA, the valves responsible for pushing blood back from the legs to the heart "can weaken over time from genetics, increased downward pressure from gravity, etc."
This can cause poor oxygenation to lower extremities, which over time, can lead to a variety of issues, including the formation of varicose and spider veins, leg and ankle swelling, numbness, tingling, deep vein thrombosis (DVT), and even potentially deadly blood clots in rare instances.
The good news, Ilyas emphasizes, is that "getting into the habit of raising their legs above the level of their heart can help patients reduce fluid buildup in their lower legs and feet," improve oxygenation, and decrease related swelling and discomfort.
"While at rest, such as when watching television," Ilyas recommends, "putting your legs up on a pillow, a coffee table, or a couch. Or, when sitting at a desk or a table, try raising your legs on a chair or an upside-down trash can. When in bed, place a pillow below your feet," she says. (these socks are not meant to be used as a medical device)
To maximize these benefits, Dr. Sarepta Issac, board-certified physician and CEO of Serenity Podiatric Concierge in Atlanta, said that, "periodic leg elevation above the heart is the gold standard."
If this isn't possible "due to back or midsection constraints, at least 6 inches off the ground works okay as well," she advises.
With these details in mind, after quickly inflating using its EZ pump, Leg Ramp promises to deliver two optimal angles that maximize blood flow and comfort—a steeper angle that raises the top half of your legs above your body, followed by a more gradual angle that maximizes the comfort of your lower legs, ankles, and feet.
Still, Issac points out that when it comes down to it, "the best aid is any cushion or pillow-type material you have at home. I advise my patients to stack as many pillows as possible behind the calf, and rest there for at least 30 minutes, three times a day."
How Much Does Leg Ramp Cost?
Each Leg Ramp air-filled cushion comes with a $19.99 price tag, plus $7.99 shipping. You can purchase a second cushion during checkout, although you'll have to pay a separate $19.99 fee. Buying two Leg Ramps includes a bonus Hempvana Pain Relief Cream.
All orders come with a 30-day refund policy, less return shipping and fees associated with the second cushion. It also features a 10-year warranty, when used as directed.
To request a refund or file a warranty claim, you can reach the Telebrands customer support department at 855-668-1655.
Are There Other Inflatable Leg Rests Competing with Leg Ramp?
In an interview with Duke Health, cardiologist Dr. Manesh Patel pointed out that, "leg pain is like back pain, in that millions suffer from it."
As a result, there are thousands of products available in all shapes, sizes, materials, and colors, each promising to deliver some level of relief.
Even if we only limit our choices to inflatable, multi-angled options, we encountered a handful of functionally identical alternatives as Leg Ramp, including those with multiple angles for maximum comfort, non-slip exteriors, and pumps.
Here were some of the most popular options on Amazon at the time of our research, as well as how they compare:
| | | |
| --- | --- | --- |
| Brand | Price | Special Features |
| Hempvana Leg Ramp | $19.99 | Includes pump, suede finish, brown color |
| Lounge Doctor Inflatable Leg Rest | $49.95 | Includes pump, available in three sizes depending on height, can purchase using your FSA account (at least through Amazon), brown color |
| Contour Inflatable Leg Wedge | $39.95 | Includes electric pump that inflates in 15 seconds, available w/out pump for $29.95, flocked finish, blue color |
| ObboMed Inflatable Leg Rest | $29.98 | Does not include pump, blue color |
We can see in the table above that Leg Ramp appears to deliver many of the same features as competing models, but at a meaningfully lower MSRP.
Keep in mind, however, that you'll also have to pay $7.99 for shipping, bringing it much closer to ObboMed's price—although the latter doesn't include a pump.
On the other hand, if inflation speed and ease of use are one of your primary must-haves, such as for those experiencing arthritis or other dexterity concerns, Contour is the only model in our table that comes with an electric pump. In other words, simply plug it in, and it will handle the rest.
However, if you travel frequently and want to bring your inflatable leg rest along you tucked away in a bag or suitcase, the electric pump's added size and weight could be a detriment.
Finally, while Lounge Doctor is the most expensive inflatable leg rest above, it's also available in three sizes, which could deliver maximum benefits based on your height.
The manufacturer also is the only one that advertises Lounge Doctor is eligible for purchase using your FSA account, at least on Amazon, depending on how you prefer to pay.
Let's pull all of these details together so you can make a more informed decision about Leg Ramp.
Our Final View: Will Hempvana Leg Ramp Deliver Value?
As we learned from the board-certified physicians who we interviewed for this article, elevating your legs seems to improve circulation, reduce swelling, and even temporarily relieve pain.
With this said, if you're looking for the lowest priced option that also includes a hand pump, Leg Ramp seems to win out among the similarly functional competitors above. And with its inflatable design, it seems like it could be easier than a stack of pillows or foam cushions to set up, take down, and carry with you while traveling.
Although, based on what Ilyas and Isaac advised earlier, as long as you elevate your legs at least 6 inches three times per day, for 30 minutes each session, you might be able to achieve the same results and save money using pillows, tables, or chairs you already have on hand.