Contour Legacy Leg Pillow
Claimed This company has claimed this profile, is getting alerted on any new customer reviews entering this page, and may engage in dialogue with its customers to address their matters.

Companies cannot pay money or provide goods in order to remove or alter customer reviews.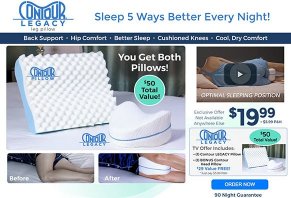 The Contour Legacy Leg Pillow is a memory-foam leg pillow designed to keep your spine aligned while you sleep. Research indicates that leg pillows can actually help your spine alignment and relieve pain, which means there's a good chance the Contour is worth its $19.99 price tag.
About Contour Legacy Leg Pillow
The Contour Legacy Leg Pillow is a unique leg pillow that claims to help with alignment by virtue of the way it positions your leg while you sleep.
The pillow carries the recommendation of Dr. Michael Grano, a chiropractor who runs four pain/wellness clinics in New Jersey.
The website's two most important claims are that there is no other pillow in the world shaped like the Contour Legacy, and that it "perfectly aligns your spine to alleviate lower back and hip discomfort."
The question of whether or not the pillow can actually help – and any leg pillow, for that matter – is one that we'll answer later in this review. For now, though, we want to give you an idea of where we're headed in the next few minutes.
We're going to help you understand how the pillow works, how much it costs, what people are saying about it and, of course, what the medical community says about the effectiveness of leg pillows in aligning your spine while you sleep.
What Is the Contour Legacy Leg Pillow and How Does It Work?
As a pillow, the Contour Legacy needs to be supportive and breathable – nobody wants a pillow that doesn't provide support and makes you sweat.
This particular leg pillow is made out of memory foam and has vertical air channels bored through it to allow ventilation while you sleep. It also comes with a zippered cover that the company says is breathable and machine washable.
The pillow's shape is tapered such that, when you put the pillow between your legs just above the knees, the wide side juts out behind you and the tapered side points out in front of you.
As time goes on, the company claims, you'll get the following benefits:
Hip, leg and spine alignment
Comfort and support all night
Pelvis and lower back stability
Restoration of your natural alignment
And, it almost goes without saying that these various benefits result in you getting a better night's sleep.
The Contour Legacy Pillows Pricing and Return Policy
At the time of publishing, the Contour Legacy pillow cost $19.99 with a shipping and handling charge of $11.98 plus any state applicable tax. In addition to the leg pillow, the site offers a free memory-foam head pillow as a bonus.
If you don't notice any changes in your sleep quality or your back, hip or leg pain and you're unsatisfied with the results, you have 90 days to return the pillow. If you want to return it, then start your return by calling 800-326-491. According to Contour Legacy's website, customer service reps are available from 8 a.m. to 8 p.m., EST.
Do Leg Pillows Really Help With Alignment?
The Contour Legacy's most important claim, in our opinion, is that it can align your spine, hips and legs, such that you can get a better night's sleep and avoid the pain that comes with poor alignment during your slumber.
To validate this claim, we went to the University of Rochester Medical Center's health encyclopedia to understand how leg pillows in general can help or hurt your posture.
What's interesting is that, while they said that the scientific research for the best type of mattress for back pain is pretty thin, they were pretty definitive in their assertion that leg pillows can help your posture.
Leg pillows like the Contour Legacy are particularly helpful for side sleepers.
"If you sleep on your side, a firm pillow between your knees will prevent your upper leg from pulling your spine out of alignment and reduce stress on your hips and lower back," the page said.
To further help your alignment, the university's medical center suggests pulling your knees up "slightly toward your chest" and then rolling up a towel and placing it "under your waist" could also help.
The goal is to imagine creating a straight line on your spine from your neck down to your butt.
Leg pillows can also help back sleepers, the site noted. If you put a small pillow under your knees, it could help "reduce stress on your spine and support the natural curve in your lower back."
Another important point is that a pillow that keeps your head straight will also help alignment. The contoured head pillow you get with your Legacy leg pillow seems to fit the role.
A Comparison of the Contour Legacy to Other Leg Pillows
A good way to understand the strengths and weaknesses of a leg pillow is to compare price and function to similar pillows.
For example, we've reviewed the Forever Comfy Knee Pillow, an as-seen-on-TV product that sells for $14.99. Like the Contour Legacy, it claims to provide support for your legs and improve spine alignment.
The pillow differs in three ways. First, it's cheaper than the Legacy. Second, the pillow has an outer layer of cooling-gel memory foam and an inner layer of memory foam. Does the outer layer of cooling gel work better than the air channels in the Legacy? It's hard to say.
The final way that the pillow differs is that it has a symmetrical design instead of a tapered design. We read nothing that said one shape is better than another and, in our opinion, the pillow that works the best may have a lot to do with the way you sleep, and the size and weight of your legs.
There are several different pillows on Amazon that had roughly the same shape and materials as the Forever Comfy.
The pillow is known as the "ComfiLife Orthopedic Knee Pillow" and is the best-selling leg pillow on Amazon. At the time of writing, it had an average rating of 4.5 stars from more than 4,100 reviews. Common phrases among reviews were that the pillow "works well," is "well made" and that it helps with back and hip pain.
We took a look at more than 15 other pillows and found that, in general, memory foam leg pillows get excellent reviews from consumers.
The Final Word: Assessing the Value of the Contour Legacy Leg Pillow
All the information that we found about leg pillows – from the medical community and from users – indicates that these pillows are relatively effective in helping you relieve back pain through their ability to foster better alignment when you sleep.
While we can't say with certainty that the Contour Legacy will work better or worse than other leg pillows (they literally come in all shapes and sizes), we do know that the tipping point for you may be the fact that you get a free head pillow along with the leg pillow.
That alone may be enough to push you toward this pillow. If you receive it and aren't satisfied with how it works, you can return the leg pillow and keep the head pillow.
Another thing to keep in mind is that what you do during the day will most likely have an effect on how your back feels at night, too.
90-Day Money Back Guarantee comes with surprises

By William F.

,

Florida

,

Dec 17, 2019
Verified Reviewer

Our return of the Contour Legacy Leg Pillow with Head Pillow was not due to quality. The quality of the products was good. It simply did not do the job for us. We tried the products for a week and decided to return them. While a bit complicated, the return procedure was fairly standard. The bottom-line refund was the surprise! As stipulated in the Return Authorization Procedures...the refund is "less shipping and handling.'' Our total payment was $68.42 of which $23.96 (i.e., 35%) was Shipping and Handling. Our Money Back Guarantee refund was, therefore, $44.73. In addition, it cost us $18.63 to ship the items back. Therefore, for this transaction, we paid $87.05 (initial cost + return shipping). And our "refund" was $44.73. Our Money Back Guarantee returned 51% of our total cost. So - the company makes money whether we keep the product or return the product.

LESSON LEARNED - Before purchasing online or via telephone, make sure you clearly understand the company's definition of "Money Back Guarantee." In our case, the definition was "You will receive a 51% refund of your total purchase cost and return shipping cost!"

Bottom Line: No, I would not recommend this to a friend

Dec 18, 2019

Good Morning William,

I completely understand your concern with the refund, and you are correct - return policies usually only cover product cost and not shipping. It does look like you ordered based on your order number from the TV Media company/As Seen On TV distributor. While I am not entirely certain what their policy is, as we are only the manufacturer of the product, it does seem standard. What is concerning to me though is that you paid almost $20 to ship the item back! We have seen this complaint with a lot of customers.

So the product + the head pillow combined weight is under 1 lb (I believe its only like 13 ounces I believe), which means it can be shipped first class USPS which would be the cheapest option for you based on my experience. I also know that a lot of Pop Up Carrier Locations will overcharge customers too, so if you are using FedEx, UPS or USPS, please visit their locations directly and not stand-alone stores.

While this wasn't purchased directly from us, I would recommend contacting the company that charged you directly, ask to speak to a manager and see if they can help you reclaim some of your refund back.

Much like other companies in the categories, these items are considered personal products, so we have to follow Health code violations which require us to destroy and dispose of all returns. That is mainly why shipping is not covered, especially on returned merchandise.

We would be happy to assist you further and answer any questions you may have, so feel free to reach out to us directly as well if the company you ordered from could not be of any assistance,

Have a Comfortable Day!

Kate @ Contour

---

Lesson learned

By Diane R.

,

Vancouver, Canada

,

Jul 22, 2019
Verified Reviewer

The pillow not as advertised, doesn't look the same, cheaper looking, cover not same, some cheaper material and doesn't fit right. Cost is much more if ordering from Canada. Would not recommend. No toll-free number to call to complain, especially calling from Canada.

Bottom Line: No, I would not recommend this to a friend

Jul 23, 2019

Good Morning Diane,

I am sorry to hear about your experience. While we don't sell directly into CA markets, you may have purchased from a reseller or we have found several knock-off listings on Amazon. We do include our phone number on our site. We can certainly investigate this for you and provide you an authentic Contour Legacy leg pillow if in fact you purchased from a Chinese knockoff seller.

If you could, simply email me your receipt/proof of purchase to customerserv@contourliving.com and we can address this immediately for you.

Have a Great Day!

Kate @ Contour

---

Advertisement

---

Poor quality - not as advertised, very small

By Sam R.

,

Florida

,

Jul 1, 2019
Verified Reviewer

This pillow is not worth the money. The quality is very poor, the pillowcase doesn't even fit correctly on it. It is very small and very uncomfortable. There is no way to sleep using it. It is a waste of money.

Bottom Line: No, I would not recommend this to a friend

---

Good offer

By Edie M.

,

Pasadena, MD

,

May 29, 2019
Verified Reviewer

In searching for instructions, I did come across some negative reviews. I'm glad I got in on the offer at this price. I've paid this and more for a single pillow. My chiropractor just warned me that my habit of lounging on my bed is not good for my posture. The head pillow will give more support than regular stock in that area. I'm expecting good results from the knee position once I adjust. It's worth it to be able to try both at this price.

Bottom Line: Yes, I would recommend this to a friend

May 31, 2019

Good Morning Edie,

I am glad you are enjoying your Contour Head & Legacy pillow. Please keep us updated to let us know about your experience with comfort moving forward :)

Have a Great Weekend!

Kate

---

Advertisement

---

Return pillow

By Mary J.

,

Fort Atkinson, WI

,

Apr 24, 2019
Verified Reviewer

I tried to return a duplicate order that was placed and not needed. First customer service rep could not find my order, could not find the phone number, and the order number I gave him could not find. Next he switched me to his supervisor only to get the same response. Then switched to another CS rep who found my order only to be told it was beyond the 30-day return, the website said 90-day return. I paid $31.00, they are returning $19.95, plus I had to pay $10 in postage. What a deal. They should have paid me the money for the stress trying to return an unwanted product.

Bottom Line: No, I would not recommend this to a friend

Apr 24, 2019

Good Afternoon Mary,

I am so sorry that you had this experience. However, I greatly value your feedback, even though it sounds like the outside company we are using for Customer Service is not fully trained in our process, which of course is a reflection of us either way. I do want to address your concerns with the Customer Service Director so it can be rectified immediately.

If you wouldn't mind, please send an email to me directly with your order number so I can have this addressed immediately. You can email me at support@legacypillow.com.

Again, I do apologize for your experience, and will work on improving this with the internal and external teams,

Have a Comfortable Day!

Kate @ Contour

---

Not as it is advertised

By Clarise W.

,

Pennsylvania

,

Apr 18, 2019
Verified Reviewer

I was hopeful that this would help my hips and back. It flattened so flat it didn't get any support. Actually, it was comfortable. I bought one at Bed Bath & Beyond that worked perfectly. The Contour Leg Pillow is a sham! Not worth it.

Bottom Line: No, I would not recommend this to a friend

Apr 18, 2019

Good Afternoon!

I am sorry to hear about your Legacy leg pillow. We do have several quality checks in place, and it does sound like you had one that somehow slipped through the cracks as all should be checked as they come in and go out of our warehouse locations.

However, I am glad to hear you find the one you purchased at Bed Bath & Beyond working out for you. I will bring this to the attention of our QA & Supply teams to ensure this does not occur again.

Have a Comfortable Day!

Kate

---

Did not do anything for me.

By James W.

,

Texas

,

Mar 31, 2019
Verified Reviewer

My problem was the 90-day money back guarantee. Well, that is not what it is. They charged you $25.99, when you're sending it back you only get $19.99, and the shipping is about $13. Not a great deal.

Bottom Line: No, I would not recommend this to a friend

Apr 4, 2019

Good Afternoon James,

I understand you are not satisfied with our 90 Night COmfort Guarantee. However, most companies who sell the same type of product do not even offer returns due to health code restrictions (as companies have to physically destroy and dispose of any used and returned items).

I am actually shocked at the cost of shipping. As an avid Amazon shopper myself, I know some tricks that I will pass on to our Customer Service team to share (and possibly put it in our return policy so others know automatically as well).

While I know this doesn't help you now, but any future purchases you make online this may be beneficial:

- Anything under 14 oz - can go USPS First Class (Contour Legacy can be shipped this method and only costs a couple of dollars)

- Any returns should be taken to an actual FedEx or USPS (or other carrier location). I know the stand alone stores often embed some sort of sur-charge into the cost of shipping your product

- Always ask if a seller can provide return labels, even if at a cost to you, it usually includes their discount, which is a much cheaper way to ship your item.

If you have any questions or concerns or just want to chat, feel free to contact me directly at 800-950-0230 or at support@legacypillow.com

Have a Comfortable Day!

Kate @ Contour

---

Contour Legacy waste of time!

By Tamaria C.

,

Mississippi

,

Mar 26, 2019
Verified Reviewer

Aside from the Contour Legacy leg pillow not working, upon contacting customer service of the product not working and wanting to return it, as stated you'll receive a full refund minus P&H. I was aware of that but they wanted me to pay to return the item and they get to keep the P&H from the original purchase, really?! So I'm paying twice for P&H! SCAMMED, do not buy from them!

Bottom Line: No, I would not recommend this to a friend

Apr 4, 2019

Good Afternoon Tamarla,

I am so sorry that the Contour Legacy Leg pillow did not work for you. Due to the nature of the product (being a pillow), most companies do not even allow returned on any bedding item, however we do stand behind our 90 Night Comfort Guarantee. While I wish the shipping carriers gave us awesome rates (close to free like Amazon), unfortunately that is not the case.

So instead of making the product more expensive by building in the cost of shipping into the retail price (like most companies), in the even a customer wants to return an item - our policy does state the the customer would be responsible for the shipping cost. This is mainly, due to health code laws and restrictions, we physically have to destroy and dispose of every returned item, so shipping back is the responsibility of the customer.

Have a Comfortable Day!

Kate @ Contour

---

Hype selling on TV

By Neil L.

,

Ohio

,

Mar 23, 2019
Verified Reviewer

The products this company sells are worth very little. I'm sure the shipping and handling they charge is almost all profit as the two pillows I ordered were probably manufactured for 50% of that amount, which was $11.99. I'm in the process of returning two items, a head pillow and leg pillow, and was informed by customer service I'm responsible for the return shipping cost as well. I'll let you know if I actually receive a refund for the $19.99 as promised.

Bottom Line: No, I would not recommend this to a friend

Apr 4, 2019

Good Afternoon Neil,

You seem very interested in TV and retail, just an insider secret (the cost to manufacture those items are very close to the TV offer price, then when you factor in the free item - we lose money).

However, I am sorry to hear that the items did not meet your comfort expectations, and of course we would honor any return and refund. Due to health code restrictions, we actually have to destroy and dispose of all returned used items, that is why our policy covers you for 90 days, but you are responsible for the return shipping.

If for any reason you have a problem with your return, do not hesitate to reach out to our corporate office directly at 800-950-0230 or you can email me directly at support@legacypillow.com.

Have a Comfortable Day!

Kate @ Contour

---

Over charge

By Paul M.

,

Seattle, WA

,

Mar 22, 2019
Verified Reviewer

Be careful on your order, you're not charged more than what you ordered. This is what happened in my case. There is no way to contact the merchant. Email is a no reply, phone numbers are recordings, and you must know someone's name to talk too. I ordered one item and billed twice. I finally contacted the bank to stop payment.

Bottom Line: No, I would not recommend this to a friend

Apr 4, 2019

Good Afternoon Paul,

I am so sorry for this inconvenience. If you ordered through the automated system, I have been the advocate for updates on that as you are not the only one with valid concerns about it. While I don't want you to be overcharged, I also don't want you to find yourself working at trying to get a resolution (that should be our job). I appreciate you letting us know of your experience. I will bring this up to the Customer Service Director for full resolution.

If you need to contact anyone moving forward in regards to your Legacy order, please contact me directly. I may be reached Mon-Friday from 8:30 am - 5 pm (office hours - I do check my mail frequently outside of office hours), either by calling 800-950-0230 or via email at support@legacypillow.com (this is a special legacy email I monitor personally).

I do want to apologize again about any inconvenience that this may have caused, and we will work with both our inside and outside teams for a resolution and a better customer service process.

Have a Comfortable Day!

Kate @ Contour

---

Disgusted with their company

By Kaitlynn S.

,

Pennsylvania

,

Mar 17, 2019
Verified Reviewer

I would give a ZERO star review.

Ordered product on March 9th, didn't receive email until today.

Ordered DELUXE with 5-year warranty because I overheat and I need something super cool and comfortable. They claim I didn't order that, yet I CLEARLY selected that. My recommendation is you CALL THEM and ask them everything while ordering, if you can even understand their foreign accents. You're in AMERICA, speak clear English!

Though I went online and found the customer service number to call yesterday, and sat on the phone for over an hour to be hung up on by representative before they said anything to me. And the company was closed at that time. So I could not call back.

Worst of all, I call today and they claim the product is shipped out so they can't automatically refund my order. So I have to WAIT until it arrives and then refuse it so it is shipped back.

Bottom Line: No, I would not recommend this to a friend

Apr 4, 2019

Good Afternoon Kaitlynn,

I can not apologize enough for the level of service. Due to the high response we received on this product quickly, and us being a small company out of NC, we had to outsource our Fulfilment and Customer Service to the TV media company who has experience with these types of campaigns. Unfortunately, that is no excuse as our customers have always been our #1 priority.

I will bring this up to our Customer Service Manager to resolve with their Customer Service Director to ensure issues like this will not occur moving forward.

Of course, I do want to make sure you are taken care of. Please contact me directly at 800-950-0230 and I will work to resolve this the way I would hope they would have resolved this. If you prefer, I also can be reached at support@legacypillow.com, which an inbox I monitor daily as well.

Have a Comfortable Day!

Kate @ Contour

---