Contour Legacy Leg Pillow
Claimed This company has claimed this profile, is getting alerted on any new customer reviews entering this page, and may engage in dialogue with its customers to address their matters.

Companies cannot pay money or provide goods in order to remove or alter customer reviews.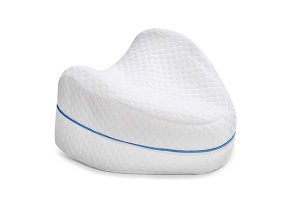 The Contour Legacy Leg Pillow is a memory-foam leg pillow designed to keep your spine aligned while you sleep. Research indicates that leg pillows can actually help your spine alignment and relieve pain, which means there's a good chance the Contour is worth its $19.99 price tag.
---
Hype selling on TV

By Neil L.

,

Ohio

,

Mar 23, 2019
Verified Reviewer

Overall Experience:

The products this company sells are worth very little. I'm sure the shipping and handling they charge is almost all profit as the two pillows I ordered were probably manufactured for 50% of that amount, which was $11.99. I'm in the process of returning two items, a head pillow and leg pillow, and was informed by customer service I'm responsible for the return shipping cost as well. I'll let you know if I actually receive a refund for the $19.99 as promised.

Bottom Line: No, I would not recommend this to a friend

Apr 4, 2019

Good Afternoon Neil,

You seem very interested in TV and retail, just an insider secret (the cost to manufacture those items are very close to the TV offer price, then when you factor in the free item - we lose money).

However, I am sorry to hear that the items did not meet your comfort expectations, and of course we would honor any return and refund. Due to health code restrictions, we actually have to destroy and dispose of all returned used items, that is why our policy covers you for 90 days, but you are responsible for the return shipping.

If for any reason you have a problem with your return, do not hesitate to reach out to our corporate office directly at 800-950-0230 or you can email me directly at support@legacypillow.com.

Have a Comfortable Day!

Kate @ Contour

---

90-Day Money Back Guarantee comes with surprises

By William F.

,

Florida

,

Dec 17, 2019
Verified Reviewer

Overall Experience:

Our return of the Contour Legacy Leg Pillow with Head Pillow was not due to quality. The quality of the products was good. It simply did not do the job for us. We tried the products for a week and decided to return them. While a bit complicated, the return procedure was fairly standard. The bottom-line refund was the surprise! As stipulated in the Return Authorization Procedures...the refund is "less shipping and handling.'' Our total payment was $68.42 of which $23.96 (i.e., 35%) was Shipping and Handling. Our Money Back Guarantee refund was, therefore, $44.73. In addition, it cost us $18.63 to ship the items back. Therefore, for this transaction, we paid $87.05 (initial cost + return shipping). And our "refund" was $44.73. Our Money Back Guarantee returned 51% of our total cost. So - the company makes money whether we keep the product or return the product.

LESSON LEARNED - Before purchasing online or via telephone, make sure you clearly understand the company's definition of "Money Back Guarantee." In our case, the definition was "You will receive a 51% refund of your total purchase cost and return shipping cost!"

Bottom Line: No, I would not recommend this to a friend

Dec 18, 2019

Good Morning William,

I completely understand your concern with the refund, and you are correct - return policies usually only cover product cost and not shipping. It does look like you ordered based on your order number from the TV Media company/As Seen On TV distributor. While I am not entirely certain what their policy is, as we are only the manufacturer of the product, it does seem standard. What is concerning to me though is that you paid almost $20 to ship the item back! We have seen this complaint with a lot of customers.

So the product + the head pillow combined weight is under 1 lb (I believe its only like 13 ounces I believe), which means it can be shipped first class USPS which would be the cheapest option for you based on my experience. I also know that a lot of Pop Up Carrier Locations will overcharge customers too, so if you are using FedEx, UPS or USPS, please visit their locations directly and not stand-alone stores.

While this wasn't purchased directly from us, I would recommend contacting the company that charged you directly, ask to speak to a manager and see if they can help you reclaim some of your refund back.

Much like other companies in the categories, these items are considered personal products, so we have to follow Health code violations which require us to destroy and dispose of all returns. That is mainly why shipping is not covered, especially on returned merchandise.

We would be happy to assist you further and answer any questions you may have, so feel free to reach out to us directly as well if the company you ordered from could not be of any assistance,

Have a Comfortable Day!

Kate @ Contour

---

Advertisement

---

Good offer

By Edie M.

,

Pasadena, MD

,

May 29, 2019
Verified Reviewer

Overall Experience:

In searching for instructions, I did come across some negative reviews. I'm glad I got in on the offer at this price. I've paid this and more for a single pillow. My chiropractor just warned me that my habit of lounging on my bed is not good for my posture. The head pillow will give more support than regular stock in that area. I'm expecting good results from the knee position once I adjust. It's worth it to be able to try both at this price.

Bottom Line: Yes, I would recommend this to a friend

May 31, 2019

Good Morning Edie,

I am glad you are enjoying your Contour Head & Legacy pillow. Please keep us updated to let us know about your experience with comfort moving forward :)

Have a Great Weekend!

Kate

---